NEMO Gogo

The Gogo has been discontinued. If you're looking for something new, check out the best bivy sacks for 2023.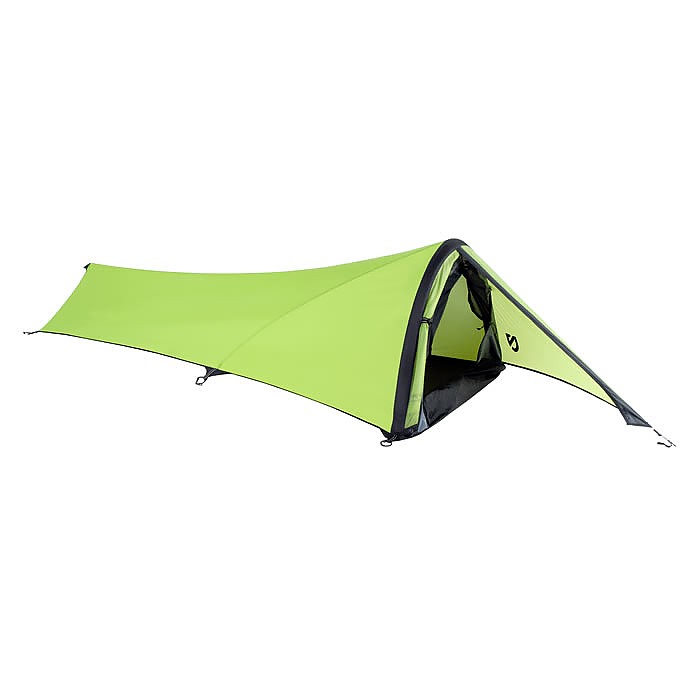 Great lightweight, waterproof, easy setup tent, but falls short in many places.
Pros
lightweight
waterproof
easy setup
Cons
condensation
limited breathability
I took this tent about three months through South America, so I got to see a lot of it.
For 60% of the time, the tent was great, packed extremely light and small, easy setup, and provided more than ample room to keep me comfortable and to keep myself and my gear dry.
The other 40% of the time I had one hell of a time. Given I did travel from extreme cold, rain and snow in Patagonia to hot and humid conditions in the Amazon. One tent can't do it all, but there are some glaring faults.
The breathability is the biggest issue, it singlehandedly leads to the atrocious condensation in hot cold, humid or dry. The condensation tends to form, well everywhere, but especially in the foot region, where no matter how tightly you stake and pull the tent taut, it gets your bag wet.
When going lightweight, you almost always go for down bags as well, and your feet get extremely cold from the compacting of the bag due to the wet. If you get stuck in more than 3 days of storms, your bag is likely to be a sopping wet towel by the end of it, and not even from the rain.
Don't even try the tent in any sort of tropical condition. Its a dutch oven, a hotbox, a sauna. You gag and choke even when the vestibule is open, but you need to keep the mesh closed for mosquitos.
Overall though, 4/5, because if you know the limitations of the tent and under which environment it shines, It will serve you extremely well.
Source: bought via a "pro deal"
Price Paid: $200

First off, the concept of these tents is fantastic! The inflatable "poles" are a great idea that work well in high-wind conditions (like Colorado; where I live). So I was in the market for a bivy and when this came out I jumped on the opportunity.
The tent itself is very lightweight, packs super small and is very efficient. The inflating process of the beam takes ~10 seconds! Overall setup is time is super fast and it can actually be inflated with you already inside. Just stake it down, get in and then inflate the beam.
Plenty of room (more than the Tripod from Bibler) for basic needs. This is a 3-season bivy so I was able to fit a summer size overnight pack into the tent with me. If you had a big pack, its just not going to fit. However there is enough space that I personally don't feel cramped in it (5'10" 155lb).
As for its durability in the elements. It stood up perfectly fine last week to sub 20 degree temperatures at Lake Como (11,900ft) with 6 hours of continuous rain/snow mix. Stayed perfectly dry inside. So A+ for that one.
My only problem w/ the tent is its lack of options to really be pulled taut (w/ guy-line, etc). The fabric just wont get tight no matter how u twist/turn/push/pull it! Maybe that is just a pet-peeve of mine but I figure if you're in super sustained rain, a tent that has its material touching ur sleeping bag is bound to wet-out?? I think NEMO has taken that into consideration for the new springs 2007 version that seems to slightly improved that 'flaw'.
Anyway, if you are the kind of person that wants the newest stuff on the market, go for it. Personally I think I might have been better off waiting another season or two for them to work out the 'kinks' (if u will). Anyway, it's still a solid concept that works well. But, for $250+ they could do some improving. @ $179 I'd rate it 5 stars and say everyone should buy it; but the current price is a bit steep for a brand new company that has no real reputation.
Sleeps: 1
Ease of Setup: very easy
Weight: ~2lbs
Price Paid: ~$220

The Nemo GoGo is simply a superb bit of kit. I have had mine 4 weeks now and am impressed. I am a Mountain Leader (ML) and am always looking for really light kit which will do the business. The GoGo does all this and more. It is a one man bivvy but with space for my overnight daysack and me and the ability to cook from a position of shelter.
The inflatable airbeam provides a lightweight yet rigid support which has stood up to some testing winds, I have had no problems at all so far. Inflation takes 30 seconds and on one occasion I got inside to keep the wind a rain off – a doddle. The swallowtail provides greater comfort but if you are in a hurry there is plenty of room to spare without it.
So the summary: The GoGo weighs under a kilo, (about the same as my basic Army Bivvy Bag). It inflates in seconds, provides ample comfortable space to live in, and with the exchange rate to the dollar was excellent value. Simply excellent.
Design: Bivvy Bag
Sleeps: 1
Ease of Setup: A doddle
Weight: ,89K
Price Paid: $255

Your Review
You May Like
Specs
Price
Historic Range: $139.00-$349.95
Reviewers Paid: $200.00-$255.00