NEMO Losi 3P

The Losi 3P has been discontinued. It was replaced by the NEMO Losi LS 3P.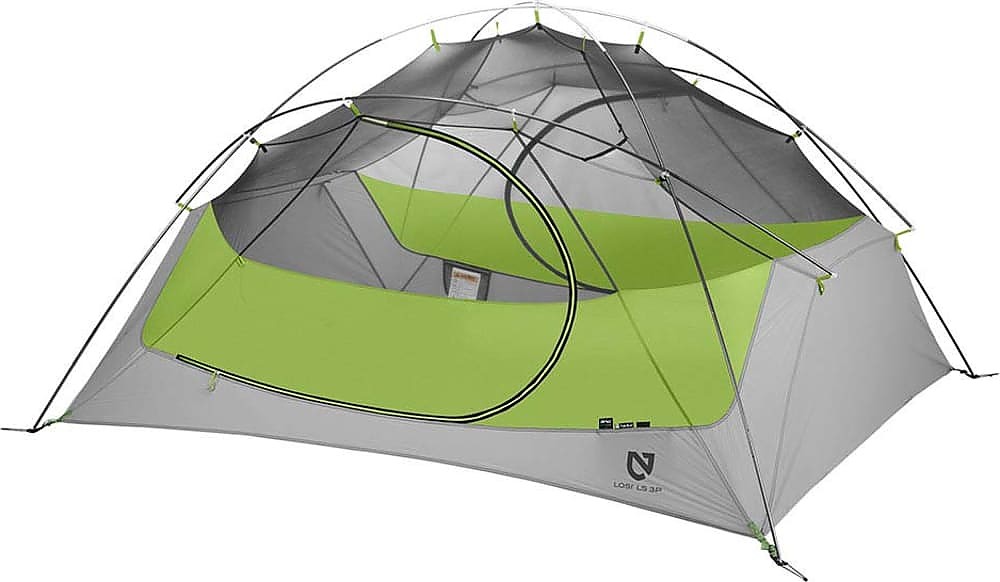 Love this tent, fills all of my needs and then some.
Pros
Deployable fly
Fast setup
Useful accessories
Breathes well
Aesthetically pleasing
I've used this tent on over 50 trips now, and It has left me dry on every occasion. I purchased it based on the serious amount of headroom and the pawprint option. I usually camp with my dog and wife, and the amount of space is perfect... we can have all three of us and our two packs in the tent.
Setup is a breeze... I usually race to erect the tent with anyone else that is camping with me and I always win. I have used it in snow, heavy sideways rain, heavy wind, sand, rock and mud, and it's held up well in every situation and kept me dry and warm.
The only concern I would have would be in areas prone to dust storms, as the rain fly only really covers the mesh areas on the tent. This allows plenty of airflow, but could allow sand to come in in a heavy storm. BUT, I have seen that Nemo makes another version of this fly which comes all the way down to the ground for such areas.
I have never had a problem with condensation in this tent. It cleans up well, and I hang it out to dry every time it gets wet. It does have that strange tent-funk odor to it now, but I think that's inevitable. I really like the amount of mesh on the tent itself, I don't feel like i'm in a tent when the fly is off because it's easy to see through, and allows for nice air circulation. Also, the amount of head room makes changing in the tent really easy.  
The tent is crucially stable. I bought it because it's self standing and I've had to pitch it without stakes or guy lines in really rocky and windy conditions - never had an issue. Staked out, it's really taught, and with guy lines, it's not going anywhere. The Garage attachment is the same, and cleverly designed to prevent water from entering the tent.
My only issue was with the buttons on the tent floor that attach the pawprint, they are cumbersome to get to and break off of the tent base when trying to detach the pawprint. I use a small clip to attach them now and this works well. The buttons are an odd size also, so you can't pick up a repair kit off the shelf - I tried 3. Nemo has great customer service and offered to repair the tent, but this required me to send in my tent and I decided to pass. This may have only been an issue with my tent.
Packing:
The tent comes in a bag that rolls up and secures with velcro. I never use it because it's bulky and inefficient. Instead I picked up three small stuff sacks for the tent, fly and stakes/guy-lines/footprint, and fold/roll the components into them. I bought the smallest ones possible for each component, which can be a pain to pack in nasty weather, but really helps to lessen the pack size and allows us to split the pieces between two backpacks.  I also sewed a sack for the poles, because they can get a little clumsy in the pack.
Features:
Jakes feet - awesome. Pole clips and not sleeves - necessary. Two vestibules of decent size over two doors, and a good rain fly. 
The Jakes feet and clips are composite. I read reviews that pooh-pooh'd them for being flimsy, but they have held up perfectly and my drunk friends haven't broken, or even scratched them yet. Everything attaches easily, except for the two poles which extend the headroom of the tent. They attach to ball clip on the side of the tent which SUCKS to disconnect when it's below freezing. 
The fly is made of two materials (one breathes better than the other). It clips to the 4 jakes feet and ties out to 4 additional stakes, 2 off of each door. It's deployable in several ways once initially set up.
You can roll back the vestibule door alone. 

You can roll the vestibules back entirely and secure them on each side above the door poles.

OR.... roll the fly up entirely and secure onto one side, and leave it half-clipped to the tent itself. Then you have a clear view of the sky and a're prepared if it rains, as it deploys in less than a minute.
Accessories:
Pawprint: Washable interior, coated to repel water and beer. Doesn't attract fur or hair and is also a great beach mat!

Footprint: Packs smaller than the stakes. clips to the 4 jakes feet. Saves the tent floor. You can use this with the fly and tent poles alone as a sun shelter, which is cool... but you have to remove the jakes feet from the tent and reattach them to the footprint, which is awkward and time consuming.
Garage: I picked this up for about $120 from a Nemo web sale and use it exclusively for bike touring and extended surfing trips. I can fit our packs, at least two bikes and two 7' boards under this vestibule to keep them dry, out of the sun and most importantly out of sight. This is a constructed much heavier material than the fly and is bulky when packed so I don't bring it that often, but it deploys well and provides shade for the dog on hot days.
Source: bought it new
Price Paid: 269

My friend and I are going cross-country backpacking, and after a long period of deliberation on which tents to get, we decided on the NEMO Losi 3-person. Our major motivations for this decision were the weight (6.7 lbs. packed), the ratio of space to that (50 sq. ft.) and the absence of any necessary stakes and/or staking. It cost $380 (bad planning on my part - at NEMO's website it's $355) or so, and the footprint was another $40.
Now, a brief rundown on why the NEMO Losi 3p was the best purchase we've ever made:
1. The NEMO Losi 3p is ridiculously easy to set up. There's almost no stuffing of poles through sleeves; the only two times that happens is with the two minor poles. The primary poles are constructed so that you hook the mesh tent up to the poles rather than trying to force the poles to adhere to the tent, and because of the basic design of the tent, it's incredibly hard to destabilize the structure without a tree falling on it (which they include in the troubleshooting guide - HOLY CRAP HARDCORE). Actually, it's very possible to decipher the layout and setup if you lay it out and look at it, which is a clear marker that this has an amazing design.
It's pretty obvious that whoever designed this tent had been through hell and high water with other tents, many of which are made primarily for 'good looks' and interesting shapes and not so much for actual usability. That makes sense, since a lot of people buying tents are middle-upper class families who want to go out into nature for a 'vacation', completely ignore the actual beauty of nature in favor of their luxuries (hotdogs instead of foraging, s'mores instead of bean soups, sedentary camping instead of exploration and wandering, etc.) and go straight back to their unfulfilling lives as consumer extraordinaires. However, there are people out there for whom 'camping' isn't a luxury - it's a way to survive and thrive in a world that's hostile to your passions.
That's me reading too much into this. Suffice to say that whoever designed this tent actually knows how to make it work because they have enough experience in that area.
2. The Jake's Feet. These are the most amazing contraptions of all time. A good part of the reason that you don't need a lot of heavy stabilization stakes is the fact that the Jake's Feet provide stabilization without requiring you to stake things into the ground (which may or may not cooperate with this idea). Once you figure them out - and again, they are ridiculously easy to figure out with a little examination - you see what parts go where (rain fly, tent, footprint) so that it all comes together.
3. It comes in three main parts: the tent base (mostly mesh), the rain fly (completely waterproof) and the footprint (I consider this necessary if you're looking to keep this long-term and not just waste money). The design of the rain fly is exquisite, as it secures into place over the mesh base so that nothing is exposed and it won't come loose during the night or in high winds.
4. There's an additional piece of beauty that I'd like to relate to the previous point, and that is the rain fly vs. mesh tent: because of the construction of the mesh tent, the poles that stabilize the mesh tent do not only that but separate the rain fly from the mesh, making leakage virtually impossible unless there's a hole. (I say virtually because I'm sure someone would figure out how.) The way the rain fly is shaped, in addition to this, only helps remove water, because any collection will roll off.
5. The inside makes it even more obvious that whoever had designed this meant for it to be used. There are places you can hang lightweight contraptions and objects for easy grabbing or even reading (with a small, lightweight lantern, for example) and an organization rack inside the tent if you don't want to use the vestibule for your shoes and such.
6. This tent is labeled as three-person. Really, this should be labeled as 'three humans and one dog', because this is pretty clearly part of what the tent was designed for. It's not only spacious (my friend and I don't even fill half of it, and only two-thirds with our mountaineering packs), there's a number of components that would make this amazing for a dog.
7. There are entrances at both ends. Literally - there's an opening on one end, and another at the opposite; look, it's an ergonomic tent! (Nerd joke. Sorry.) This, combined with the large doors, makes it nearly impossible to have a 'jam' of people trying to get in or out of the tent. Also, the close proximity of the bottoms of the doors to the ground make it perfect for a dog, making it easier for them to get in and out.
8. Did I mention it's lightweight? And inanely easy to set up?
A toddler could set this up. You'll need at least two people to set it up because of the tight fit of the minor poles (note: DISCONNECT a section or two of the pole, then fit them back in. It'll work much better) into their stabilization guides. Otherwise you're just... awesome.
My only real problems with this tent, because it IS that amazing and you can probably see that I am VERY finicky, are these:
- It needs a folding guide so that you can fold it properly and put it back up to move on, and
- The stabilization/hooking pieces that latch to the major poles and hold the minor poles have a fairly major if only occasional problem: the stabilization curve is short enough that, if given a sharp enough piece of pressure, turns sideways and LODGES between the two hooks. This could easily have been solved by adding just a few more centimeters onto each or one of the sides, making them too long to lodge whatsoever. It can be fixed temporarily by placing the minor pole above the hook piece, but I don't know what, if any, effect this would have on stability. (We got it undone later. Our teeth are sore now.)
Verdict: Five thousand stars, four thumbs and four paws up, 150% worth the money, 99% idiot proof. If you're known for forging ahead rather than taking stock of what you have in front of you, avoid this tent like the plague and get a hardier one. If you're going on rougher ground, spend the extra money on a pawprint, and always get the footprint. You can go nearly anywhere with this tent, outside of very cold regions, and that makes it pretty much 4-season in my book.
They say it's the cheapest tent for the amount of room and weight - they're overly modest. I've seen a lot of tents. I've slept in a lot. I've set up a lot. NEMO Losi is still the best one, not just in weight and room, but in design. Weight and room don't matter unless you have a good design, and NEMO has this in spades.
Bravo!
Design: Year-Round Non-Arctic Freestanding Dome
Sleeps: 4
Ease of Setup: My six-year-old cousin could set this up in 15 minutes.
Weight: about 6.5 lbs.
Price Paid: $380

It's immediately obvious that they have given a lot of thought into usability. It can withstand heavy rain but not extreme winds. It comes with lifetime warranty, but keep in mind that the warranty doesn't cover everything.
Pros
Extremely easy to set up, take down, and pack
Nice features such as the interior pockets
Cons
Problems with durability
Cannot pack the tent without taking the rain fly down first
I've used this tent a number of times during five years in different environments. Right from the beginning it was clear that this is a really well designed tent in terms of usability and features. Now I have also a pretty good picture of its durability. They've updated the design but probably a lot of this review applies to the new version as well.
I've set this tent up many times alone and it's not a problem. The poles are attached easily with clips. The two "ridge poles" don't clip in so easily. Actually you don't necessarily need them, but they make the interior a bit more spacious. You pack this tent by rolling it up without the need to stuff it in a sack, which is really convenient. It's not possible to take the tent down while the rain fly is standing, which would be convenient in rain.
I bought it because it's reasonably light and has two entrances with vestibules. Personally I would prefer even larger vestibules, but I couldn't find a light free-standing tent with larger vestibules.
There are nice features like the "gear caddy" with lots of pockets. I also have to mention the fluorescent pictures of constellations in the pack that you can try to find from the sky at night, if you don't use the rain fly.
It keeps you dry in rain and I certainly wouldn't expect less from a high-quality backpacking tent. It doesn't withstand extreme winds. The poles were badly bent by wind during a couple of days in Patagonia. This is not covered by the warranty because it's not a four-season tent! I've had some of the velcro fasteners rip off even without heavy winds. They're not necessary so I just stopped using them.
Also both zippers have broken down. It's clearly a design flaw. They are so small that it's obvious they'll break down in time, even if you try to close them carefully, because the tent always stretches a little bit. They are covered by the warranty. Just remember that if you're outside North America, you'll have to pay the postage. I've also got a small cut in the mesh and in the base. These are not covered by the warranty, but they are easily repaired.
On the negative side, I'd also note that in sun I often struggle to get good ventilation without opening also the mesh doors. I don't have experience whether it's the same with all tents.
Source: bought it new
Price Paid: $289

Excellent job, Nemo!
Pros
Near vertical walls
Rain proof
Beautiful design and color
Lightweight
I've owned this tent for a year and half now. I purchased it based off of how much I liked my Nemo Meta 2P.
My first experience with the Losi involved a 4-day Boundary Water canoe trip. The first evening, my friend realized he forgot the poles to his 4-person tent, which himself, his daughter, and daughter's friend were suppose to sleep in. We were 15 miles from the outfitter. We ended up making a shelter out his rainfly, but on night 2, heavy winds brought in a nasty storm.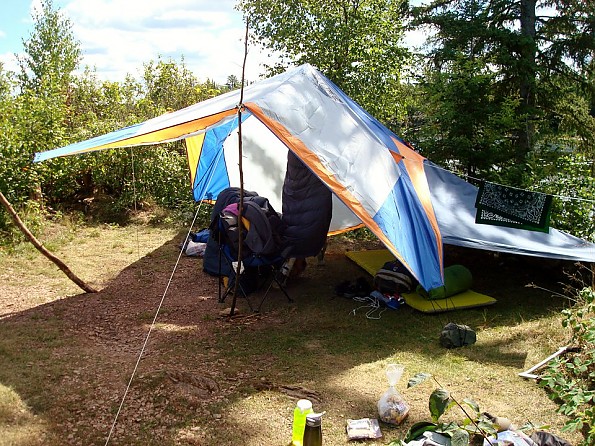 The four of us ended up piled into the Losi. It rained all night, and wind gusts tested the tents integrity. I ended up sleeping against the wall, against the side that isn't covered by the rain fly.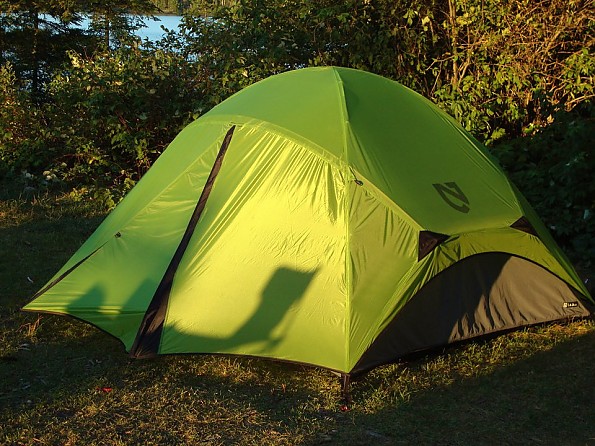 From previous experience with older tents, I assumed I was going to get soaked. After a long night though, we all woke up bone dry. We were all extremely grateful to have one solid tent on that trip!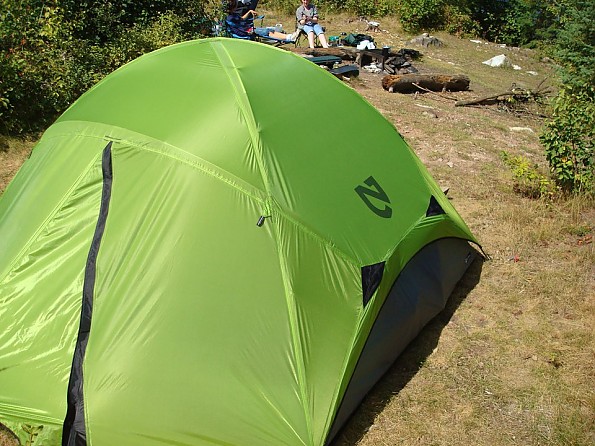 I've had this on several other camping trips, Spring, Summer, and Fall. My fiance and I really like the near vertical walls. It makes for so much headroom. Another friend of mine was impressed by the tent's integrity during our flyfishing trip as well. It poured one of the nights, but again we were protected. You shouldn't expect any less from a tent!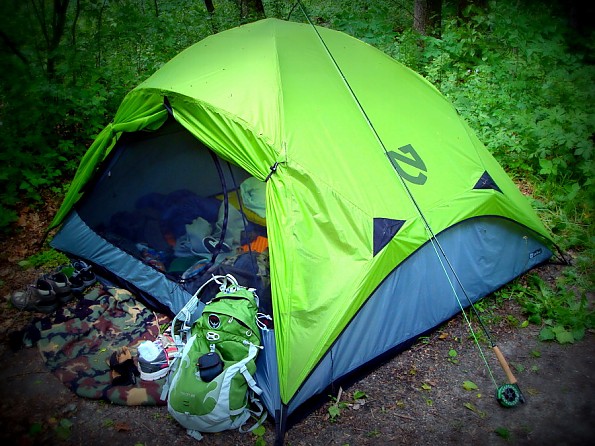 GOOD NEWS! I received an email from Nemo today stating that they are currently producing a Garage vestibule for the Losi 3p. It is suppose to be available this summer, 2013!
Source: bought it new
Price Paid: $245

Seems to be absolutely bomb proof. Good size and easy setup, without having to go buy third party stakes and guy line.
Pros
Size—it is a reasonable 3-person tent
Quick and painless setup
Great in crappy weather
Cons
Heavy for backpacking unless splitting the load
You will have to buy stakes if using ALL the tie out options
I just returned from a week in Big Bend National Park, camping in the Chisos Basin. This is monsoon season down there and we were hammered every afternoon with 30 minutes to an hour of WILD rain and wind.
I'm happy to report that using only the basic tie out points this tent never leaked, not a drop. And while I could hear the fly snapping and bouncing at night, I never experienced the walls closing in and breathing in and out that I have in several other tents.  
I have not used this as a 3-person tent, but for two this is really a palace. Plenty of room for people, sleeping pads, bags and even our packs. All safe and dry in the tent.  
I mentioned in the summary that you don't have to buy extra or replacement stakes with this tent, and that is something I really appreciate. I hate putting up a tent the first time and finding out that before I can actually USE the tent I've got to purchase replacement stakes, and sometimes more guy line cording.  
Nemo actually supplied stakes that are good quality, and EXTRA cord if you should need to use all the tie down points in a hurricane. I really appreciated this too. 
I'll sum it up by saying this tent stayed dry in vicious blowing rain, and seemed pretty much immovable in the wind.  
A quick addition to emphasize the rain/storm proof capability of this tent. Thankgiving weekend while camping in Arkansas we got 8 inches of rain in a 24-hour period. Not a problem in this tent. I was quite impressed!
Source: received it as a sample, freebie, or prize (Nemo Equipment)

I received this tent as a gift and have been very happy with it.
The tent is well designed. It's nice and roomy; comfortable for three, luxurious for two. It includes more interior pockets than I know what to do with, and the headlamp diffuser is brilliant. There are two roomy vestibules, and the fly door makes for easy entry/exit. This tent is solid, dependable, and it looks pretty darn cool.
The quality of craftsmanship is excellent. Everything about it has a high quality feel. I've used it in some moderately extreme weather conditions and never once worried about damage or leakage of any kind.
The weight is acceptable for a tent this size. I use it primarily for car camping and walk-in camping. It would also make a good canoe camping tent. But I would take it backpacking only when sleeping three people. For two people, I would go with a lighter tent.

Setup is fairly easy, but a few things slow down the process. The two "ridge poles" add additional steps, but they make the tent more stable and increase interior space, so it's a worthy trade off. Some of the specialized hooks and snaps are very tight fitting, and a bit difficult to attach and detach at first, though I assume they will loosen a bit over time. You have to be sure to attach the main poles correctly, as a special hook at the center of the X must face downward in order to attach the tent's center clip to it. Also, this center hook is a bit hard to reach when attaching it to the tent. All the other tent clips attach and detach easily.
The included storage bag has a very cool design. You lay it flat, put everything into specialized pockets, and then roll the whole thing up. However, you have to utilize some precision folding on the tent and fly for it to fit and roll up easily. Definitely slower than the old stuff sack method.
I once set up the Losi in the footprint/fly configuration and it worked quite well. It's a good option for making a lighter load.
My experience with Nemo's customer support has been positive. It was a minor issue, merely a question about the tent, but my email was answered in a prompt and friendly manner.
Sleeps: 3
Price Paid: Gift

This is a solid, spacious, lightweight, two-door, two-vestibule, 3-person tent.
Pros
Spacious
Lightweight
Quality materials
Easy setup
I have had this tent for about 3 years and I love it. The setup is quick and easy. Weather protection is great. I have been in some pretty heavy wind and when guyed out it is quite solid. I have stayed dry through rain and since it is mostly made of mesh it has great ventilation. Haven't had any real concerns with condensation.
It is roomy. My wife, me and my two boys (2 and 4 year old) still fit comfortably in this tent. When my boys are a little taller we will have to move up to a larger size tent or move them into their own tent. This tent comes with a great  roll up organization bag that keeps your poles, stakes, and tent in separate compartments. I haven't seen any other tents use anything like it, but I have found it to be very handy and useful.
Since it is a lightweight tent I would recommend grabbing the footprint to help protect the tent floor. I have been using mine since I bought the tent and I can't see any signs of wear.
There are a couple things about this tent that are not ideal, the zippers on the doors are a little weak. I haven't had them fail yet but I feel like I have to handle them with care to open and close them.
Also this tent is not ideal if you are planning on camping where there is a lot of wind and sand (not that there are many tents that are great for that type of weather). The mesh will filter out all of the coarse sand and leave you with a fine layer of dust.
I love this tent and am very impressed with its quality.
Source: bought it new
Price Paid: $279

Got the 3P several months ago to use on archeological digs in Europe. Just got back about a week ago and I have to write a review on this marvelous tent. Used it for a total of 7 weeks. One dig site for 5 weeks straight and two separate weeks at two other locations. I couldn't be happier with the service I got from this tent!
Light, small, roomy, and so easy to set up, I could not ask for more. Everyone I hung out with Europe were not familiar with NEMO Losi brand but were definitely interested in it after they saw how fast I set it up, broke it down, and how small it packed.
We experienced good days, and a lot of very bad rainy days. Did I mention rain, rain and more rain and a lot of wind. The 3P held up like a champ. Not a drop of rain, no broken parts or tears. A brand new North Face tent next to my site gave up the ghost in a week (torn and leaked from rain and wind). Ventilation, roominess, and lack of moisture or leaks kept me and my supplies high and dry.
My 3P got thoroughly tested one night with very, very high winds and rain. The velocity of winds were so high that the sides of the tent were moving so fast and hard that I got repeatably beat in the head with the sides of the tent for a few hours. Again this tent held together so well compared to the ones around me that I promised myself to write this review.
Another item I need to mention is the great ventilation. Many of the other folks I met marveled at how fast this tent dried out and the lack of water problems. A few made comments that I must have one of those quick drying tents (whatever that is).
In summary, if you need to travel lite and dry, and want an easy set up, then this is a tent you want to consider. It is at the top of my recommended list.
Design: 3-4 season
Sleeps: 3
Ease of Setup: Too easy!
Weight: 6 lb
Price Paid: $376

I cannot say enough good things about this tent! I had obsessed for two months over the purchase of my first new tent in almost 13 years. I had been out of backpacking and hiking for quite a long time. I read many articles and reviews before being convinced that Nemo was the way to go.
I decided on the Losi 3P because of the specifications and user reviews. When the tent arrived, the high quality of both the materials and the construction were quite apparent. Also apparent was the size, true to Nemo's specs, of the tent. This is a true 3 person tent.
I set up first in my backyard in order to become familiar with it. Setup was very intuitive and easy. Break down was equally so. This tent is very sturdy and pitches very tightly. I absolutely love the roll up pack that the tent comes with. It is easy to pack, rolls up tight, and compresses down fairly well.
This past Friday, my wife and I took our new Losi out for a one night "shakedown" on our own property. The temperature dropped to around 30 degrees and it was very damp. We spent a comfortable night. Very roomy. No condensation despite the high humidity.
I do recommend both the footprint and Nemo's Pawprint. The Pawprint is a wonderful idea and really kept our sleeping pads from slipping around the tent floor.
I would also have to say that this tent is truly a 3.5 season model. I highly recommend this tent ... it is worth the extra money.
Design: 3.5 season freestanding dome
Sleeps: 3
Ease of Setup: Easy
Weight: 5lbs 14 oz
Price Paid: $315

A great lightweight, roomy, dry and stable tent. For me, this tent hits all the best points and is aesthetically a great tent to hunker down in every night on the trail. Love it!
Pros
Quick setup
Vertical walls makes the space feel large
Ventilation is fantastic
The inauguration of this tent was 12 days in Iceland and it pretty much dealt fantastically with all kinds of nasty weather—rain, sleet, wind. It was a breeze to set up, but most importantly was roomy and dry for two people.
I've owned a variety of tents over the years and this is my favorite so far. A perfect balance of function, weight, and aesthetics (yeah, it looks good).
Source: bought it new
Price Paid: $400

This is my favorite tent to bring if I am not backpacking—feels so spacious!
This is my favorite tent to take when I am not backpacking or kayak camping because of the ease of setup and the comfort that comes with all of this space. I have used this tent with torrential downpours and up to 60MPH gusts of winds and stayed mostly dry, and in 110 degree muggy environments and been as comfortable as possible in a tent as I could be.
Any time I am going to be experiencing extreme weather, or I am wanting a little extra comfort, this is the only tent I will bring. 
Source: bought it new

Based on all the good reviews and the awards this tent won, despite some reservations, we purchased it for a two year cycle trip from London to New Zealand.
It was ok for a couple of months, being light and spacious, however after about about 40 days we noticed water on the tent floor. At first we thought that it was coming through the sides not protected fully by the fly. It does let water in there, but the worst problem is the floor. Despite having used the footprint since new the floor is now totally non waterproof. We have re-waterproofed it but the only way to keep dry is by using a cheap tarp we bought for 5 euro and putting this under the tent.
If the Chinese can make a tarp for 50 cents thats waterproof why can't Nemo put a decent floor on a $500 tent?
This is by far the leakiest tent I have ever owned and also the most expensive. I suggest anyone looking for a tent for serious use avoid this and buy a decent one. Also magazines who gave this awards should test things a little more thoroughly and save people wasting money on poor product. We are not the only people who have this problem and I would challenge Nemo to come up with a solution.
Llewyn Toms
Design: all season freestanding dome
Sleeps: 3
Ease of Setup: easy
Weight: 3.5
Price Paid: $500

I bought this tent back in June in anticipation of a climbing trip out to Colorado. Since then, I have used it for everything from pitching outside of a car to 20 mile backpacking trips.
The rain this summer has been insane, but the Nemo held up better than I could have imagined.
I wrote a complete review of this tent, with pictures, on my climbing blog. Check it out if you want some more info on the tent: climbwiththecrimps.com/?p=245
Design: 3-season
Sleeps: 3
Ease of Setup: Confusing at first, but very easy when you figure it out
Weight: 5.9 lbs
Price Paid: $319

Once this tent is setup, it is fantastic. However, the setup is somewhat complicated and involve flimsy plastic parts. The jakesfeet come off easily and are proned to getting lost. After perhaps 50 nights of use, the string holding my polls together has come apart and some of the plastic parts are bent. I wouldn't buy this tent again.
Sleeps: 3
Ease of Setup: Difficult

Your Review
Where to Buy
Help support this site by making your next gear purchase through one of the links above. Click a link, buy what you need, and the seller will contribute a portion of the purchase price to support Trailspace's independent gear reviews.
You May Like
Specs
Price
MSRP: $449.95
Historic Range: $262.44-$489.95
Reviewers Paid: $245.00-$500.00

Minimum Weight
5 lb 15 oz / 2.7 kg

Packed Weight
6 lb 13 oz / 3.1 kg

Floor Dimensions
91 in x 79 in / 231 cm x 201 cm

Interior Height
48 in / 123 cm

Floor Area
50 sq ft / 4.6 sq m

Vestibule Area
24 sq ft / 2.2 sq m

Packed Size
22 in x 6.5 in / 56 cm x 17 cm

Inner Tent Fabric
No-See-Um Mesh and 30D PU Nylon

Fly / Vestibule Fabric
30D PU Nylon

Floor Fabric
30D PU Nylon