NEMO Morpho AR

The Morpho AR has been discontinued. If you're looking for something new, check out the best three-season tents for 2023.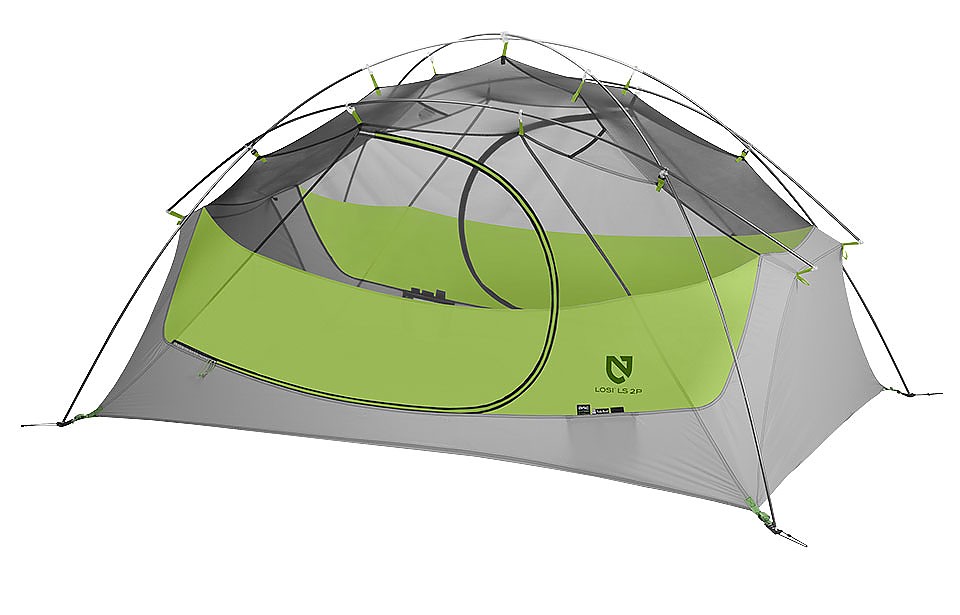 This is the tent that I have been seeking for years. It has everything that I wanted.
1) It is roomy enough for two people plus gear. I have always used a 3 person tent, because most 2 person tents are too small.
2) It is lightweight and packs small. The biggest problem with 3 person tents is that they often weigh 8 or 9 lbs and take up half your pack. This tent packs down small, not much larger than a synthetic 20 degree sleeping bag--including the tent floor. This tent is less than 5 lbs with the extra floor, and there are no hard surfaces (poles), so it can be stuffed anywhere into your pack. Of course, it is single wall, so one person will carry the whole thing, but that is no problem.
3) It is easy to set up. Many tents with poles are still confusing when you get out into the field and haven't set it up in some time. (Do the poles cross, where does the stupid orange pole go, is there an order to assembling the poles, etc.) With the Morpho, you just attach the pump, and pump for about 30 second. The tent just pops up. Then you do the other pole, and you are ready to go. This can be done from inside the tent as well, which takes longer, but is great when it is pouring rain.
4) It meets all standards for water and wind proofness. Complete water and wind proofing is a necessity, and the Morpho meets these standards. It has 4 corner and 4 additional stake out point. I would recommend buying 4 additional stakes as there are guy-out loops on the tent, and if you use the supplied guy-lines, you will need 4 extra stakes. When fully staked and guyed, this tent is bombproof. Because this tent is so solid, you really can use it as a 3.5 season tent, meaning it can be used year-round outside of alpine mountaineering use. If you purchase the option PawPrint, you have thicker insulation on the floor to keep the cold out.
One drawback is that the tent is not free-standing. You must be able to stake out at least the four main points or the tent will fall in on itself. This means that you need to bring appropriate stakes for the snow or sand, if that is where you are going to set up. If you camp on rock, I would bring some cord to tie to the stake out points and put heavy rocks on the cord.
The light diffuser inside the tent is ingenious. You put your head lamp or flashlight in there, and it produces a "bulb" which evenly illuminates the tent. Also the door are of the tent is quite versatile in that you can lock it down for snow or rain, pull back the fly and have a mesh canopy, or pull back the floor and have a bare ground vestibule (at the expense of interior space). This option is nice if you need to cook from inside the tent as this is safer and will keep from spilling on the floor of the tent. All of these changes can be done from inside the tent, and can be constantly changed as your needs change throughout the day.
One tip: the tent is designed to either face into or away from the wind. I find it better to face away (i.e. the door on the leeward side). This keep the wind hitting the part of the tent where your feet are and there are no doors or zipper on that side, so it is more solid. The only problem with this is that there is a rear vent which cannot be closed, as far as I can tell. You probably will not ever close it anyway, because you need it for airflow, but you still would like the option to do so.
Finally, for those of you who are wary or the airbeams--don't be. They are solid and pretty much puncture proof. In the scheme of things, a puncture will be far more rare than a broken pole, and unlike a broken pole, a puncture is completely field repairable to 100 percent. With a broken pole, you have to use the splint and have a less-functional tent until you buy a new pole.
Design: 3-4 Season Singlewall Backpacking Tent
Sleeps: 2
Ease of Setup: Very Easy and Quick
Weight: 4 pounds
Price Paid: $320

My paddling partner Neil and I had stoked the stove in the cabin and were looking forward to sleeping in heated comfort. We were on the first night of a fall trip on British Columbia's Bowron Lakes Canoe Circuit. We had each brought tents, but the presence of the tiny structure had been too enticing. Shortly after dark, the rustling and scratching of a large wood rat forced us to make an executive decision and out into the cold darkness we went, with tents and bags in hand.
I had been loaned one of NEMO Equipment's Air Supported Tents for this trip, the Morpho AR, a two-person single walled tent. Over the last 40 years, I've owned a dozen tents and spent time in perhaps a dozen more, ranging from my beloved Bibler Impotent, to the stout Whillans Box, and even a canvas wall tent. So when I plunged into the darkness with the Morpho that night, I was no neophyte with tents. However, unusual for me, at home I had only read the instructions and pulled the tent out of its bag to make sure everything was there.
In the light of my headlamp, I hoped that the tent would come together as easily as the instructions had promised. As it turned out, there was no reason for concern. The pump and the valve system to inflate the two arced ribs that support the tent are easy to understand and use. Within minutes I had the single walled structure up and was tucked inside, unhappy to leave the warmth of the cabin, but thankful for the quiet.
Over the next week, I used the Morpho AR every night and became well acquainted with it. My preference in tents these days is for either single wall construction with a breathable fabric, or a double wall with the fly already attached as the European tent makers prefer. I've often found myself fighting to put tents up in rain, and appreciate that with either of those styles, the interior stays dry as you're putting the shelter up.
The Morpho AR is made from a single layer of OSMO, a breathable fabric. Many tent makers these days have breathable single wall tents in their lines, so that feature is not unusual. However, what is unique in the Morpho AR, is that the structure is supported by air chambers instead of rigid poles. I was nervous about this system at first, but found that it worked very well, eliminating the need to insert rigid poles in sleeves. I know that many of us have struggled with the latter in difficult conditions and it can be frustrating. The Morpho eliminates all that. The high pressure foot pump is easy to use, though in the cold, attaching the pump to the valves proved an issue as I could not do it without removing my gloves.
The tent has large vents along the sides, a smaller one at the rear, as well as the possibility to open the door slightly. I found the system worked well, with a minimum of frost forming on the ceiling over my head. That frost formed on the breathable fabric which was separated from the interior of the tent by bug screening around the entrance.
I found the door a little finicky with several options for opening, but learned its in's and out's, so to speak. The door incorporates two zippers in the fabric part, as well as three more in the underlying mesh canopy. Often, tent makers will design a door that can be opened in several ways and serve several purposes. I have often found that keeping an opening simple with few zippers, and fewer options is more durable and practical in use.
Overall, I found the Morpho AR to be a well designed quality tent and I wouldn't hesitate to use it on other trips. It is not, In my opinion a four-season tent, but it could more than adequately cope with light snow early in the season.
Design: AirSupported Technology
Sleeps: 2
Weight: 4.8 lbs minimum; 5.7 lbs packed weight
Price Paid: loaner provided by NEMO

I know, you're thinking gimmicky right? I have owned and used pretty much every tent design on the market from the Eureka Timberline to the Mtn Hardwear EV3 and I rank this as the best tent I have ever owned. I have spent about 25 nights in this tent so far. It's done great in hot buggy muggy weather (Northern Ontario) and never leaked a drop despite being through several heavy downpours. So far, none of the storms have produced enough wind to actually budge the airbeams. They are solid and strong. I believe you would have to damage the airbeams deliberately to do them harm. Poking a knife at them doesn't do anything.
Set-up is a breeze. It's one piece so once the corners are pegged you just use the pump and up it goes. 45-50 seconds is an average time, faster is possible. During one storm, I climbed inside and pumped it up from within the shelter. The looks on the faces of my comrades with their conventional tents was priceless. The pump packs flat and weighs about 4oz (included in the trail wt).
The inside is roomy for a 2 person tent. I'm 6'2 and have plenty of room to spare. It's the first tent I've had in years that didn't have a conventional vestibule, but there is enough storage inside that I didn't miss it. You can clip the fly back in what Nemo calls the exofly if you want to cook or sit under shelter during the day. The inner tent body clips back out when it's bedtime.
The Morpho AR is kind of a hybrid in that there is a fly and inner tent from the shoulders up. Shoulders down it is a single wall waterproof breathable fabric. The tent is ultra-waterproof. Breathability is exceptional. My first night with the tent was windless and muggy so I was thinking there would be some condensation based on past experience with single wall tents. To my surprise the inner walls were bone dry in the morning. I managed to get some condensation only once so far. It was hot and humid and a sudden cold rainstorm cooling the outside walls produced some light condensation (during the day while we weren't inside it). The side vents are situated perfectly so that it all ran out on it's own anyway. Again, great design if that was intentional.
Two minor complaints were that I found the compression bag straps for the tent are actually a bit too long and the bag got a small rip. I'm pretty careful with gear so maybe a heavier fabric for the bag would be better? No problems of any kind with the floor of the tent though-and I never use footprints. The tent will go smaller and the extra straps are excessive and get in the way. The velcro that holds out the side vent stiffeners rubbed the mesh in the vents a bit. They look a bit worn. It's not serious, but it put a couple of small pulls in it here and there. The door used the same mesh though, and it's holding up just fine.
The door and fly options are great. The tapered shape is a good compromise between weight-saving and providing good living-space for two people plus gear. It's not the lightest tent on the market, but more like an ultralight tent that can handle the heaviest weather you can throw at it with super-simple set-up and takedown. By the way, I use a tarp or a bivy on some trips too, but when the weather or the bugs are really bad I find this works a heck of a lot better. I bought this to be my mountaineering and winter tent too. I'm looking forward to seeing how it performs.
I liked this tent so much, I bought a Nemo Gogo (the solo/bivy version) a few months later.
Design: Air Supported Hoop-Tent
Sleeps: 2
Ease of Setup: Easiest set-up of all time
Weight: Trail Wt 2.2 kg (4.8 lbs)

I am planning an all-Asia backpacking trip. I needed a tent that would be able to fit into the bottom compartment of my pack. I fit my tent, all its accessories (footprint, spare tubes, etc.) and my sleeping pad in the bottom compartment. I will be lugging my pack thru airports and strapping it to the tops of buses, I had to have everything concealed within.
The weight is heavy when compared to other two person, backpacking tents. But it packs down small, is extremely tough and comfortably fits two people plus gear. Here are my experiences so far...
I'm approx. 5'11" and 175 lbs. My buddy is about 6'2" and 215 lbs. We took a short trip to the Appalachians. Both of us slept comfortable, no spooning involved, and were able to keep both our packs in the tent as well. The multiple zip entrances allowed each of us to move in and out freely without disturbing the other.
I took this tent and slept solo for 4 nights of a music festival in Michigan. Tons of space for one person. I had all my gear laid out nicely on one side of the tent and i slept on the other.
Night three saw a torrential downpour that sent everyone fleeing for their tents. When it was over, there were tents and canopies all over the campgrounds and most everyone slept in puddles that night. I didn't have a drop in my tent and the wind blew right past. There's just no way for water to get through the solid, single wall. On top of this, the ventilation is amazing. If you can point the front of the tent into the breeze, you can get an extra hours sleep once the sun starts baking.
Downpours and windstorms haven't messed with this solid tent. And two guys can have their gear and own space inside it. All the while, it packs down small enough to fit into the bottom compartment of my Kelty. The foot pump has no mechanical parts that can break, the tubes are solid, and I have backups.
I feel very comfortable trekking across Asia with this tent. And anyone that joins me along the way will be comfortable as well...
Design: three-season, not freestanding
Sleeps: 2
Ease of Setup: The initial setup is tedious and time consuming but after you have everything aligned, setup is very quick and easy.
Weight: about 6 pounds with footprint and all backup parts
Price Paid: about $450

This is an excellent tent. It sets up very fast as they instructions indicate. The airbeams are very solid and do not move.
I live in Florida where thunderstorms are an afternoon occasion, with lots of wind and rain. I was on a scouting event where there was several hundred scouts with many tents. We had a thunderstorm roll through and many tents did not fair well, broken poles, tents with water, wet gear etc. The Nemo was completely dry inside and showed absolutely no signs that a storm had been there.
The inside is perfect for me and my gear, I have not tried to use the tent with two people yet, but on a single person level I love it. The customer service from Nemo is exceptional as well. When I first received my tent the foot pump and the tent stakes where missing. Nemo sent me the items no questions asked.
After about 6 months I was placing my tent in its stuff sack the strap broke. After calling Nemo they sent me a new sack. Great customer service. Great tent/ I love this tent. This will be the last tent I will need buy in this size.
Design: Airbeam, 3 season
Sleeps: 2
Ease of Setup: Sets up in 5 minutes total time
Weight: 6 pounds with footprint
Price Paid: $299

The most bomb proof tent I have ever seen! This tent will do it all. It is the fastest set up bar none, maybe 3 minutes. You simply stake it in and inflate to air beams and it's rock solid.
No condensation, even in humid weather. If it's raining out, you can inflate it from the inside and keep fairly dry. The vestibule is also your sleeping area, so you can't have it open at all times, or when you're sleeping. Plenty of area for two people and gear, you could really fit three.
I have this baby for two years and it has no signs of wear. Easily a 20 year piece. Trust me, pay the price once and don't waste your money buying mediocre stuff because you will just end up buying this when the other stuff fails.
pros
-bomb proof
-light weight
- fast set up
- vestibule
- roomy
- durable
cons
- can't distribute load b/t two people, it's all or nothing
- vestibule is also sleeping area so your pack has to stay inside with you.
Trust me, it's worth the money! You know you can count on this equipment.
Design: three season
Sleeps: 2
Ease of Setup: 3 min tops
Price Paid: $350

Interesting design concept, but still prefer a poled tent.
My wife and I borrowed this tent from a friend to try out. At 5lbs 11oz packed weight, it's quite heavy for a two-person tent, 3-season tent; but it was also very spacious compared to what we usually use for our two-man, and the tent material would probably work for a 4-season tent in some conditions.  
We only tried it once, so the setup was a learning experience. But I think that even if we had been experts at setting this tent up, it would still take longer than a poled tent. You inflate each individual tube with their foot pump (supplied), and in the wind and rain I could see that being difficult.
The tent fabric seemed fairly heavy-duty, but some of the waterproof seal on the inside was beginning to flake off.
Source: borrowed it

Bought this tent about 1 year ago and have used it 30-40 mph wind, rain and in the heat as well. Great product. Large interior for two. Have even squeezed three in there once even though it was my seven-year-old son, it worked out. Quality is top notch and will not dissapoint.
My only gripe is the air beams are a bit missleading. They are heavier than aluminum poles and take longer to set up. Most ads will say sets up in 45 seconds but this is false. Footprint set up and staking it out will likely take > 5 min. and blow up time is about 1.5 min for the front and 1 min for the rear.
The other con with this tent is weight. With the footprint and stakes you're looking at about 6 lbs. May not be suitable for the ultralite hiker.
All in all it is a rock solid tent and wouldn't suprise me if it held through a snow storm.
Sleeps: 2
Ease of Setup: easy
Weight: 6 lb packed weight
Price Paid: $349

I love this tent! I recently used it on two different trips. One was a 10 day rafting trip in the Arctic National Wildlife Refuge, Alaska, and the other was "car camping" my way across the country. In all kinds of conditions (cold, snow, rain, mosquitoes, heat, wind) this tent passed all the tests. It was extremely quick and easy to set up and take down. It held up under some rather windy/cold conditions on an exposed plain in the Arctic.
It has great ventilation and I was really happy to wake up dry and comfortable every morning. (I have a hyper-senstivity to water dripping on me or getting my sleeping bag wet and so having a tent that doesn't have condensation issues is very important to me). The bonus feature of the tent is it looks really cool! It's a great design!
Design: three season
Sleeps: 3
Ease of Setup: quick and easy -- the pump is fast
Weight: light

Tent that not only turns heads, but performs as great as it looks. The single wall construction holds up well to harsher conditions, and the many vents that are built in keep the condensation to a minimum. What still surprises me is the amount of real estate that the tent covers. This tent comfortably fits two average-height people with plenty of space for gear stashing. The tent when used for taller people will only be subject to less gear space, but still comfortable. I've had just good experiences camping in this tent. The company behind the tent has also been more than exceptional in their warranty support.
Design: three-season air beam supports
Sleeps: 2
Ease of Setup: Once the tent is staked the actual setup is quick and easy
Weight: a little over 4lbs
Price Paid: $240

I used the Morpho air in Alaska for three weeks and could not have asked for a better travel companion. The tent was the easiest tent to set up I've ever used which was particularly important when the mosquitoes were vicious. The NEMO air beam technology is stronger than regular poles and we were kept happy and dry in the most extreme weather. The ventilation is fantastic - the tents are obviously designed by a group of people who really understand what it is like to be outdoors!!
Sleeps: 2
Ease of Setup: Extremely easy (and fun to inflate!)
Weight: light!

The absolute best tent I've ever seen for many situations. I also have the GoGo and Moki (5 out of 5 on both for different applications). You cannot go wrong with NEMO, great customer support, great people.
Design: Three-season (depending on your bag) maybe four.
Sleeps: 2
Ease of Setup: The easiest
Price Paid: Not much for the quality

Your Review
You May Like
Specs
Price
Historic Range: $278.57-$416.45
Reviewers Paid: $240.00-$450.00