NEMO Tensor Alpine Ultralight

Top 25 in unisex Air-Filled Sleeping Pads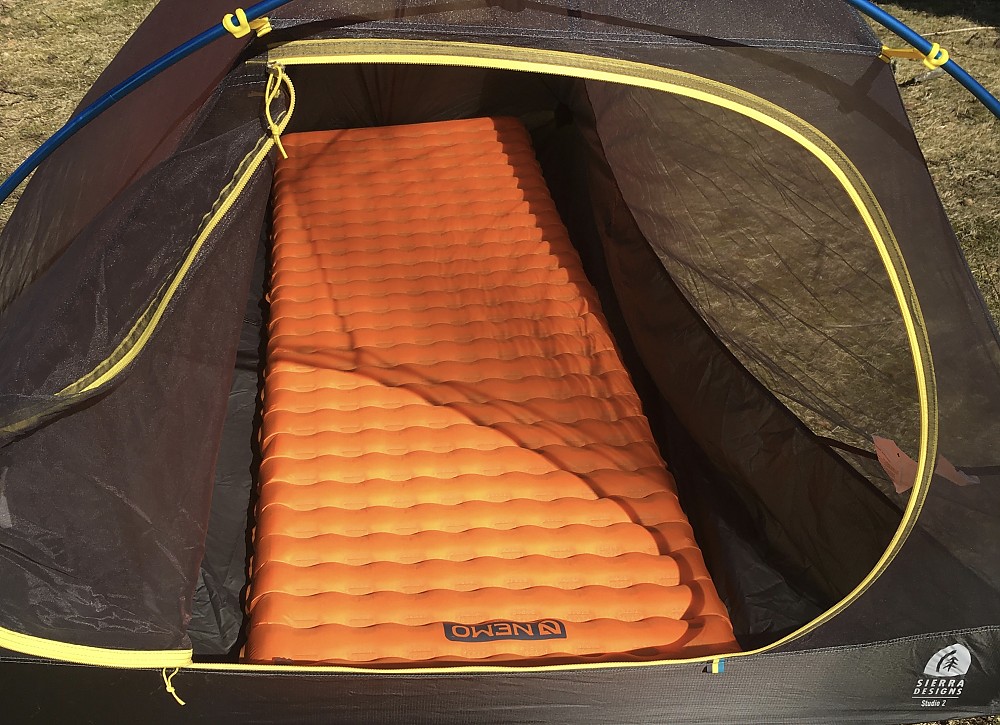 The NEMO Tensor Alpine ultralight sleeping pad is a do-it-all pad. It's small and light enough to carry into the mountains, it's warm enough to use in all four seasons, it's comfortable enough to sleep soundly through the night, and it's easy enough to inflate/deflate that you won't dread setting up or tearing down. This pad is the warmest I've ever slept on and one of the easiest to inflate/deflate.
Pros
Compact
Can handle the cold weather
Pump sack included
Low-profile valve
Cons
Without the pump sack, it's tricky to inflate (So don't lose it! Can be bought separately though.)
Conditions: 
I've tested the NEMO Tensor Alpine pad (Wide/Long option) over the course of three months, during late autumn and winter camping trips. I've spent a total of nine nights sleeping on the pad, and my nephew borrowed it for an additional three nights.
Specs: 
Remember, these are the specs for the Long/Wide option. NEMO also sells a Regular/Mummy version of this pad, which is 4 inches shorter, 5 inches narrower, and 7 ounces lighter. 
Length:

75.5 inches / 191.8 cm (Manufacturer claim is 76") (Regular/Mummy is 72")

Width:

25 inches / 63.5 cm (Manufacturer claim is 25") (Regular/Mummy is 20")

Thickness:

2.875 inches / 7.3 cm (Manufacturer claim is 3") (Regular/Mummy is the same)

R-Value:

4.8—bring on the cold weather! (Regular/Mummy is the same) (Both adhere to new ASTM testing standard for 2020.)

Weight:

1 lb. 9.9 oz / 734g (Manufacturer claim is 1 lb. 11 oz or 770 g) (Regular/Mummy is 1 lb. 4 oz/555g)
Setup: 
I've owned and/or borrowed pads that were made from a variety of the most popular brands on the market, and this pad is a continuation of what I've experienced with NEMO pads in the past, and that is...they are the easiest pads to inflate and deflate. Simply put, NEMO has figured out the easiest way to get air in and out of the pad without hassle, moisture, or protruding valves. 
With the Vortex pump sack (which comes included with the pad, but can also be purchased separately), I can get the pad from its stuff sack to fully inflated in about two-and-a-half minutes, which takes just over three full sacks of air to completely inflate.
As for deflating and getting the pad back into the stuff sack, that takes me just shy of three minutes, with most of that time being dedicated to carefully folding and rolling in order to make sure it fits nicely in the stuff sack. These times are based on a normal, casual pace. I estimate the times could be cut by 30-40 percent if you were really in a rush (but who wants to be in a rush when camping?!).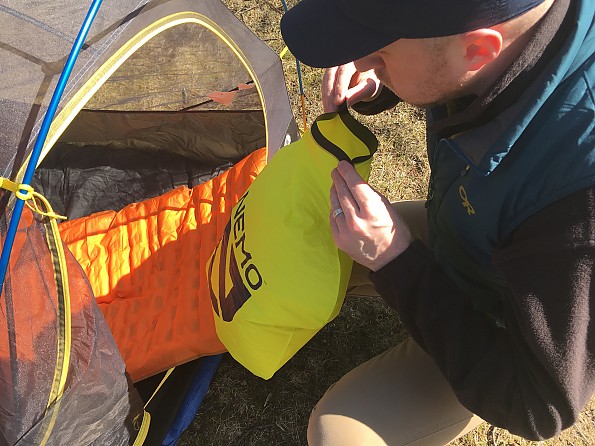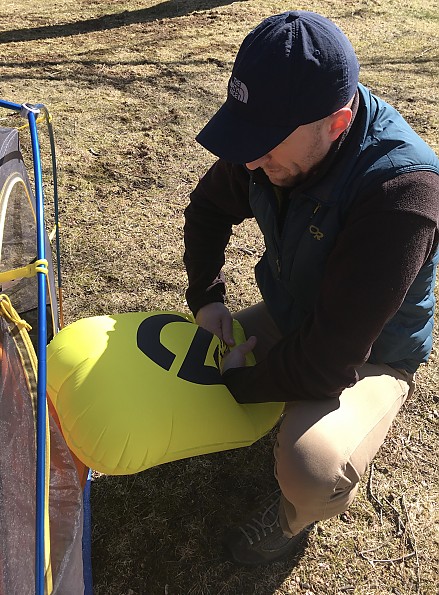 If you've never used a pump sack before, don't worry, the easy-to-understand instructions are printed directly on the sack itself. As a test of its clear instructions, I had my 12-year-old nephew, who had never used a pump sack like this before, read the instructions and figure out the set up by himself. He filled the pad without any problems in less than five minutes.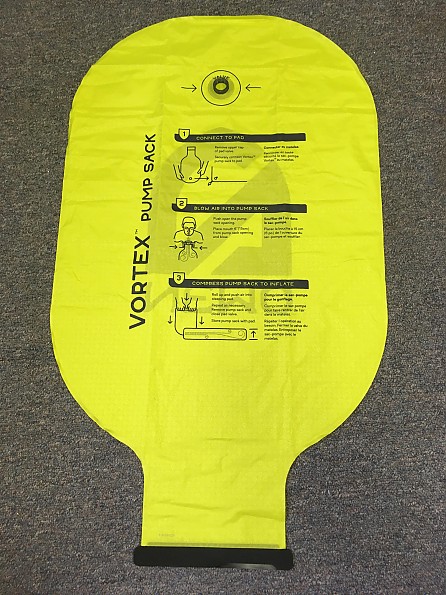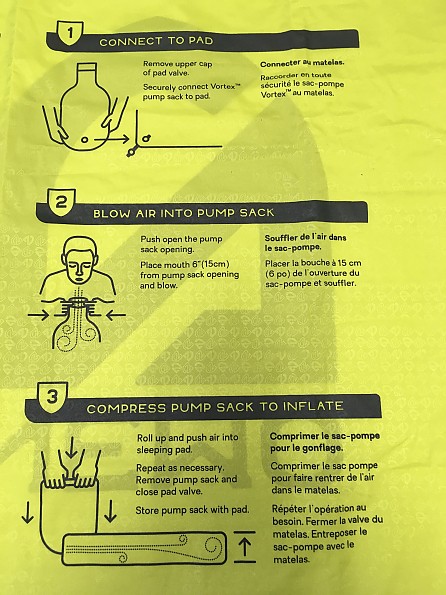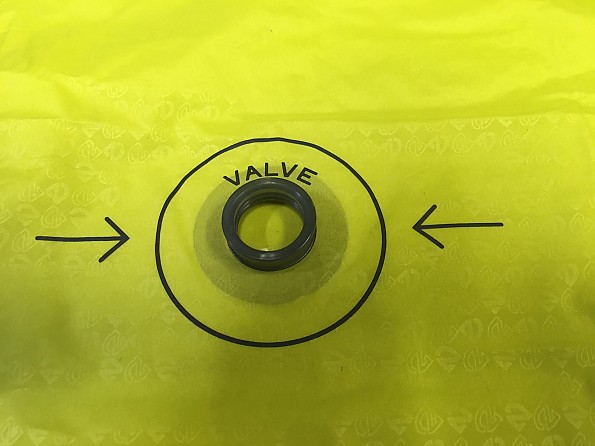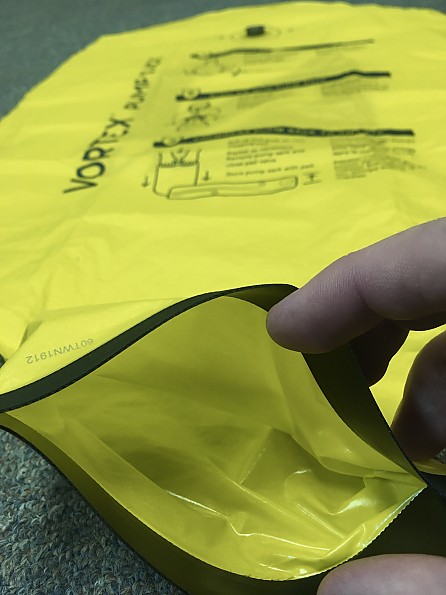 In addition to working with the Tensor Alpine pad, the Vortex pump sack also works with other NEMO pads that have the same valve, namely the Tensor, Astro, Flyer, and Roamer models. 

One drawback is if you somehow lose the pump sack or forget it at home while on a trip. The pad is possible to inflate just by blowing into the valve, but it certainly is not easy to do so, with its wide opening. Since blowing into the pad is becoming more and more a thing of the past anyways, I strongly recommend sticking to using the pump sack, and if you're concerned about losing it, buy a spare pump sack just in case. 

Warmth: 
The R-value on the Tensor Alpine is 4.8, which means it is built to handle cold environments. This has been tested in accordance to the new ASTM R-value standards (new for 2020), so can be compared accurately to other brands/pad using the same updated standard. In fact, the manufacturer claims it is built for "extreme cold".
I haven't tested its absolute limits in this area. Quite frankly, I'm not brave enough nor equipped well enough to spend nights in single digit (F) temperatures. However, sleeping on this pad in temps in the 20s and 30s F (-6.6 to 3.9 C), I haven't experienced any noticeable heat loss. Just because it is built for colder temps, doesn't mean I'll overheat in the summer months. This can be used year-round without fear of getting too cold or getting too hot. 
Comfort:
I am 6'2" (1.88m) and 200 pounds (90.7kg). I sleep on my side roughly 80 percent of the time and on my back the other 20 percent. This pad is comfortable no matter what position I'm in. Given that I tested the larger of the two options (Long/Wide version as opposed to the Regular/Mummy version), I have plenty of space to adjust when necessary and I can do that without falling off the pad. Add to that the nearly three inches of loft and I sleep soundly on this pad without ever bottoming out and having my joints dig into the ground. 
Additionally, my much smaller 12-year-old nephew borrowed the pad for a few nights and upon returning it, unashamedly asked if he could keep it for his upcoming scout trips. So apparently he thought it was pretty comfortable too. 
An additional aspect of comfort for me is whether or not the pad slips around the floor of a tent or if a sleeping bag slides around a pad. Neither of these issues have been experienced with the Tensor Alpine, which leads to a more comfortable, more sound night's sleep. 
Weight: 
1 lb. 9.9 oz (734g) (or if numbers aren't your thing, it weighs a little over a pound and a half).
I don't get overly concerned about shaving weight, so to me, this is a completely acceptable weight for the size, warmth, and comfort it provides. Interestingly, this is less than the manufacturer's advertised packed weight of 1 lb. 11 oz. 
Packability: 
Given the size and warmth, I did not expect this pad to pack down as small as it does. A pleasant surprise for me and one that makes it easy to pack, no matter the weather. The pad and pump sack together pack down to about the size of a stout water bottle.
Noise:
One major deciding factor for some pad sleepers is how much noise it makes when you're rolling around at night. Personally, a little noise doesn't bother me, so it's not a make-or-break feature for me. The NEMO Tensor Alpine does make a little bit of noise, but mostly when inflating it. I liken the noise to slowly driving the neighborhood to check out the Christmas lights and a light ice drizzle begins hitting the windshield. I believe the sound is actually the metalized film (more on that in the next section) expanding to its full size and the sound goes away in less than 10 seconds after being fully inflated. 
Design & Features: 
Three noteworthy features of this pad are its valve, materials, and baffle structure. 
Valve: The low-profile valve is easy to operate and being low profile, doesn't get in the way. The valve has two caps that fit directly on top of one another. The first cap opens the cover and allows access to the one-way valve. Air does not escape when this valve cover is open. The second cap opens the entire valve for a super-quick deflate. No protruding valves...hooray! The manufacturer calls this a zero-profile valve, I call it a super low profile valve. Those might be semantics, but regardless, it's a great valve that goes completely unnoticed and very secure. 

Materials: NEMO states this pad's external fabric is made from 20 denier fabrics and its internal insulation materials include three layers of "Thermal Mirror metalized film." I'm not going to pretend I know the precise advantages or disadvantages of metalized film or its insulative properties, but I do know that the materials are mostly quiet as I roll around on the pad and they do a fine job of keeping the cold out. To me, this is what is most important. 

 
Baffle Structure: The baffle structure of the Tensor Alpine is "undulating lateral" and "Spaceframe" both of which are fancy words for comfortable and quiet. Generally speaking, I tend to prefer horizontal baffles over vertical ones, as I've found I rock less and can maneuver sleeping positions better with horizontal baffles. This pad is no exception.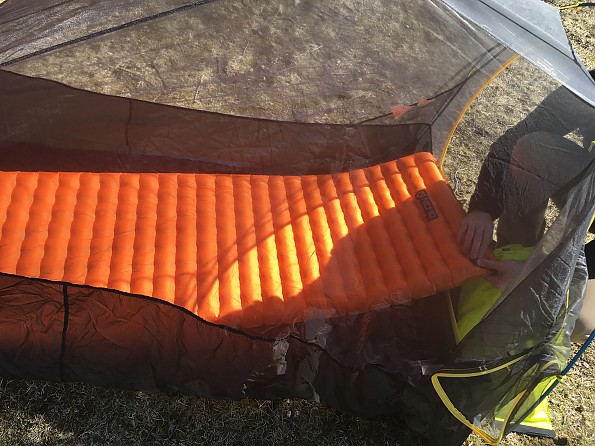 Other Tidbits:
Repair Kit: Tucked into a discreet pocket in the stuff sack is a basic repair kit (i.e. patch) in case something were to happen while in the field. I didn't even know the kit was there until several months of use. Haven't needed it, didn't notice it. I'd recommend that the manufacturer print "Repair Kit Inside" on the stuff sack somewhere so it is more noticeable and easily located. 
Packaging: The packaging is made from recycled materials and is fully recyclable. I except this nowadays from outdoor brands, so it isn't all that noteworthy for me, but kudos nonetheless.  
Lifetime Warranty: Although I have not experienced any negative issues with this pad, NEMO does provide a lifetime warranty for this product. To me, knowing a company is willing to back its products with a lifetime warranty goes a long way in easing my mind about long-term usage. 
Best For: 
The NEMO Tensor Alpine pad is a great fit for someone looking for a cold-weather pad that doesn't weigh a ton, is highly packable, provides full-night comfort, and is super-duper easy to inflate/deflate. The weight-to-warmth ratio, along with its no-nonsense valve make for a pad that is welcome in almost any situation or condition. 
Experience
In recent years, I've been sleeping in a tent anywhere from 15-30 nights per year. I've slept on sleeping pads from a variety of manufacturers. Only in the last couple years have I started camping in temperatures below 40°F (4.4°C). This pad is the warmest out-of-the-box pad I've ever slept on.
Source: received for testing via the Trailspace Review Corps (Sample for testing and review provided by Nemo)

Your Review
Where to Buy
Help support this site by making your next gear purchase through one of the links above. Click a link, buy what you need, and the seller will contribute a portion of the purchase price to support Trailspace's independent gear reviews.
You May Like
Specs
regular mummy
long wide
Price
Current Retail: $149.89-$249.95
Historic Range: $149.89-$259.95

R-Value
4.8

Minimum Weight
1 lb 1 oz / 475 g
1 lb 8 oz / 690 g
Packed Weight
1 lb 4 oz / 555 g
1 lb 11 oz / 770 g
Packed Size
8 x 3 in / 20 x 8 cm
9.5 x 3.5 in / 24 x 9 cm
Thickness
3.0 in

Dimensions
72 x 20 x 3 in / 183 x 51 x 8 cm
76 x 25 x 3 in / 193 x 64 x 8 cm
Insulation
Aluminized Film

Fabric
20D PU Polyester

Recently on Trailspace