Nike Air Trail Pegasus+ 3

The Air Trail Pegasus+ 3 has been discontinued. If you're looking for something new, check out the best trail running shoes for 2023.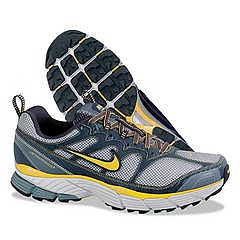 Unfortunately Nike often has a habit of doing away with shoe models we love...and that was the case with the Kyotee 2...that offered my tall 180 lb back disc-sensitive body the cushioning I needed and the protection against air bladder poppage that unfortunately I experienced on the 360...
I was frantic and even bought a pair of Brooks Glycerins, the so-called premiere cushioning shoe...I found the Brooks very cushioning, but lacking the resilience and return of energy I was used to in Nike Air, which I had used for many years...what was i to do...
I had been afraid to try the Pegasus, even the trail, as it looked as if the air bladder came right to the sole surface in the middle of the heel...however, when informed by a Nike employee that this plastic bubble did not go direct to the bladder, and the air bladder was in fact further recessed, deep enough into the shoe to resist 1/8" burr spikes, I bought the shoe...must say I'm glad the demise of the Kyotee 2 has brought me to the Pegasus trail...it is everything the Kyotee had been, but with a bit more cushioning feel that is very deeply appreciated by me.
I tried on both the Pegasus 2007 and the trail version, told by Nike that the trail has a bit of a waffle sole and slightly stronger upper fabric for the trail...it also had a nicer darker colour (yes Nike, your customers prefer darker colours, preferably black so we can wear them after we're done running in them)...I tried both trail and non-trail and found no weight difference, and actually more of a springy quality that my Kyotee 2 had exhibited.
The Nike guy said Nike may have put a bit more foam in the shoe for the trail...well, it made it even more cushiony...and the specs say there is no weight difference...bottom line, the best cushioning shoe (I'm tall, 180 lbs of mostly lean muscle, and need cushioning otherwise a surgeon told me I'd need back surgery if I continue to run) I've run in regarding all brands (tried the Reebok Hex, Brooks Adrenaline, Asics, Saucony)...and, for my tastes, the best cushioning shoe Nike makes...except perhaps for the 360, but the 360 does not have the sole to protect against burrs on the sidewalk, or other such minor outdoor poppage liabilities...I know, I popped 2 pairs before going for the Kyotee.
Top shoe for cushioning, thanks Nike...just doN'TTTTT discontinue this one!!!!!!!!!!
Materials: air
Use: concrete/asphalt running (springier on concrete than the normal pegasus, go figure)
Break-in Period: good from the start
Weight: 13.2oz they say, not heavy
Price Paid: $85

Your Review
You May Like
Specs
Price
Historic Range: $84.95
Reviewers Paid: $85.00

Recently on Trailspace