Nike Air Zoom Kyotee

The Air Zoom Kyotee has been discontinued. If you're looking for something new, check out the best trail running shoes for 2023.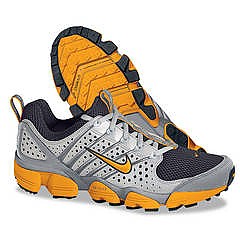 This is the best shoe Nike makes, but I'll start with a slam of Nike...that is that the reason I was forced to get the Kyotee is that Nike's air shoes are pretty much worthless. Oh, they are the best on the market for cushioning shock, but the air bladders are so close to the bottom of the sole that something as innocuous as a 1/8th inch burr from a field next to a sidewalk on which you are running will pop a $150 shoe. I've had to bring several pairs back to Nike. They take them back if they've been popped within a month of buying, and mine invariably did.
NOW, to the Kyotee. Probably not as good at cushioning as a full-on Nike Air 180 or their other top shoes...but I had the 180 at a price of $150 w/o tax...and it popped several times within a week of purchase. So, I researched the heck out of Nike trail shoes, figuring that trail shoes with full length air would at least have enough sole (soul, sic) to protect the air bags...I came up with the Kyotee on finishline.com...and got a discount they were having at the time.
When I ran in the shoe I was astounded to find they were only about ten percent less effective in their air cushioning then the top echelon air shoe. What really got me going was coming back from my first run with about 8 burrs sticking out of the soles of both shoes in total, like arrows on a cartoon cowboy's back...and pressing the sole I could tell none had punctured any air sole unit (the Kyotee has a forefront and rear unit).
A bonus is that the Kyotee actually looks hot and fits better than the big top cost Nike Air, and is lighter. for a runner such as I with back injury issues. Nike has produced the only shoe that can protect my back on the concrete I run...but the catch 22 has been their poppage, probably a little discussed problem on the order of, "no, I don't see that giant elephant sitting in the room"...
Nike should get their act together and support the fact they make the best cushioning running shoe out there by making it so it won't pop on something as universal as a field burr on a sidewald next to any brush you will easily find in most cities, not having to go on a trail.
After spending $150 for my Nike and other running shoes for decades (usually Nike because I prefer the air), it was a pleasure to now be getting virtually the same air protection for $90 a shoe, and they last longer due to the enhanced sole of an air shoe.
As for some other reviews, my heel fit super snug in the shoe, and I've a narrow foot, so I don't know about that. As for lasting, my first Kyotee did seem to be rather normal in its ability to last (speaking to the review that had the thing come apart on them), but my Kyotee 2 (the latest Kyotee) looks pretty much like the day I got them after running about 250 miles in them.
Sad one must get a trail shoe to be able to use Nike air and not have air bags pop, but happy that Nike does have a great air shoe that will resist something as innocent as a burr (don't tell my cat that it's innocent).
At a meager 50 miles a month (back issues, remember, cross training) my Kyotee's cushioning lasts about 6 months before I can feel not the air, but the sole materials start to lose resilience...on a normal Nike top echelon air shoe this would not be such a problem, but the reason I bought the trails was the thicker sole to protect against burrs...so while air doesn't give out (unless popped) these thicker soled shoes will diminish their protection at about 250+ miles, where i suppose a non-trail Nike air would last a lot longer...as long as you run in a rat maze where there are no burrs (hint hint Nike, get in the real world, there are burrs).
One caveat about Nike trail shoes...rare are they with dual or full sole air bags...and I was about to go to the Steens, and bought a pair online, but when i got them had to return them as inexplicably Nike decided to have the heel air bag run right up to the sole, even though raised a bit...but what foolishness, what dolt designed this, as in a running shoe you compress down, and especially on a trail something could be sticking up, so obviously something's going to come up and probably puncture that air bladder, just several millimeters away from the trail you are running on...
I called Nike about their new Pegasus Air trail, but the guy on the phone had a pair in his hands and admitted they didn't have the sole protection of the Kyotee...so I'm sticking with Kyotees
As for fit, ride, etc...they fit incredibly and have a smaller footprint than hi price non-trail airs (you don't feel like you are in moonshoes), and are really a joy to run on...and they are sharper looking then perhaps any shoe in Nike's line.
Materials: nike air, dual bags
Use: on cement but running over burrs which pop normal air shoes
Break-in Period: virtually none...great out of the box
Weight: much lighter than most of the top line air shoes though the cushioning isn't reduced by much at all, i think somewhere around 9 oz
Price Paid: $89

This is probably the greatest, most comfortable shoe I have ever owned. Usually I don't have good luck with Nike because their shoes tend to lean more towards narrow-footed runners, but not this one.
I have a very wide foot and this fits me perfectly. It also has very good traction, the "teeth" on the outsole really keep you anchored to the ground... no slipping with this shoe! As far as cushioning goes, the Zoom Air is definitely there.. and you can tell. A lot of Nike shoes claim to have the springy, zoom air feeling, but this one is really responsive. It's like Shox, but much more durable (Shox brake far to easily for the price). Big runners will love that aspect of the shoe. It has a very breathable mesh and syn. leather upper, so your feat won't get to hot on those long runs. A nice added extra to this shoe is the one piece toungue, it makes the shoe very comfortable.
I would definantly recommend this to anyone that does "offroad running" or trail running, it's good for ruffer ground but it also performs well on the track. Good Job Nike!
Materials: Carbon Rubber, Foam, Phylon, Heavy Mesh, Synthetic Leather, Zoom Air Units
Use: Good for running, trail hiking, or even walking.
Break-in Period: none
Weight: Very Light
Price Paid: $89.99

I love these shoes for long trail runs. In the past year I began ultra running and have since run multiple 50 mile races and one 100 mile race as well as many long training runs. I struggled to find the right shoe for many months because I pronate a bit but most shoes with stability and motion control were "too stable" and hurt my knees and rubbed my heels wrong.
The Air Kyotee has just enough pronation control for me without overdoing it and is very comfortable to wear for 12-30 hours of running. They are also very reasonably lightweight yet seem to hold up well. I now run exclusively in these shoes and need to stock up before Nike stops making them.
I also "broke in" a new pair this past Saturday in a 50 mile run and they need no break in. The tongue-less design is nice and tends to hold the little rocks out well.
Use: trail runs of any length
Break-in Period: None!
Price Paid: $90

I loved this shoe, but for only about 10 weeks. After that the shoe began to come apart. First at the heels with pieces comming off. Then at the front of the sole.
The shoe, prior to the demise of the sole, was the best trail shoe I have ever owned. I am rough on my shoes. I run South Mountain in Phoenix twice a day each Saturday, Sunday, and holiday. Still I expect a shoe to have a longer life than the brief span this shoe gave me.
I think I am gonna gamble and purchase another pair. Perhaps I was unlucky enough to buy a pair that was not vulcanized properly.
I sat in the store trying on trail running shoes for a solid 45 minutes. I had tried on and darted around in about five or six pairs of shoes from New Balance, Asics, Nike, and Adidas. Prices ranged mostly from $30 to $60. I didn't even notice the Kyotees until the last 10 minutes. I put those on and the top two contenders suddenly seemed like they belonged at the back of the pack. Those crazy-looking Kyotees are confortable as all get out and feel very stable and have the perfect amount of cushion when running in the mountains around Phoenix. I would definitely recommend these shoes for rocky trail running. Amazing!
Materials: Lightweight running gear
Use: Semi-rocky, mildly rough desert or mountain trails
Break-in Period: About 5 runs or so for me
Weight: 175 lbs.
Price Paid: $90

I liked everything about these shoes -- up until I actually ran in them. The heels aren't nearly snug enough for someone like me who has weak ankles and runs a lot of single track. The traction is great on the shoes, the only problem is that they didn't hold my heels in and let my ankles roll multiple times the first (and only) time I wore them. Thankfully I bought them at REI and could return them.
I've run 36 years. These are the best yet, perfect for trails and ROADS. Stable, cushioned just right, responsive, durable. NIKE has a home run with this, only the "trail" label will limit folks trying this.
Price Paid: $89

Love these shoes. Great to have some cushion in a trail running shoe. My knees and ankles love them!
Weight: 127

Your Review
You May Like
Specs
(no Gender)
Price
Reviewers Paid: $89.00

Men's
Price
Historic Range: $25.97-$59.83
Reviewers Paid: $89.00-$90.00

Recently on Trailspace