Nike Air Zoom Orizaba

The Air Zoom Orizaba has been discontinued. If you're looking for something new, check out the best trail running shoes for 2023.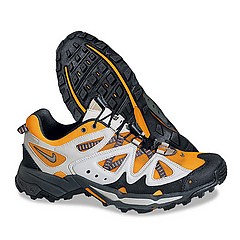 I am a physical therapist and I have been trail running in Fairbanks, Alaska, where conditions range from roots and rocks at 90 degrees to ice and snow at 50 below. I currently own five pairs of usable trail shoes, but these Orizabas are by far the best things I've had on my feet. I bought them to use in the Equinox marathon, a 26.2 trail race with a couple thousand feet of vertical. I need traction, light weight, low profile, good fit, decent cushioning and stability. I now have all of these things in one pair of shoes!
The dual zone quick lacing is simple, but genius. The all-track sole with a mix of carbon rubber and super-sticky lugs is especially good in wet conditions and these shoes even have drain ports for puddle-jumping. The kid at our local Footlocker gave me a deal 'cause I whined about better prices online. I've installed Shock-doctor insoles to improve arch support and stability -- they are now perfect. I just hope Nike keeps making them.
Materials: various synthetics
Use: trail running, trail racing
Break-in Period: 40 miles
Weight: 1 lb. 8 oz. (with added insoles)
Price Paid: $75

I am forced to mail order shoes due to living in a remote location so my choice is limited. I was aware of the bells and whistles on this shoe (cinches with toggles instead of laces) and figured I wouldn't like the system. I don't.
Granted, the shoes are easy to 'tie', but then you're left with long loops which, unless you tuck them in to their special place (not easy...caked with mud) are potentially dangerous. They could easily hook on roots or even your other foot. It looks like the whole cinching system could also be a pain as mud/dirt build up in and around the toggle.
My plan from the start was to replace the cinch system with plain old laces but I figured I'd try the shoes first the way they came. No go. I think we're paying extra dollars for a silly 'hi-tec' system that doesn't work. What's wrong with laces?
Materials: mesh upper
Use: trails, dirt roads
Break-in Period: fine from the start
Weight: 560 grams
Price Paid: $130

Out of the box, I put them to work climbing Camelback Mtn in Phoenix and they did phenominally well. They are very lightweight and I weigh 195 pounds. My feet felt like they were cushioned by a much heavier boot. Compared to Solomon's XA series these felt much lighter on my foot.
The lacing system is fine, it's a unique set-up, but can appreciate how it relieves pressure from swelling around the footbox. Next wore them with a pair of Khakis on and 8 hours on the feet trek at an amusement park and absolutely no problems. Plus, finally a trail shoe that will hide trail dust. Why do shoe companies think the only colors we will buy are black and gray? How about more colors that hide the dirt, like this one?
Plan on using these for a five-day fishing trip in the Sierra Nevada this summer.
Break-in Period: outta the box
Price Paid: $90

I just returned my first pair because the left shoe had a protruding seam that was digging a hole into my toe. But this second pair does not have the same quality issue and I have run on rocky trails twice (one hour both times).
Overall my first impression is very good. I really like the dual lacing system because when I do a lot of downhill running, being able to quickly cinch up the toes is the only way I know how to keep my toes from getting trashed. I also notice that the bottoms of my feet do not get as sore with these shoes as compared to running in regular street shoes. They seem quite stable and light, overall, would recommend them.
Price Paid: $90 at REI

I got about 200 miles out of these trail runners before they started to cause my feet to get hot. The soles were worn so badly at that point that I now use them for mud shoes or in the garden. Fast break-in.
Use: trail running and trail training
Break-in Period: 3 days
Weight: 71KG
Price Paid: $70

This is an amazing shoe. A lot of thought has gone into the design. The lacing system is fantastic. It allows you to customize the fit perfectly and they tuck away nicely under the front gaitor loop.
Price Paid: $90

Your Review
You May Like
Specs
Men's
Price
Historic Range: $59.83-$59.97
Reviewers Paid: $70.00-$90.00

Women's
Price
Historic Range: $44.97-$62.95
Reviewers Paid: $130.00

Recently on Trailspace