Nike Air Zoom Tallac

The Air Zoom Tallac has been discontinued. If you're looking for something new, check out the best trail shoes for 2023.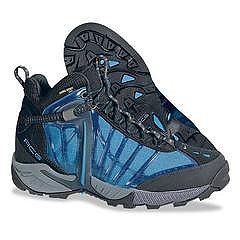 First generation of this boot, purchased in 2004. Used with a medium weight pack (40-45 lbs.) on River to River trail, southern Illinois, as well as day trips and overnights in Wisconsin. Also used for day hikes and walks around town.
This boot has worked out well for me. Toe rand scuffs up a bit, and after 2+ years the left boot leaks a little bit, but overall they have been comfortable, durable, and sure-footed. Have hiked through downpours and stayed upright and reasonably dry. Good support for a light boot. Nike now sells an updated version; can't speak for it. Previous boots were leather Asolos--good boots, but when they got wet they stayed wet. These stay drier and dry out faster.
Materials: fabric, Gore-tex
Use: overnight and 3-4 days with 40+ lb. pack
Break-in Period: none
Weight: approx 2 lbs.
Price Paid: $140

I'm terribly confused...either I purchased a completely different boot than those posting negative reviews or Nike has a serious issue regarding product consistency. I have owned a boatload of boots and trail shoes...some good, some not so good...others, like the a.z.t. are absolutely bomber.
I don't use that term freely!!! Really, I can't think of a more versatile boot for three-season conditions. Obviously, the a.z.t. isn't an expedition style boot, don't review them as such....they aren't made to do the Rupal Face on Nanga Parbat!!!
Seriously though, I've climbed 5.10, logged 20+ miles in a day and everything in between...I have a pair of Black Diamond Serac crampons that strap up perfectly with them and have ascended countless early spring and late fall couloirs, even small sections of vertical ice...granted, once you quit moving on snow and ice your toes can become a tad nipply!!! Anyway, like I said, this is a bomber boot/shoe...I doubt you'll be dissapointed!
Use: all sorts
Break-in Period: a few outings
Price Paid: $135

I bought the Tallac a few years ago when they first came out which is why I paid a lot for them. At that time they were only sold on Nike's online store which is pretty much a rip-off.
They were not the best hiking shoes I had ever owned but they were the lightest and most comfortable. I hiked several hundred miles in them in the toughest terrain AZ has to offer so I doubt the reviews stating they fell apart on the first outing would be true unless there was a defect in the specific pairs bought.
I was happy with the traction but I hiked almost exclusively on dry rock and sand. The toughest "day" hike I took them on was a 50 mile Grand Canyon Death march which is a non-stop Rim to Rim and back again. It was the second time I had done it, the first time being in a pair of Danner leather boots. It's on a hike like that when you truly appreciate the light weight. With the Danners by the final miles I felt like I had 20 pound boots on. And as half the trek is in the dark on uneven terrain I can say there was enough support with the Air Zoom Tallac to prevent me from straining an ankle. The next morning there were a couple black and blue toes but after over 10,000 feet DOWN (adding both decents south and north) there are no hiking boots that will prevent your toes from being banged up (hint if you really want to prevent it: wear a pair one size too big or else open toe Tevas on the decents).
I wore the Tallacs on about 50 miles of Rocky Mtn and AZ backpacking total and was satisfied with the performance with a 40 lb load on top of 189lb body weight. The most disappointing aspect was that the soles wore out much faster than expected; after less than 200 miles of trail-time. But perhaps I was spoiled by heavy duty Vibram soles that last more than twice that. At $155 I would say they weren't worth it since they only lasted me one and a half years. But if you can get them for close to $100 it seems like a fair trade if you have to replace them every year or so.
Materials: gore-tex
Use: long dayhikes, tough backpacking
Break-in Period: 0
Weight: feel like nothing
Price Paid: $155

These are the best lightweight hiking boots I have ever used. Took them on a six-day, 60+ mile trek, 10 miles XC, with a 45-pound pack and they performed great. The only drawback, at the collar, the material is starting to wear. Though with over 150+ miles, that is not all that bad either.
Materials: Gore-tex
Use: rough trails
Break-in Period: none
Price Paid: $75

I trusted the Backpacker Magazine rave review--my first mistake. They felt great out of the box. I broke them in on rough rocky trails and within ten miles they were showing some cracking in the tread. I thought nothing of it and wore them as I started the John Muir Trail--my second mistake. The tread cracks just deepened and elongated over the miles. By the fifth day it was obvious that I would need duct tape soon as one of the cracks formed a semicircular shape that showed the midsole. By the seventh day the flap started hanging down and catching dirt--duct tape to the rescue. Without regular wrappings with duct tape I would have had to bail out on my dream hike. Overall rating; great comfort, good stability, woefully inadequate durability.
Price Paid: $150

I trusted Backpacker too and got burnt: after ten miles in the Phoenix Mountain Preserves (rough terrain) they started to show a small crack in the tread of one boot. I disregarded this and went on to start the John Muir Trail -- 220 miles in the Sierra Nevada Mountains of CA.
Within two days the crack started taking on a semi-circle shape. This wasn't the tread wearing down but a fissure at the base of the lugs. Within five days the fissure deepened and formed a flap that would hang down and catch the ground. If it weren't for meeting people with duct tape to hold them together I would have had to bail out on my hike of a lifetime.
Materials: gote-tex
Use: heavy hiking
Break-in Period: minimal
Weight: about one pound each
Price Paid: $150

These sneakers are dangerous. If you trek on any trail that is the tiniest bit rough, e.g., rocks, twigs, tree roots or sand, they will turn your feet into hamburger. They provide absolutely NO protection for your feet, no discernable midsole, thin fabric "to protect" any part of your foot other than your soles, which are about equal to a light pair of coolmax sox. Except coolmax socks have better traction on anything damp. I wore them for an easy 8 miler and threw them away as soon as i got back to the trailhead. I drove back home barefooted. Nike is criminal to foist those things off as hikers. A sick scam.
chance mcguire
Materials: paper or recycled leaves
Use: slippers
Break-in Period: before they are purchased
Weight: it doesn't matter if they weigh in at .2 grams
Price Paid: too much, even if they paid me to take a pair

The previous two reviews?? Doncha think the part about throwing them away is a bit hard to swallow?
I bought my Air Zoom Tallacs after reading those reviews (I guess I trust Backpacker Magazine more). I wanted something light that I could use for winter backpacking and in the meantime use while I train for Rainier. I plan on getting double boots after I've tried a few and didn't want to try a heavier boot like la Sportiva Makalus since I'll probably end up w/double plastic boots anyway, and for almost all my other backpacking I'll be carrying 30 lbs. tops and usually less than 20. Anyway I was intrigued with Backpacker's claim that the boots comfortably supported 40lb loads.
I've only owned them now for less than a month but here's the scoop so far. I've used them for the equivalent of 25+ miles in the gym wearing a 25lb weight vest on both the stair-master, eliptical, and inclined treadmill. I've worn them on one 7-mile training hike with a 42 lb load. And just this past week I wore them on the 6 mile (up), 4200 verticle feet Baxter Creek Trail in the Smokies as a Rainier readiness test with a 50lb pack. Took 3.45 hours up, rain and showers the last 2 miles. The sky burst when I reached the Sterling tower (I retreated to a rock ledge overhang @ .4 miles back and dumped the water and sand weight from my pack and tried to wait it out. It rained so hard you couldn't hear, @ 3-4 inches in an hour. I finally started down with no weight but the trail a torrent in stretches (mini class 6 rapids!). Feet stayed dry and comfy until I had to ford three raging torrents in the last 1.5 miles with boots on, including losing one of my Leki poles on the last crossing. It was too dicy to attempt bare-footed. (went back and searched 2 days later when the water was down but no luck..) In all it seemed like a pretty good test (of me and the boot :)
The xcr gore-tex is very breathable and comfortable making these shoes incredibly comfortable. The support from such a light boot is hard to believe. These boots will really be the ticket for trickier conditions underfoot like rocky streambed hikes in the Southwest or hikes with talus and scree in alpine conditions. For normal trail conditions with packs 25-30 lbs or under it's almost like cheating.The only downside is there is obviously a limited life/miles expectancy, like 2 or 3 hard years of use or maybe 1000 miles?? Heck by then there'll be some other amazing new advance. I couldn't be more pleased.
These boots are the boss. Never slipped except on wet roots. Dried quickly, Supported that big load on about the best climb east of Colorado that I know of, and are lighter than lots of sneakers. Anybody else got a pair to throw away, size 8.5 to 9 throw 'em my way.
Materials: Nylon, xcr gore-tex
Use: rough or wet trail, mid-weight ? pack
Break-in Period: out of the box
Weight: 2.3 lbs
Price Paid: $139

I agree with the earlier review of this boot. It doesn't function as a hiking boot: it provides little, if any, foot protection; it has no traction on any surface that maybe wet, I wore them twice--once for a 12 mile trek with about a 20 pound pack, they were horrible. My feet were bruised more than they have ever been by any boot in over 25 years of trekking. The second time I wore them, I had a lighter pack, abt. 10 pounds, but on more difficult terrain. Once again, my feet were injured far more than any prior experience.
After I finished that trek, I was so disgusted wth the boots I just threw them in the garbage and was happy I would never have to look at them again. Lightweight gear works in many areas: clothing, tents, hi-tech electronics. optics, but not boots. Without a great pair of boots, you cannot trek with any degree of success, safety and comfort. The indutries marketing blitz that has now dragged boots into its circle of function not having anything to do with form will waste yor money and, more importantly, injure the most important equipment of your body needed in trekking: your feet, ankles and knees. Get sturdy, well made, high quality leather boots-- you won't need, gore tex, xcr, exoskeletons, plastic attachments, inserts--you wiil have the most critical piece of equipment a trekker can have and over the ears they will be your best trekking partner. I had better stop now. I think I am going to cry.
Materials: paper thi fabric, gimmicky exoskeleton
Use: usleess
Break-in Period: none
Weight: 30 wasted ounces
Price Paid: $140 + tax

If you want a lightweight hiking boot, save up your money and stay away from Nike's latest 'jump on the bandwagon latest fad' of lightweight hiking boots. These boot would be fine on the sidewalk. I wore them with a 30 pound pack on moderately rugged terrain. The fabris is as thin as tissue and every rock, stick, or anything that is harder than a sponge will macerate your feet. They provide absolutely no protection, stability or good traction except on the driest flat rock around. The fabled "exoskeleton" does nothing. My ankles folded over numerous times. Light equals pain and a waste of 140 dollars in this case.
If you want a great boot that will meet any challenge and leave your feet intact, try the Scarpa SL M3's. They weigh about a pound or so more, but at least you can hike in safety and pain free in a boot that will last many years. Good luck.
Materials: Sherpa HS 12 smootrh grainm one peice
Price Paid: $139.95

Your Review
You May Like
Specs
(no Gender)
Price
Reviewers Paid: $75.00-$155.00

Men's
Price
Historic Range: $41.97-$140.00
Reviewers Paid: $135.00-$140.00

Recently on Trailspace