Nikwax Nubuck & Suede Proof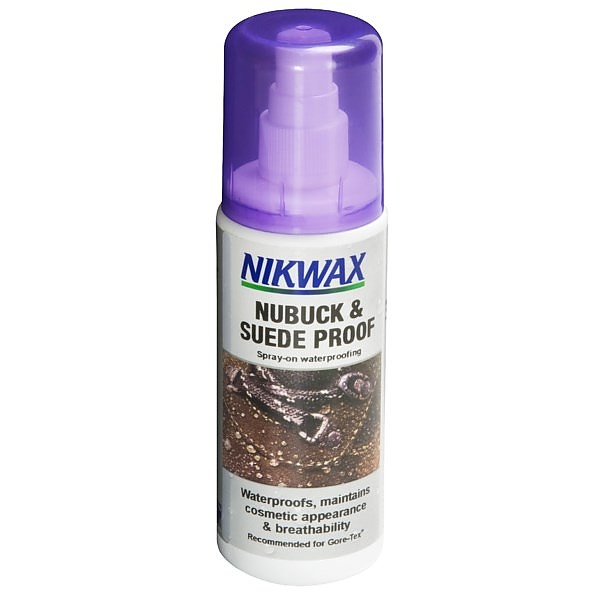 Essential waterproofing treatment for Nubuck and Suede leather. Key in its function is that being water based, Nikwax products typically "go where the water goes".

The chemistry here works great! The product wicks into wettable areas and waterproofs them! It is thus self regulating with the leather taking up just as much as needed. Like other Nikwax products this product the application method also cleans during the treatment process. Applied to laces this particular product also helps shed trail dirt. There are no fumes or organic solvents and little odor.

Hydrophobic (water repelling) and durable after drying, surface water and mud beads up and sheds off like crazy. And the leather is also protected against moisture soaking in.

This water-based product applies easily and works better for me than spray and other organic solvents that I've use in the past on my boots and other surface textured leather gear.
Pros
Maintains original matte or suede surface textures while waterproofing
Self regulating application rate, non waterproof zones take it up, waterproof zones shed it
Easy to apply, no fumes or organic solvents, and clean with soap and water
Applicator sponge with scrubber under the cap
Treats fabrics, plastics, and rubber on mixed complex designs used on modern sportswear so that they shed dirt and clean easier
Treats boot and shoe laces to help keep them clean
No waxy residues to build up or slick down leather texture
No extraction or bleeding of typical color fast leather dyes
Product does not spoil with room temperature storage and I suspect may help protect footware surfaces against microbial attack
One bottle treats many pairs of footware (estimate 6 sets of mens size 12, if heavy 1st time treatment needed)
Save for use on Gore Tex, eVent and similar membrane protected, 'waterproof' products.
Cons
Can slightly increase leather color density (test ahead if you want no alteration)
Scrubber brush on the sponge face (under cap) can errode
Nikwax product packaging is color coded so its easy get the right replacement bottle.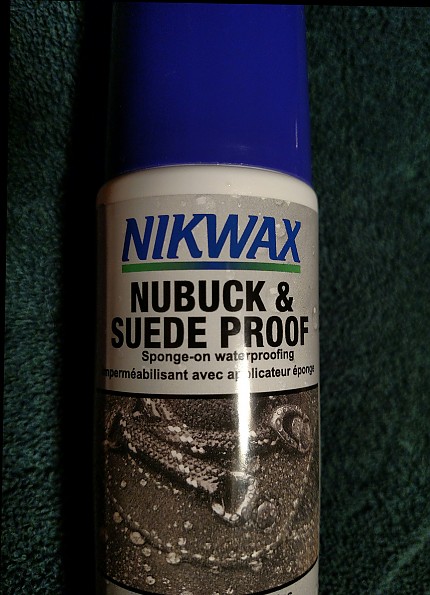 I start my shoe waterproofing session with clean surface items.  If done otherwise the final result may be waterproof, but it mßy not look very nice.  Right after a hike I rinse outside boot surfaces with luke warm tap water, brushing as needed with a soft brush, and dry them.  If the shoes have grime on them, I use dilute Nickwash or Sportswash soap with light brisk brushing as needed, then final rinse. Other soaps are not used because they may strip away waterproof durable finishes.  Soapy water is never applied to directly to dry leather in that I do not want soap soaking into the leather. If I detect that they soak up water then I set them aside for treatment before the next use.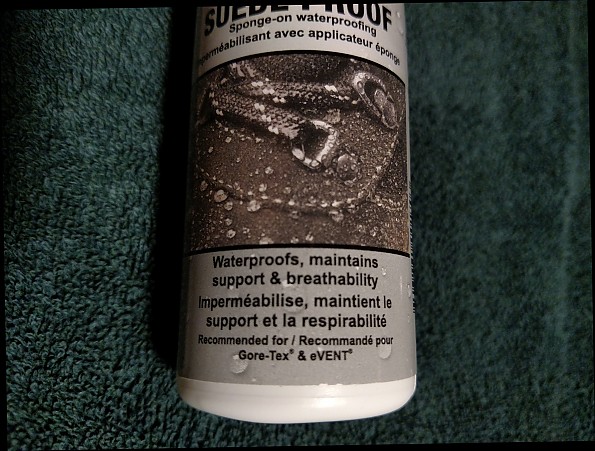 Typical hike setting needing water proofing like this is above the main falls on the Perry Creek Trail, on the Mountain Loop Highway, ~12 miles out of Verlot, WA.  This trail is right across the road from the infamous Big Four Ice Caves that killed hikers earlier this year.  I am standing on the trail in water, where the trail crosses a beautiful hillside creek.  The narrow trail wraps forward on the hill slope.  I think this is the last day the trail can be hiked this year.  Six inches of snow just fell and more is expected that night.  We just made it back to the trailhead before dark, from a beautiful 9.5 mile hike.
Just before leather treatment I take a lightly damp cloth and wipe off the shoe/boot surfaces.  The Nikwax watet proofer is then brushed on with the self supplying sponge applicator provided.
Applicator sponge with scrub brush is fragile don't apply too much pressure when scrubbing
 I do one boot at a time applying the agent first to areas needing more agent.  This order of application gives the most soak in time to areas needing the most agent.  Once treated, I let them sit 2-5 min and wipe off the excess with a dry rag or paper towel.  If areas have taken up agent so quickly that they look dry again. I add more and wipe of the excess as before.  The first time you treat leather it generally takes up much more agent then leather already well waterproofed.
I like to also treat the rubber soles (not bottoms!!) and toecaps.  The agent is also applied to fabric surfaces, stitching and even to shoe laces (use soapy water in a bowl to soak and clean laces first).  This makes all surfaces much more capable of shedding grime and staying cleaner.
Water test after one treatment Asolo Aconcaqua mountaineering boots (with Gore Tex membrane).
Water test after one treatment Asolo Fugitive GTX (with Gore Tex membrane).  This boot has some brightly colored leather.  It would be a "cosmetic disaster" if the red dye extracted and bleeded out!  This boot was purchased as a used item on eBay.  It was soiled and had darkened with surface trail dust not removed.  The rinse/Sportswash pre-scrub made it look much better, but waterproofing was not optimal (although Gore Tex protected the inside of the boot, some water soaked into the leather and fabric surfaces.  After drying overnight, one application of this Nikwax product was applied to the leather, fabrics, seams and meshes.  It was then dried overnight again before this demonstration test.
Color density of leather can increase on treated items.  Note that the reddish and and almond colored leathers have increased on the treated Oboz Firebrand hiking shoe on the left.  The black rubber toe caps look darker too.  This is mixed material complicated design which came already weatherproof and with their B-Dry membrane.  The Nikwax the agent used here post treats all surfaces to advantage for continued service life.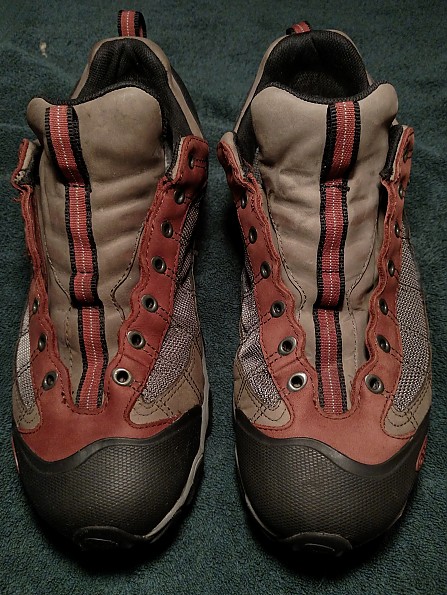 These boots are over a year old and have been used extensively.  They look like new due to the previous rinsing after hikes and gentle soap scrub used prior to this 1st treatment.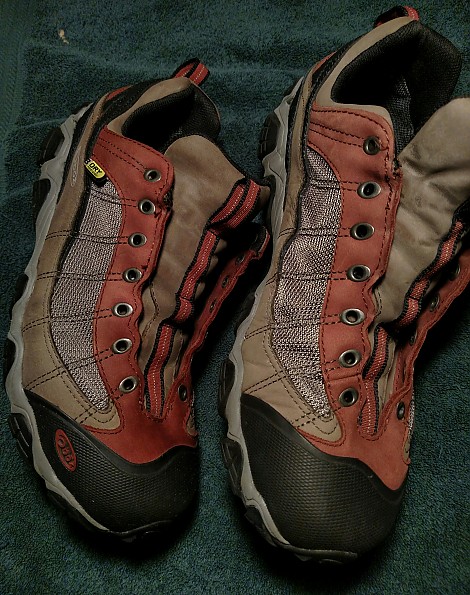 Water test after one treatment Oboz Firebrand (with B-dry membrane).   This a brightly colored boot.  It would be a cosmetic disaster if the red dye extracted and bleeded out!
Keen Voyager boots (non-membrane more breathable version) were used on several dusty summer hikes over last 1.5 years. After sitting dusty for month, both boots were rinsed off, surface brushed with dilute Sportswash, rinsed again and air dried.  The boot on the right was agent treated (leather, fabrics and rubber sides of toecaps and soles.Note the slight increase in color density of the leather.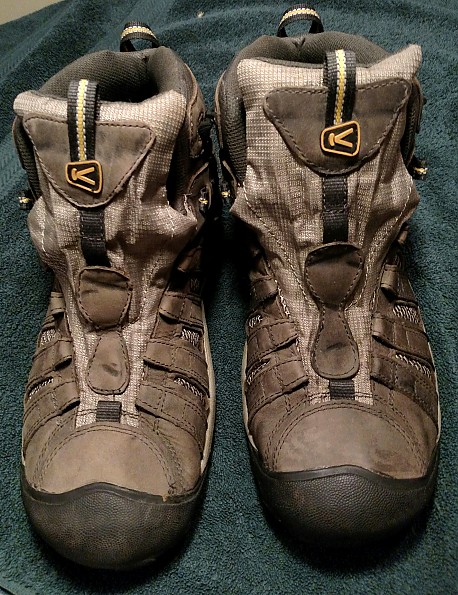 Breathability is maintained (air goes through mesh vents , fabrics and leather).  However, the leather, fabrics and rubber is protected from the elements and soiling.   This treatment will also work for the ever popular Merrill Moab Ventilator too.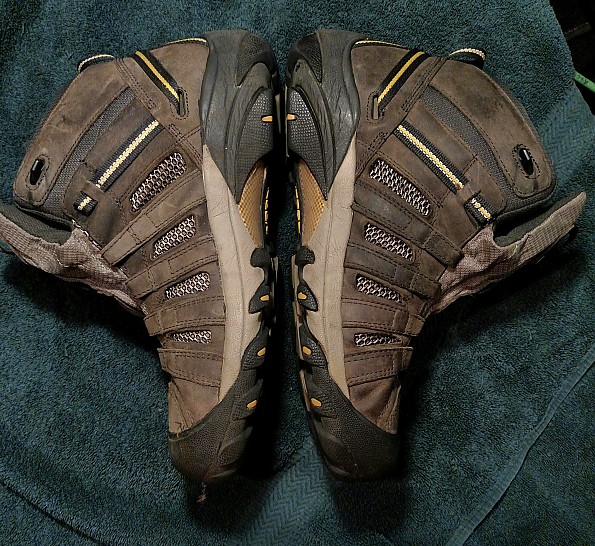 I've not seen any tendency for any type of Nickwax product to promote glue softening or delaminate soles from leather.  Since this is a water-based product and it does not spoil on the shelf at room temperature, it must also have anti-microbial properties from the waxes or additives (my science R&D area was degradation of materials by microbes).  I suspect it likely that the product will actually help protect against leather attack by microbes, which could otherwise degrade glue or leather at the rubber/leather interface, causing sole delamination e.g., with improperly dried gear or that stored with elevated humidity. 
In fact, I've been keeping a careful eye out for surface mold or dry rot attack (which depend on humidity and lack of inhibitors) for over a year with Nikwax water based products.  So far, I've not yet seen attacks on any Nikwax treated gear.  In contrast, for dress shoes or hiking boots on which I've used household Kiwiwax restore color, I do commonly see mold attack in our high winter humidity PNW climate, if they are left standing idle.  Paraffin as well as many naturally-derived plant waxes are excellent carbon sources for certain microbes and also wax moth worm larvae.
The only way that I see to improve this current Nikwax product is to give the bottle a more durable scrubber brush over that handy applicator sponge.  Rough leather surfaces, fabrics, and plastic meshes can erode the brush extensively before the product is used up.  The brush is needed to help clean the boot and also etch waxy surfaces to help the agent penetrate.   
I wish that I had known about and used this Nikwax product years ago.  Failure to use a product like this has degraded some of my gear function and sometimes resulted in gear failure = replacement cost. 
Needs Improvement:  rough textured leather goods can erode the blue end applicator scrub brush (over the agent supply sponge.  I'd give it a full 5-star rating, if the scrub brush was improved and resisted erosion better!
The Blue Scrub brush over the agent supply sponge started out as thick as the sponge below.  After 6 pairs of boots and shoes got their 1st treatment, I used up this bottle and have largely eroded away the scrub brush.  Little bits of blue plastic material came off onto the footware.  However, the water proofing agent is not sticky (thank goodness) and so it fell off during the final wiping.
This product should be bundled with high-end nubuck and suede footware, and recommended as a standard care product (of course that would reduce new product sales by protecting the footware). 
I have found that I can't be without this kind of product and keep my gear in good shape.
Source: bought it new
Price Paid: REI list price

The only thing as effective as Nixwax Suede is doing absolutely nothing.
Pros
Nice color container
Nice shape of container
Cons
Absolutely ZERO effect on water resistance
Applied the first time, no effect. Water absorbed as usual. 
Applied the second time, no effect. Water absorbed as usual. 
This product has ZERO waterproofing qualities. 
Source: bought it new
Price Paid: $21.50

Your Review
Where to Buy
Help support this site by making your next gear purchase through one of the links above. Click a link, buy what you need, and the seller will contribute a portion of the purchase price to support Trailspace's independent gear reviews.
You May Like
Specs
Price
MSRP: $8.50
Current Retail: $8.99-$11.95
Historic Range: $4.25-$21.95
Reviewers Paid: $21.50

Recently on Trailspace