Nite Ize CamJam Cord Tightener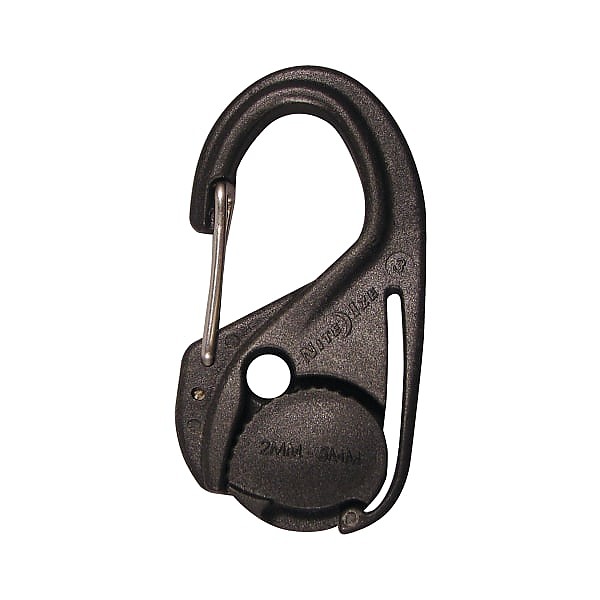 A cheap, light, and highly effective item that simplifies and speeds up hanging tarps, clotheslines, etc. It has other uses as well.
Pros
Inexpensive
Practical
Lightweight
Resistant
Durable
Cons
None for the intended purpose, though knots are lighter and cheaper…
Introduction
A few years ago I purchased a couple of these Cam Jams to see if and how I could use them to improve my camp setup workflow. I like Nite Ize products and have a lot of their S-biners and other NI items around. It's basic but simple, practical and well-made stuff.
The Cam Jam is basically a cord tightener. As anyone who backpacks and camps knows, this has multiple uses. I'm always advocating the importance of knowing the basic knots and all, and also constantly practicing to stay sharp. But I don't think we have to "rough it" all the time or just for the sake of it. If something can streamline my procedures without high cost or weight penalties, I'm all for it. This is the case with the Cam Jams. 
What's in the package

They come in small (as reviewed) and large (these in aluminum, for bigger loads). The small are 1.75" x 0.90" x 0.37" | 44.60mm x 22.63mm x 9.50mm nylon half-carabiners (one hook) with stainless steel spring gated lock and a 12' cord. Weight is 24g for the set (2 hooks and the 12' cord as shown bellow). Nite Ize has changed the cord but mine came with the green reflective "ShineLine" (trademarked) as seen in the photos.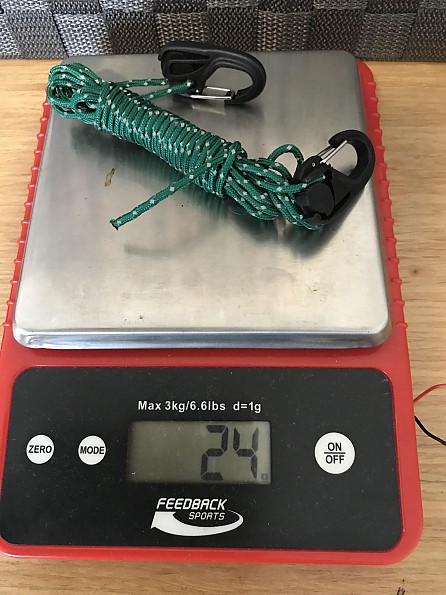 The cord is nylon and has a very reflective strip intertwined, which is good for night vision. It's still decently reflective after years and many, many uses in all conditions. Sometimes it gets muddy and dusty of course, but a simple clean up restores its original condition (sorta). Durability is good for both the carabiners and the cord in my opinion, so far none broke nor lost functionality.

The cord is nothing super fancy but it's pretty tough, more than enough for tie outs, and has a very low "give" or stretch which I find good. The small Cam Jam is rated for 1.8-3.0mm cords, so anything from Dyneema to Paracord can be used if within those specs. It's not smooth but rather "rough" which helps with locking solidly.
Different uses

It's also perfect for clothesline, which I use to hang stuff to dry and also to assemble/disassemble equipment, a support to fold my tarp and sleeping bag or inflate/deflate my pad when the floor is wet or muddy or dirty and I can't lay equipment on the ground for whatever reason. 
Nite Ize only provide load limits for the big alu ones, but it's clear the small Cam Jams should be used for lighter jobs. It's nylon and the cord is thin so common sense should be used. The intended use is hanging tarps, ridgelines and clotheslines, wrap and hold stuff, etc.
The hook can be attached to D-rings, tieouts, other cords and hooks, etc. The cord is fed through a hole and gets squeezed counter-flow by a rotating lever, locking it in place. Just pulling it from the recess (outward) unlocks it. Pretty simple and straightforward to find the desired tension in seconds, which helps in deploying a tarp in record time without knots, loops or whatever.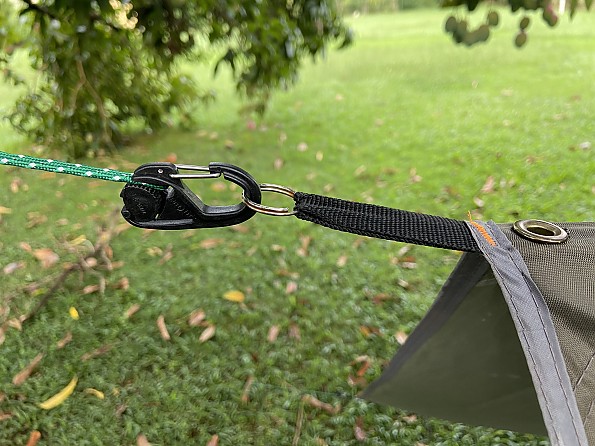 I use the 2-Cam Jam set to attach the ridgeline tieouts around trees, and single ones with shorter pieces of cord already tied to stakes as guylines, as in the photo bellow. Takes less than a minute to rig the tarp perfectly anywhere, and also to adjust tension when necessary. Never had a cord escaping or sliding the rotating lock, not even when wet (in fact it gets even more solid when wet), except when I was sloppy to pull it right.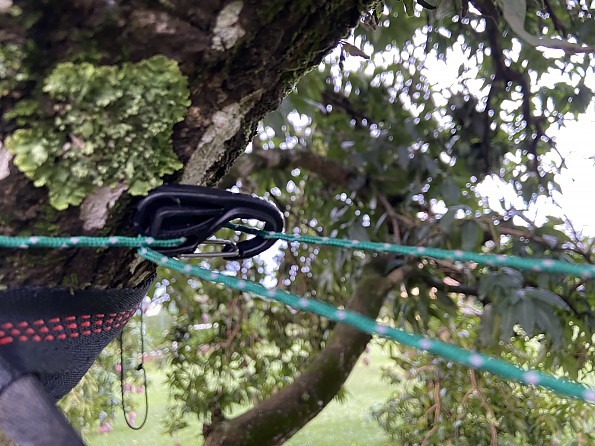 The other end of the cord around a tree branch. I just tie a knot to keep the excess cord tight and out of the way.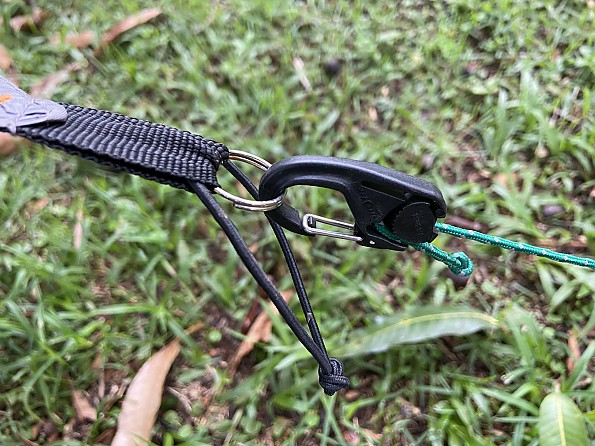 If done right, it should resist even the strongest winds and downpours. To really lock it in, just tie the excess cord or wrap around the stake to prevent the cord from escaping or sliding the rotating lever. Thinner and smoother cords might slide, though I've used with a 1.0mm faux-Dyneema a few times and it held fine (I now use this set to pull my bugnet-sock closed).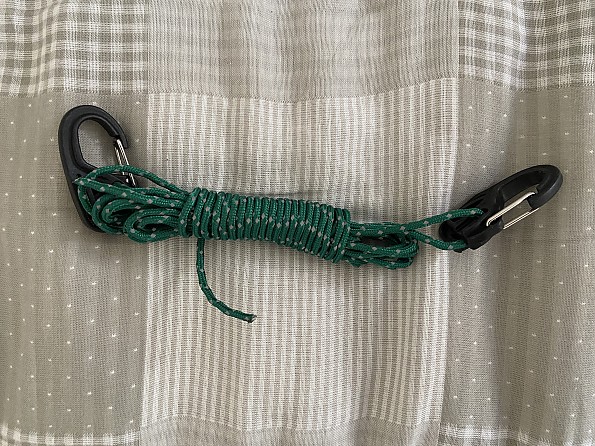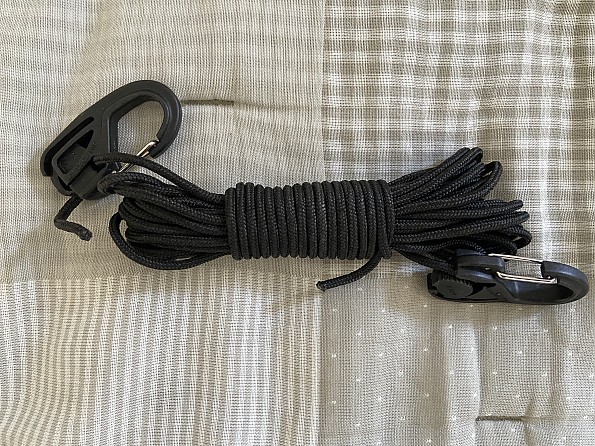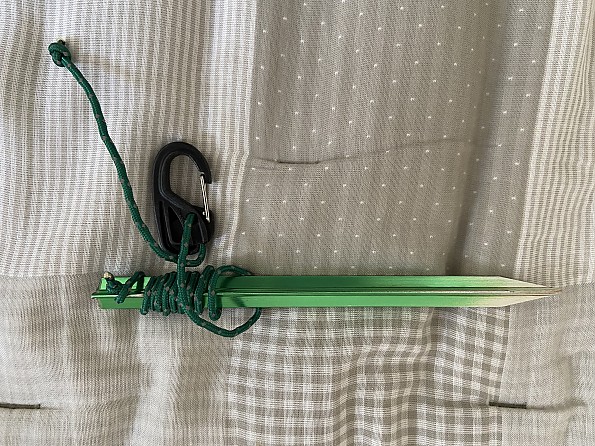 Experience
That's it, nothing super fancy, just a simple piece of gear that works well and actually performance as advertised. Setting up and taking down camp can be made easier and faster, and during multi-day trips this can come as a real benefit. I keep learning and practicing knots but these small Cam Jams are handy for real-life camping and backpacking, for little money and almost no weight.
Source: bought it new
Price Paid: $7 or 8 for each set

This is definitely a handy tool to have around the campsite. It clips on to about anything and allows you to tie down and tighten rope without any knots! It is quick to tighten and quick to release.
Pros
Quick to use
Quick release
No knots required
Holds tight tensions
Lightweight
The CamJam has become one of those products that I always have hooked on to my gear because I always want it with me when I'm camping. One thing that I cannot stand is having a knot tighten up too much much to where it's near impossible to get undone. Also, it's kind of frustrating when you have something hanging or relying on a knot and the knot comes untied. The CamJam makes cord tightening and release a breeze! I've used them for so many different things such as: 
clothes line
ridge line above hammock
rain tarp tension
truck bed tie down
The CamJam comes in handy for basically anything that you need to adjust tension on a cord for. All you do is run the cord end through the hole on the CamJam and pull it down (see video). To release the cord, you just pull the chord out of the tightening mechanism. No Knots, No Hassle!
The CamJam is made out of plastic which seems like it could wear out easily, although I have never had one to not function properly. I have had mine set up in rain, sun and cold and it seems to withstand the elements. 
I think that you will be very satisfied with this product and will be able to find many uses for it. It is one of those products that just makes life easier! 
This item is ideal for the person who travels light and needs to make camp and break camp quickly. A must have if you use a tarp for shelter as opposed to a tent.
Pros
Lightweight
Easy to use
Easy to carry
Compatible with 550 paracord
Cons
Can not hold the weight that solid metal can
I have used Nite Ize Cam Jams a lot in the past two years. They have become my favorite way to fasten my tarp shelters securely and quickly. They allow me to quickly break down camp and pack up, rather than sitting around fighting a knot when I need to move on in a hurry.
I really like how they are compatible with 550 paracord and how easy they are to adjust while in the act of setup. Their quick release metal clip also makes break down lightning fast.
Source: bought it new

Idiot-proof ridgeline setup.
Pros
Ease of use
Great for beginners
Versatile
Cons
Knots are lighter
May slip under extreme weight
Great for kids to use or someone extremely new to knots/hanging ridge lines.
I bought these last minute to make it easy for my son to hang his tarp over his hammock. It really does not get any easier. Just a loop in one end and the hook end on the tarp tether. It takes no time.
I can't remember the total weight of these, but it was just a few ounces total in the plastic version. They also make an aluminum version for something a little more heavy duty. You just pull the slack through the cams and it locks in.
Source: bought it new
Price Paid: $6 for a pair at Lowe's

Your Review
Where to Buy
Help support this site by making your next gear purchase through one of the links above. Click a link, buy what you need, and the seller will contribute a portion of the purchase price to support Trailspace's independent gear reviews.
You May Like
Specs
Price
Current Retail: $3.49-$10.99
Historic Range: $2.23-$10.99

Weight
0.60 oz / 17g

Fits rope sizes
1/16 - 3/16 in / 2 - 5mm

Dimensions
1.36 x 2.63 x 0.59 in / 34.5 x 66.7 x 14.9 mm