NorSari the original nordic sari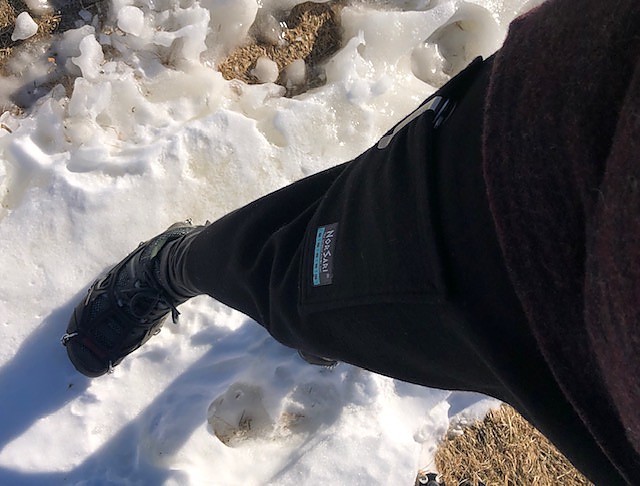 This sari (think wrap-around skirt or kilt) is not advertised as hiking gear per se, but as a "wearable blanket" designed to be a grab-and-go versatile way to stay warm and cover up. If you go outside, anytime it is cold or windy, this may be for you!
Pros
Wool blend is very warm and durable.
Flexibility of sizing
Multi-purpose use (a must have in the outdoors!)
Has a large pocket
Cons
Priced at $149
Availability (good problem for them!)
Needs longer velcro at waist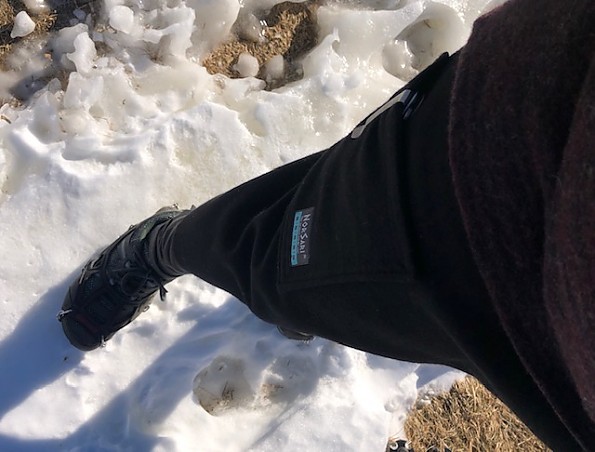 I had first seen the NorSari in some pop-up social media ad. At first, I thought "well, that's just like the wraparound skirts we wore as kids, no big deal." Then I read further.
One, because I love the idea of supporting an entrepreneurial product, homegrown to meet a need. So I appreciated the story behind the NorSari, like many great ideas, born of a simple solution for a simple but important need. Being cold. And I live where it gets cold. Maine may not typically be Minnesota cold (where the NorSari was born) but whether hiking or standing out at recess at 10 degrees, I get cold.
It went on my list. Which was quite a challenge initially (and to be fair, over the last couple years, isn't it all a challenge?) because the one I liked was not in stock. Nor my second, third, and fourth choices.  Eventually, I received as a birthday gift a solid black wool NorSari (well done, honey!). Since we were camping at the time, and it had gotten cold and windy, I promptly wrapped it around my leggings and went hiking. It was warm, blocked the wind, and felt very cozy. 
Have worn it so much since then, and the game became how many different occasions could I wear it? Hiking, check. Sitting around a campfire, check. To school/work when we had first snowfall, check. Over my regular slacks for recess duty when temps dropped a bit more than I expected, check.
Then I realized that completely unfolded, it is a narrow blanket; the adult medium measures 31" x 55". So I have covered my sleeping pad with it as an extra layer, insulation. And also put it over me as a bit of extra warmth. Now that I have found it can function in multiple ways, it qualifies to accompany me on a full backpacking trip.
We are planning a February thru of the Foothills Trail in South Carolina (I know, I know, but really, this winter it has gotten quite cold down there, with substantial winds and snow and if trend continues, I think will be worth it!) I'll update after to see if was worth carrying. 
The idea is simple, basically a wearable blanket. With a velcro at the waist banding. Idea is wrap it around, meet the velcro pieces together, then fold the whole waistband down so it stays put, and the fold gives a nice clean look as well. All edges are nicely finished with a non-wool solid material edging. 
And did I mention it has a big pocket? The usable pocket space is about 5.5" wide by 6.5" deep. Easy to drop my phone or keys in. 
Nothing is perfect, and I have given this feedback to the company, but one challenge I have is that the velcro strip is about 7" long, on each end.  To fit me correctly, the two velcro strips do not line up, but rather of 2-3". And the inner wrap is not where the velcro lies, so basically I just get a flap that over time I may have to adjust. Note, that I was borderline small-medium so opted for the medium (49" wide vs 55" wide) thinking would rather have a little extra than tight or feeling that wasn't wrapping completely. If you fit solidly in the middle of one of the sizes, that may not be as challenging. 
Sizing is provided on the site for women's sizes by number, and for men's sizes by waist measurements. Also, I am 5'3" so the bottom length comes to half way between my foot and knee, keeping me quite covered. So, again, different heights, your fit will vary, they are all listed as 31" in length. 
Now I'm glad I got the black, can wear it time and time again (and have!), spot clean, and eventually dry clean. Much like a jacket, it's over other clothing so not necessary to clean every wear. 
They do have several material mixes categorized by weight (heavy, medium and lightweight)  and material( mostly wool, wool/acrylic 50/50, as well as some weatherproof poly/PU versions which I may try in the spring/summer).  
Pricing is not inexpensive, but if I look at the quality for wool garment that can serve multiple purposes, it is a worthwhile investment as much of our gear is. And I can wear it in my day-job world as well! 
Background
I have now used my NorSari for several months, probably worn over two dozen times, and it shows no wear on any edges and no pilling. I have worn to work in, walk in, hike in, and outside in light snow, rain, and fairly strong winds. Will update after taking it on the weeklong trip!

I have hiked in skirts, skorts, had a wrap rain skirt/kilt that was lighter but really could serve no other purpose, that's a big box to check for me.

Source: received it as a personal gift

Your Review
Where to Buy
Help support this site by making your next gear purchase through one of the links above. Click a link, buy what you need, and the seller will contribute a portion of the purchase price to support Trailspace's independent gear reviews.
You May Like