Oboz Beartooth

The Beartooth has been discontinued. If you're looking for something new, check out the best backpacking boots for 2023.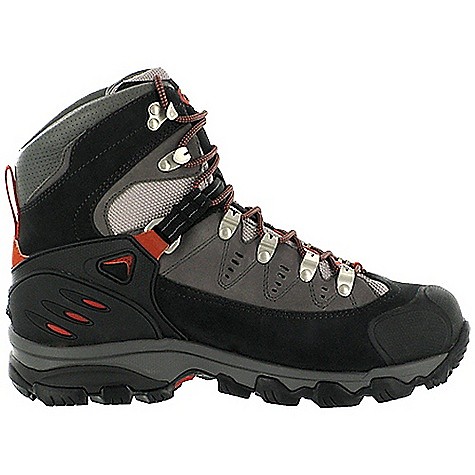 I bought these for an AT thru-hike. They lasted the entire trip plus another year of hiking! Best boots I have EVER owned. Super comfortable, and tough as nails.
Pros
Strong
Comfortable
Tough
Never let water in
My feet were happy!!
Cons
1 year and 9 months total 24/7 hiking and walking before they wore out. Amazing boots.
These are the BEST hiking boots I have ever owned. Great ankle support, and a super tough boot. They never let water in, so my feet were dry and happy every day, rain or shine, streams or snow, rocks or mud. I
Source: bought it new
Price Paid: $230

24-hour impression
Pros
It fits!
Spouse thinks good looking.
Comfy
Waterproof
Cons
They don't make them anymore.
Heavy
May not be durable
There are very few hiking boots that fit me well. I have a narrow foot with a long arch and short toes and while my heel is narrow the wide part of my foot is wider than normal. So if I buy a boot that is narrow enough for my heel not to slip, my toe box is too narrow. If I find a wide toe box my heel slips.
After a recent $$ disaster I decided to  try an Oboz as an experiment. Found this boot really cheap as it was used and has a reputation online for various problems with lacing hardware etc. breaking. It fits! My heel does not slip and my toes have almost enough room. Good enough.
Apparently the lace hooks can bend and even break but I figure a cobbler can fix that. The heel fabric tie down can also break, but I suspect on a hike I could repair it enough to get home. 
Experience
Asolo, Zamberlan, Alico, Merrell, Scarpa, Limmer, ASICS, Altra
Source: bought it used
Price Paid: $40

This is a good boot with great support. It is a waterproof boot for the rainy days and fording the occasional stream. It has excellent traction and for my foot a Cinderella fit.
Pros
Great fit
Waterproof
Excellent traction
Great support for ankles
Cons
Anchor for the crossing strap has design flaws, can rip
The top lace loop could be changed for another design laces can slip off
This was a new boot to the public market a few years ago. I bought my first pair a little over 2 1/2 years ago. I am now on my third pair, as I have discovered some design flaws that has undergone changes and will again in Oboz's next production run of this model boot. 
The stitched anchor for the black strap that crosses the middle of the boot, to hold your heel in place, has had some problems. I have had a number of phone discussions with Dave Dolph, production manager, and Josh the Vice President of the company, about problems I had undergone with this boot. I love the fit, light weight, and support of this boot so I called and had a great phone conversation about the design flaw with the strap anchor which on my first pair ripped out. They promptly replaced my first pair with a new pair, from a new production run. It wasn't long and there was again a problem with the same anchor. Back goes the boots and they send me a third pair, from yet another production run. So far so good!!
There is going to be a new production run I believe in September of 2012. Production manager Dave Dolph is scheduled to go to the factory in early September. He and VP Josh have made some design changes for the strap anchor. The only other design I wish Oboz would change is the very top metal loop. If you are not tied just tightly enough, the laces will slip off.
I love the fit of this boot, and did from the first moment I slipped my foot in. For me it was a Cinderella fit. I tried numerous new backpacking boots that just didn't fit right. I slipped my foot in wearing two pair of  medium weight hiking socks. I have a narrow foot. I laced up and walked around the outfitter store. I paid for the boots still on my feet laced up, and wore them out of the store. There have been days in all three pairs that I have owned, I have worn them for 8 hours or better.
The boot does take a bit of time to break in and mold to your individual foot. The fit was very nice so break in time is painless. The boot has great support and for my ankles, that is important. Because of the black cross strap, you heel is forced back into the rear, so the boot does not have to be laced tightly over the top of the foot. This gives a little bit of motion and for plenty of circulation.
The boot is waterproof, for the incidental fording of streams, and puddles on rainy days. The sole has very nice traction. The only time I had any slippage is on snowy, icy surfaces or wet mossy surfaces.
The boot keeps out debris from getting in because of the way it snugs around your leg, just above your ankle. This boot is not designed for winter, though I have worn heavier socks and been OK down into the upper 20's Fahrenheit.You may be different as each individual is.
You may want to change the footbed insert, especially if you have high arches. I have a very low arch but I have changed the insert that comes with the boot. This is something you should consider with any hiking/backpacking boot to support your foot and ankles properly.
I would recommend this boot to friends. The Look of the Beartooth Boot is unique and stands out from other boots. The folks at Oboz out in Bozeman, Montana, have been great  and very willing to listen. I have had some wonderful discussions with them about two boot models of theirs. With a couple of minor changes to the boot, the Beartooth will go from a good boot to a great boot.  As I have said to Abby, Dave and Josh at Oboz, I am your cheerleading squad rooting them on.
There is a brief review of the Oboz Beartooth boot, on the "youtube," website. If a person were to go to "youtube," and type in oboz beartooth, in the search box, you will see a brief video presentation by Josh the VP of Oboz.
Source: bought it new

Your Review
You May Like
Specs
Men's
Price
MSRP: $200.00
Historic Range: $132.00-$220.00
Reviewers Paid: $40.00-$230.00

Women's
Price
MSRP: $200.00
Historic Range: $21.73-$139.95

Recently on Trailspace