Oboz Firebrand II BDry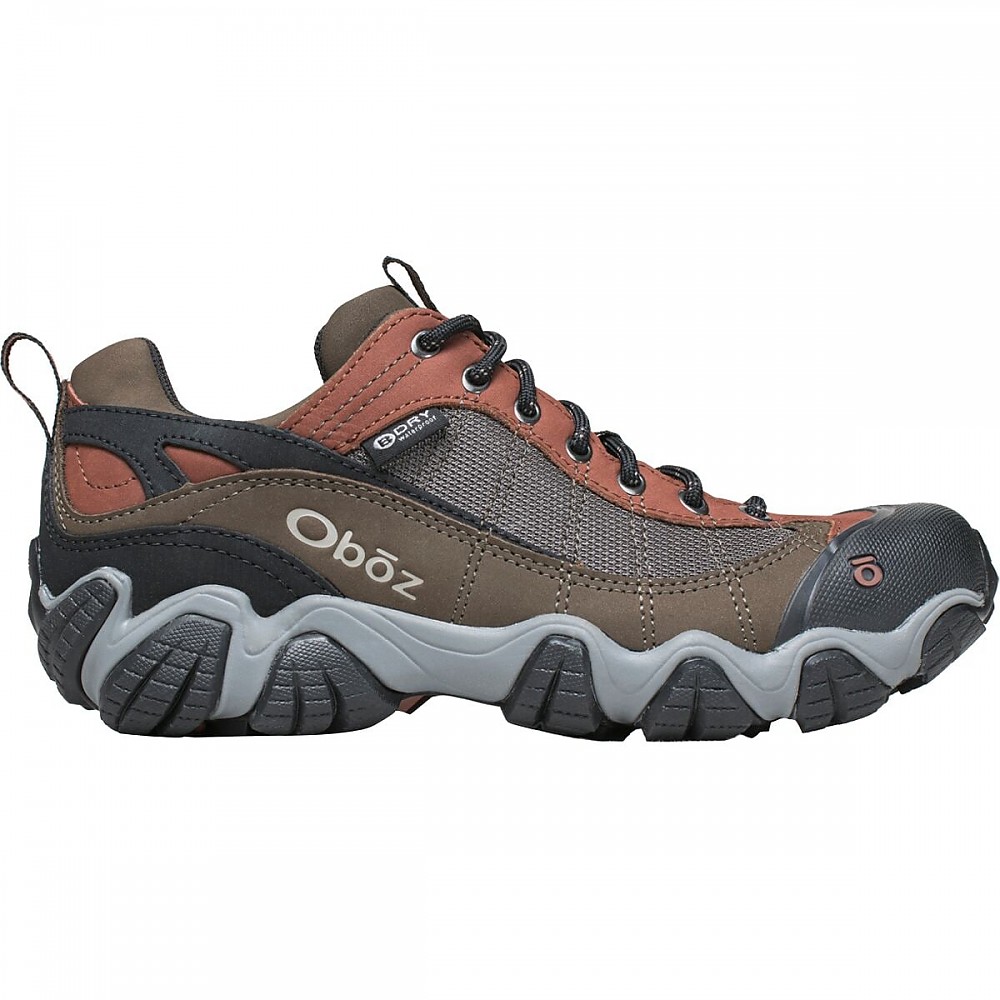 Comfortable, highly stable, burly, durable outing foot support in a three-season shoe. Warm so that they are wonderful to wear on cooler temperature outings. Might be a bit hot on warmer weather outings. Nice gusset, so can walk through shallow streams and puddles. Waterproof and breathe well.
Pros
Useful both as hiker and foul weather city walker
Strong tread design with great grip and traction
Strong sole design capable of carrying heavy loads with impressive stability
Good wet weather shoe, waterproof with B-Dry membrane
Full boot quality gusset design to help keep debris and water out
Unusually warm, so great as a cool or cold weather shoe
Stiffer sole making it more useful on rock and snow (later with gaiters)
Striking, many might say, attractive visual styling
Cons
Unusually warm, limiting seasons of use
Burly strong styling may lure you to use shoe where boot with better ankle protection might be better
Wide, unusually stable, platform may torque on ankles on uneven terrain
Striking attractive visual styling ... may not pass dress code in office (and might be too warm)
Color/Pattern may influence other external gear color selections
My daughter on the way to Comet Falls in Oboz Firebrand II hiking shoes. (see Comet Falls photo below)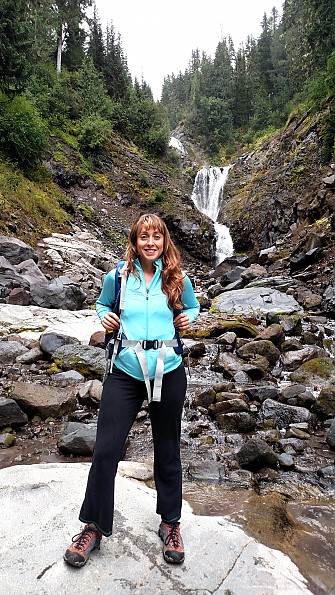 Pre-Test Visual Impression: I do not want to like these shoes! (for one key use envisioned)
Post Test Impression:  If you research and test functionality carefully ... you get what you pay for, and sometimes more. Beauty is more than skin deep.
What does 'Oboz' mean anyway?  Hobo?  Branded by an Obsessive Great Oz like person?  I had to ask!  
Turns out that a working clan of highly experienced, dedicated outdoor loving folk are providing great gear for us for Outside use made or designed in Bozeman, Montana (get it?).  I'm also happy to know that it provides domestic job options in Bozeman.  Now I'm suspicious ... does it secretly mean Obsessed in Bozeman, Opportunity in Bozeman, Obey the Boss ... or all of the above?  It doesn't matter ... if the gear is good ... and this one is evolving towards great.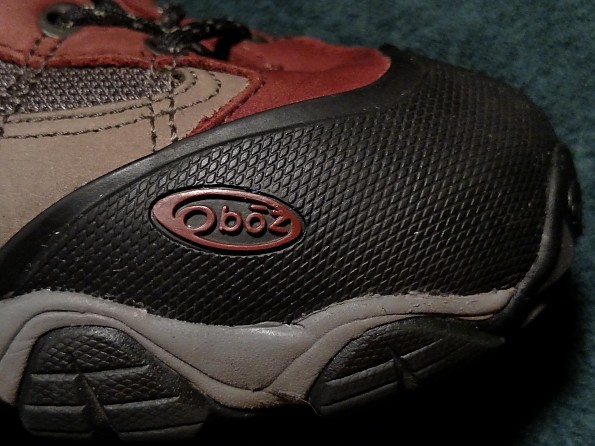 . 
Excellent outting gear generally does not come cheap ... so typical hiking zealots, like myself, research literature, ask others for recommendations, and whenever possible ... get their feet into a 1st hand experience location, for a personal examination of targeted gear.  When at a credible outting store, one can ill afford to not listen to the gear Agent typically present in that temptuous zone.
A Best Laid Plan then is to go in with a specific gear function need/desire list. Otherwise gear lusting eyes might be wooed into another unexpected financially-impacting direction, or two. For you weaker disciplined folk, I find a pre-written, spell checked list helps instill that Agent's confidence me. And they are lured into feasibly delivering what I think I want.  However, it doesn't always go down that way. I find it helpful to bring a friend, like my Wife, who can help the gear Agent re-direct my focus towards a better outcome.
MY PLAN for this proposed visit, was to get a shoe that better supports my feet tired from heavy/hot boot hikes.  This also might enable me to leave heaviness behind, when lighter/cooler gear might suffice.  To work this weekend warrior plan best, the attire should be demure looking, with an office friendly appearance, so that I get away with using it.  Black colored Keen Marshalls were visually best.  Whereas, Firebrands would never pass on the list.
To most efficiently screen, all candidates were tested two at a time. Rather than try other options, one shoe from each set at time, were tested per foot. Although this visually shocked some well meaning onlookers during the walkabout test, it worked. The Agent then became visually releaved, when the test among the best, was in duality. All shoes there were tested, except for one Neon Green set and the Firebrands. To try avoid a 2nd hour of testing, the Agent blurted out with a sheepish smile, that he wears Firebrands.   With now blinded trust, I tried and liked them ... in fact a lot.  And I still do.
What does 'Firebrand' mean?  I don't know.  But it looks hot and can feel quite warm too.  The shoes in the next two photos below have been carefully cared for and washed just before these photos were taken.  The leather was looking a little dry on the surface.  And so I Nikwax Nubuk & Suede Proof treated the boot on the left (see waterproofing product review).  Treatment makes footware look similar to new and shed water as well as new or better.  However, it slightly deepens color density.  I've not seen such conditioning with any Nikwax product yet cause rubber sole/leather delamination.  However, I'm watching carefully to learn how to best treat my hard earned gear.  Surface treatment due cause the footware to shed dirt better and require less surface care.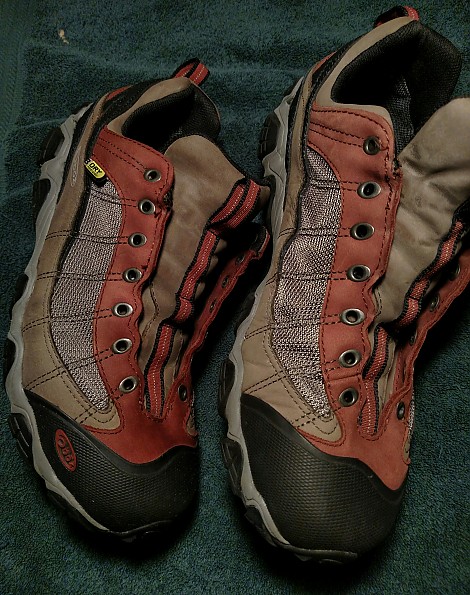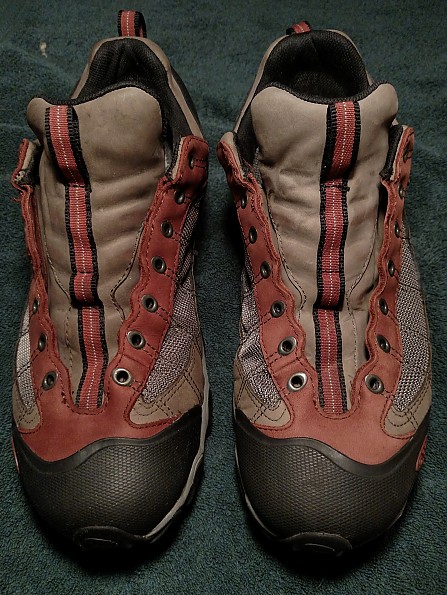 Note the upper heal collar support.  This combined with the moderate stiffness of the shoe increases the ankle support and in turn overall platform stability.  This makes the shoes a little more cumbersome to put on.  To make them easier to slip on, I insert middle finger into the generous pull loop and then use my index finger on the same hand, much like a shoehorn, in the top of the ankle collar, to help slip them on.  When I don't use the index finger in this way, the collar sometimes tries to roll inwards.  
My Firebrand ll as winter shoes, paired with Outdoor Research Cirque softshell pants. Cirque pant cuffs turn into built-in gaiters when needed. This is helpful on the trail with shoes, should the weather turn foul (review coming).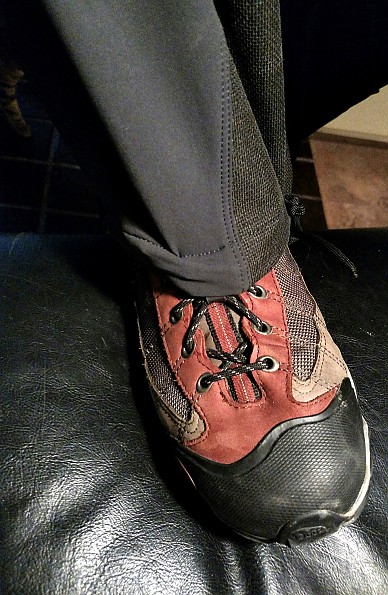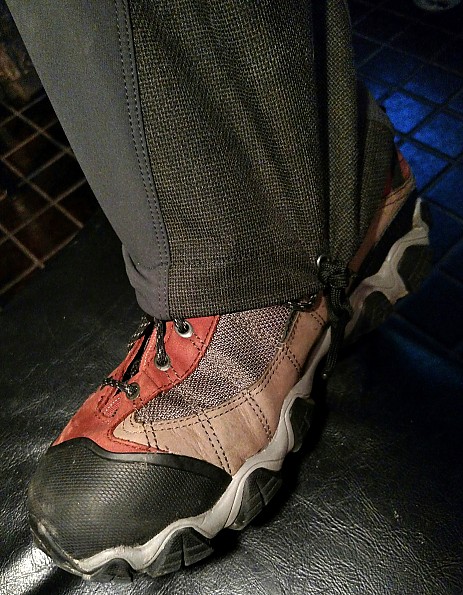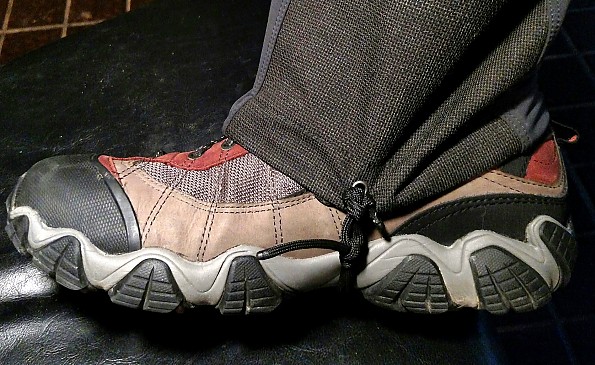 B-Dry?  There was the now discontinued Firebrand l. And I heard that Firebrand ll is the same shoe, just adding their B-Dry waterproof, Gore Tex like membrane. I have another brand hiking shoe to review in due time, which is lighter weight and cooler, thus more like a summer shoe.
One could argue that a low hiking boot or shoe is more for warmer weather uses, and somewhere between improving B-Dry and thinning down the generous shoe padding, a cooler summer model could be designed (Firebrand III or Firebrand ReBorn?).  It just depends on their market goal.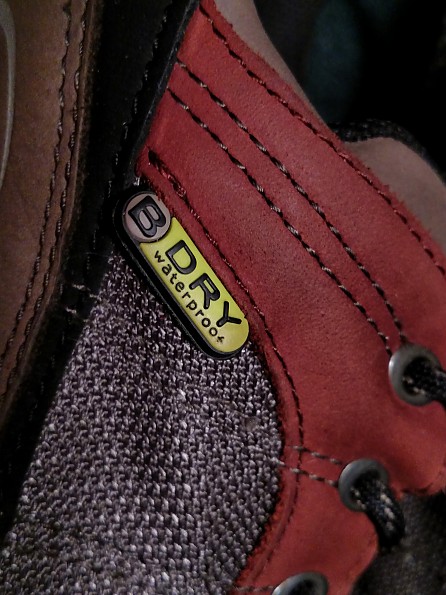 A Durable Water Resistant Finish repells water by making the material surface more hydrophobic.  And Hydrophobic literally means 'water fearing'. Firebrand's uses waterproofed leather, where both the surface and inside of the leather is treated with waterproofing agent. By me later using one treatment here, Nikwax Nubuck & Suede Proof has renewed the leather waterproofing, as well as extended it to the fabrics, meshes, stitching, rubber toe cap rand, and sides of the rubber/plastic sole. These treated materials on my Firebrands, look like they more hate than fear water and conquer against its attack.  This demonstrated here after giving tap water 5 minutes to try to soak in.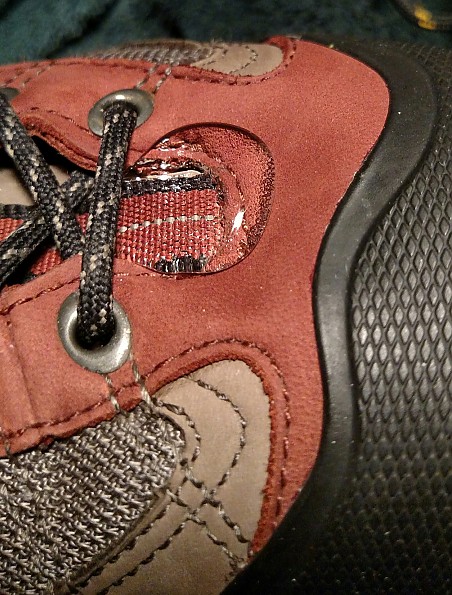 A Durable Water Resistance (DWR) Finish in action can look and feel quite impressive. I do not use it on the bottom of the soles, because it would likely make the bottoms slick. (Hum ... It would be especially slick, even dangerous, were the DWR finish be improved, so as to even more forcefully repel water, and promote skating along wet downhill slopes. Gosh, I'd then likely have to take my shoes off to get up a wet uphill slope!)
A vote For woman's Firebrand shoes (II too).  She's had them very roughly a year.  Seeing her previously wearing second rate boots, we helped my daughter get a pair of the top rated Vasquez St Elias boots that she had trail tested and liked around December 2014 (I lent my daughter her stepmother's boots without asking that day. Guys, a mistake i now do not recommend making. Who knew boots were so personal.) My daughter and my wife both use and like Vasques. Not too long afterwards I found a woman's Firebrand II in perfect shape, at a REI garage sale, at a jaw dropping $ saver price (1/14)!  Lucky daughter, it was in her size. She can can wear either set. I saw her wearing the Firebrands on the last Comet Falls, Mt Rainier, WA, trips this summer.  She says that the Firebrands are her favorite of the two!
Comet Falls trail has some nice rooty and rocky sections. Secure supportive footware that we trust is recommended.  I personally prefer a full boot on such terrain over shoes for ankle protection (see Asolo Power Matic 200 review).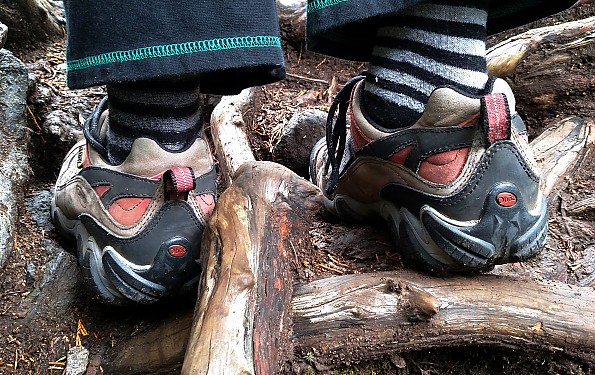 Comet Falls on Mt Rainier, WA, upper & main drops during 2015 drought summer (est. visual combined height here is 340'!). The trailhead for this hike is along the approach road to the famous visitor area called "Paradise".  Pretty good description ....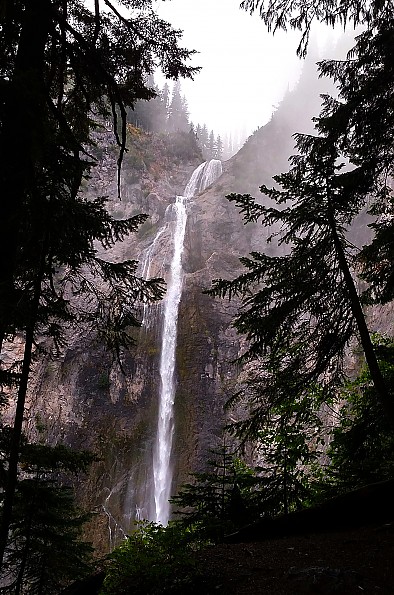 Abstracted from Wikipedia:  "At first glance the falls drop about 300 feet (91 m) out of a hanging valley in one lofty plunge. The height of the plunge is actually 320 feet (98 m). The falls are more than that though, as there are two obvious smaller tiers below the main drop as well as one just visible above the main drop. The bottom two drops are 40 and 20 feet (6.1 m) high while the height of the upper drop is not known. In any case, assuming the upper drop is at least 20 feet (6.1 m) high, the falls are likely around 400 feet (120 m) high."
Source: bought it new
Price Paid: REI $140 full list for mine, $10 for my Daughter's!

Your Review
Where to Buy
Help support this site by making your next gear purchase through one of the links above. Click a link, buy what you need, and the seller will contribute a portion of the purchase price to support Trailspace's independent gear reviews.
You May Like
Specs
Men's
Price
MSRP: $135.00
Current Retail: $93.99-$160.00
Historic Range: $93.99-$160.00

Women's
Price
MSRP: $135.00
Current Retail: $108.75-$120.00
Historic Range: $64.98-$160.00

Recently on Trailspace