Oboz Sawtooth Low Waterproof

The Sawtooth Low Waterproof has been discontinued. It was replaced by the Oboz Sawtooth X Low Waterproof.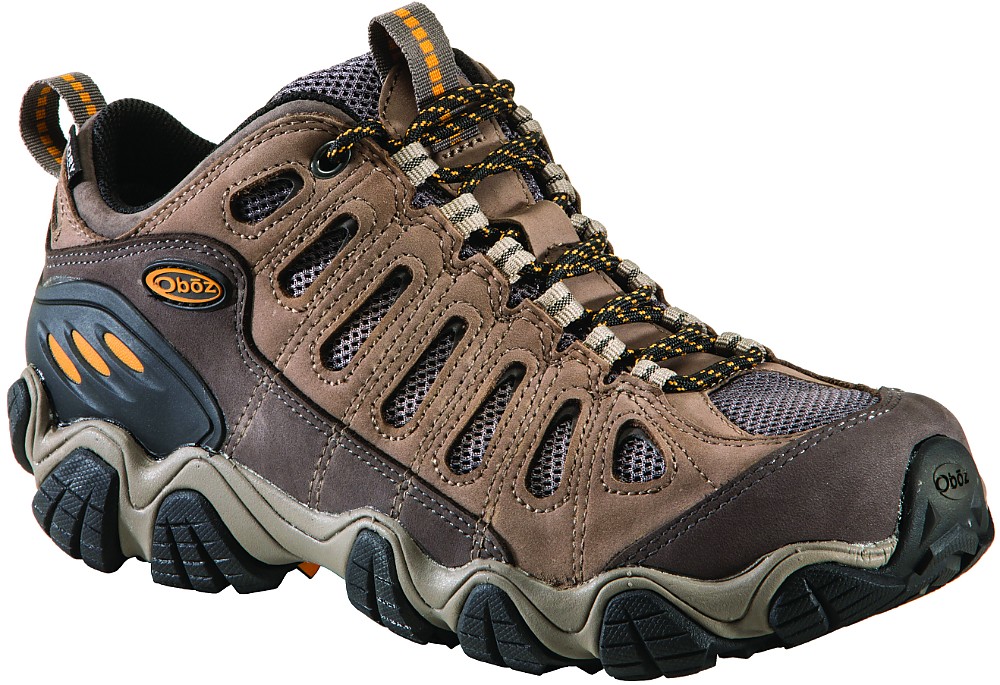 The Oboz Sawtooth hiking boot is comfortable, has a roomy toe box and stable platform, and is waterproof. For hiking in winter conditions, as well as damp environments in spring and summer, this boot delivers excellent performance. Because waterproof boots are, by design, less breathable than a non-waterproof boot, extra attention should be paid to the feet to avoid blisters.
Pros
Rugged construction
Stable platform
Waterproof
Roomy toe box
Cons
Possible blisters due to reduced breathability
The Oboz Sawtooth hiking boot is a beefy hiking boot in a compact package. I've been testing the boots all winter and there are a number of features that I like. They are rock solid on slippery, wet surfaces. They have a substantial rubber bumper around the heel and toe. They are waterproof, which came in handy in the near-record breaking winter that California had.
I thought they might be less comfortable than the lighter Luna model that I tested previously, but they were more comfortable and fit my foot better. The only downside is that I've gotten a couple of blisters on backpacking trips.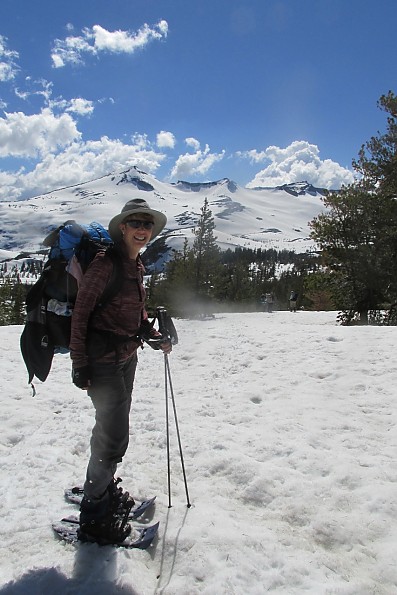 The low cut boots were comfortable out of the box and did not require any breaking-in period. I usually wore them with a thin or medium thickness sock for day hikes and overnight backpacking trips. I've been alternating using them with trail runners, choosing the boots when I know I'll be covering more uneven terrain and wish to have a more stable platform.
Comparing one on each foot, I can see that the Sawtooth has a slightly wider toe box compared the Luna and that's probably why they feel more comfortable. The Lunas were never uncomfortable, but my toes appreciated the wiggle room and my heel was seated comfortably in the Sawtooth.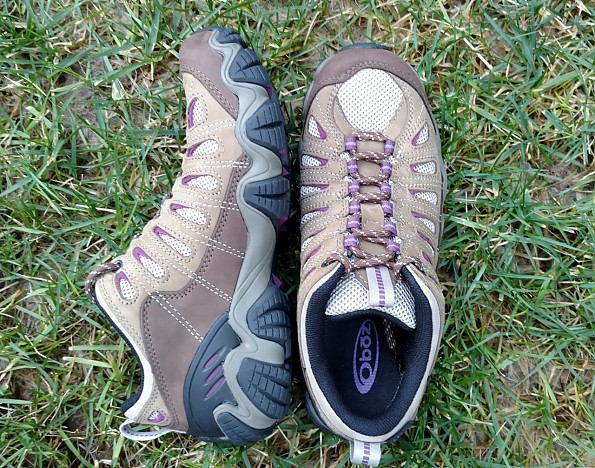 I had numerous stream crossings during the winter and during one rock-hopping maneuver, my foot slipped. My foot plunged into the cold water but the water didn't come up over the ankle. I was really surprised that the boot kept my foot completely dry, though I shouldn't have been since it's described as waterproof. However, the mesh upper is deceiving. The waterproof layer is inside so it's not as obvious that the barrier is so effective, but my sock wasn't even a tiny bit damp.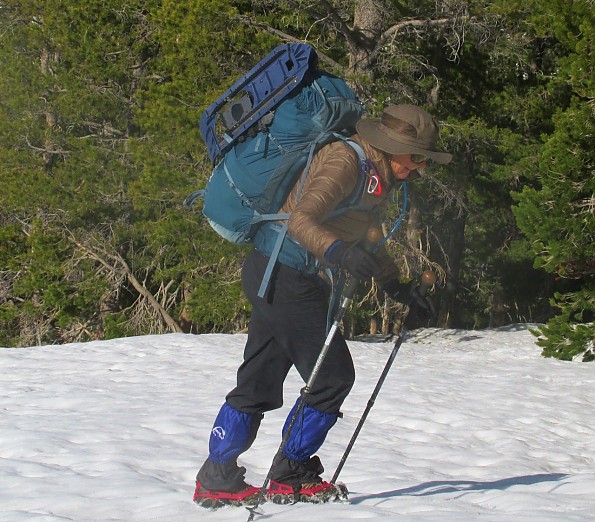 We backpacked last weekend in Desolation Wilderness on top of ten feet of snow. The outside of the boot got wet after slogging through eight miles of snow using traction devices and snowshoes but the inside stayed mostly dry. My sock was slightly damp but I'm fairly certain that it was due to perspiration, not from the outside. I chose this boot for the snow camping trip because of its sturdy construction and waterproof materials and overall, it was a good choice, paired with gaiters.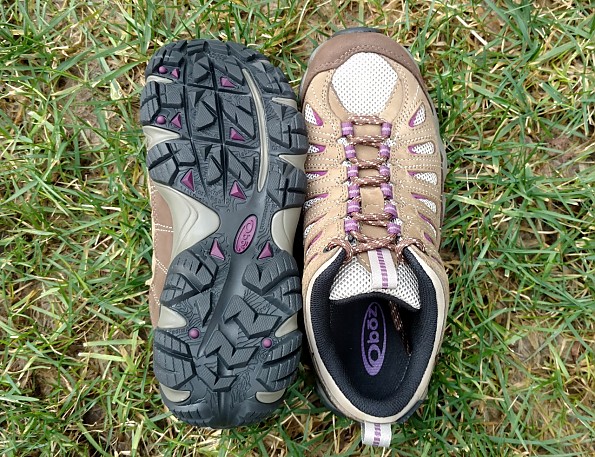 I used to suffer from significant blisters between my toes and along the inside surface of my heel. I've solved this problem through a combination of boot and sock selection so I was a little disappointed that on one 11-mile hike I got a small blister on the  inside of my heel and on the 8-mile snow hike I got a blister between two toes.
This may be due to the waterproof boot being necessarily less breathable than a non-waterproof boot. This is my only complaint about this boot but it will likely prevent me from taking it on my 150-mile hike from Tahoe to Yosemite. I like the boot a lot for day hikes, short backpacking trips, and when wet conditions demand a waterproof boot.
The boot has the following layers:
B-DRY waterproof layer
Midsole with dual density EVA to provide cushioning and support
Rugged outsole with molded lugs that mimic the Sawtooth mountain range in Idaho
Removable insole:

Low density EVA pods under the heel and midfoot
Medium density EVA throughout
Moisture wicking top layer
High density EVA sculpted arch
High density EVA deep heel cup
Overall, the Oboz Sawtooth hiking boot is comfortable, has a roomy toe box and stable platform and is waterproof. For hiking in winter conditions, as well as damp environments in spring and summer, this boot delivers excellent performance. Because waterproof boots are, by design, less breathable than a non-waterproof boot, extra attention should be paid to the feet to avoid blisters. 
Update 7/17: I continued backpacking in these shoes due to the persistence of snow well into July in the Sierra. It finally dawned on me that these were the same size as I wear for a street shoe because I only intended to do day hikes over the rainy winter. I normally backpack in a 9 1/2 shoe. I loosened the laces as much as I could to compensate for the smaller shoe size and just repeated the exact same trip as I reported on earlier—no blisters. 
Source: tested or reviewed it for the manufacturer (I kept the product after testing.)

Disclosure: The author of this review received a sample of the product from the brand or its representative in exchange for a review.
Waterproof, extremely comfortable, hiking sneaker. Great traction; good arch support for high arches; wide foot-bed for toes and mid-foot areas. Highly recommend.
Pros
Waterproof
Good support for high arches
Wide toe box and mid-foot area
Good traction
Sporty look
The Oboz Sawtooth Low BDry hiking sneaker is waterproof, extremely comfortable, and durable.
I've owned mine for five months. Purchased for a trip to Tanzania which included a day hike on Kilimanjaro and hikes in the allowed areas in National Parks. I wore every day, all day, for 18 days on that trip, and my feet never hurt.
At home, I wear around town especially when grass/ground is wet, and on local hikes. The BDry sneakers keep my feet dry and comfortable, and look good, too. They are holding up well, and can handle my rinsing off mud, dust, and leaf debris as needed.
This sneaker fits my foot perfectly. It provides great arch support for my high arches; has a wide footbed for my toes and mid-foot areas (allows me to wear cushioned socks comfortably); and the back of the sneaker is comfortable at my heel and around my ankle bone (no rubbing). I could wear immediately with no break-in needed. 
I appreciated the good traction and foot support when on rocks and trails, in dry/sandy conditions as well as wet. I also appreciate the sneakers kept my feet cool enough in hot, humid summer weather.
I purchased the Oboz Sawtooth Low BDry hiking sneaker because of its great fit and because it is waterproof. I am very pleased with the sneaker and highly recommend.
Source: bought it new
Price Paid: $135

Good shoe. Hiked over 1000km in them in a year, but the waterproofing didn't last, the soles didn't last, but the comfort did.
I purchased these shoes in 2015 to use for hiking in Newfoundland (I work at a national park) and then since I liked the shoes, in hiking the el Camino de Santiago in Portugal and Spain (my route was about 720km).
They were comfortable on my foot from the day I got them. At first their waterproofing was good, but it didn't last long at all and now not a bit (even after having been re-sprayed). It does rain a lot in Newfoundland and so often I did walk along wet trails in the shoes.
As far as fit goes, I have a wide foot and have essentially given up on buying women's shoes for any sort of active wear. If, like me you have wide feet around your toes, these shoes will give you blisters if you do long distance hiking. But for short distances and indoor daily use my feet are fine. 
I had hoped the soles of the shoes would last longer. I don't know if it's an over-expectation on my part or not, but they didn't maintain their traction for as long as I would have liked and are almost completely smooth at the ball of my foot. 
Source: bought it new
Price Paid: $130

How much do I like this shoe? Enough to buy two pair!
Pros
Sole and tread
Arch and foot support
Appearance
BDry waterproofing


I bought these shoes a year ago and was so impressed I bought a second. I need very good support plus a generous toe box. This shoe has it. The support is so good I do not need to add Superfeet or similar extra support — yet the shoe is not rigid like other shoes can be.
The sole grips well plus cushions my steps. Waterproofing keeps my feet dry and warm, but my feet don't get blazing hot. I move with confidence on the trail and enjoy wearing them in tow. Even after wearing the original pair for a year, I get compliments on its good looks.
I've worn Merrell, Salomon, Keen, and others; Oboz is for me! 
Source: bought it new
Price Paid: $125

Pros
Very comfortable
Runs true to size
Not too heavy
Color
Very comfortable. No break-in necessary.
Size was true. Other hiking shoes I have tried seem to be too big at the ankle.
Experience
No other experience with this brand. Wore Merrell hiking shoes before.
Source: bought it new
Price Paid: $140

Your Review
You May Like
Specs
Men's
Price
MSRP: $125.00
Historic Range: $64.97-$140.00

Women's
Price
MSRP: $125.00
Historic Range: $64.97-$140.00
Reviewers Paid: $125.00-$140.00

Recently on Trailspace