Specs
Price
Historic Range: $13.49-$24.00
Reviewers Paid: $10.00

Reviews
1

review

5-star:

0

4-star:

1

3-star:

0

2-star:

0

1-star:

0
Version reviewed: Carbon Steel
A solid but relatively lightweight folding knife with a fine, thin blade, a satisfyingly traditional wooden handle, and a unique locking mechanism. Perfect for cutting or peeling an apple, whittling a stick, or slicing food for dinner around a campfire.
Pros
Sharp, quality blade sharpens easily
Clever locking mechanism
Classic good looks
Comparatively lightweight
Cons
Absence of a lanyard hole
Materials susceptible to moisture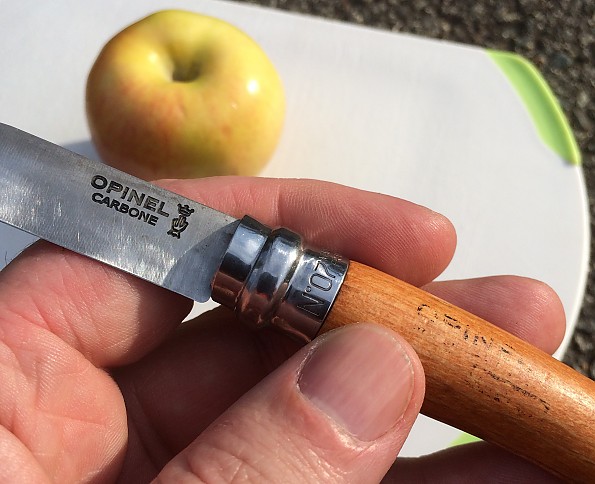 The Opinel No. 7 is a classic folding knife that comes from a 19th century knife making company headquartered in a scenic alpine village in France, Saint-Jean-de-Maurienne, Savoie. Should you become an Opinel owner, take a moment to read online about the history of the logo and about a unique, one-handed opening technique for practiced users (coup du savoyard)--might as well learn a little history about this classic design!
The blade is made of XC90 high carbon steel (subject to discoloration and rust, but nothing a little TLC can't address), and the knife features a stainless steel lock ring collar and a handsome beechwood handle. Stainless steel models are also offered.
Opinels are numbered according to size; currently they produce 2, 3, 4, 5, 6, 7, 8, 9, 10, 12, and 13. My No. 7 is 3 1/16 inches long with a blade width of 5/8 inches and a thickness of 2/32 of an inch. The No. 7 weighs 1.24 ounces or 34 grams.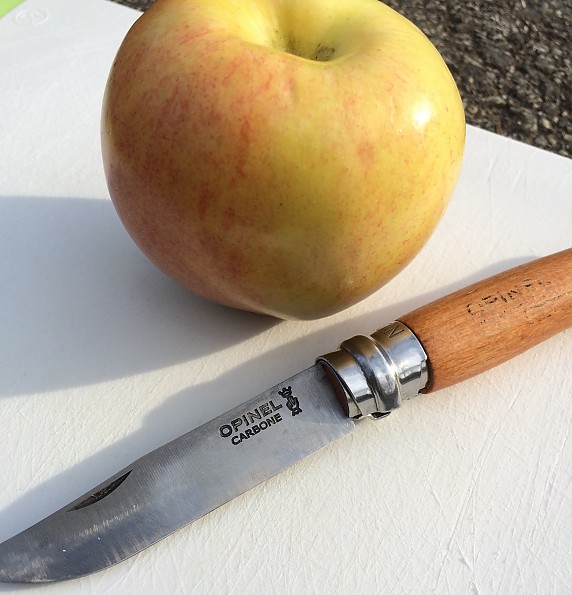 The lock ring feature is ingenious: after the knife has worked off its initial stiffness, a simple push with the thumb will lock the knife blade open or closed by sliding the lock ring to the right or to the left, as demonstrated in the video below. The arch of the lock ring forms a ramp under the blade, preventing it from opening when turned all the way in one direction or the other. Other than that, it makes for a great conversation piece!
The knife is a quality product at a reasonable price. The beechwood handle is nicely sanded and finished to a warm warm honey color that allows the fine wood grain to still be seen. The stainless steel lock ring has a hollow channel a little more than halfway up its side, a feature that adds additional rigidity and strength to the lock ring while also providing a surface for the thumb to catch when opening the knife.
The blade pivots nicely on its pin, but be careful when cleaning the blade--inadvertent splashing of water will cause the wooden handle to swell, temporarily preventing the knife from being opened or closed until the wood dries out. The blade itself comes sharp and nicely finished with an embossed logo and a fingernail nick for opening. I find I have adopted my own variant of the French coup du savoyard opening technique: my thumb and middle finger push together on the blade to lift it from the wooden groove that houses it, then my thumb presses on the flat of the blade to finish opening it. Naturally, this requires focus and attention--the blade is sharp!
Overall, I was impressed by the quality given the money I paid for the knife. No, it won't stand up to foolish abuse, but then fools have no business using sharp, pointy objects in the first place! It is more than adequate, though, to handle daily use in the hands of someone with common sense.

The thin blade works superbly well to peel apples or potatoes (hello, discoloration!) or to slice materials or food. The wooden handle feels good in the hand, and the modest blade size allows fine work with the blade. I found I could use an aggressive angle to chew away larger chunks of wood from a stick but also reduce the angle to shave curls from the same wood. The secret to its success in these arenas is its grind--mostly flat with a touch of secondary bevel that appears to resolve itself into a slight convex grind.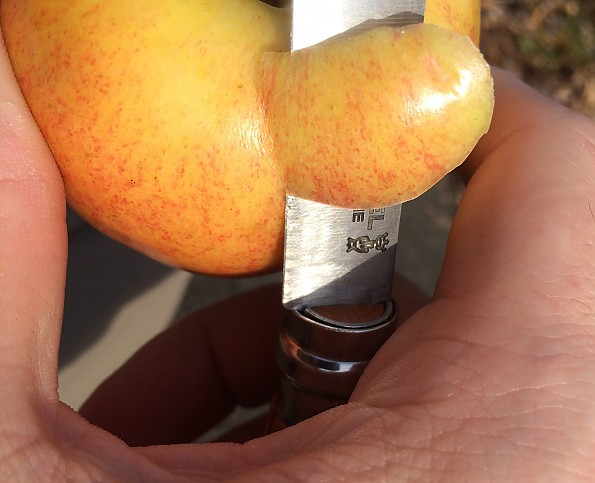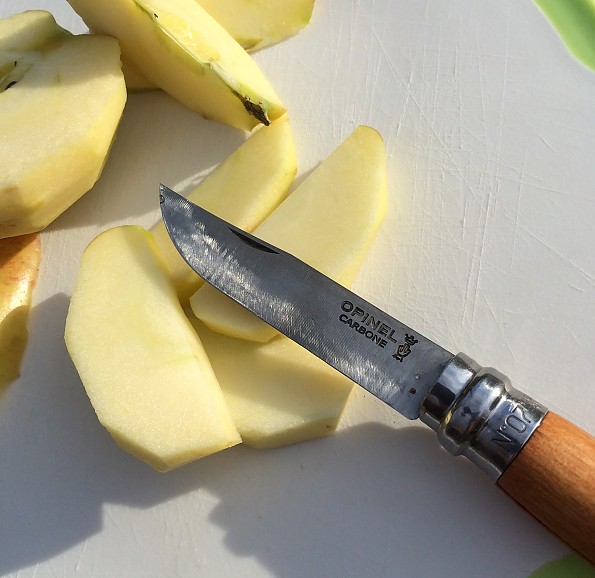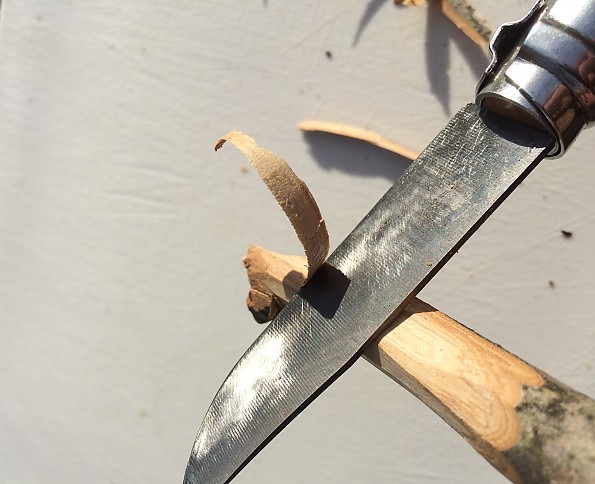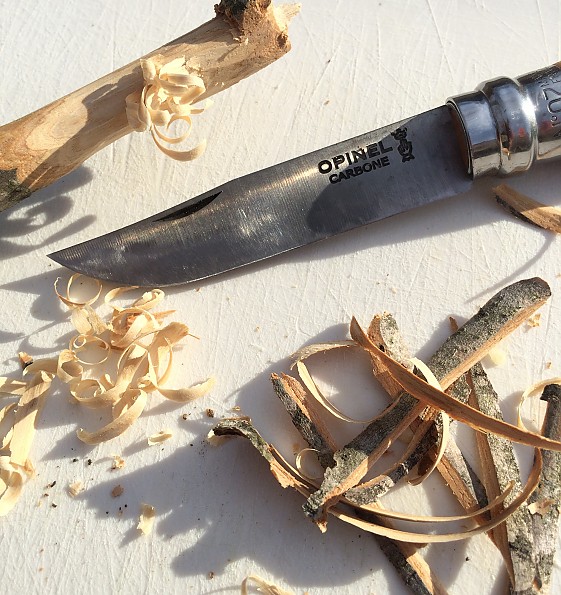 Since I was basically making tinder as I creating images for this review, I thought I'd also demonstrate how the sharply defined spine works superbly as a fire steel striker.
Next I turned to 3/8-inch braided nylon rope: one cut and I had a neat edge. I grabbed some 550 paracord and experienced the same thing. No problem.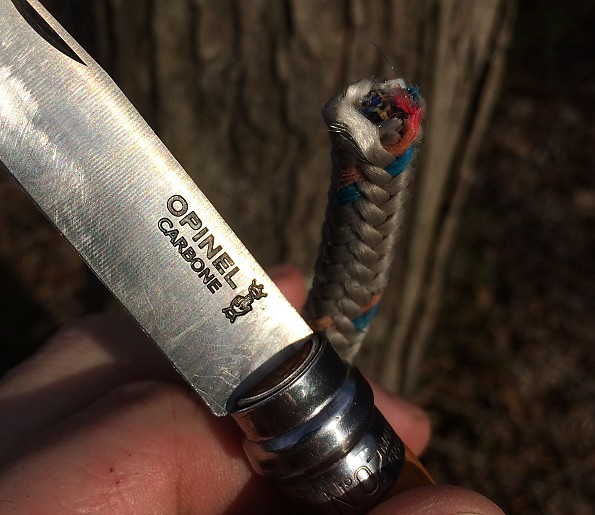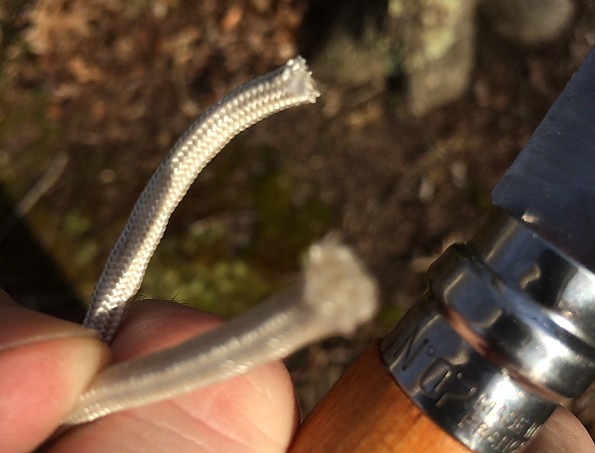 Could I baton with this? Of course not. Could I use it as a pry bar? No. Do I think it would slice through 12-gauge wire? Maybe if I really worked at it. Could I break the blade if I tried? I imagine so; 2/32 of an inch is not exactly bulletproof. But such abuse lies beyond the expectations of this blade's philosophy of use: it is meant to be a lightweight everyday option, not a one-tool option for the zombie apocalypse. Then again, if something does happen, $10 gets you a new No. 7.
I have used this knife for about half a year now, using it as my daily carry. The steel sharpens easily and holds an edge, although the thinness of the blade  and the fineness of the edge can necessitate stropping or a touch-up on a stone if manhandled when cutting tougher materials. It has held up well despite being deployed in everything from package opening to food prep to wood carving and lots in between.
It's light weight and superior functioning make it tempting for a backpacker who wants sharp blade without a lot of weight; I've seen Opinels in the hands of campers many times. Its classic wood-and-steel looks make it feel as though it belongs in a Hemingway novel. It is very satisfying to use, hearkening back to a simpler world before iPods, the Internet, or super steels, a world, indeed, nearly two decades older than Henry Ford's Model T.
I heartily recommend this product for those in search of a good, lightweight pocket knife.
Source: bought it new
Price Paid: $10

You May Like
Recently on Trailspace