Orca Walker 20 Cooler

#4 in Coolers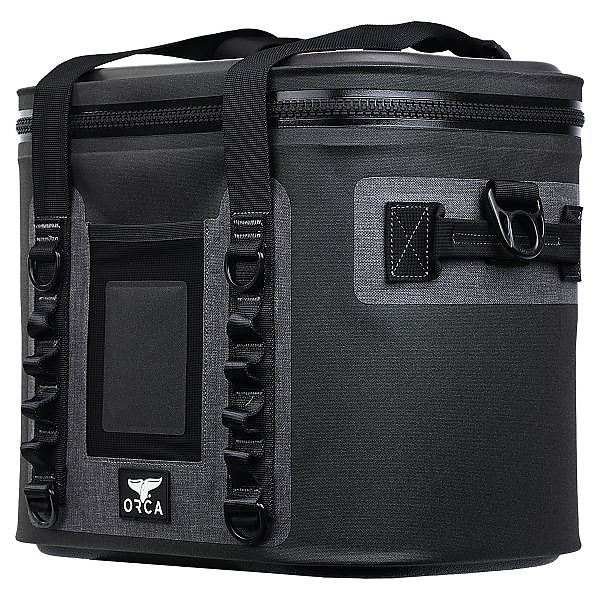 The Orca Walker 20 soft-sided cooler is an easy-to-carry cooler that is built to withstand the wear-and-tear of summer trips and actually keeps contents cold for a whole day.
Pros
Sturdy
Various carrying options
Non-slip bottom
No visible weakness points
Cons
Takes up a lot of space for its capacity
Zipper requires some muscle
Molle straps/attachment points seem a bit excessive (nice to have though, just too many IMO)
Conditions: 
For two-and-a-half months in the spring and summer, I've used the Orca Walker 20 Cooler for a variety of occasions, including car camping, road tripping, fishing trips, beer runs, and even buying groceries. It's been rained on, sat in the sun, tossed in the sand, and rode many miles in the back of the car.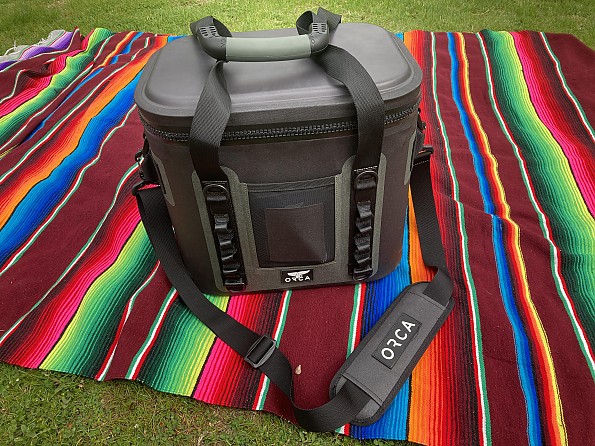 Ease of Use:  
A cooler is a pretty straight-forward piece of gear...open to access food/drink, close to keep things cold...that's about it. To judge the usefulness of a cooler, I look at ease of access to the cooler's contents, how well does it perform at keeping things cool, and what other features exist to make a better experience. To that end, here are some thoughts:
Ease of Access: The zipper is pretty stiff on this cooler. It's a thick waterproof zipper, so it isn't too surprising that it's stiff and requires two hands to opens and close. The manufacturer undoubtedly recognized this with the installation of a super strong zipper pull handle and providing zipper lube with the cooler. The zipper does get a little easier over time, but still requires two hands. The zipper needs to be fully unzipped on all three sides to gain access to the cooler, which some may consider a drawback to lid-top coolers, as opposed to top-zip coolers. I don't think it's necessarily a drawback, but it would be great to have a quick access option on the lid for when grabbing a quick drink out of the cooler.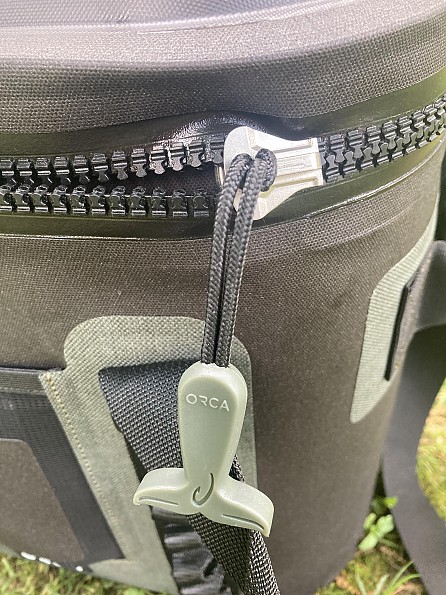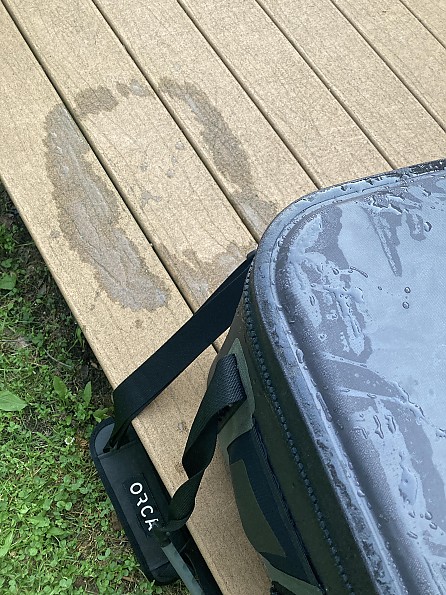 Keeping Contents Cold: In order to test ORCA's claim that the Walker 20 can "hold ice over 24 hours for that quick day trip" I tossed an 8lb. (3.6kg) bag of ice into the cooler, zipped it up, and sat it in my garage for 24 hours. The cooler was out of direct sunlight and ambient temperatures ranged from 65-70F (18.3-21.1C). I checked on the status of the ice approximately every 8 hours, documenting how much of the ice had melted. Admittedly, my approach was unscientific—looking in and dipping my hand in to feel how much ice had melted into water and getting an idea of the size the ice cubes remaining. Here are the results: 

 

Hour 0 = 8 lbs of ice placed in the cooler, 0% melted.

 

Hour 8 = Very minimal melted, only a small bit of water in the bottom, less than 10% melted.

 

Hour 16 = Noticeable amount melt, but still lots of ice left, 1-2 inches of water in the bottom, 40-50% melted.

 

Hour 24 = At least half the ice melted, but several large chunks of ice remain and the water is still cold, more 60-70% melted.

 

Hour 48 = Out of curiosity, I left the ice in the cooler for an additional 24 hours just to see how much ice would be left at the 2-day mark. Some bits of ice remained, but most had melted. Water remained cold enough to keep drinks cold. 80-90% melted. 
So does the cooler live up to the claim of keeping things cold for 24 hours...yes! Sure, some ice will melt, but things stayed cold enough to keep food and drinks safe. 
Additional (Useful) Features: a few features of this cooler that I find particularly useful include the multiple carrying options (i.e. split handle or shoulder strap), the non-slip bottom which prevents the cooler from toppling over easily, and the attachment points via molle webbing on the cooler exterior, which makes it easy to affix things like keys, kid's toys, bottle opener, etc., however, I do think the total amount of webbing is a bit much, and could've gone without it on the rear.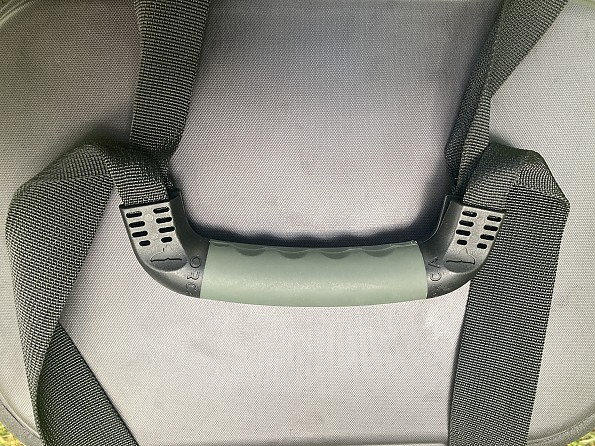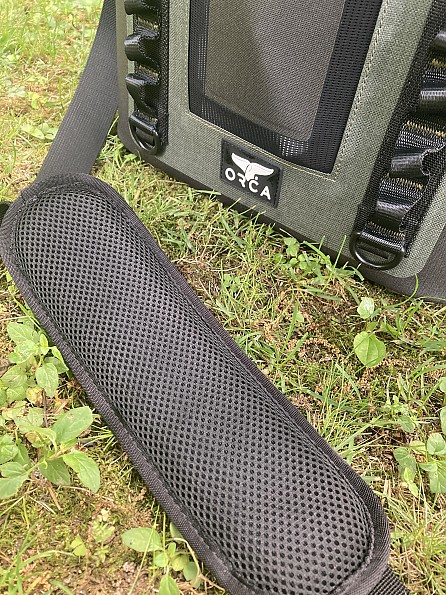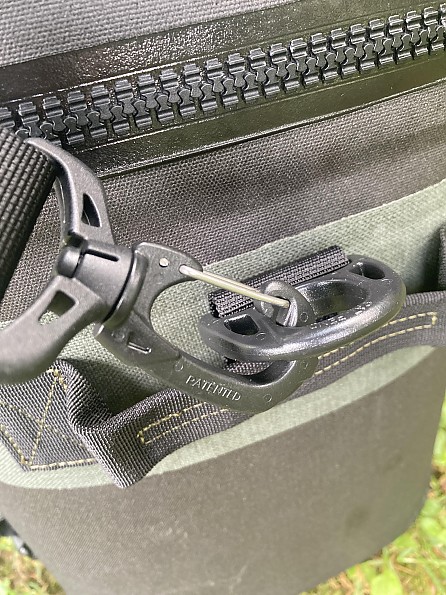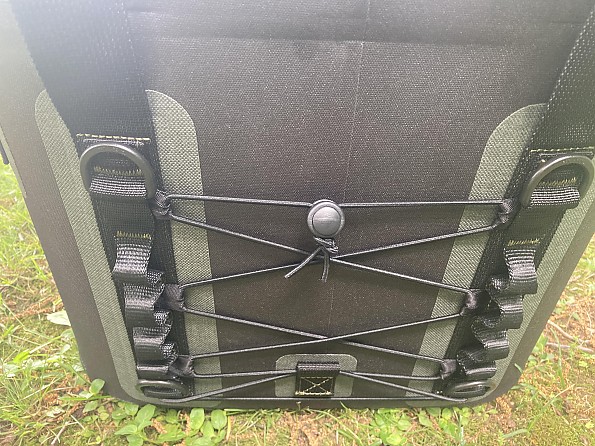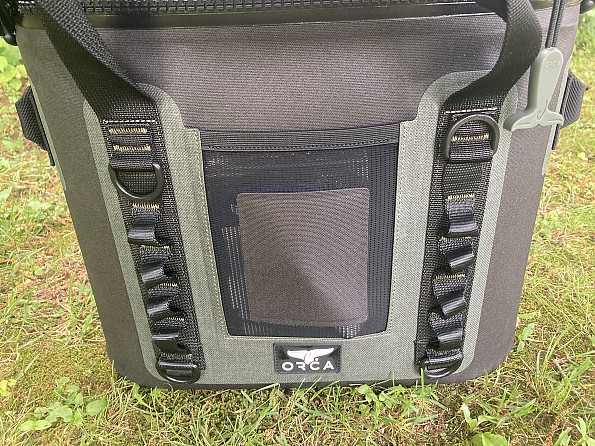 Construction and Durability: 
For being a soft-sided cooler, this thing is built like a brick. Many of us have  an old hard-sided cooler laying around that can take a beating, but take two people to move. This soft-sided cooler is built almost as tough, but with so much less weight and much more comfort. The cooler's exterior is a sturdy SPEC-OPS 840 Denier double TPU, the insulation is 28mm of tough Meta-Polymer, and the seams are all Ultrasonic RF Welding (think whitewater raft seams), and the zipper is a Master Seal #10 waterproof zipper.
To some, those terms means a great deal, to others, they are just fancy words. To put it more plainly, when I first laid eyes on the cooler, I could tell right away that this was built differently than most other coolers I've seen before, with the thick insulation, rugged exterior, and brawny zipper, this was built to last. It's WAYYYY nicer than the cheap soft-sided coolers I've used in the past that were $15 or less. I shouldn't even compare the two, really, because they are completely different products. 
(Orca also makes traditional hard-sided coolers in 20 Quart, 26 Quart, 40 Quart, 58 Quart, 75 Quart, and 140 Quart sizes.)
Size/Measurement:
External Size (i.e. how much space it take up in your car) 
Length = 15in. (38cm)  

Width = 11in. (28cm)  

Height = 14in. (35.5cm)
Internal Size (i.e. how much space there is to store food/drinks) 
Length = 12.5in. (31.75cm)   

Width = 8in (20.3cm)         

Height = 10in. (25.4cm)
Empty Weight:
4 lbs, 15.5 oz, aka, a half an ounce shy of 5 lbs. (2.25kg). Not sure how the manufacturer came up with its claim of it being 3.6lbs, but this is not the case. Granted, the shoulder strap can be removed to shed weight, but it's still not 3.6lbs. 
Weight Limit:
ORCA claims the cooler can hold up to 50lbs (22.7kg) and while I wasn't able to test this claim, per se, I have filled the cooler to the max and got it to the point where no reasonable person would add more weight to it, and the cooler showed no signs of stress or failure. I have no doubts that this thing can hold just about whatever you want to pack in it, unless you are carrying around solid gold bars or filling it with concrete for some silly reason. 
A Note on Cost:
I tend to shy away from the cost conversation in my reviews because everyone's financial constraints are different (i.e. expensive to me may be cheap for you) but perhaps it's worth mentioning how the Orca Walker 20 compares in price to similar-sized soft-sided coolers on the market. I haven't dug deeply into the exact specs of each of these products, but from a simple Google search and the eyeball test, here are few similar that look similar and their current MSRP price.  
Conclusion:
The Orca Walker 20 is a well-built soft-sided cooler that is capable of going on quite a few adventures, like paddling/fishing trips (grippy bottom would be great for a boat), road trips, car camping, multi-day hunting excursions that include a basecamp, and much more. 
UPDATE (JANUARY 2022): After a year and a half of regular use, I experienced some zipper troubles with the Walker 20. After connecting with the company, they informed me this is a known issue and their team is working to make improvements. They generously offered to replace the cooler. 
Experience
I've used a variety of cooler styles (double-handled, wheeled pull-behinds, zip-top, and lid top) made of a variety of materials (metal, molded plastic, and fabric/plastic). I own a very similarly designed, although far less superior in performance, cooler that was super cheap (less than $20). After 2-and-a-half months of regular use, the Orca Walker 20 has me forgetting that other cooler even exists and this one has become a go-to cooler.
Source: received for testing via the Trailspace Review Corps (sample for testing and review provided by Orca)

Your Review
Where to Buy
Help support this site by making your next gear purchase through one of the links above. Click a link, buy what you need, and the seller will contribute a portion of the purchase price to support Trailspace's independent gear reviews.
You May Like
Specs
Price
MSRP: $199.99
Current Retail: $219.99-$250.00

Dimensions
14.5 x 11 x 13.25 in

Dry weight
3.6 lbs

Max load
50 lbs

Capacity
Holds an average of 20 beverage cans with ice

Ice Capacity
Holds up to 20 lbs of ice, over 24 hours

Best Use
soft cooler made for day hikes and short trips

Recently on Trailspace