Osprey Aether 75

Top 25 in men's Expedition Packs
The Aether 75 has been discontinued. It was replaced by the Osprey Aether Plus 70.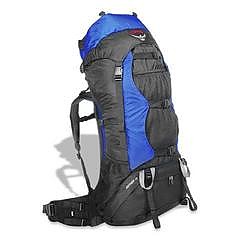 Specs
Price
Historic Range: $179.21-$239.00
Reviewers Paid: $98.00-$325.00

Reviews
6

reviews

5-star:

5

4-star:

1

3-star:

0

2-star:

0

1-star:

0
This pack is definitely a functional pack for a 3-, 4-, 5-day hike. It has lots of room, and a sleeping bag compartment at the bottom, making it easy to access items packed in the lower part of the pack. The belt is easy on the hips and the straps are comfortable. Internal frame, (Aluminum) can be contoured to fit.

It's lightweight and can be used on short trips or thru hikes. Hydration pack on top can be removed for a fanny pack. Very rugged and well made pack. Net pockets on each side are durable, additionally has wicking lined back pad and dual hip belt.

I would certainly recommend this pack for any short or long distance trip. Can be a little bulky, but not a real issue.
Pros
Plenty of pack space
Bottom opening compartment for sleeping bag
Vers top hydration compartment/fanny pack
Comfortable straps and dual hip belt
Wicking properties of back pad and hip belt
Superb construction
Handy functional cinch straps
Cons
Careful, you can overpack this pack making your load heavy
Difficult to store Camelbak when full, but with practice, works fine.
The Osprey 75 is a top loading pack 75L, 4500in (large actual 4700in). I purchased this pack online 8 years ago and it's still in perfect shape for this seasoned novice hiker. I first bought this pack for my thru hike of the AT, but unfortunately had to cancel 3 times. However I will be using it this year (2014) to do a NOBO thru hike of the AT.
I used this pack on the Florida Trail during the summer/and fall months. I had no problems at all with this pack. Easy to snug up and the balance is perfect. I myself am a slim male 5'9" and 180. I have some lower back issues and this pack rode snuggly and didn't cause any back issues. The load suspension allows you adjust for maximum load distribution and it stays put.  
I have used this pack on 4- and 5-day hikes in 95-100° weather and it didn't make me sweat. Careful though, you can pack a load of up to about 75lb. If you're not a seasoned hiker this might be an issue with such a heavy load. I assure you that I will not be carrying that much weight on the AT. All the parts of the pack work as expected with one exception. The top compartment for your camel bladder can be a challenge to fit when the camel-pack is a full 3 liter. But with practice and some minor adjustment it works fine.   
The technology, design and workmanship that went into this pack is superb. It meets all expectations and more. The construction is well made and holds up to even the heaviest loads. I have used this pack for 8 years and it shows no signs of wear. I wouldn't change it for anything. I look forward to using this on the AT this year (2014).
Source: bought it new
Price Paid: $325

I'm 55 years old, 6 feet tall, and 170 pounds. I've carried this pack for over 500 miles on trails between 7,000 and 12,000 feet elevation.
Interior room is excellent, with comfortable straps and belt. The three horizontal straps across the back are very useful (perfect for strapping a Crazy Creek to the pack on a short trip). The top comes off and makes a good fanny pack.
I would love it if it were a pound lighter, but have no real complaints. I would buy it again, if I couldn't find a comfortable pack at a lighter empty weight. I bought mine new for $210.
Price Paid: $210

I purchased this pack "lightly used" and it appears to be in "like new" condition. This is an awesome pack. It is a very roomy pack. Top loading with sleeping bag compartment on the bottom. I have the "Solo" added on.
The lid will detach and work as a fanny back with two pockets and key chain clip. The lid also functions as a hydration sleeve with draw tube hole....only problem is I have a time fitting my Camelbak 3 liter bladder in when it's full.
Overall, I love this pack and see many years out of it.
Design: top loading internal
Size: L, 4700
Number of Pockets: Hydration Pocket in convertible top lid/fanny pack Straight Jacket compression for maximum versatility Built-in front and side mesh pockets
Max. Load Carried: 60
Height of Owner: 6'0
Price Paid: $98

This is a GREAT backpack. Its good points are strong: good suspension/frame, belt, and light weight. The compression straps and the internal appointments keep the load rigid, and the wonderfully designed suspension allows one to adjust the load distribution just where you want it and it stays there. The great dual strap hip belt needed no break-in and was effective and comfortable. In July in Texas hill country (99F, 85% humidity), the wicking lined back pad and air spaces breathed well and did not put my spine in a sauna.
Only nit I had was that the hydration pocket's in a goofy place, in the pack top cover. I originally considered the Aether 60 but chose the 75 when comparing them side by side in the store, because the 60 doesn't have a lower compartment, everything loading from the top on the 60. This is an exceptionally well designed and constructed pack and a fine choice. Spending less on a cheaper, lesser pack than this is not worth it.
Footnote: If you are wondering whether you should choose the Osprey Aether or pricier Crescent, the Crescent is essentially the same frame and belt design but with more rigid titanium struts (Aether is all aluminum) bolstered for greater loads. The Crescent is better for, say, toting four days worth of water into the desert; light to mid duty packers will appreciate the Aether.

Design: Top loading internal frame
Size: 75L, 4500in3 (large actual 4700in3)
Number of Pockets: 2 side mesh pockets, one large mesh back
Max. Load Carried: 35#
Height of Owner: 6'2"
Price Paid: $189

Very good pack! I can't understand why "they" say it's good for "the occassional" hiker. It's great for anyone wanting to cut lbs and have lots of room.
I've gone ultralight and the pack is a little big at 4500cu. I wished I had got one of the 60s instead of the 75. I'm going to probly get the "new" version of the Atmos (if they put a better belt on it) or get the 60 next year and keep the Ather 75 for trips over four days or for bulky winter gear.
It's very comfortable and I've had no complaints at all. I'm 5-9 175lbs and had to ajust it just a little to shorten it up. I can pack everything I'd ever want to take (inside) and still seem to have room left over.
Max. Load Carried: 36 lbs
Height of Owner: 5'9"
Price Paid: $239.99

Really great pack for beginners and those who don't mind a little bulk for a 'lightweight' w/capacity. I came from an early '90s external framed pack. Wore the Aether 75 for the first time on 65-mile trek. No problems whatsoever. Not a bit of discomfort. I overpacked and slightly regretted not picking up the Cresent, but for the price Aether unless you're getting the 90 or even thinking 110. I'm a solid 21y/o, 5'10", 180 lbs, rec hiker. The pack is still standing: 8 foreign airports, 5 domestic, 7 states, and treks of unmeasured miles later: It gets the BUY.
Design: top-loading, sleeping bag compartment, hip-pack.
Size: M
Number of Pockets: 2
Max. Load Carried: over limit
Height of Owner: 5'10
Price Paid: about $250-275

You May Like
Recently on Trailspace