Osprey Crescent 110

The Crescent 110 has been discontinued. If you're looking for something new, check out the best expedition packs for 2021.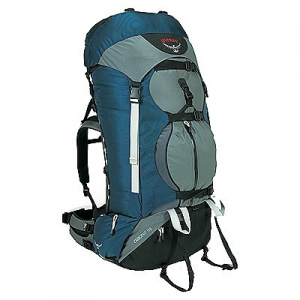 Specs
Price
Historic Range: $278.95-$399.00
Reviewers Paid: $250.00-$400.00

Reviews
7

reviews

5-star:

2

4-star:

2

3-star:

2

2-star:

0

1-star:

1
I have carried an Osprey Crescent 110 for 1.5 years, now.
If you are a novice or intermediate level backpacker, don't bother getting this pack. It is too much pack for you. It is a serious expedition pack. My local outfitter, Hilton's Tent City of Boston, MA, would not sell this pack to a customer they didn't know well.
I am a woman who is as strong as a man. I'm built more like a man than a woman. I fit into mens' shirts better than I fit into women's blouses. I found it easy to get this pack to fit. I had a hip belt from my previous Osprey pack, a Luna 90. My physical therapist straightened out my back and shoulder problem, then told me that I was going to need new packs--mens' packs. He is an experienced woodsman and he helped me get a superb fit out of my new Osprey packs.
Where I go (New York/New England), carrying a bear box has become a necessity. Most of my buddies strap their bear boxes onto their pack and I found this to be awkward. I wanted to carry my bear keg in my pack so that I could comfortably balance the load. I really like the fact that my Osprey Crescent 110 comfortably holds my bear keg, and anything else I need to take into the woods, with space to spare. I'm also the person who ends up carrying other peoples' gear when they run into trouble.
I use my Crescent 110 as my grocery bag. (Yes, I do pack my groceries.) I can fit two weeks of groceries in this pack. This pack comfortably handles an 80+ pound load. I haven't had problems with the straps loosening under very heavy loads. However, my local outfitter does acknowledge that when Osprey moved its manufacturing to Vietnam, the quality of its buckles did go downhill. Perhaps why I haven't had a problem is the fact that I swapped the buckles off of my Luna 90 with those on the Crescent 110, before I gave the Luna 90 to a girlfriend.
I've not had problems with loads shifting, even when I had a comparatively small load in it.
The major problem with this pack is that it is too big. If you are not careful, you will take too much stuff into the woods. As packs go, it's on the heavy side, but it is super comfortable under load. It does have a detachable fanny pack. I did what all my friends did with that--I cut off the fanny pack straps to save weight.
So far, this backpack looks just as nice as it did when I bought it. It appears to have minimal wear, even though I use the pack a lot--whenever I need to haul a large load.
Design: Internal Frame
Size: 110 liters
Max. Load Carried: 100 lbs (checked on a scale)
Height of Owner: 5' 8.5"
Price Paid: $250 (closeout)

I purchased this pack 12/06 and fell in love with it immediately. I have carried small light loads and loads as much as 50 lbs and found the pack easy to adjust in either situation. Heavier loads were comfortable to handle and I did not find difficulty with the straps loosening. In fact I often would loosen them myself while on the fly. I found all adjustments easy to make while walking.
My suggestion for this designers of this pack would be to make the top (lid) compartment (doubles as a lumbar back if removed) smaller and add 2 more external compartments instead in order to move weight lower.
The only other downside with this pack is that it weighs about 7 lbs empty but if you intend on carrying heavy loads the added weight is needed to provide strength in stress areas.
Design: top loading internal frame
Number of Pockets: 3
Max. Load Carried: 54 lbs
Height of Owner: 6'2"

I really like this pack, but I am also having the same problems with the loosening of straps. I usually carry about 60 lbs and I find that I have to snug up the straps every 15-20 minutes. I hike in the mountains and the uneven nature of the terrain seems to contribute to the loosening. Other than this one flaw the pack is excellent.
Height of Owner: 6 feet
Price Paid: $400

In response to ncseakayaker, I have two friends who own this pack. One of these men works at a gear store in CA. Who was fitted properly the other man was also fitted at a store in RI. Each of these friends also complained that the pack loosened every ten to fifteen minutes. Both packs broke the shoulder strap. One pack is three years old and the other one is not even a year old. I would not consider purchasing this pack or recommend that anyone purchase this pack. It seems likely that in the long/short run the straps will break on these bags. Buy a Gregory and let the Osprey sit in the corner!
Design: Internal Frame

It is important that you have your pack fit properly. I can't stress this enough to anyone. If you do buy a pack online (bad idea) make sure you try it on and have someone who knows the ins and outs of packs to fit you. Mr. Hemphill's review of this pack should be completely disregarded and is merely in ignorance; therefore we will forgive him for saying such things about a piece of pack art.
I work at Great Outdoor Provision Company in NC and I have been fitting people with Osprey and Gregory packs for two years now. What most people don't understand is that when purchasing a pack you must have a pack expert measure the length of your spine. They must also take measurements for your hip belt and shoulder straps. If the sales rep doesn't do this and essentially "tweak" the pack to the customer then you will have the problems Mr. Hemphill had.
This pack also has a molded hip belt…it really helps if get this hip belt molded. This can be done at any authorized Osprey Dealer. Another note: not all packs fit all people. While Ospreys fit most people they don't fit all. If I can't get someone in am Osprey I can usually get them in a Gregory. My assumption would be that Mr. Hemphill was not properly fitted for this pack. I have had customers hike the AT with this one with no problem. GET IT FIT RIGHT!!! Same thing does for boots.
Price Paid: N/A

This is the most comfortable pack I've worn in 35 years of backpacking. It is a 2001 model and I believe this was the last year the pack was made in the USA. That may be why there are some manufacturing issues with the newer packs.
What sold me was the hipbelt design. This is the first pack that has not given me black and blue hips. It rides well up to 65 lbs of weight. There is tons of room even when I don't pack it to well. It had more than enough room for a 9-day trip with all of the food for the whole trip.
The compression strap sytem works well for smaller loads and there are enough pockets to store all the small items.
The material has held up well with five years of use and I don't take the best of care with my gear.
Design: top and front loading
Size: medium
Number of Pockets: 5
Max. Load Carried: 65 pounds
Height of Owner: 73 inches

Well I have mixed feelings on this pack! I am a landscape photographer who bought the pack to help haul all my large format camera gear for multiple days in the mountains (Toyo 4x5 field camera, 2 lens, tripod and 10 film holders).
Positives:
-Carries heavy loads well
-Huge sleeping bag compartment, no more struggle to get sleeping bags in your backpack
-plenty of room for TONS of gear
-good costumer support
Negatives:
-hipbelt and shoulder straps consistanly come loose. About every 10-15 minutes I have to readjust the pack because the pack begins to slide down. I even called Osprey and they sent me a new shoulder harness, but it did not fix the problem. Also snapped a buckle on the shoulder harness. Again Osprey quickly replaced it, but it is still problematic.
-The pack is not good at carrying smaller loads. I now plan to use the pack for winter trips, or trips where I bring along EXTRA camera gear. It just doesn't compact well with smaller loads and the pack fits funny.
-There aren't enough compression straps on the outside of the pack to carry more gear. You only have one set of 3 staps directly on the back of the pack to carry gear that you don't want in your pack. Also, when you have the pack loaded fully and then you strap a tripod, snowshoes etc... on the back of the pack, they stick out very far from your body and tend to catch things when you are bushwacking. It would be better if there were straps on the sides of the pack for hauling that stuff.
-The stiching is coming undone in several spots after a year of use.
-The all-black color is like wearing a oven on your back on hot days! I think they have changed the color on the 2004-05 models (I have the 2003 model).
If I had to do it over again I would not purchase this pack again, For almost $400 I expected it to be almost perfect, somthing I could use year round, and would last for many years to come, but I guess in this day and age of foreign (Vietnam, China, etc..) made crap, you have to learn to pay a premium and get a minimum. It's too bad.
Design: rucksack
Size: large, approx. 6700 cubic in
Number of Pockets: 4 pockets
Max. Load Carried: 60 pounds
Height of Owner: 6 foot
Price Paid: $350

You May Like
Recently on Trailspace