Osprey Hydraulics LT 2.5L Reservoir

Well-thought out details make this the easiest to use of the several reservoir types I have tried over the years.
Pros
Easy to open and fill
Quick disconnect on hose
Baffles for a slim profile
Magnetic clip
Slider updated to deal with breakage problem
Cons
Chemical taste when new
Bite valve shut-off hard to operate with one hand
Old style plastic slider can break during routine use
New slider may be incompatible with fittings on some (non-Osprey) packs
As of 2016 Osprey and Hydrapak combined forces and features to offer up a new line of hydration reservoirs, to be included in Osprey hydration packs but also sold separately. I got mine with an Osprey Skarab 32 purchased in 2017, but I think the reservoir is worth reviewing separately. Here are the mug shot and profile views:
The 2.5 L size is big for a lot of the trips that I do in cooler and wetter environments (can you say Norway?), but very much needed in heat and on long stretches without good water (how about Tucson at 100+˚F?). I filled it up early in the morning and emptied by noon on a recent hike in a desert canyon. Volume markings help you decide how much you're carrying on shorter trips.
The complete system weighs in at about 160 grams, only 5 grams or so less than a couple of different 2 liter reservoirs that I have. The price is in the same ballpark as reservoirs of similar volume and quality.
The product description says that it is made of BPA- and pthalate-free metallocene plastic. Well, I wouldn't be doing my job if I didn't look into THAT! Internet searches lead to some pretty heavy-duty web pages on polymer chemistry, and for a while there I thought metal ions were somehow incorporated into the structure of the plastic. But as far as I can tell it is a type of polyethylene that is made using metallocene (metal ion-containing) catalysts, which maybe give a little better control over the its molecular structure so that it's quite a bit tougher for its weight and flexibility—and maybe also permits leaving out the nasty plasticizers. It looks and feels more like PVC than HDPE, a bit more flexible and soft to the touch.
Despite the absence of nasties, it did have a nasty taste for the first few uses, much more so than new conventional PE reservoirs I have used, but whatever it is has leached out. I've been using this bladder for a couple of months and I ain't dead yet!
A pair of welded vertical baffles keep the reservoir from ballooning out mid section and distorting the shape of your pack. When I want to use ice cubes to keep cooler for longer, these are confined to the v-shaped central tube. The carry handle is a nice touch and might save a little hand fatigue on a long carry from creek to camp, but I'm also OK with handling it by the top bar, and some kind of carry loop might work as well or better.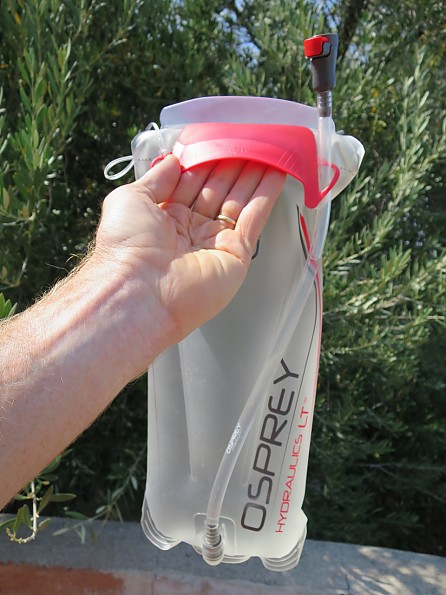 The hose comes with a quick disconnect so you can leave the business end threaded through hydration ports and retaining straps on you pack. (Oddly, the quick disconnect is not included when the reservoirs are supplied with some Osprey packs, including the Skarab, but are included when you buy the reservoir separately. I prevailed upon Osprey to send me one anyway, but it took a little negotiatin'.)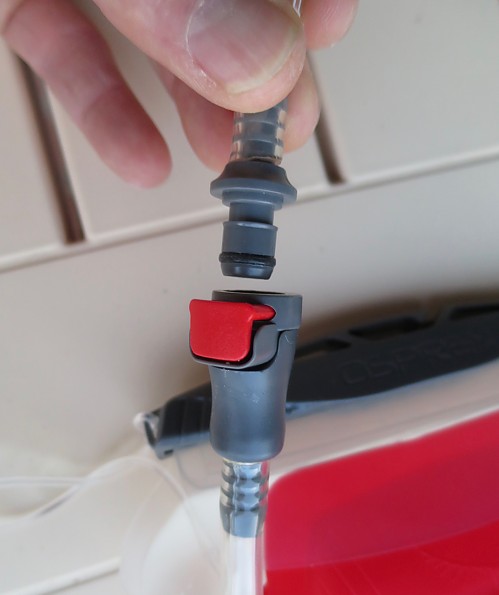 All the hose fittings have barbed nipples that take a little yanking to get off for a thorough cleaning but give a tight seal. As a thoughtful detail, the carry handle has little extensions for routing the hose through so it doesn't dangle down when you're carrying it or inserting into a pack (see top picture).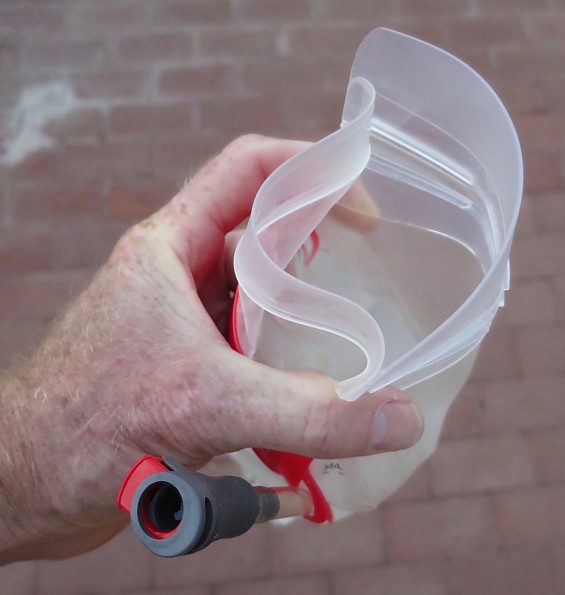 The reservoir opens up with a simple fold over and slide lock system that is the easiest to use of any that I have tried, just fold and slide. It opens to the full width of the reservoir, and there are no wide-mouth caps to unscrew or ziplock-style zippers to line up. One side of the opening is extended to give a little bit of a pour/fill spout. Ridges on either side guide and lock the bar so that it's pretty much impossible to misalign.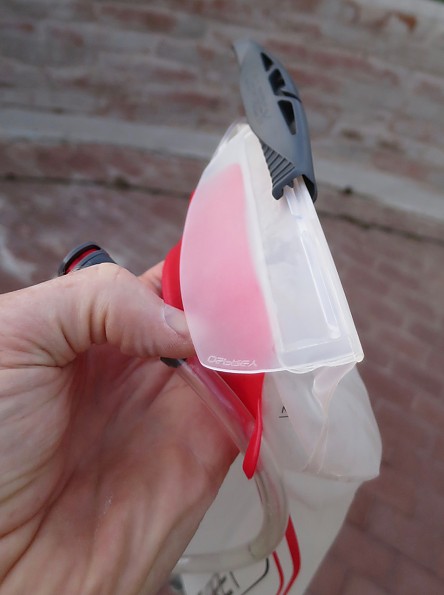 I have had zero leakage problems here or in the hose fittings in the first few months of use.  The bar has a slot that it is open on one side so you can just slide it onto a hanging strap.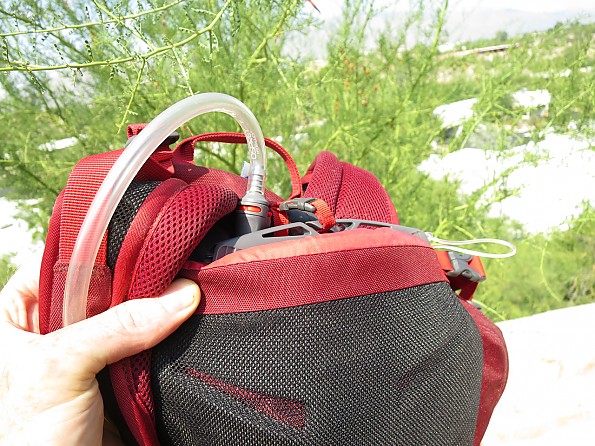 The bite valve is small but has good flow. It rotates to seal and prevent accidental leakage, but I find it a little hard to rotate one-handed.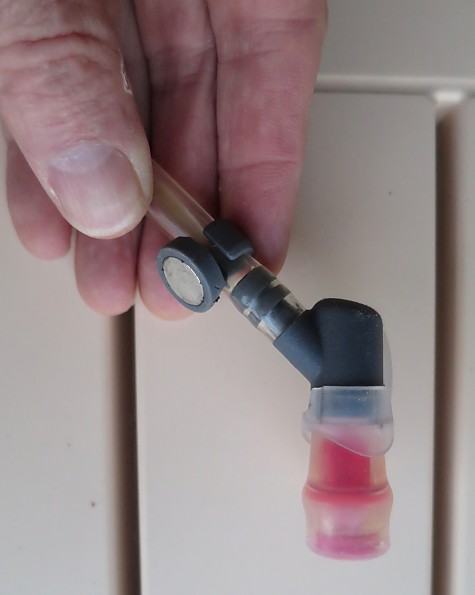 A strong magnetic clip can be used to park the tube on your sternum strap, a feature that I like a lot because it keeps the free end from bobbing or whipping around, depending on your level of activity. This part was included with my Skarab and also seems to be standard when buying the reservoir separately. 
All these little details add up to the most user-friendly of the five or six different reservoirs I have used over the years. It edges out my heretofore favorite (Platypus BigZip) by maybe a hose length.
I should note that some reviews on Osprey's web site report broken carry handles and hangers, all covered by warranty. I've been using the reservoir for day hikes for a couple of months and can only say that it is holding up well.
October 25:
Oops! The hanger broke: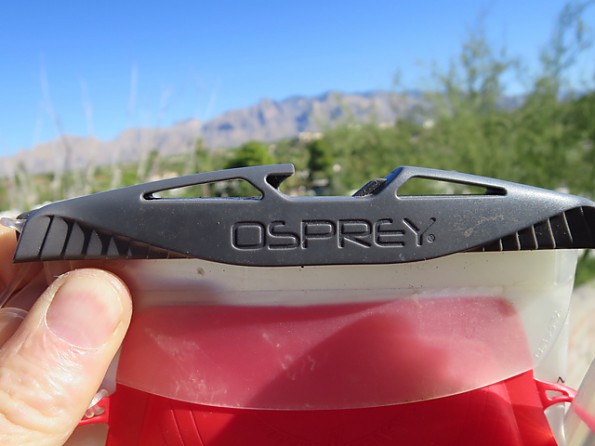 I'm actually not sure when or how -- discovered it when I went to put it in my pack a few days ago. I'm sure Osprey will warranty it, but of course I'd rather it didn't happen at all. Seems a be a design flaw that will need correcting. So I'm taking my score down from 4 to 3.5 stars. The easy opening and mid-hose quick disconnect both make this one of the most convenient reservoirs I have used, the negatives are the initial taste, hard-to-rotate bite valve and the breakable hanger.
Updated update, Nov 7:
Hydrapak sent me a new slider, no questions asked. It's a bit strange being bounced between two different companies on what I purchased as one product. The Osprey name is all over the reservoir, including the slider, so I contacted them first and they referred me to Hydrapak.
The slider has indeed been updated: there is no longer a cut-out that allows you to just slide it onto a hanger strap (compare to photo above):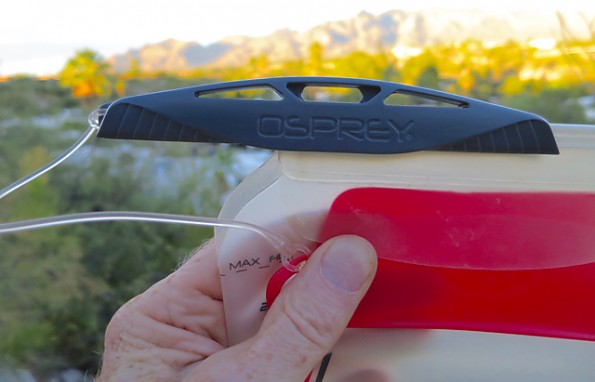 This should greatly reduce the probability of it breaking off. It was very convenient to just slide it on, and running the snap lock through takes a but of fiddling, especially with a fully weighted reservoir, but I guess that's the tradeoff.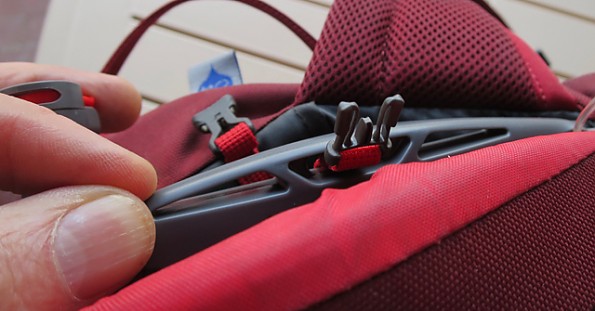 It is backwards compatible with my '14 Osprey Atmos -- the fitting on the pack is the same size. But it's a pretty small opening so it's possible that some packs may have fittings that won't fit through. Now that I think of it, some "snap hook" type fittings might not work either.
Back up to four stars for good service and dealing with a known problem.
Source: Included with Osprey Skarab 32 daypack

Your Review
Where to Buy
Help support this site by making your next gear purchase through one of the links above. Click a link, buy what you need, and the seller will contribute a portion of the purchase price to support Trailspace's independent gear reviews.
You May Like
Specs
Price
Current Retail: $15.83-$46.00
Historic Range: $15.83-$46.00

Recently on Trailspace