Osprey Stratos 26

Top 50 in men's Daypacks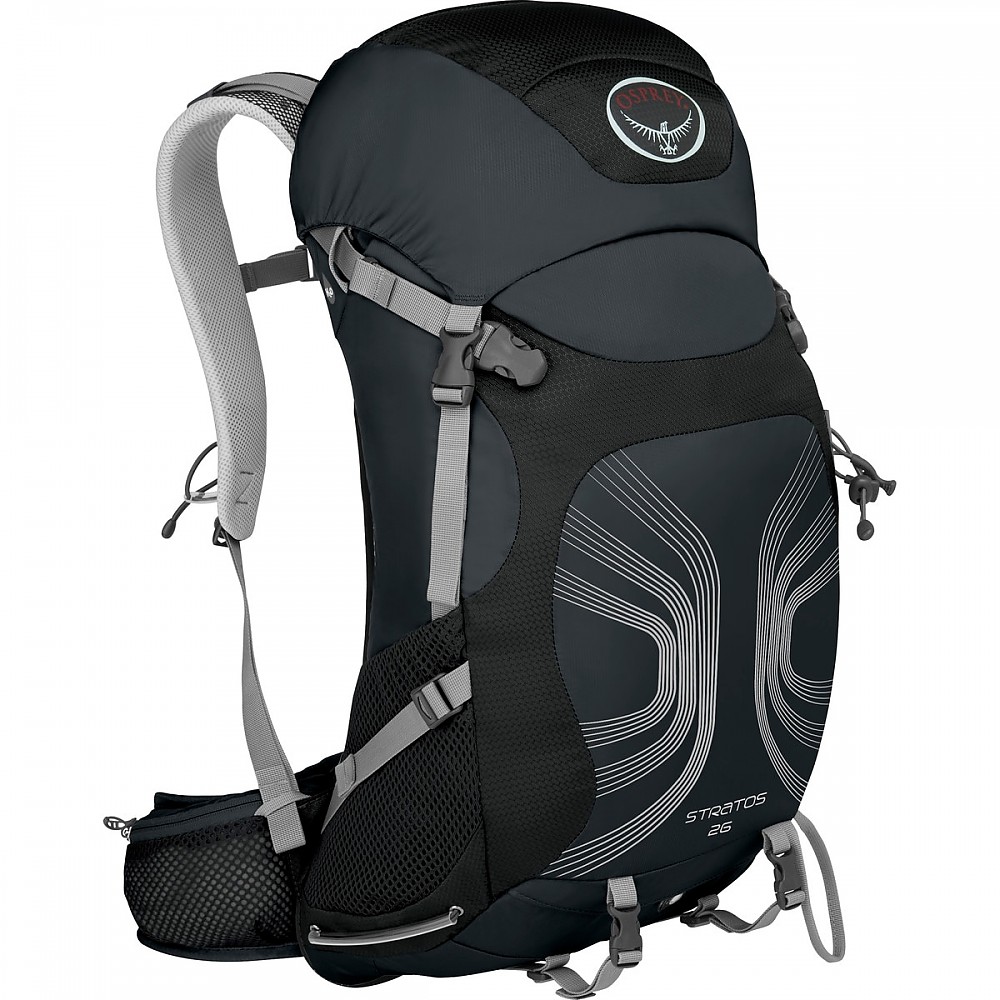 Specs
small
medium
large
Price
MSRP: $119.00
Historic Range: $58.73-$140.00
Reviewers Paid: $100.00-$120.00

Weight
2 lb 7 oz / 1.11 kg
2 lb 9 oz / 1.15 kg
2 lb 11 oz / 1.23 kg
Capacity
1500 cu in / 24 L
1600 cu in / 26 L
1700 cu in / 28 L
Reviews
4

reviews

5-star:

1

4-star:

3

3-star:

0

2-star:

0

1-star:

0
Pack model: Stratos 26
Pack type: Daypack/Top Loader/Hydration compatible
Pack Size/Weight/Volume: Medium/2lb 9oz (1.16kg)/1600ci (26L)
Pack Color: Tarn Blue
Recommended Max Load Range: 25 lbs (Osprey's)
I have been an avid backpacker for quite sometime now. I just seem to enjoy breaking the monotony of everyday life with a good dose of Mother Nature.
It just seems to be the cure for all that ails me.
But let's face it; regardless of who we are we all have responsibilities. The light bills don't pay themselves, the pets don't buy their own food, and the vehicle doesn't run on air.
So being I have these things called responsibilities I don't always have the time to hit the trail for multiple days like I want too.
I now have a greater appreciation for something that I was not really into before...
Dayhiking... 
Now, I do have a plethora of gear but the one thing I didn't have was a daypack.
I suppose I could always pursue my dayhikes with a 70L+ pack but if I were to do that I would probably lose track of time (unintentionally of course) and not be heard from for at least 72 hrs later. 
I could see it now; I would load the pack with what I need for a light dayhike and before I realized it I would be saying to myself "hey I could fill that space with my tent... Sleeping bag can go there" and so on and so forth.
Hey, what can I say? I just don't like to waste usable space.... 
So I figured if I purchased a daypack I would set limitations for myself that would keep me from meandering into a multi-day trek unintentionally.... Yeah "unintentionally", that's it. :)
So here I go with that whole decision process once again. 
This wasn't a super hard choice for me when it came to manufacturers. I have had great luck with Ospreys. I own a few and all of them have been great packs.
Now which model?
This is where it gets fun. Osprey has quite a few different daypack models with different features. After a great deal of thought I ended up going with the Stratos 26.
Now before I get in depth in regards to the pack features, construction, etc. I am going to rundown the pros and the cons of the pack, so here goes.
PROS:
Airspeed backpanel ventilation is amazing (but this does come with a price (see cons.)
Comfortable harness/hipbelt.
There are a plethora of pockets (2 in the lid (zippered), 2 on the sides of the pack body, 2 on the hipbelt (zippered), and 1 on the harness (also zippered,) and the main pack body.
Stow-on-the-Go trekking pole attachment point rocks (wish my Argon had it.)
Integrated rain cover is included with the  pack. No need to spend more money on another item.
Hydration compatible. It swallows my 3L HydraForm bladder with no problem.
Hydration ports on both sides of the pack body
All adjustment points stay where set once the pack is dialed in. No slipping out of adjustment etc.
Inside-Out compression straps are actually pretty nifty.
Love Osprey's zipper toggles. They are easy to grip and glove friendly.
Osprey's "All Mighty Guarantee." Basically if a problem arises with your pack whether it was your fault or not you are covered for the lifetime of the pack whether it was purchased now or in 1974 repair/replacement is covered free of charge.
CONS:
The curvature of the LightWire Alloy frame can make packing the pack awkward due to the bend it causes in the pack body. But this is a trade-off for the ventilation that this design provides.
I do not get why Osprey (and others) keep including a whistle on the sternum strap of their packs. In order to utilize the whistle you have to be able to disconnect the sternum strap or have a great deal of flexibility in your neck to bend your head down to reach it... Here is a better one; if you get separated from your pack ya get separated from your whistle. Ugghhhh....
I personally think keeping a whistle attached to one of the various zipper toggles on your shell keeps an emergency whistle more readily available. I prefer to attach mine (REI Tri-power) to my main zipper on my shells.
That way when I have it zipped up it is readily available within seconds if I need it. Plus if I am separated from my pack its no big deal being I still have my whistle on me if I find myself in a situation where I actually need it.
Harness pocket is a bit small and although I have to give some credit to Osprey for including one in the design of the pack although I wish it was a bit larger.
Now before I actually get any further into my review of the Stratos 26 lets take a look at a short video from ospreypacks.com pertaining to a basic overview of the Stratos line as a whole:
Okay, now that you are somewhat familiar with the Stratos line lets get into the review.
"The Nitty Gritty"
Fabrics utilized in construction:
The colored fabric (blue) on the pack body is 210D Double Ripstop nylon and the grey fabric is 420HD nylon pack cloth.
Main pack body:
Due to the curvature of the frame on this pack I have noticed that packing the main pack body of the Stratos 26 can be somewhat tricky.
Then again this is dependent upon what you pack and/or how you pack.
So a little planning may have to go into packing the pack if you include an item such as a laptop in your kit (I'm kinda talking to students on this one that want a dual purpose rig for the trail/school).
I personally have no problem fitting a shell, rain gear, a meal, my stove, and other odds & ends in the pack body with my bladder. 
At the same time my kit is my kit and what others carry will vary. My best advice on this one is to get to your local outfitter with what you plan on carrying and see if it fits. If not they also make this pack in a 34L, a 36L, and a smaller 24L version. The 26L/36L are top loaders and the 24L/34L are panel loaders (think book bag for school.)
The top of the Stratos 26 is secured by a cinch cord (as seen in the photo below:)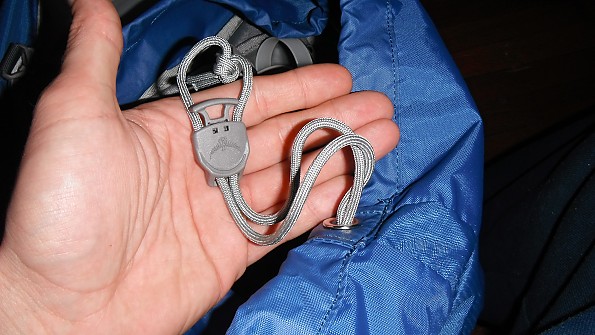 There are a total of 4 compression straps on the main body of the Stratos 26 as well as 2 on the lid. 
Harness & Hipbelt:
The harness and hipbelt on the Stratos are comfortable. Granted they are not padded as much as my Argon for instance but they don't need to be. The Stratos is not designed to be a load monster like a pack such as the Argon. 
The Stratos is designed to be a lightweight daypack with lightweight materials.
The Stratos harness and hipbelt is padded with what Osprey refers to as their "Breathable Spacer Mesh Surface" (as seen in the photo below:)
I have found that the materials/padding utilized in the construction are quite comfortable over multiple hours of travel on the trail regardless of temperature or conditions.
The harness also has a load lifter on each side of the harness for getting your pack dialed in (see photo below:)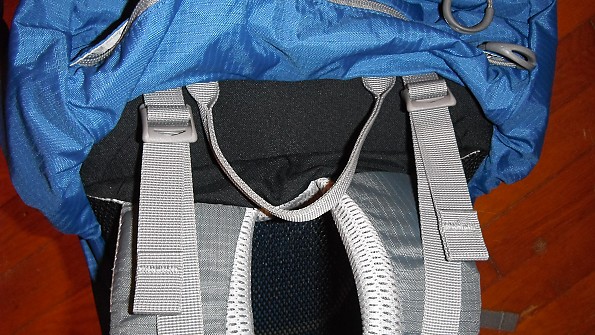 The sternum strap is adjustable by loosening/tightening the webbing which is attached to a side release buckle. 
The side release buckle also has an integrated emergency whistle but I pretty much already covered that in my rant under the cons section so I see no need to reiterate on that matter here.
The sternum strap is also adjustable vertically. There is a rigid "rib" built into both sides of the shoulder harness that gives you this option (as seen in the photo below:)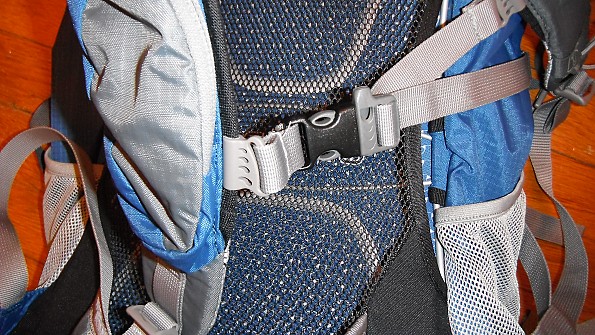 Airspeed backpanel:
I have to say I am floored by the Airspeed backpanel design on the Stratos 26. This design implements a LightWire alloy frame with a 3D tensioned backpanel (think trampoline.) The mesh is separated from the actual pack body which provides unrestricted airflow in this area.
There are side crescents that provide additional ventilation (see photos below:)
I have to be completely honest with you here. In all the years with all of the various packs I have used I have never had a pack ventilate as well as this setup does.
Although padding is null and void in the backpanel area of this model it is surprisingly comfortable when loaded up after many hours on the trail. I have yet to experience a sweaty back. Mind you, I have used this pack in very hot/humid conditions where if I were to be utilizing a pack of a different design it would have been a complete washout.
A big high-five goes out to Osprey on the ventilation. Awesome job.
Pockets:
The Stratos 26 has a plethora of pockets. It's definitely not lacking in this regard. 8 total including the main pack body and excluding the hydration sleeve which I will get into a bit later in the review.
Lid:
There are 2 pockets in the lid of this model. This is the area where I keep my smaller 1st aid kit, and smaller items that I do not feel the need to fire in the main pack body but are too large for the other various pockets (see photos below:)
Pack body pockets (Inside-Out compression straps:)
The main body of the Stratos 26 has 2 mesh pockets which are located on the sides of the pack body. 1 on the left and 1 on the right (see below photos:)
Photo below of left pack body mesh pocket with a CamelBak Groove 20oz.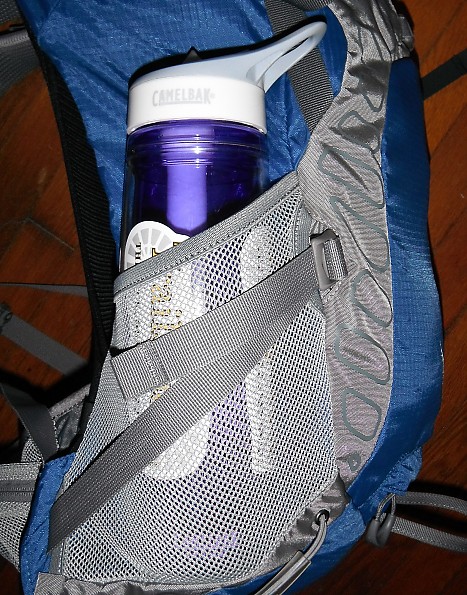 Photo below of right pack body mesh pocket with a Waterbox Eastman Tritan 750ml.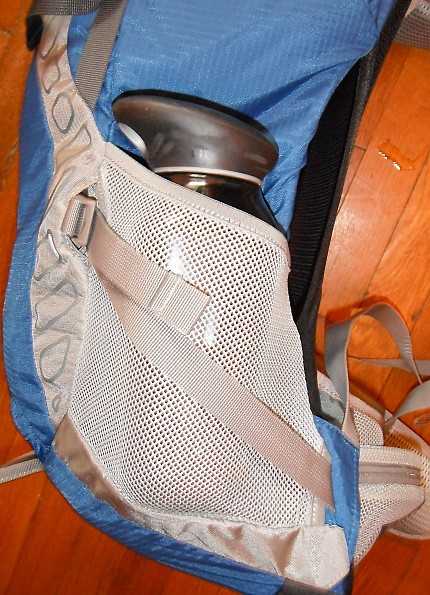 Now if you look at the 2 photos above you will see the compression straps running on the outside of the mesh side pockets. This is where the Inside-Out feature that I previously mentioned comes into play. 
You have the option with this feature to run the compression straps on the outside of the pockets to secure items in the pockets a little tighter as seen above or you simply disconnect the webbing from the ladder buckle and run the compression straps on the inside of the pockets as seen in the photos below:
1st step in the process is disconnect the webbing from the ladder buckle and reroute the webbing through an unattached portion of the pocket (as seen in the photo below:)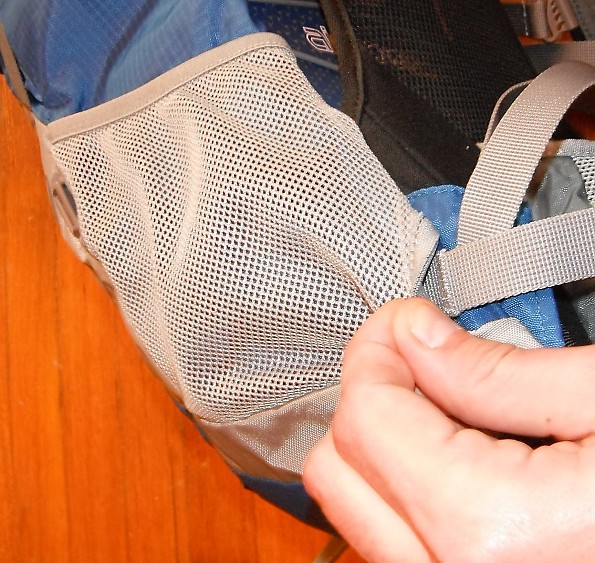 The next step is to run the webbing back through the ladder buckle (as seen in the photo below:)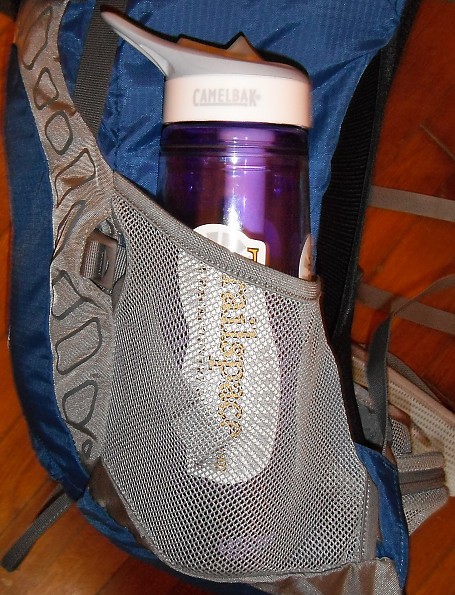 Then just tuck away the excess webbing and get on your way. Pretty simple huh?
Here is a video from ospreypacks.com explaining this set-up a bit more:
So the big question... Is this a necessary feature or unnecessary weight?

Here is an easier way for me to sum this up to you.
If ya never had this feature would ya miss it?
No.
Is it a nice feature to have?
For the added security/peace of mind this feature provides for keeping things in the pockets where ya want them to be and not miles behind ya abandoned on the trail somewhere its a welcomed addition in my book.
Hipbelt/harness pockets:
The Stratos comes equipped with 2 hipbelt pockets as well as a harness pocket. All of these pockets offer zippered access for security of your valuables.
The hipbelt pockets/zippers are easily accessible for me and I have absolutely no qualms with the design or set-up of this feature.
The pockets are mesh and of ample size. They easily swallow my phone, gps, snacks, or any other small items that I want readily available(see photos below:)
Something else struck me with the design. It's apparent to me that the folks at Osprey that designed this pack have definitely logged some trail time.
When closed both zipper toggles are close to the hipbelt side release buckle which means you are not stretching or contorting your body in odd ways to access/unzip the hipbelt pockets.
Hey what can I say? It's the little things. :)
The Stratos 26 also has a shoulder harness pocket which is located on the right side of the harness. Its a welcome feature that I personally think alot of packs lack. Its just a convenience thing to me. Hey anything to make things easier right?
(Here is a pic:)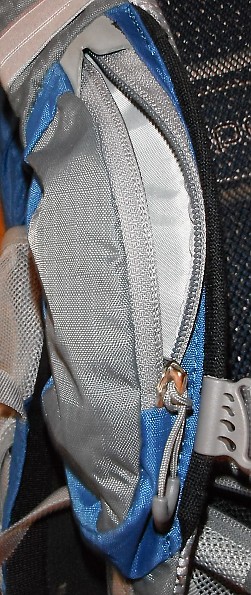 Now while I really like this feature I have one issue with it. The length of the pocket is great but the width leaves a bit to be desired. Think granola bar width. My phone is a no fly zone for this pocket.
Length wise I measured it in at 7"... Great. Width wise? 2.75" not so great.
My thought is why didn't Osprey design this feature with a bit of Lycra implemented so the user could utilize this pocket for things that are a little larger such as a phone, etc.
Kudos for including this feature but it still leaves a bit to be desired in regards to execution.
Miscellaneous Features:
Stow-on-the-Go trekking pole attachment:
For those of us out there that utilize trekking poles Osprey has us covered.
Have ya ever encountered terrain on an ascent or an obstacle on the trail that has you thinking your trekking poles are going to do nothing but get in the way?
So what do you typically do?
Take your pack off, secure them to your pack, put your pack back on until you pass said terrain/obstacle just to go through the whole process in reverse to get your poles back in your hands?
Or hold the poles in your hands mid-shaft bashing them off the terrain as you make your way over the obstacle?
Not with the Stratos 26.
Osprey has implemented their Stow-on-the-Go trekking pole attachment on this model.
Basically, you have a squeeze toggle with elasticized cordage on the left side of your shoulder harness.
This is where the grips of the poles are secured to the pack (as seen in the photo below:)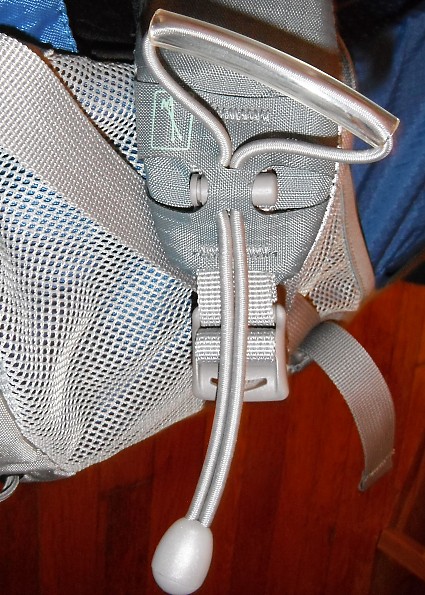 There is also a loop on the lower portion of the pack body where you route the baskets/bottom section of the poles through for transport (as seen in the following photo:)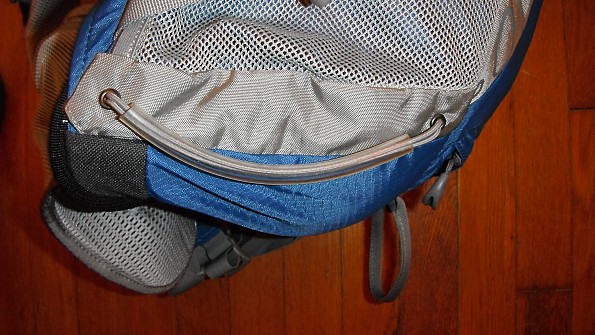 When your poles are secured to the pack this is what it should look like (see photo below:)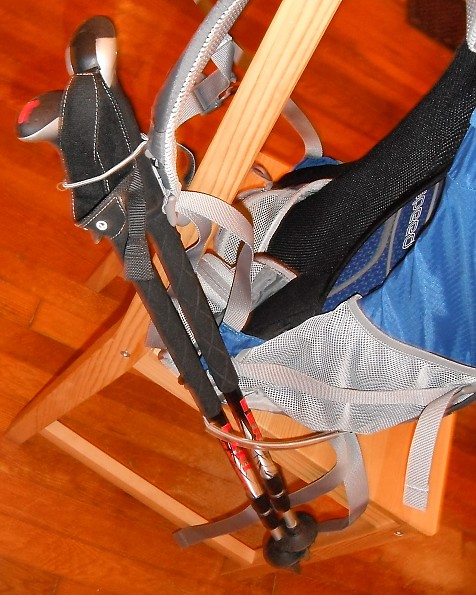 For clarification purposes here is a video from ospreypacks.com that is basically a walk-thru in regards to this process:
I really love this feature and I find myself wishing that my Argon had it. Oh if I could only have a bit of say in the design of a pack.
Then again if I did the ending result would probably weigh in at around 20 lbs empty. 
Integrated Rain Cover:
Lets face it. If you spend enough time on the trail Mother Nature is going to give you a bath.
Osprey is aware of this and has included an integrated rain cover with the initial purchase of the pack.
It's not some skimpy poor excuse of a cover either. I find the material to be on par with the Osprey cover I purchased for my Argon 85. It does what it is intended to do. It keeps your pack dry when the sky wants to get you wet(see photos below:)
If you notice on the photo below there is a zipper and a little tag with a rain drop on it. This is the area where the rain cover is stored when not in use: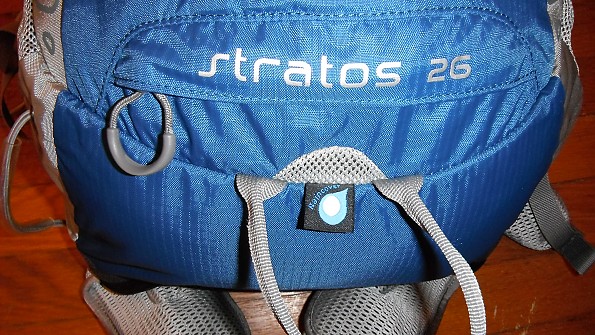 Pack cover in place: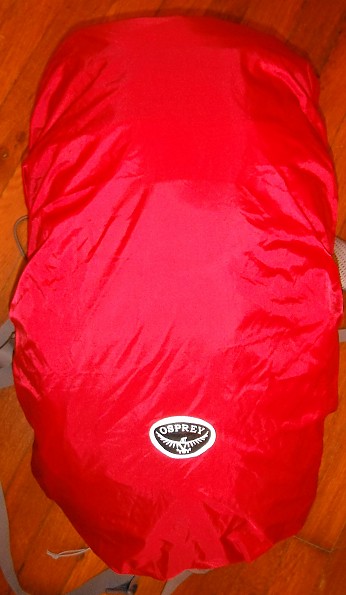 Now I am not a fan of bright colors. Blue is about my limit. I have to say that the red cover is bright but I found an added benefit to a bright red cover.
Being seen during hunting season. 
Now granted it's not blaze orange but it's better than nothing and it is definitely noticeable in comparison to the backdrop of the lush green forest. I hope someone doesn't mistake me as a flower and they try to pick me.... then again once they catch a whiff of me while on trail they will realize I am definitely not a flower. 
Hydration Compatible features:
The Stratos 26 is a hydration compatible pack with ports for routing the feed hose from a bladder out of either the right or left side as seen by the "H2o" monikers in the photos below: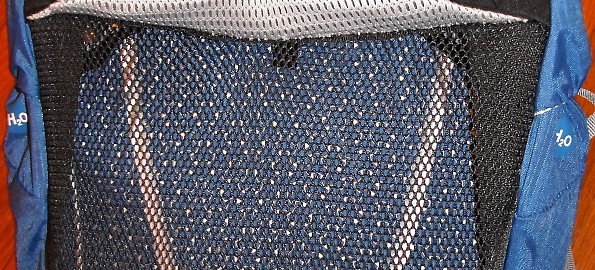 This pack has a divider sleeve in the main pack body that serves the purpose of separating you bladder from you other gear. I have absolutely no problem fitting my Osprey HydraForm 3L bladder into the sleeve.
Keep in mind though that the addition of the bladder will eat up a bit of usable space inside the pack due to the bulge generated by the bladder when filled (photo below:)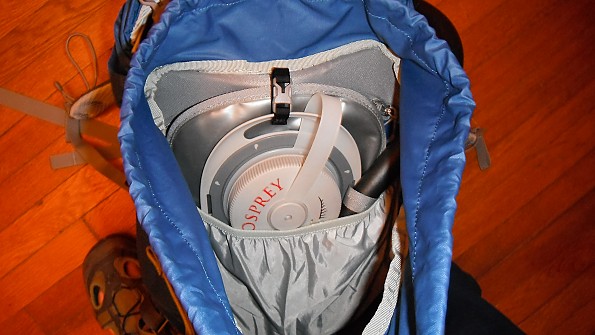 Zipper Toggles:
I'm not going to get too in depth with the zipper toggles other than to say that I have an admiration for the zipper toggles on Osprey packs. 
Simply put they are easy to grip and glove friendly.
For those out there that are unfamiliar with the pulls on Osprey packs here is a pic: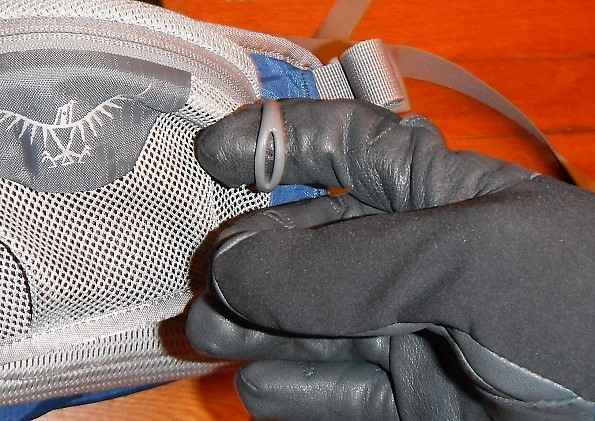 Ice axe loop/locking side release buckle:
The Stratos 26 has a single ice axe loop on the bottom of the pack body as well as a side release buckle positioned higher up on the pack body for securing (you guessed it) an ice axe or any other technical tool that one may feel the need to place here. 
The buckle is attached to the pack body with elasticized webbing. From the amount of give that this fabric provides I personally cannot see anyone having trouble securing 2 ice axes to this attachment point.
Here is a pic of the upper attachment point: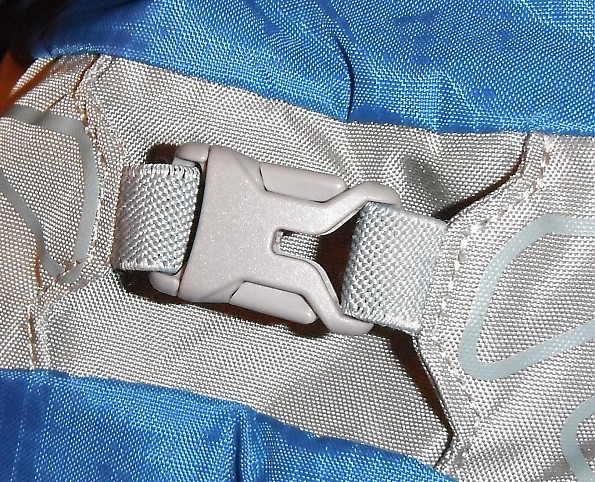 Here is a pic of the lower loop: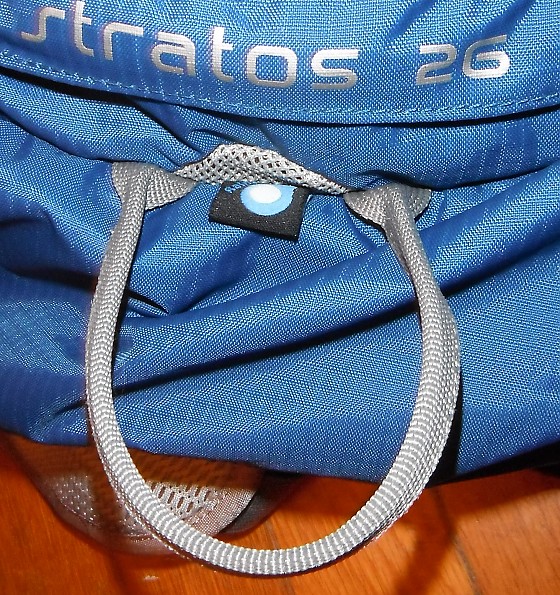 I am not sure on whether or not skis can be secured to this area. Fit could be questionable.
I'm not a skier so this one is up for debate.
If you are considering this pack for this purpose I would recommend contacting Osprey and inquiring with them.
Noone better to answer this question than the manufacturer right? 
Here is a contact link(I just wanted to save you the time from an unnecessary online search:)
http://www.ospreypacks.com/en/web/customer_service
Summary:
Overall I am really happy with the performance of the Stratos 26 and would purchase the pack again if I had to do it all over.
It's a very comfortable daypack (especially in hot humid weather) with a few outstanding features that to me outweigh some of the cons I have encountered throughout my use of the pack. 
For all of the contact that the pack has encountered with sandstone here in Rocksylvania it shows absolutely no signs of wear.
It's a great daypack and I have no problem recommending this pack for anyone who is in the market for a daypack of this size. 
The biggest thing is go and make sure you get sized professionally by an outfitter. As with any type of pack whether it be a daypack or an expedition sized load monster fit is crucial. 
What works for me may not necessarily work for you. 
Areas and conditions of use:
I have used the Stratos in all seasons from the sweltering summer to the balmy cold temps of the winter... Or at least that's what this season is called.
I was under the impression that when winter came along we also got this white stuff that falls from the sky called snow...
Maybe we will get some this summer. 
Anywho... Now where was I.... Oh yeah, the Stratos 26.
My maximum load to date on this pack was a few grams off of 23lbs. It carried great.
I use the Stratos 26 for everything from dayhikes in the Laurel Highlands/Ohiopyle area to downtown Pittsburgh when I am just meandering around the city aimlessly taking pictures of the city skyline, etc.
As always I want to thank you for taking the time out of your day to read my review. I hope it has helped you in regards to the design, features, and just an over-all users perspective of the Osprey Stratos 26.
If you have any questions in regards to this pack that I may have overlooked or ya just want to pick my brain in general please by all means feel free to shoot me a pm.
I am more than happy to help in anyway I can.
Happy hiking-Rick
Price Paid: $120

Just like Goldy Locks and the Three Bears story, I have had all sizes of the Stratos (except the 34) and the 26 is Juuusssttt Right!
I was a little cramped in the 24, the 36 was a bit big! But the 26 is a perfect balance for me for school, day adventuring and bike commuting! I am thinking it will be the bag that I take to backpack Europe in a year or so. 
I forgot how large the arch is! and your laptop will stand straight up, but it feels so good on your back! Like nothing is even there at all...kudos, Osprey! The hip belt pockets are nice and large! The top load is nice and wide to stuff with and the lid pockets are simply smashing!
I say to you who reads this (and again my bias towards top loaders may come out) skip the 24, pay the extra $$ and get the 26! The lid is worth it!
Price Paid: Gift

Recommended for day hikes, scrambling, mountain biking and day-to-day use.
Pros
Hip pockets
Shoulder strap pocket
Stow on the go pole atatchment
Mesh back panel
1 small and 1 large lid pocket
Top loader
Left or right hose exits on pack and elastic to hold The pipe on either strap too
Main pack holds more than you think
Cons
Tiny cinch button to press on the stow on the go pole attachment (could do with being bigger)
After a long time wishing I had a day sack with hip pockets and somewhere to store my poles for a quick scramble or a walk along a road etc I came across the Stratos 26, I must admit at baulking at the pricetag so kept putting it off for another day.
So with a big hike looming I decided to go and check some packs out, the stratos just hits every button and after some thought I shelled out 80 quid and it's the best 80 quid I've ever spent. It's so comfy I don't even know I have it on, the hip pockets are great for my camera and phone (which means my pants aren't constantly being pulled down by the weight in my pockets), the shoulder strap pocket I use for money and my 2 hiking sticks fit perfectly in the stow-on-the-go thingy. My only niggle with this is the tiny amount of movement of the release button and it's so narrow you can't press it anyway once the poles are in place, thankfully the cord is elastic so I just pre set it and slide the pole/poles in as required.
Another big feature of this pack is the bladder exit holes, I'm left handed so pick my pack up and put it on using the left shoulder strap, having the option of placing my bladder hose on the left makes it easier to put my pack on and no more faffing about looking for and untangling the pipe as I put the right strap on, such a simple idea but no one else is doing it to my knowledge.
Now we come to the stowage in the main compartment, it's like the tardis, it looks small on the outside but it's quite big on the inside, I can get all my wet weather gear, plus a jumper and spare pants in there along with gloves, bob hat etc. Theres tons of space and the plastic drawstring gizmo is dead easy to use and quick too.
Overall, this pack is the most well thought out and well designed pack I've ever come across, you hardly know you have it on and all the little extra pockets and pole holder on the front make for a day pack to beat all day packs, the mesh back means no more sweaty back and its great for mountain biking and general walking about town.
I've had this for a month now and I just love getting out hiking and biking with it, it just makes the day out a much more pleasurable experience, the build quality is second to none too. I know it's expensive, but you get what you pay for and I don't regret paying for it one bit.
Source: bought it new
Price Paid: £80

Great bag! It has endured my rough treatment so far.
Pros
Pocket on the front
Zipper pull tabs are great
Built-in rain cover
The back suspension is the best!
Love the hip belt pockets
Cons
Wish I could get the women's size but it isn't made long enough. The men's squish my breasts a little.
Wish it had areas on the front to carabeen something.
Everything is great and adjustable, the back suspension and mesh panel are amazing and keep my back pretty dry. The hip belts distribute the weight to the centre of my body which is great for someone with on and off back problems.
The material has held up very well so far after 1.5 years of use. I use this bag daily for cycling and always bring it hiking/camping with me. I have no rips or tears at all so far.  I had to buy a men's size since Osprey doesn't make a women's with a torso long enough for a 6' woman. It's a little squished in the front but it still feels great. 
There are lots of compression options and it distributes the load very well and actually holds quite a bit of stuff. I wish there was an outer pocket or cords to tuck a sweater in though. The round zipper tabs are easy to grab. 
Overall a great bag and has me hooked on the brand. 
Source: bought it new
Price Paid: $100 on sale

You May Like
Recently on Trailspace