Osprey Stratos 32

The Stratos 32 has been discontinued. It was replaced by the Osprey Stratos 34.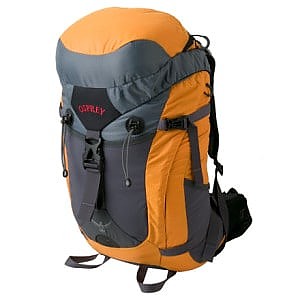 A bit heavy, well featured, and comfortable, also on a mountain.
Lasts surprisingly well.
Pros
Comfortable, also on a mountain
Enough features to carry differently on varying trips
Nothing broke in 10 years. Sizewise it's just fine
Cons
A bit heavy
Could be more stripable
Could have a better ice axe support, say a quick draw system. I just make that myself, for example by using Mountain Equipments small alu-thingies. No real negatives.
I've had this for nearly 10 years now, and I am very satisfied. It's a bit heavy by today's standard, but on the other hand, it can work as a climbing pack and as a daypack for normal trails.
I've only personally used it for mountaineering. In those situations, I try to carry light, but not irresponsibly, like some do. I come with stuff to forsee a standing of an extra day. So I carry a total of 6-6,5 kilo at start, 1,5 kilo lighter on the way down.
I like the carrying system, although it has to be a little tight. But the pack won't move when up and down on rocks. The hip pockets are a bit small and only for the lightest pieces and they could be a bit more forward. I am normal weight at 76,5 kilo and 189cm tall. The back ventilation system is mesh on a light frame, something that is often not used any more.
Some say theirs broke, but mine is just fine after many trips. I will sweat in any construction anyway. The pack is easy to handle and can also hold out a fair amount of snow, ice, sleet and rain. There's always a fiveaway, but in this case, it's not too bad.
Sometimes I use the front pocket for steigeisen, sometimes for a down jacket for later use when stopping. Using a separate cover for the steigeisen has become tiresome, and I don't use them any more, so that's a bit hard on the front pocket. Amazingly, it's not a golf course of holes still.
Great pack. In 2023 it's a bit heavy. Comfortable and works well. I will recommend it to other people. Recommended.
Safe trip!
Experience
This pack, two Lowe Alpine similar, and a Fjällräven Bergtagen 30 Liter and 38 Liter for mountain trips and for the Lowe Alpine also desert trips, trekking, and forest use. Next one will be a Mountain Equipment Tupilak 30L with a bit of home design added.
Source: bought it new
Price Paid: Equivalent to 180 usd at the time.

Superbly comfortable, with good features, as others have mentioned. Unfortunately, it's poorly made.
The "water resistant" zipper never worked right from the day I bought it; the paper-thin rubberized seal kept bunching up and snagging the slider on the zipper. Eventually it just became a ragged-looking mess that did nothing to help keep water out.
Much more seriously, after a dozen or so outings, something happened to the internal frame setup such that the spreader disk that separates the two stays started digging into my back through the mesh panel.
Returned to store today. Very disappointing.
Price Paid: $130

I love this backpack! I have had it for three years now. I'm a light camper so I have taken this pack on many 4 and 5 day trips. This pack has survived Afghanistan, twice... Many flights, and many many hiking trips.
There are plenty of ways to attach straps for carrying gear on the outside (i.e. sleeping bag, sleeping pad, tent). The pack is comfortable to wear and you don't feel the weight on your back!
I would definitely recommend this pack to anyone looking for a day pack or lightweight camping pack.
Number of Pockets: 2
Max. Load Carried: 30 lbs
Height of Owner: 5'11"
Price Paid: Don't Remember

Been researching different daypacks for longer dayhikes and couldn't take my eyes off this so bought it. Took it to Colorado last week in a heatwave, climbed 3 fourteeners using it; I also had my boyfriend's extra gear stashed in it too plus my usual "just in case" odds and ends; the pack was loaded and felt heavy-ish to lift but once on my back the weight almost disappeared - the distribution exceeded my expectations.
The side mesh pockets fit my larger nalgene bottles; the zippered front panel pockets were handy for storing gear I was likely to need quickly without searching for it; I really liked the easy access pockets on the hipbelt - great for storing tissues, cameras, snack foods etc without having to take the pack off.
The pack seems quite durable and boy am I glad I just went with the impulse and splurged on this pack - well worth it and I'm looking forward to some more dayhikes using it.
Design: top and panel loading internal daypack
Size: M
Max. Load Carried: 25lbs
Height of Owner: 5'5"
Price Paid: $180 CAD

I have had this bag for 2 years now and would absolutely recommend it to anyone who is looking to buy. My wife and I are high pointers (Highest Mt in every state) and we don't leave home without it. We both are in love with it. The pouches on the hip straps are perfect for camera, cell, money all those little things you are always stopping to pull out of your bag because you don't want to carry it in your hand.
Size: 2000
Max. Load Carried: 45lbs
Height of Owner: 71in

Your Review
You May Like
Specs
Price
Historic Range: $79.95-$138.95
Reviewers Paid: $130.00

Recently on Trailspace