Bear Naked Peanut Butter Energy Bar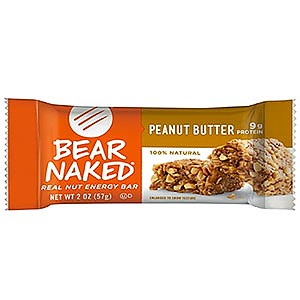 Basically a moist peanut butter no-bake cookie in energy bar form. At a lower cost than most, it is a fine alternative to other energy bars, but nothing screams excellent.
Pros
Cost, roughly $1 per bar, but I found at super discount price.
Strong peanut butter flavor with oat texture (great for peanut butter fans such as I, but I could see this being a con for some).
Carried by many majors grocers in mid-Atlantic.
Nice consistency, and still edible even when cold.
Cons
Like most bars, buying by the case is much cheaper than individually.
Lack of flavor complexity or depth. Not much going on besides peanuts, peanut butter and oats.
Ground flax seed would be preferred instead of whole flax seed that inevitably end up in stuck in teeth.
Use:
My wife and I have gone through one box so far, with me consuming the lion's share of them (12 to a box). Most of those were eaten during all-day fall and winter hunting excursions, with the exception of a few going on a short day-hike with us.
For some perspective, a typical hunting day has me awake by 4am, in the woods by 5:30am, and lots of variation of sitting still, hiking to and from different spots, and with any luck, hauling/dragging lots of extra weight at day's end. All that said, I burn calories and need energy while hunting. I also need something that is still edible even when it's been exposed to sub-freezing temperatures all day. This bar has provided all those things.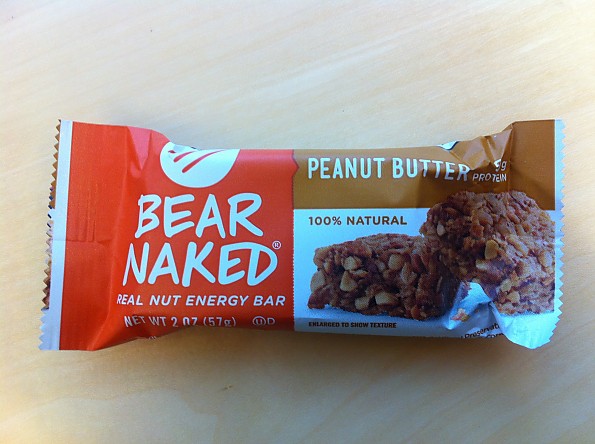 Satiety and Energy:
This bar has done a mediocre job of meeting my energy needs and keeps those hunger pangs at bay. For me, this is a 4-5 bites per bar snack. I've learned that this bar is a good addition to day-hikes or hunting days, but does not take place of other food needs.
I typically take something salty like jerky, something sweet like cookies, and something that is both sweet and salty, such as this bar, as well as something more substantive like a sandwich or leftover pizza, and of course, water. I have yet to take this on any overnight trips, but could easily see where it would be a useful addition of flavor and calories, but wouldn't go depending on this as a meal.
As a comparison to an equally easy to find, similarly priced and like-flavored bar,
Bear Naked, Peanut Butter:
1 bar = 57g or 2 oz.
250 calories per bar (110 from fat)
Carbs = 29g
Sugars = 12g
Protein = 9g
Sodium = 115mg
Clif Crunchy Peanut Butter:
1 bar = 68g or 2.4 oz.
250 calories per bar (60 from fat)
Carbs = 41g
Sugars = 21g
Protein = 11g
Sodium = 240mg
To sum up those numbers, the Bear Naked bar is a little smaller than its Clif contemporary, has the same amount of calories, fewer carbs, almost half the sugar and less than half the sodium.
Taste:

Fresh, moist, chunky peanut butter no-bake cookie (but not the dried out three-days old kind). If you've had such a cookie, you know what I'm talking about. If you haven't, basically take oats and chunky peanut butter (along with some sugar, milk and butter) and make a cookie of it. Much less processed taste than other bars I've had, and doesn't have that dry feeling of many other bars. Flax seeds, while they give it the appearance of making it more healthy, don't really do much in this bar. Ground flax seed would probably suit this bar better.
Claims:
They say. "Real Nut Energy," "100% Natural," "No hydrogenated oils, no artificial preservatives, no HFCS, no monkey business."
I say, "Great, but more variety of nuts please" and "How come no organic ingredients while the energy bar industry seems to be heading (headed) that way?"
Best for:
Peanut butter lovers who need that extra little something to help them get through the day, whether it be on the trail, at the office, on the slopes, in the woods, etc.
Source: bought it new
Price Paid: The ridiculously low price of $1.50 for a box of 12 (or $0.13 per bar).

Your Review
Where to Buy
Help support this site by making your next gear purchase through one of the links above. Click a link, buy what you need, and the seller will contribute a portion of the purchase price to support Trailspace's independent gear reviews.
You May Like