Bob Dustrude Quick Buck Saw

#7 in Camp Saws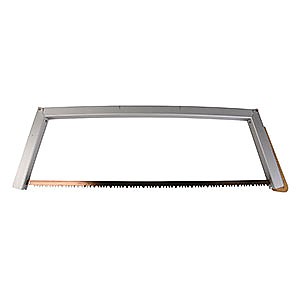 Version reviewed: 24"
Bob Dustrude's Quick Buck Saw is the most powerful folding backpacking bucksaw on the market. This saw is a tool of choice for any wood processing job whether being in the woods or on your backyard. Folding, packable, relatively lightweight, rugged and reliable, it will fit in almost any backpack. Simple and efficient construction from reliable materials the Quick Buck Saw offers the best value for money and will serve for many years.
Pros
Two-way power cuts; cuts quickly
Folding and packable
Lightweight
Replaceable standard blade
Automatic blade tension with lever action handle
Usage instruction included (on a handle)
Handles well wide range of wood size and hardness
Designed for heavy use in rugged conditions
Cons
Does not include sheath
A bit noisy when folded
Slight manufacturing imperfections as it's hand made
Being in a back country for multiple days never goes without making fire, be that for cooking, warmth, coziness or fun. Meaning wood processing is one of the most frequent and typical task out there and one should always be equipped with a tool for that.
Having tried multiple tool options over years of backcountry journeys including axes, hatchets, different kind of saws, etc. the Bob's Quick Buck Saw is my current tool of choice for wood processing regardless of the purpose or location: be that on day hike trail, multi day journey, or even pruning trees on my backyard.
Why? Easy answer: because of how fast, powerful, convenient, and portable the saw is.
The saw was designed and has been handmade for many years by Bob Dustrude from Minnesota, USA, and is unique but well loved and appreciated by the outdoor community. May not be as popular as Bahco Laplander (mostly because it's not as available on the market and cost a bit more) but by all means much more versatile and useful wood processing tool.
Features
The Bob's Quick Saw comes in three different sizes: with 21" blade, 24" blade and 30" blade. The 24" model is the most popular because it's compatible with the readily available Bahco 24" blade and is more almost as capable as the 30" model but shorter and more lightweight. This review is for the 24" model.
Folded length: 25"

Assembled dimensions: 24.5" x 10"

Weight: 445 g
Construction
The saw frame consists of three connected aluminum U-shape pieces and the handle is made from a piece of red oak wood. The blade is connected at one end to the handle and stored in the frame when folded. 


There is a burned stamp on a handle that shows the assembling steps so the user's manual is always with the saw, literally. 


Maintenance
From the experience both aluminum frame and wooden handle are very sturdy and require no special maintenance but I'd advise to put some linseed oil on the handle which would make it more water and dirt resistant. The blade on the other hand is made from high carbon steel and will rust so it's recommended to oil it with some WD-40 or gun oil on regular basis.
Carrying
When the saw is folded it has no sharp edges or corners so it's safe to carry it without any sheath but the blade will slightly rattle inside the frame so if that is a concern put a small piece of dish washing sponge on a blade to limit its movement. It's also possible to pack a folded saw into a bag with tent poles, if you carry one.
Usage
The best performance achieved when the entire length of the blade is used in both directions: use long and steady strokes from end to end and it will cut very quickly with much less strokes required. Also faster strokes don't make much difference so pick a tempo that allows prolonged cutting without tiredness.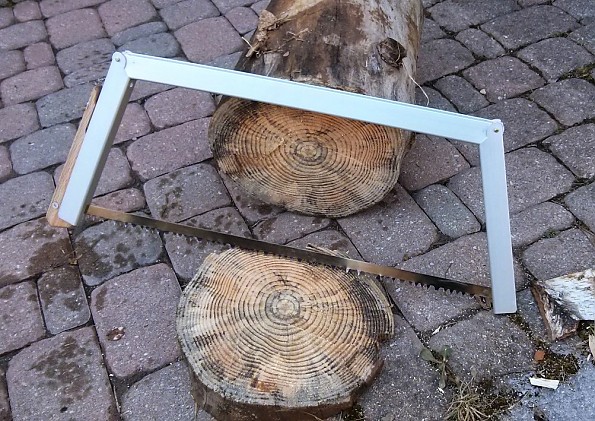 Once you get used to the saw you'll become a wood processing champion in no time.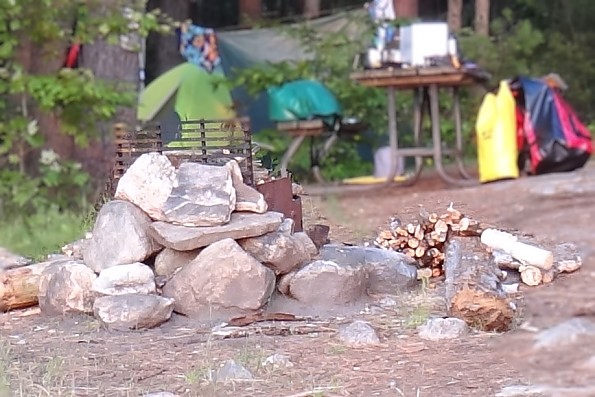 And the Bob's Quick Buck Saw will be your best backcountry companion.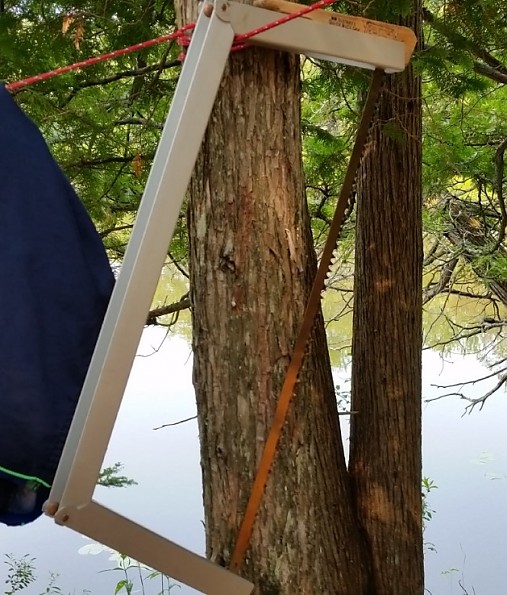 Conclusion
The Bob Dustrude's Quick Buck Saw is the best long term investment in a wood processing tool once can make.
Source: bought it new
Price Paid: ~ $55 CAD

Your Review
You May Like