Boy Scout Aluminum Cup

Top 50 in Cups and Mugs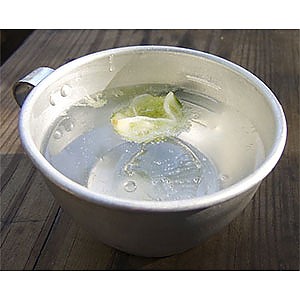 Reviews
1

review

5-star:

0

4-star:

0

3-star:

1

2-star:

0

1-star:

0
This cup is great for people on a budget. It is big enough to hold one medium sized cocktail and the cute little handle prevents your sweaty hands from prematurely warming your drink.
Pros
Inexpensive
Lightweight
Stackable
Cons
Small, must mix drinks more often
Possibly hard to find
Hard to hold when filled with hot beverage
This elegant little cup is consistently easy to use, just pour liquids into the wide opening lift to your lips and sip. This Aluminum cup utilizes 1950s space age technology including thin aluminum, rounded edges and rivets. The minimalist aesthetics harken to a lost era of innocence when people didn't need lids or double walls or titanium for drinking.
Originally part of a large set of cookware designed to feed a group of four hungry Scouts this cup has been separated from its companions yet shows no sign of of failing functionality. The provenance of this cup is unknown, when examined by experts it's generally thought to be circa 1970 and has been in my family since the '90s. It's weathered several decades in storage and shows remarkably little wear and no corrosion. The exact purchase price is lost to time, but knowing the frugality of my father I can guess that the entire cook set ran less than $5 at a yardsale.
I was able to test this magnificent cup on a recent camping trip near the Everglades. In the pictures I'm testing the cup for its ability to hold and deliver a gin and tonic. While it completed the task just fine the cup could be a bit bigger. I would prefer something about twice the size so as to reduce the number of times one must retrieve ingredients from the cooler and mix a drink.
While the gently sloping sides allow the cup to stack with other of its kind, the sloping sides tend to direct liquids out of the cup if one doesn't walk in a smooth straight fashion. It didn't perform so well the next morning with hot tea, the thin aluminum transferred heat too well and I had to insulate my hand with an old sock.
I would recommend this cup for someone on a budget, someone who enjoys the simplicity of smooth rounded aircraft aluminum drinkware and someone who prefers to finish their drinks sitting down. If you are looking for the next cup to take on an expedition to Antartica or for the big gulp of camping cocktails cups I suggest you keep on looking.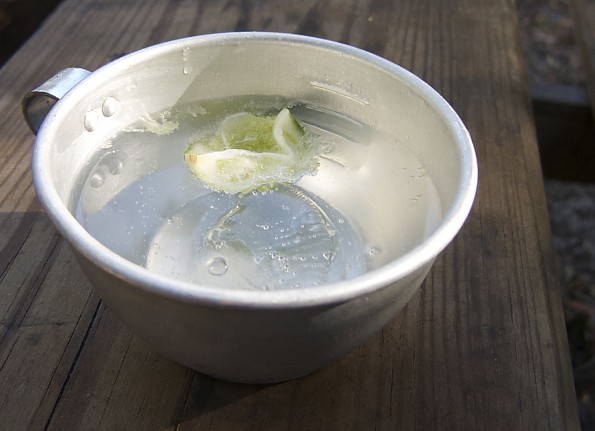 Source: yardsale

You May Like
Recently on Trailspace