Firm Grip General Purpose Gloves

Top 25 in unisex Gloves and Mittens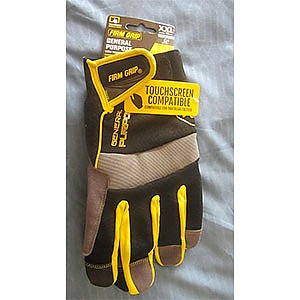 Specs
| | |
| --- | --- |
| Price | Reviewers Paid: $9.99 |
Reviews
1

review

5-star:

0

4-star:

1

3-star:

0

2-star:

0

1-star:

0
Whether you like to wear gloves just for scrambling or as full time hiking pole protection, these economical generic work gloves can come in really "handy" out on trail. With touchscreen compatible pads on the first two fingers and thumb they'll let you access smartphones, GPS or other touchscreen devices. Being relatively cheap they don't have to last forever for you to get your money's worth and are easily replaced for a few dollars when needed.
Pros
Great hand protection
Palm and interior of fingers have soft material
Nose wiper at base of thumb
Velcro wrist keeps out debris
Touchscreen pads on first two fingers and thumb
Not too expensive
Wrist pull tab
Cons
Touchscreen pads have reduced function when glove is wearing out

These simple work gloves are made for general use, but I've been using them for years on backpacking trips and for snowshoeing in warmer conditions. They've changed a little over the years, including the recent addition of materials allowing the use of touchscreens without removing the glove, but their basic function on trail has remained throughout.
Construction:
For a simple work glove there are a surprising variety of materials employed. Areas that need protection have it, but other areas are covered by materials that breath or serve to allow moisture to evaporate.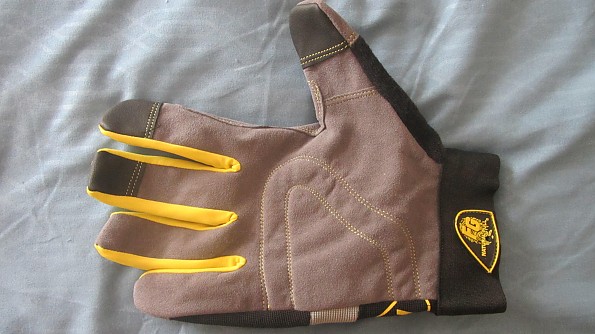 Looking at the palm side of the glove you'll notice the soft gray material that covers most of the surface. This provides a secure grip, but does not feel abrasive to the touch. The yellow material on the sides of the fingers is very light and feels like nylon.
Two other features viewed here are the touchscreen pads on the thumb and first two fingers along with the wrist pull tab. You can also see the stitching done across the palm and the base of the thumb.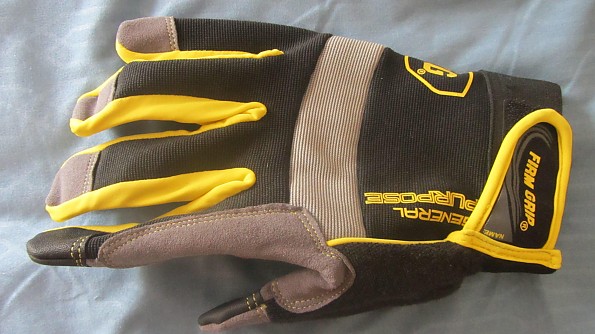 Looking at the back of the hand you'll notice two different mesh materials were used. The black is thinner and more open allowing better ventilation while the gray section is thicker and provides some protection over the knuckles.
You'll also notice the large velcro wrist closure and the 1.5" wide wrist itself.
Fit, Comfort, and Adjustability:
Finding a good fit shouldn't be a problem as these gloves come in five sizes from Small to XX Large. There is just enough flex in the mesh materials that the gloves wrap themselves very comfortably around both the hand and fingers. The velcro at the wrist lets you adjust the tension of the wide elastic wrist strap as desired.
Breathability and Moisture:
Being designed for hard work these gloves allow for a fair amount of cooling on the back side via both airflow and moisture wicking. The mesh absorbs sweat and seems to act as an evaporative cooler, as do the yellow nylon sides to the fingers where the material is very thin and lets even more air through. I find that on a hot day the gloves get much cooler once I get them sweated out.
The soft gray material on the palm side of the glove absorbs moisture readily and I use my hands as a squeegee to wipe down my face regularly. This function is retained even as the gloves approach end of life.
Durability:
I've gone through more than a few pairs of these gloves since discovering them and I find their durability to be a factor of the conditions they are used in to a great degree. I've gotten more than a year from a pair and had others that only lasted a few trips. The number of days spent in the rain seems to be a primary factor in determining useful lifespan. Being continuously soaked for a week seems to make the materials stiffen which leads them to wear faster and also become less comfortable.
Testing Conditions:
I've used these gloves during all four seasons for backpacking, day hikes, and snowshoeing. They have been exposed to heat, rain, cold, and snow as well as my seemingly endless supply of sweat.
Conclusions:
These gloves represent one of my favorite categories of outdoor gear: stuff that isn't really meant for backpacking, but works really well for a specific purpose and doesn't cost a fortune. I started using them because I'd often get a blister at the base of my thumb when using hiking poles and actually tried a few other types of glove before finding these Firm Grips. I was pleasantly surprised to find that the price for hand protection didn't have to be overheated hands as other gloves had led me to believe.
Besides being cooler I was really shocked to find how much help these gloves were at dealing with face sweat. Those of you who know the joys of being a steam engine are familiar with the annoyance of sweat running down your face. Using these gloves to wipe down and soak up that sweat reduced the annoyance while providing the fringe benefit of turning the damp gloves into evaporative coolers.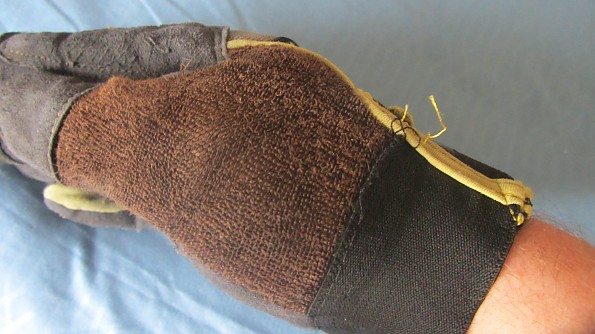 Over time the materials do begin to deteriorate due to the constant moisture exposure. You can see this well used nose wiper has become a bit more coarse. It still absorbs water, but is more abrasive against the face. One of the signs its about time for a new pair.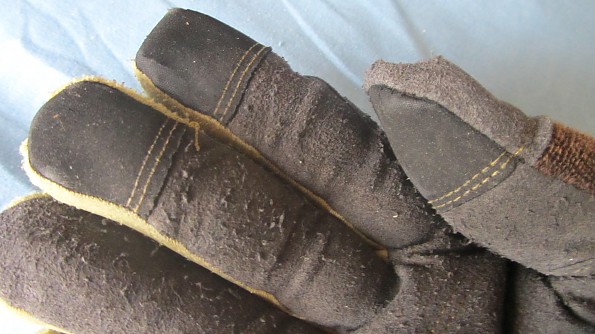 In this closeup view you can see that the soft gray material has begun to pill as it has worn away. This too eventually becomes abrasive to the face and less functional at soaking up moisture. In my testing I also found that when the gloves were this worn the touchscreen pads didn't seem to work as well.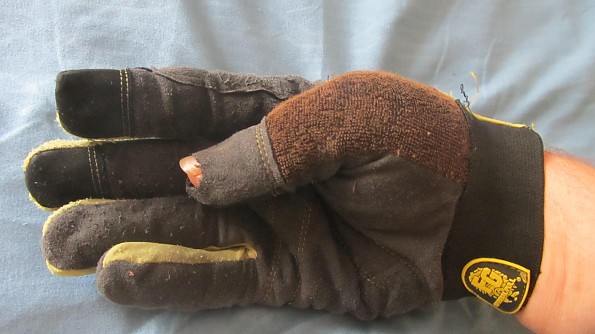 Here you can see the usual demise of these gloves for me as my thumbnail has worn through. They probably could have been replaced already based on overall wear, but this is what usually motivates me to get a new pair.
I have found these gloves to be very useful on trail and have no problem recommending them to others looking for hand protection, but not needing fancy climbing gloves. They grip well when scrambling or pulling myself up ledges and have eliminated my old problem with blisters from my poles. The added benefit of keeping the black flies from chewing the backs of my hands doesn't hurt either. They are not a replacement for climbing gloves, but if you are looking for general hand protection these are worth looking at.
Source: bought it new
Price Paid: $9.99

You May Like
Recently on Trailspace