Friendly Swede Paracord Bracelet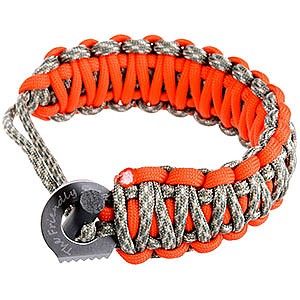 Officially called "The Friendly Swede Adjustable Premium Paracord Bracelet with Fire Starter and Sharp Eye Knife," this paracord bracelet includes a useful emergency fire steel and a cutting implement that doubles as a fire steel striker in addition to about 17 ft/5.18 m of paracord.

Quality components make this a good survival-style bracelet for anyone who doesn't mind the bulk of this hefty bracelet—campers, hunters, or anyone who wishes to be prepared for the unexpected.
Pros
Quality components at a reasonable price
Useful combination of tools: cord, mini-knife, fire steel
Fully capable of performing when needed
superb, responsive customer service
Cons
Knife can inadvertently cut cordage in bracelet form
Fire steel is awkward to use
Bulky
Paracord bracelets have crossed over from survival realms into the mainstream: it is possible to wander into a craft store and find paracord bracelet kits. The Friendly Swede Adjustable Premium Paracord Bracelet with Fire Starter and Sharp Eye Knife is a paracord bracelet, but one with a few extras that make it suitable as part of an emergency survival kit. Let's consider its component parts first.
17+ feet/5.18 m of 550 paracord in an attractive, multicolor pattern. This is seven-strand paracord that is housed in a woven sheath. Paracord is multipurpose cordage well-loved by many for its considerable strength and various uses.

Because the seven strands and the outer sheath can be taken apart and used independently of one another, the list of potential uses for paracord is extensive—for tent or tarp guy lines, for lashing together emergency shelters, for weaving a net, for emergency fishing line, as a string for a bow drill fire kit, as boot laces, etc., etc.

The Friendly Swede claims that the paracord included in this bracelet is "

500 lb (227 kg) actual rated load verified by SGS testing at maximum force of 531 lb (241 kg)." Needless to say, it is a handy emergency item.

Sharp Eye Knife. This diminutive tool (1 7/8 in/4.76 cm) provides the eyelet through which the paracord is routed for bracelet wearing while a (5/8 in/1.59 cm) serrated edge on one side also functions as the fire steel striker.

The knife portion of the tool is 3/4 in/1.9 cm long, a flat-ground blade that comes very sharp: I was able to slice paper with it effortlessly. More practically, I was also able to slice paracord and make miniature feather sticks for fire building. While small, this Type 304 stainless steel tool is of sufficient size and durability to be useful.
Fire steel. I could not find much information about the nature of this fire steel. It appears to be the typical ferrocerium rod sort, and it throws a plentiful spray of white-hot sparks when struck with the striker on the Sharp Eye Knife. It is a little more than 1 1/4 in/3.18 cm long, a length than permits the successful throwing of sparks. The design of the bracelet is such that one does

not

need to unravel the paracord to use the fire steel.
In the image below, you can see the components in separate form.
As a backcountry fashion accessory, this bracelet offers eye-catching heft and bulk that may complement rippling muscles but which seemed a bit oversized on my own wrists. This is due to the double-wrapping of the bracelet: it is braided with a single Solomon bar braid at first, but then the paracord is braided a second time over this initial Solomon bar braid, resulting in a bracelet more than 1 in/2.54 cm wide.
This has advantages: in an emergency situation, more cordage is better. For the record: The Friendly Swede suggests that the bracelet will fit 7-9 in/17.8-22.9 cm wrists; the bracelet is about 11 in/27.9 cm long.
How does it work as a fire starter? Please see the video below for a demonstration.
I found the fire starter to be functional but awkward to use. Yes, I did get a fire started with it, but two factors complicate its ease of use. The first is the length of the fire steel. A longer steel would not be practical on a bracelet of this design, but it would make throwing sparks easier by providing more surface area to be used with each stroke (thereby throwing more sparks).
The second factor concerns the construction of the steel: the fire steel is drilled through to accommodate the paracord that runs through it. One holds the paracord, not the steel, when striking it, but it also means that only the top portion of the fire steel can be used for throwing sparks—I found myself inadvertently catching the paracord with the striker if the angle wasn't perfect.
This combination of short steel and small striking surface made fire starting awkward but not impossible. This would never be my go-to steel, though, if I wanted to light a stove or fire.
As a knife, one encounters all the limitations one would expect of so small a blade. You won't be slicing through thick stock, and a knife that is held between thumb and forefinger (as this one must be held) is inherently less secure (and thus more dangerous) than a larger knife one grips firmly in one's whole hand with a forehand grip.
As part of a wearable bracelet, however, it is handy, the thickness inspires confidence, the steel is good, the edge is sharp, and it is a functional tool—just scale down your expectations.
One problem with its keenness, though, is that its edge is sheathed only by a piece of tape as it comes within the bracelet. When I unraveled the paracord to expose the knife for testing, I discovered that the knife had cut the tape and partially cut the paracord in two places (see image, below).
Because of how the cord is braided, these cuts introduce weakness to the cord in the middle of the 17 ft/5.18 m length. This could be a significant problem if one needed a robust, uncut piece of cordage.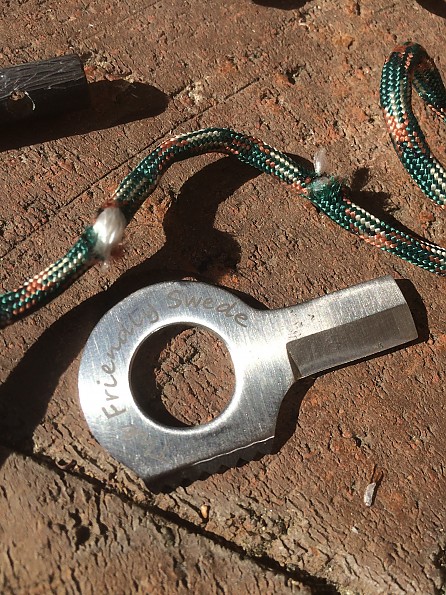 While one does not need to unbraid the bracelet to use the fire starter, I will add that one shouldn't expect to simply re-braid the bracelet after using the knife: this is intended as an emergency item, and as The Friendly Swede notes, people unfamiliar with the making of such a bracelet will not be able to re-braid it.
Given the inadvertent cutting of the paracord, I don't think I would be inclined to simply reuse the components without first devising a better means of shielding a new, uncut piece of cord from the sharp blade.
Conclusions
The premise behind such an item is that the wearing of the bracelet ensures having tools handy when the need arises; this bracelet provides a useful, quality set of tools in a readily carried form.
Drawbacks include its bulk, awkwardness of fire starter use, and the  potential for inadvertently cut cord, but fire starting is arguably the most important feature of this particular survival bracelet, and ultimately it delivers: the bottom line is that quality components and functionality make this survival bracelet a good value.
UPDATE 12/14:
I posted a review of this bracelet on the site from which I purchased it, noting the problem I experienced with the knife cutting the paracord. Two days later I heard from the Friendly Swede, apologizing for the issue and requesting that I select a color option so that they could send me a replacement product. Within a week I received a new survival bracelet.
I was very impressed by the communication and responsiveness of this company—I did not seek a replacement, but The Friendly Swede obviously monitored reviews and took swift action when they saw the issue mentioned in mine. Subsequent e-mails from the customer service team were prompt, courteous, and yes, friendly.
I don't know yet if I will have the same issue with this bracelet, but I will update this review again should any issues appear.
Source: bought it new
Price Paid: $11

Your Review
Where to Buy
Help support this site by making your next gear purchase through one of the links above. Click a link, buy what you need, and the seller will contribute a portion of the purchase price to support Trailspace's independent gear reviews.
You May Like
Specs
| | |
| --- | --- |
| Price | Reviewers Paid: $11.00 |
Recently on Trailspace