Funktion plastic cheese slicer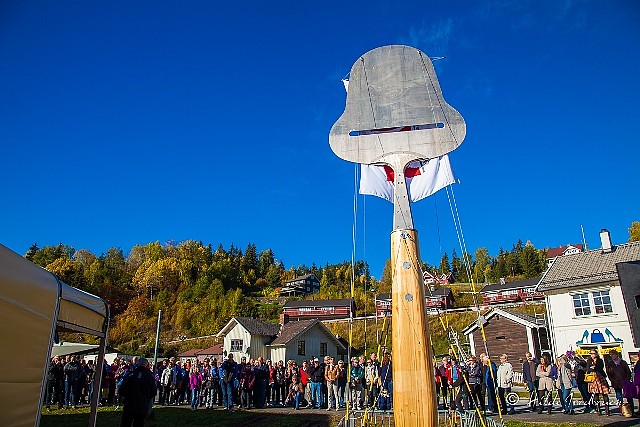 A lightweight, plastic, Scandinavian-style cheese slicer for the trail. Makes no-mess-no-fuss, thin cheese slices for a cracker snack, sandwich, or burrito. Worth way more than its weight in cheese slices.
Pros
Lightweight
Durable nylon
No moving parts
Easy clean up
Cons
Will tear or crumble the last cm of a block of cheese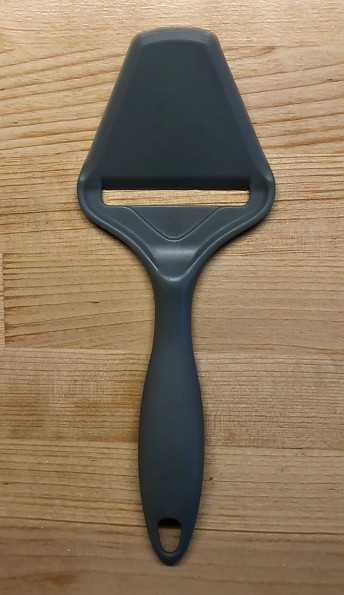 The humble one-piece cheese slicer is baked into the Scandinavian way of life. In Norwegian it's called an ostehøvel which translates literally as "cheese plane," which sounds cool so I'll use that from now on. 
The cheese plane was invented in 1925 by Norwegian master carpenter Thor Bjørklund in Lillehammer, later home of the '94 Winter Olympics, the various annual Birkebeiner races, and still the most extensive xc ski trail network in Norway. According to legend (Norwegian Wikipedia that is) "Bjørklund hadde irritert seg over hvor vanskelig det var å skjære pent av osten når man brukte kniv, så han oppfant høvelen med utgangspunkt i en vanlig snekkerhøvel." (Bjørklund had been annoyed by how difficult it was to cut cheese neatly when using a knife, so he invented the cheese plane based on an ordinary carpenter's plane.") He patented it in 1925 and Thor Bjørklund and Sons went into business in 1927, offering various models differing mainly in the design of the decorative handles.
The patent held until 1942, after which new variants entered the market, differing in both the design and function of the business end and in the material and decoration of the handle. The company held on until 2009, when it was taken over by a bigger Norwegian company, which still produces Bjørklund cheese planes.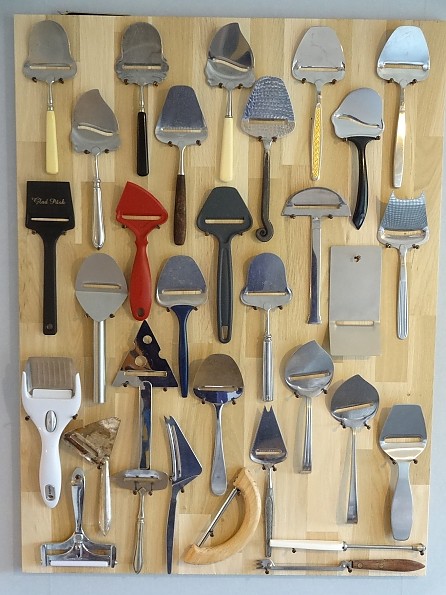 Cheese planes are ubiquitous in Norwegian huts. Most self-service huts, which provide basic cooking facilities, have at least one good cheese plane in the utensils drawer.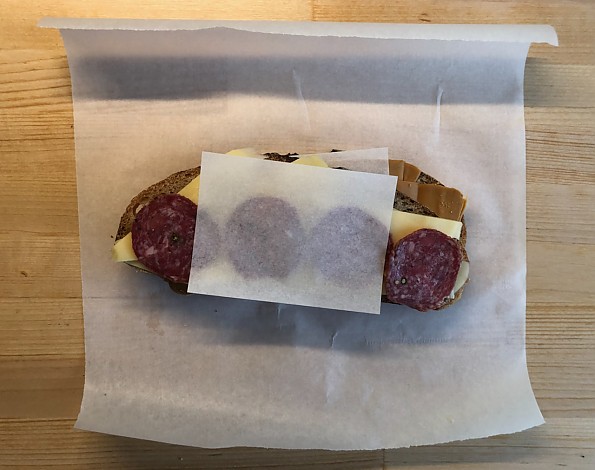 At full-service huts the usual thing is to build a matpakke (food pack) to take away for lunch, usually consisting of a stack of open-face sandwiches (brødskiver, bread slices) separated by precut rectangles of mellomleggspapir (literally between-layers-paper) and wrapped in a sheet of matpakkepapir torn from a big roll, taking bread or crispbread and pålegg (anything that can go on bread; å is pronounced like oh, so say POH-leg) from the breakfast buffet, which usually includes a couple of different kinds of cheese, each with its own cheese plane.
That might include gulost (yellow cheese), brunost (creamy and slightly sweet brown cheese made from caramelized milk), maybe some good Jarlsberg, or even gammelost (literally old cheese, an acquired taste, along with gravlaks, buried salmon). It's also common to make a matpakke at home to take to work.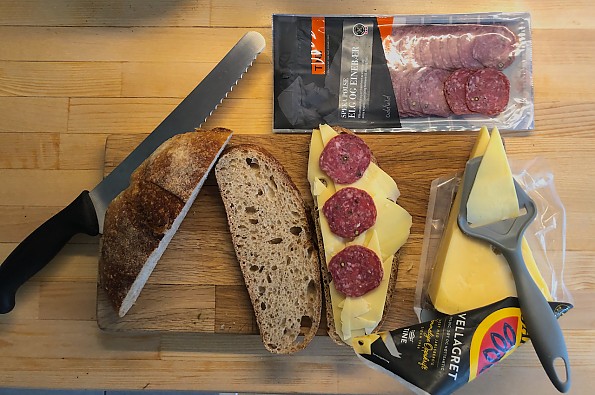 According to expat Australian cartoonist Jenny Blake, author of Brown Cheese Please and other cartoon books spoofing Norwegian culture, only certain combinations of pålegg are permissible, while others may be lethal.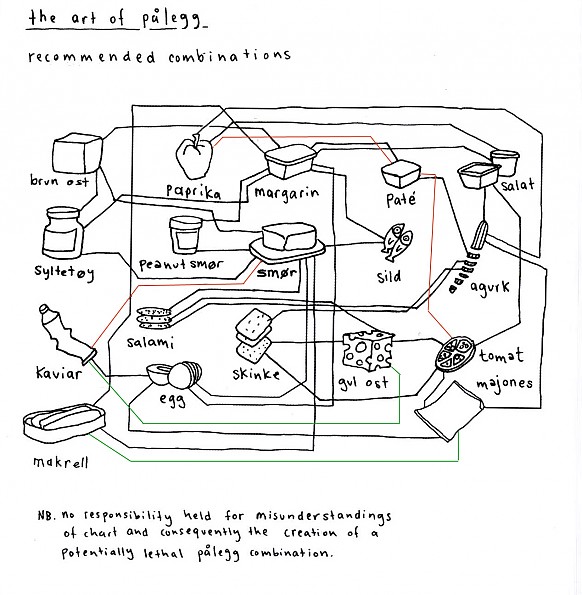 But sometimes you need to have your own. For me and my wife, on any trip in which cheese is on the menu, our lightweight plastic Funktion cheese slicer comes along. That includes just about any outing that's not so warm as to spoil the cheese, and in the cool climate of the Scandinavian mountains that includes multiday backpacking and canoe trips.
The Funktion cheese plane weighs in at a mere 21.4 grams / 0.75 ounces, about the same as a folding titanium spoon. For comparison, a Fiskars cheese plane with a stainless steel blade and plastic handle weighs 53.2 grams / 1.9 ounces. Maybe the TentLab (maker of the Deuce of Spades) could come up with an even lighter all-metal version.
The Funktion plane is made of nylon, and ours has held up over years of use. Unlike folding knives, there are no slots or moving parts for the cheese to get into, making for easy clean-up.
It delivers thin slices from hard to medium-soft cheeses for efficient and equitable partitioning whether serving on crackers or in a more multi-pålegg sandwich of one kind or another.
The thin leading edge is for teasing up a slice of cheese or ham without touching the source, maybe more useful in huts than when on the trail.
Thin-sliced parmesan crumbles nicely for topping a plate of pasta, rolling into a burrito, or making a cheese sauce. A cheese plane also works well for shaving thin slices of cold butter that then soften quickly for spreading on bread, a common foundation for other kinds of pålegg. It makes nice cucumber slices, too, and it will even peel carrots, but a little roughly.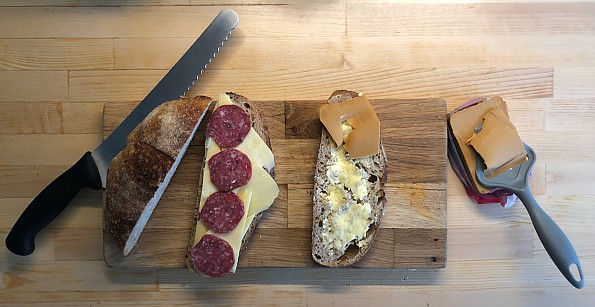 The fly lands in the ointment when you plane down to the last centimeter or less of a block of cheese. Then the cheese tends to bend or crumble so that you can't pull any more nice slices. At home we save the last crumbles of cheddar (imported from Britain, but pretty good) for the next batch of my famous baked mac and cheese. On the trail, somebody will have to eat those cheese crumbs.
I haven't been able to track down a US source for the Funktion cheese plane, but these inexpensive cheese planes on Amazon look promising, or here is a more upscale one. I also took a look at this compact model, but after watching a somewhat lame video review concluded that the slices are way too thick, and the handle may be too short to provide the optimal angle and control.
For next summer we're hoping to do the 460-km / 286-mile Kungsleden trail in Sweden, using our 5 weeks of Euro-vacation to set a leisurely pace. We will mostly tent out but can resupply and take an occasional sauna at huts or when passing through a few villages. Although we otherwise want to maintain a medium-light standard, the Funktion Cheese Plane will come along for the ride. It's worth way more than its weight in cheese slices.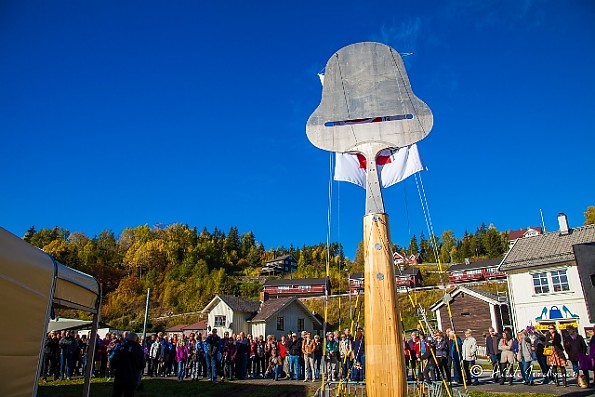 Background
I first encountered cheese planes on my first trip to Norway in 1984 and brought one home. They've been in my/our home kitchen ever since. We've had the Funktion for something like 10 years, using it mainly on camping trips of one kind or another.
Source: bought it new
Price Paid: NOK39, under $4 including 25% VAT

Your Review
Where to Buy
Help support this site by making your next gear purchase through one of the links above. Click a link, buy what you need, and the seller will contribute a portion of the purchase price to support Trailspace's independent gear reviews.
You May Like