Ganka GKSII Snowshoes

#3 in unisex Recreational Snowshoes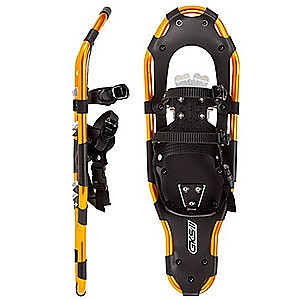 Really easy getting in and out of bindings, durable and well made. Very lightweight, comes with a storage bag which doubles as a pack. Well worth the money which wasn't very much.
Pros
Easy to get in and out of bindings
Crampons are replaceable
Lightweight
Strong rubber securing binding to shoe
Cons
Bindings riveted to frame will have to see how they hold up
Don't perform as good in back country
Been looking for snowshoes for the wife and I. We live in Bathurst, NB, Canada, and are limited in what and where we can purchase. I have a pair of older handmade snowshoes which work very nice. They float on the snow lol, Years ago I bought a pair of aluminum ones from Canadian Tire and they were awful.
So upon searching for snowshoes this year I found these Ganka GKS2 at a very low price when I went to get snowblower parts at my local small engine repair shop. I was reluctant to buy at first thinking back to my experience with the Canadian Tire ones. So I went home and searched the net some more, finally arriving at the realization that most of the shoes are pretty similar manufacturing wise. So I went back and got the GKS2.
Got home and got the wife out of the house. Wife had never been on snowshoes before. Very easy getting into these shoes, and off we went. The snow was very light and powdery. The GKS2 performed better than I expected sinking very little. They seem very strong and have good flex or pivot for your foot. We live in the country so we snowshoe on unpacked snow most of the time unless on packed trails we've made ourselves.
Through the trees I find they work great being easy to maneuver and good grip if have to cross fallen trees or icy slopes. The crampons grip awesome. Really like the fact the crampons are replaceable.
Overall very happy with the performance of these Ganka GKS2. The only drawback I can see is I don't know how the rivets will hold up, but time will tell that I suppose. We have about 25 trips on these shoes now and winter is only half over. No problems with them at all. They have met my expectations and exceeded all. Cnoon
Source: bought it new
Price Paid: 69.99

Your Review
You May Like