Incrediwear Knee Sleeve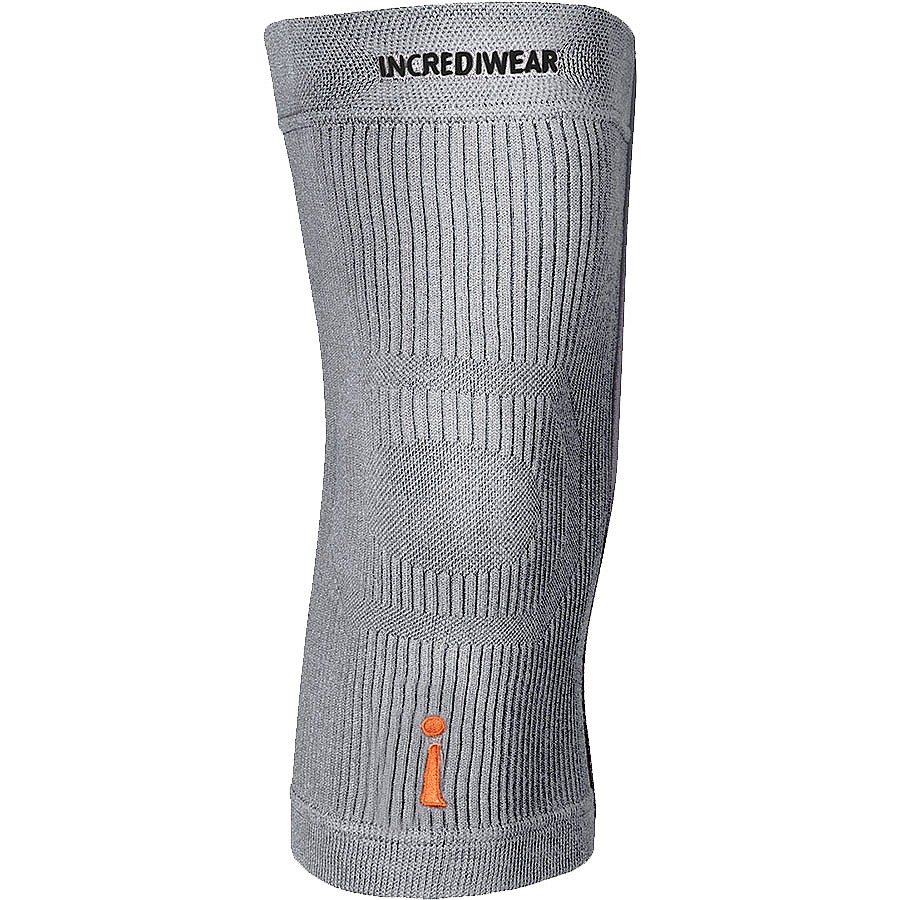 The best knee brace I have found for my particular aches and injuries. It feels good worn all day, doesn't get too hot, and provides ample support for hiking and backpacking, as well as therapeutic fabric to aid blood flow and healing. My only real negative is it takes a while to dry, likely due to some minor cotton content.
Pros
Excellent support
Therapeutic fabric
Very comfortable
Not overly hot
Accelerates healing
Cons
Takes a while to dry
May not fit everyone
"I" logo makes it look like it has an app
Waiver – since this is a medical device, albeit over the counter, I would like to clearly state that you should consult with a doctor regarding any injuries, the use of braces, etc prior to purchasing and using one.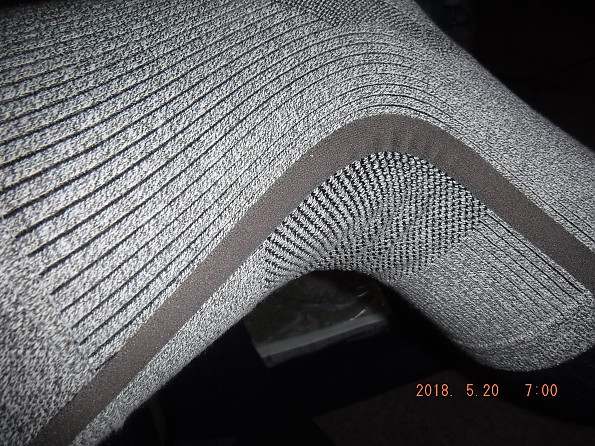 So here's the story behind this purchase…due to bad timing but a good deal, we moved into a new home a little over two weeks before my two-week walk across Scotland. And sure enough, I hurt my bad knee carrying boxes up stairs. The last two weekends were spent lying on the couch wondering if I should use my insurance and cancel the trip I had been planning for years. A stop by my locally owned pharmacy, and the advice of the excellent owner, resulted in me trying an Incrediwear Knee Brace. It immediately made a difference and helped me decide to go ahead with the trip.

190 miles later at the end of a trip of a lifetime, I have the Incrediwear Knee Brace to thank as much as anything.
The Incrediwear Knee Brace is made from a blend of polyester (49%), nylon (25%), cotton (21%), and spandex (5%). The company's information states that the fabric is embedded with semiconductor elements to provide comfort and durability. Specifically carbon-infused polyester and germanium-infused nylon. I am not sure what that means but am willing to take it at face value if it works. I would prefer to have less cotton in the weave, as I think that causes it to stay damp for a little longer after rinsing it out on my longer trips.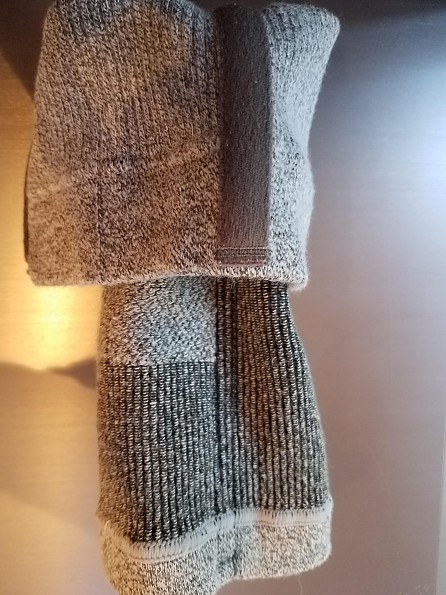 Quality seems high—after using this brace for trips over the summer, including constant wear for two weeks across Scotland, there is no evidence of wear and tear and it supports as well as day one. 
Comfort & Mobility
I found the Incrediwear Knee Brace to be extremely comfortable. You need to make sure you get the right size to balance fit, comfort, and support.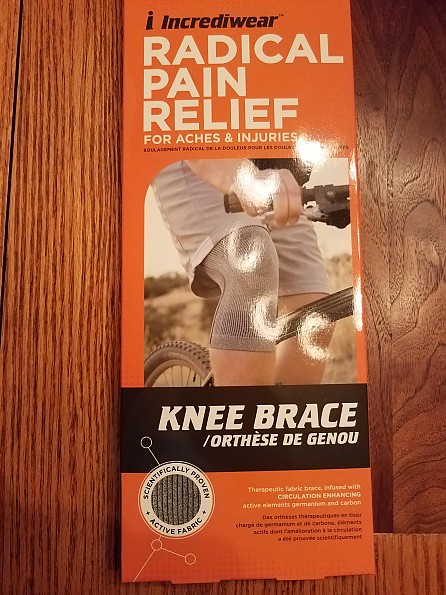 Based on good advice from my local pharmacist, I went with the large as my thigh measurement (2-inches above the knee) fell right between their large and extra-large specs.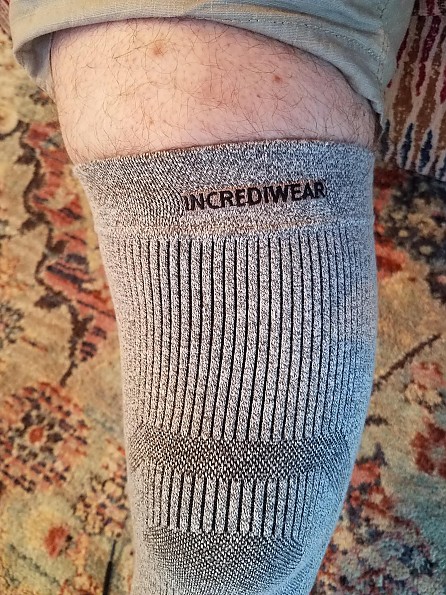 While it looks a little tight, it felt fine from the start and didn't restrict my mobility, cut off circulation, or feel uncomfortable. Like any brace, it was a slight relief to take it off at the end of the day.
To maximize comfort and support, you need to make sure the "target"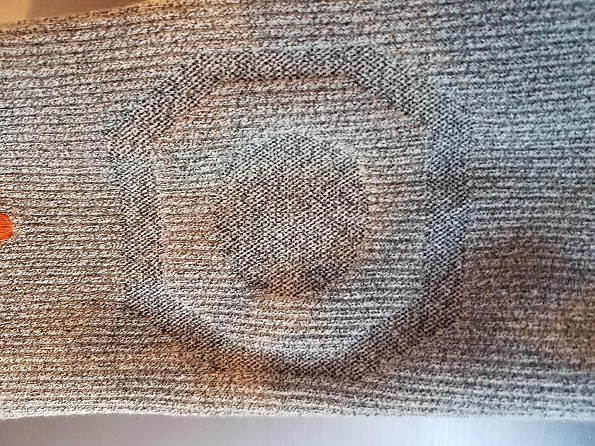 lines up right over the knee.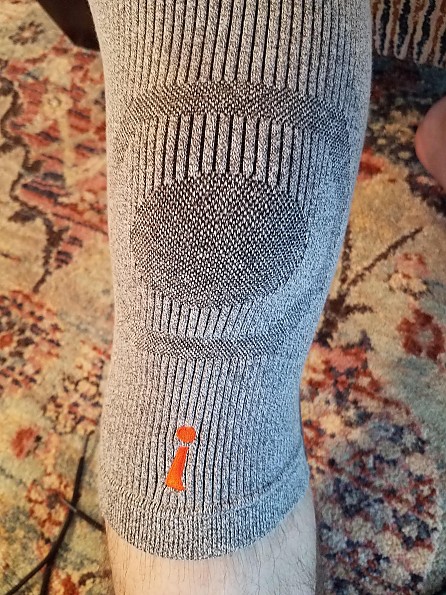 Side note—several times I have looked down at the "I" logo and thought that they should develop an app for this. I mean it's already infused with semiconductor elements so a microchip to monitor my knee can't be that much of a stretch can it?
I haven't worn the brace in temperatures over 80 degrees (F) yet, but have found the brace to be very breathable and wicks moisture away from my skin so it doesn't stay clammy. The manufacturer claims the "3D weave design" provides "effortless comfort 24/7".  Well, I am not sure what a 3D weave is, but I can say that this is a comfortable brace for my size and shape of leg.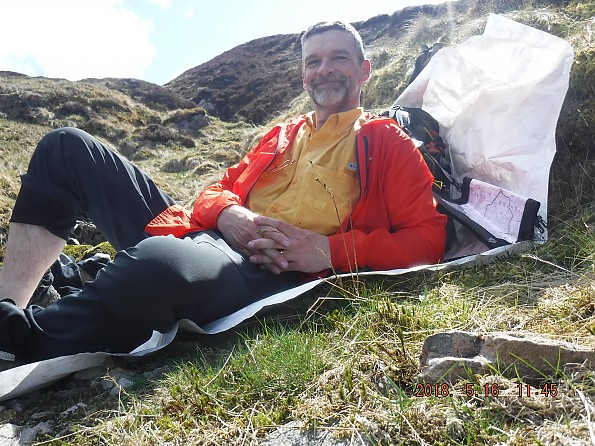 I wore it all day long and most days didn't even take it off at rest stops or lunch. If it was above 70 I tended to slide it down to my calf at lunch just for a change. Airing it out once a day at night was all that was needed to keep odor manageable and a weekly washing helped (although it did take a few hours to dry).
Support & Health
In order to address the effectiveness of a knee brace, I think it would help to have a quick summary of the knee it's supposed to work on...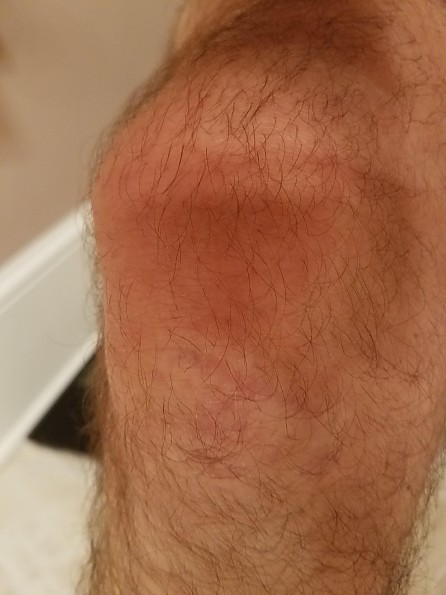 After 20 years of soccer (and several seasons on crutches) and a car wreck that drove the ignition and key under my kneecap (despite wearing a seat belt), my knobby right knee is constantly being tweaked or aching. Not bad enough to warrant going under a knife, but enough that it has inspired multiple braces. Uphills ache a bit, but downhills absolutely kill me until I discovered the magic of trekking poles instead of a hiking stick.

Incrediwear claims that their brace design "increases blood flow", "accelerates recovery", "relieves pain", and "optimizes natural healing processes". They even provide some rather scientific looking scans on the blood flow.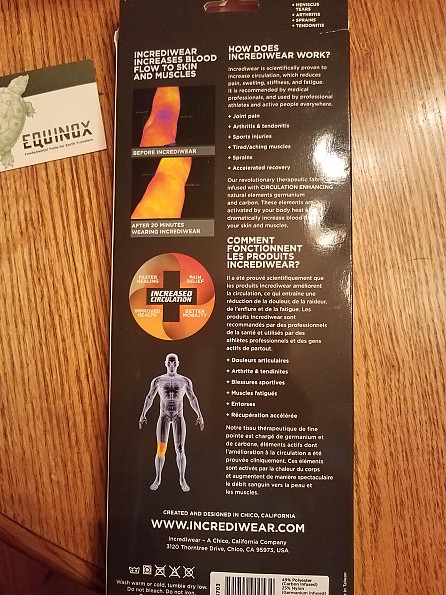 I don't know if "semiconductor elements" are assisting in this, but I do know that this brace immediately made my knee feel better and gave me the confidence that it was worth trying to go on my relatively long walk.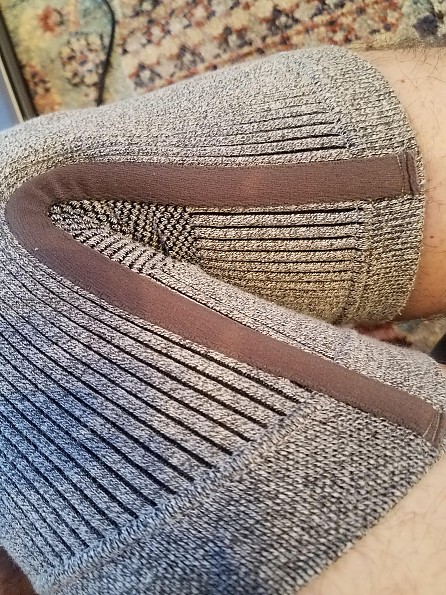 The two stays on either side provide great support and my knee pain went away relatively quickly considering I was backpacking around 15 miles a day across the Highlands. I am guessing the stays are carbon fiber as they feel like that and didn't set off the airport metal detectors, but they may be a flexible plastic. The company website doesn't clarify this. Wearing the brace for a week before my trip allowed for some healing to take place without going to complete immobility, which was not practical with my job.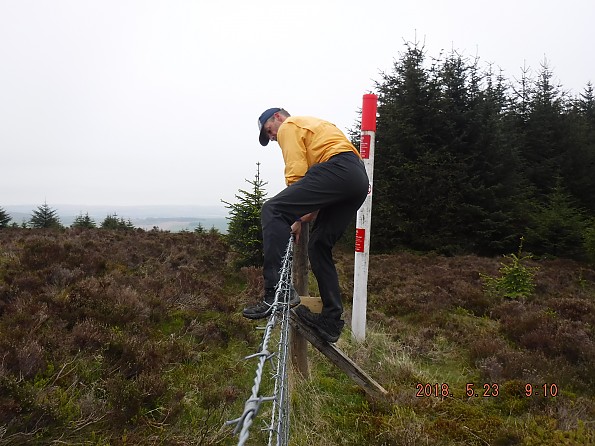 The stays provide excellent flexibility and prevent (I think) bunching and pinching by keeping the top and bottom of the brace from shifting. They also seemed to add to lateral stability obviously. I was able to scramble and climb through heather and over fences without worries.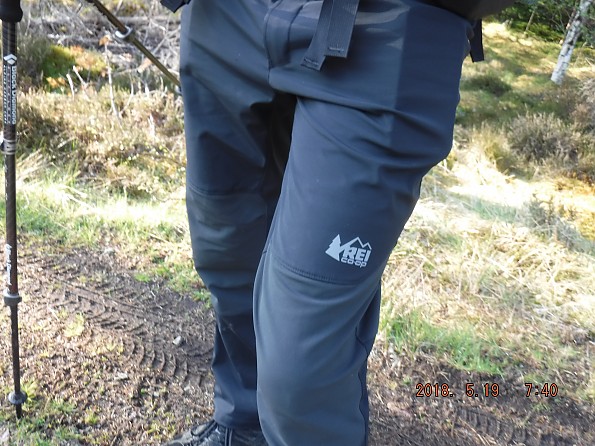 While wearing the brace, I never had a moment (that I can recall) where I tweaked my knee—a common problem for me usually. In fact, I strained the other one a bit on some off trail scrambles, and switched the brace to that side for an afternoon. By next morning it felt good and the brace went back on the right knee.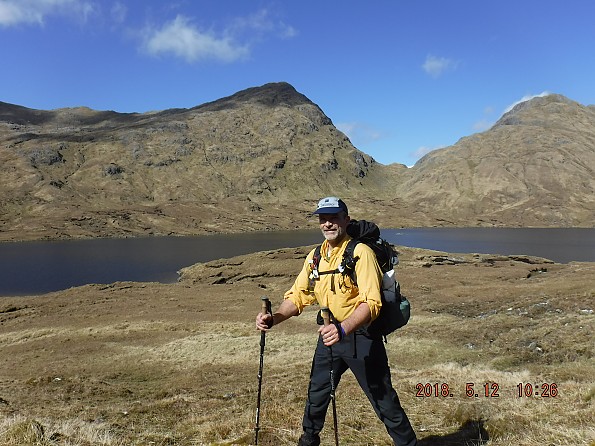 It did potentially cause my gait to change slightly so a blister formed on the opposite foot in the wet and warm first few days of crossing Scotland. Once I was paying attention to it, I think I switched back to my normal gait, but either way this was a temporary issue.
Recommendation
This knee brace saved my trip—enough said. But if you want more, the Incrediwear Knee Brace is a good balance of support, comfort, and healing with few negatives. I highly recommend giving this brace a shot if your knees are shot! If it fits your particular issues and leg, then there probably isn't a better off-the-shelf brace around (and I have tried a lot).
Source: bought it new
Price Paid: $36.99

The sleeve is too loose and slides down. Also the stays bend too much because I think they gave me a pair that is too big and now can't bend them back. Also they are constantly sliding down so I am constantly pulling them up!
Cons
Are too loose and am constantly pulling them up. They are very annoying. Tried wearing them over clothes and didn't help. Feel I got ripped off and paid $80 for the set.
Don't buy them without trying them on and walking around in them. Mine I believe are too big and constantly are sliding down; very annoying.
The nurse measured the size I was given but they didn't have me try them on; I SHOULD HAVE!!!! Make sure you do!!!  Am going to wash them even though they don't need it and put them in the dryer in hopes they shrink? Even though they say they won't, but don't know what else to do except tie something around them.
Would not recommend buying WITHOUT TRYING THEM ON!!!!!
Experience
None, but I think the person measuring me either didn't measure correctly or the directions on the package were hard to follow.
Source: Nurse at Clinic measured my leg from the box directions.
Price Paid: $80 for set of 2

Your Review
Where to Buy
Help support this site by making your next gear purchase through one of the links above. Click a link, buy what you need, and the seller will contribute a portion of the purchase price to support Trailspace's independent gear reviews.
You May Like
Specs
Price
MSRP: $36.99
Current Retail: $39.99
Reviewers Paid: $36.99

Recently on Trailspace