Jacob Bromwell Classic Stainless Steel Cup 32oz

Top 50 in Cups and Mugs
Specs
| | |
| --- | --- |
| Price | Reviewers Paid: $1.90 |
Reviews
1

review

5-star:

0

4-star:

0

3-star:

0

2-star:

0

1-star:

1
The Jacob Bromwell Classic Stainless Steel Cup (size Large) is a functional option for the budget minded outdoors person. Weighing in at only 3.18 ounces and holding up to a full Liter of fluid, it makes a reasonable all-in-one cook pot and eating container including enough space to hold your fuel canister and mini-stove between stops.
Pros
Incredible light weight for Stainless Steel at only 3.18 ounces
Holds a full Liter if filled to the top — more than most backpacking recipes require
Ridiculously inexpensive
Cons
The weld spots look like they're not going to last
Steel is thin enough that the cup can bend if not well cared for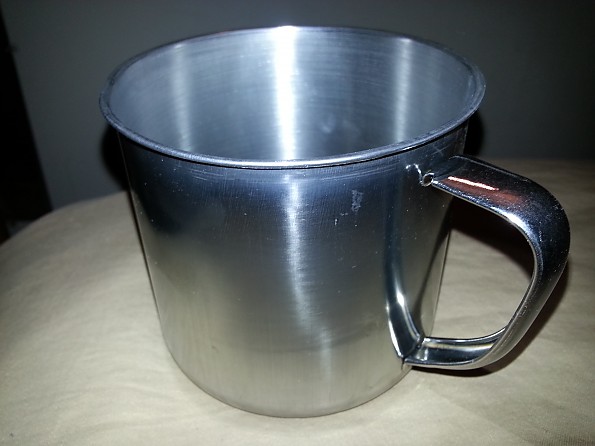 Here are some basics about this cup:
Diameter: 4.29"
Height: 3.98"
Volume: 1L to the top, though that likely means it's more like 900 mL of useable volume or so.  This is plenty if your goal is to make "one pot" and typical freeze dried meals.
Weight: 3.18 oz which is very light for a Stainless Steel cup.  In comparison, my titanium cup / lid / mesh bag weighs in at 4.69 oz and cost $45.
Key question: can a typical fuel canister fit into this cup?  Yes.
Functional Positive Attributes:
This little guy has a very useable design.
In my experience, a 700 mL size is the minimum a backpacker would need to be able to make most "one pot" and freeze dried recipes for an individual hiker. I previously did a review of pots and realized that a 900 mL pot would really cover 99% of the pre-prepared meals that I could find, including two-person meals.  At 1000 mL this guy has those minimums licked.
Further, the diameter and height supports stowing your fuel canister and mini-stove inside this cup while you're hiking. Because it has a flat and broad bottom, it is easily supported on any stove I can think of (it works equally well on our car camping, two-burner Propane stove as it does on my ultralight DIY alcohol stove).
It's inexpensive, so it's the perfect solution for kids.  If you're a parent, you know how many times you have to replace gear like this simply because kids forget to bring all their gear home. I love that these are so functional and yet disposable from a budget point of view.
Does this qualify as "Ultralight"?
Well yes, I'd say it does. Like most Ultralight gear, it needs to be handled with care.
Downside:
As usual, you get what you pay for.  The metal of this cup is quite thin. I predict after high usage that my boys will end up destroying these things (if they don't lose them). Now if you're thinking of these for yourself, I would personally recommend something a little more stout. For kids, these will do.
Further, the weld on the handle and on the lip of the cup leaves me feeling like a little more attention could have been paid to design and Quality Assurance.
Finally, I'm bummed that there is no lid. It really does need one. That said, I did not hold that against it.  We'll just make our own and I'll get an opportunity to teach my boys some "Do it yourself" skills.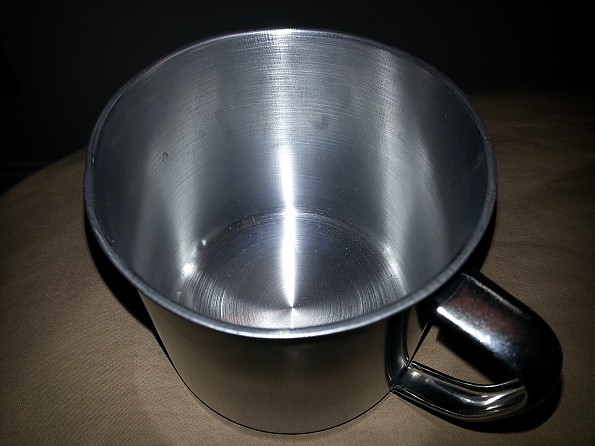 Why did I rate it so low?
I went back and forth on the star rating. For kids, this is a five star solution from a parent's point of view.  But I don't feel like I can rate it that way even though at $2, it's a wild value. In the end I decided to rate it based solely on how well it's made and with no eye toward relative value.  
As a camp cup made by a brand that I should be able to trust, and that I predict will end up crushed with a missing handle, I can't give it high marks.
Hope that helps.  Happy hiking!
Source: bought it new
Price Paid: $1.90 each

You May Like
Recently on Trailspace