Poweradd Apollo

#10 in Solar Panels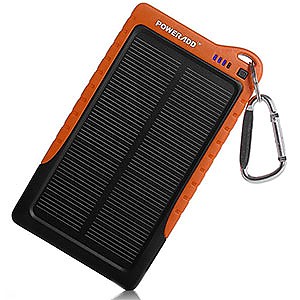 Specs
| | |
| --- | --- |
| Price | Reviewers Paid: $25.99-$29.99 |
| Weight | 8.11 oz |
| Dimensions | 5.9x 0.95 x 3.3 in |
| Solar Charging | 5V / 180mAh |
| Input | Micro USB 5V / 1000mA |
| Output | 5V / 1000mA |
| Life Cycle | 500 Times |
Reviews
3

reviews

5-star:

1

4-star:

0

3-star:

1

2-star:

0

1-star:

0
A 7200mAh Li-polymer battery with a 5V/180mA solar charger to recharge your devices in the backcountry or during power outages. Easy to use, reasonably sized, reasonably priced, and it gets the job done.
Pros
Size: relatively compact, not too heavy
Functionality: does what it claims to do
Cost: not too expensive
Cons
Not waterproof
Bounces on pack; can flip over to prevent solar charging
Somewhat slow solar recharge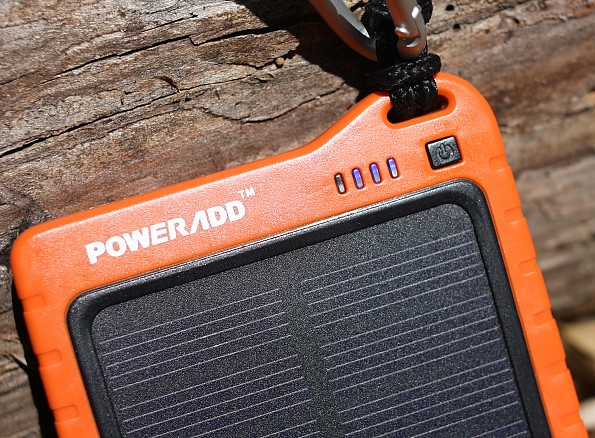 As a long-time backpacker, the idea of bringing electronics into the wild is somewhat new to me. I've always had flashlights, of course, and I welcomed the transition to more efficient LED lights once I got used to the blueish glow of the LEDs, and I became an enthusiastic geocacher, too, which opened the door to having a GPS along on trips. But the notion of recharging was—for many years—just not something that I thought about.
I brought extra batteries, and yes, I had rechargeable batteries, too. I eagerly devoured reviews exploring rechargeable battery power and life, but I didn't really think about the need for recharging a device in the backcountry for a long time. After all, isn't the wilderness a chance to unplug? The recharging I sought from the wilderness was spiritual, not electrical.
But then I, too, was seduced by the siren song of the smart phone. It doubles as a camera, I thought to myself as I slipped my iPhone 5S into my pocket. Never mind the 3+ pounds of camera gear I was toting in a padded carrying case that I hoped would ensure spectacular shots of mountain vistas.
And so when I recently embarked on a four-day, three night trek in the Linville Gorge, I decided that it would be good to have a lifeline to the outer world via my phone. It is true that cell phone reception would be spotty, but true, too, that receiving the occasional text or picture from me might relieve my wife of her apprehensions as I slipped along cliff edges and forded a river with the potential for swelling from placid stream to raging monster with seasonal rain.
And once I committed myself to taking along my phone, I decided that I'd need a recharging system, too, and that decision led me to the Poweradd Apollo, a 5.7x3.31x.59 inch unit with a durable hand feel and a weight of 228g/8.04 oz. Poweradd also claims that the Apollo can charge "all iPhones 3 to 4 times, a Galaxy S4 more than twice, or an iPad 1 to 2 times." That's what I wanted, and besides, I'm a sucker for Greek mythology: how could I avoid a product named after Apollo?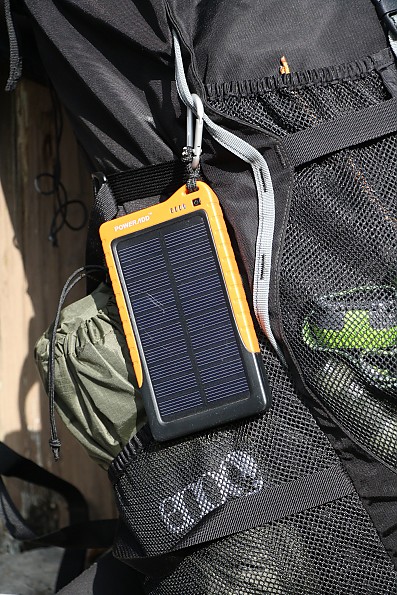 If I were going to take a charger, I wanted one with solar options, too, not just a one-and-done battery recharger. As you can see from the image above, the Apollo dangles nicely from one's backpack, a nice option during a day's trek. A moderately bright amount of daylight automatically puts the Apollo in recharge mode, and thus in dry weather I had it dangling from my back, charging. Or so I thought.
Then Chris, my friend with whom I was hiking, told me it had turned itself around backwards, and so I discovered one of the Apollo's drawbacks: with only a single, off-center "keychain" connection point, it is prone to bouncing around when mounted on a pack, risking the chance of turning itself backwards so that the sun will prove useless. Having double attachment points would resolve this beautifully, allowing a user to fasten it as he or she sees fit.
Slipping the Apollo into a clear, waterproof pouch with double connection points would also address another drawback of the Apollo: its lack of weatherproofing/waterproofing. Directions state that the charger should avoid" water or any humid environment" (with additional warnings to avoid heat sources, flame, or leaving it in your car).
The Apollo itself has two connection ports, a USB output port and a micro USB input port. It also comes with a small power cord (to be used with your own existing computer or USB adapter) and four connectors for various devices. I didn't need all those, but there is a feeling of power (no pun intended) that comes from having options.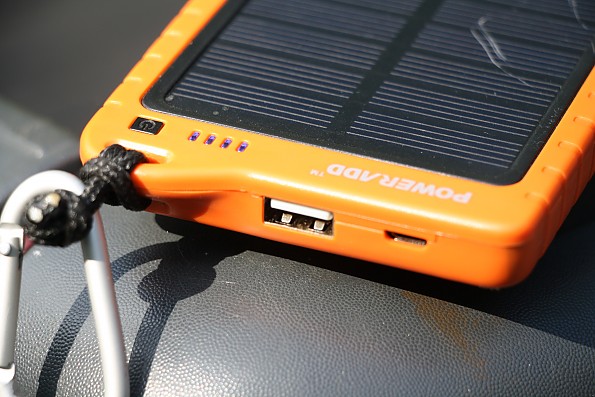 The provided cord and connectors are shown below: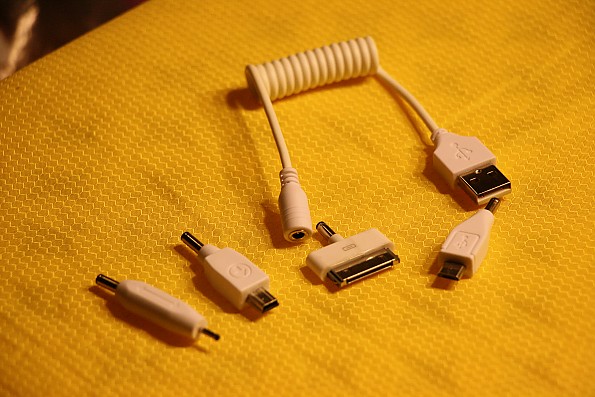 Upon receiving the Apollo, I plugged it in to give it a full charge. I'm not sure how long this took: I confess that sitting and watching something charge is not one of my strong suits, but within a few hours it was fully charged. On the second evening of my backpacking trek, I slipped into my hammock, plugged my nearly dead phone into the Apollo, and waited.
The Apollo is fairly intuitive to use. A single power button gives one two options: a long press turns on the charger, illuminating the four blue LEDs. Likewise, a long press turns it off, too. A short press causes the LEDS to light up, indicating approximate charge: no LEDs=0% charge, 1=1%-25%, 2=25%-50%, 3=50%-75%, 4=75%-100%. Those are broad ranges; I recommend using this a few times at home to get a sense of what the LEDs really mean. This will change depending on the electrical demands of your own device.
Swinging in my hammock, I eyed the phone's battery percentage once the familiar lightning bolt charging icon appeared. I dozed, woke with a start, checked the Apollo and phone, then waited some more. After about two hours, my phone was completely recharged.
I then unplugged the Apollo (the directions suggest this to prolong the Apollo's charge) and glanced at the rudimentary, four-light charge indicator on the Apollo: it registered three bars, or somewhere around 75%. Fast-forward ten miles of grueling hiking and with occasional cell phone use for photos and texting ("Yes, honey, I'm okay . . . Wow! I won a giveaway contest for hiking socks!"); in other words, a whole day in Linville Gorge.
That evening, once again off my feet in my hammock, I plugged in the Apollo for a second time. The charge still indicated three bars, or somewhere around 75% after dangling from my pack all day. That seemed a bit slow to me, but who knows? Given the limitations of this basic "smart" LED indicator (I'm using Poweradd's term here), who knows how much it actually managed to recharge?
The point, though, was that it recharged my phone again that night, no problem, to 100%. And I fell asleep again. Strange how arduous hiking, a full tummy, and a gently swaying hammock are conducive to shut-eye. When I awoke in darkness, the phone was recharged and the Apollo was registering two bars (from 25-50%), so I disconnected and turned off both.
Once home, I placed the Apollo in my kitchen window, where it receives daily nourishment from the sun—Poweradd recommends charging it to full power at least once every three months. I should add one other feature of the Poweradd: when it receives such solar nourishment, the LEDS blink sequentially in a soothing, gentle rhythm that lets you know all is well with the Apollo (take a look at the first pic; you'll see that I snapped the shot when three or four LEDs were illuminated--it blinks one, then two, then there, then four,then one, etc. while charging).
I will continue to test the Poweradd Apollo, updating this review periodically as I use this device and learn how long the rechargeable Li-polymer battery will last (PowerAdd claims 500 times; the Apollo comes with a "1 full year warranty from date of purchase"). For now, though, I have to say I was satisfied with the product.
It did what I needed it to do, and its limitations—one-sided connection point, lack of waterproofing, and slow solar recharging—are flaws I can deal with at this price point. I didn't want to spend a fortune to recharge my phone, and I didn't have to. I'm always slightly leery of potential inconsistencies between individual units of mass-produced, imported electronics (at times I've purchased inexpensive goods and suffered the consequences), but my unit did what it claimed to do, and that makes me a fan.
Source: bought it new
Price Paid: $29.99

As a backup battery this is fine. But as a solar charger, it is horribly underpowered, and better options exist.
Pros
Compact
Attachment
Battery capacity
Cons
Underpowered solar
No waterproof or even weatherproof
I work in the solar business, and I've seen my fair share of these compact solar chargers come and go. Brunton sells a few for example. The problem they all have is that the solar is always a gimmick-add-on to what is otherwise a useful back-up battery pack. But realize that a backup battery is all these chargers really are.
Save your money, and avoid frustration by choosing a more powerful solar charger and battery for your electronics.
Some quick math...
Solar panel specification: 180mA @ 5V = 0.9 Watts
A smartphone battery is typically in the 6 Watt-Hour range, which will require almost 9 Watt-hours to recharge from a full depletion (given power losses in the charging process - full depletion is NOT recommended BTW). This means you will need 10 'Peak-Sun-Hours' for this charger to produce enough power to offset that smartphone battery. In practical terms, with it dangling from your backpack & not always exposed to direct sunlight, this means 4 full sunny days.
So, this means you have a power budget of 25% smartphone battery use per day if you want continuous charging without eroding power in the battery pack. If you pack along other USB devices, this means even less power to go around.
If you want to have enough power for your smartphone, GPS, headlamp batteries, and a camera battery, I rarely see any system below 5 Watts be of much use.
Lastly a few comments about issues raised in the excellent initial review of the Apollo...
1. Don't put in a bag to waterproof it. 

You might find that the bag filters UV sunlight, which will greatly reduce its solar panel's already weak performance

Don't charge in a window. 

Same issue as above... windows filter UV sunlight & greatly reduce solar panel performance. If you can't get a sunburn through a window, neither can a solar panel.

3. Look for auto-off / time-out. 

Look for solar chargers and battery packs that turn themselves off when the device they are charging is full. This will save you precious power.
Final advice...
Create a power budget for all your electronics. Find a solar panel to match your needs with a storage battery that can provide a day or two of power for your budget (ie times of bad weather when the sun isn't cooperating).
I hope this helps!
Source: Spec review

This charger is perfect in every way. Based on its capacity, I can get almost 3 full charges out of it.
Since it's solar powered, it's always powered up. I don't miss hunting for an outlet at airports whenever I travel. I should have purchased this years ago!
Source: bought it used
Price Paid: $25.99

You May Like
Recently on Trailspace