Pran Mr. Noodles Instant Noodles Curry Flavor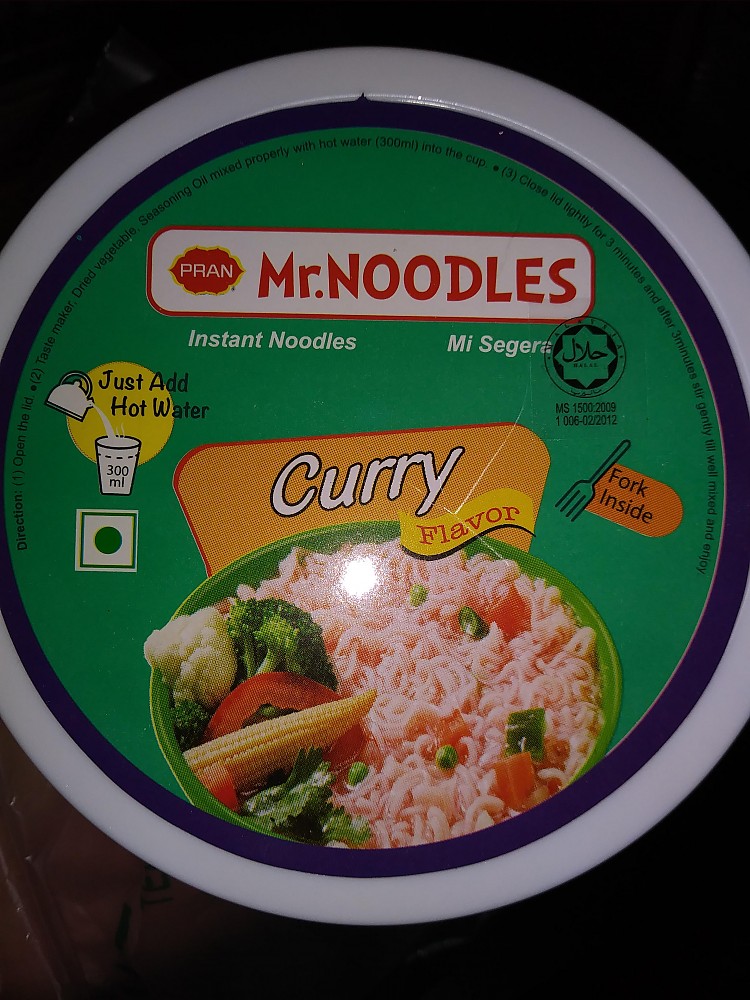 Specs
| | |
| --- | --- |
| Price | Reviewers Paid: $1.00 |
Reviews
1

review

5-star:

0

4-star:

1

3-star:

0

2-star:

0

1-star:

0
In my quest for a delicious but lower sodium Instant Cup of noodles from around the world I ended up in Bangladesh (at least internet search wise).

Lo and behold, Pran's "Mr. Noodles Instant Noodles Curry flavor"

This is an inexpensive, delicious instant noodles in a well made durable cup with lid. It will now become an addition to my camping experience.

What makes this product stand out from all the rest is that it not only tastes delicious, not just the fact that it has 7% or more less sodium then its competitors, but all the spices, dried veggies, and oil come in separate packages within the cup itself. This allows individual desired portions of the ingredients to add to the cup of noodles for those that may want less sodium, or those intolerant to oils to either use less or completely forgo adding.
Pros
Convenient
Delicious
Everything packaged separately
Reusable and durable cup and lid
Comes with own folding fork
Quick and easy to prepare
Less sodium than many other brands
Cons
Not a lot of dehydrated veggies
Some may not want a plastic cup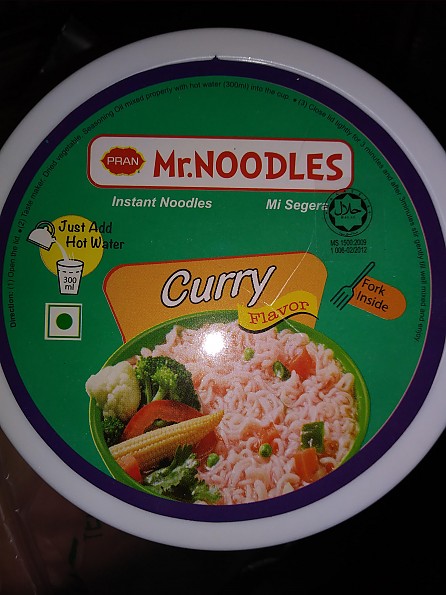 Although I love to cook, there are times, especially after a long day, that one wants to take some shortcuts in their dinner plans. Making noodle soup from scratch is one of them. One pot to cook up some noodles and another with the stock and all the other ingredients while you pray you have enough fuel for the weekend trip.
So my quest began searching for that perfect balance of taste, convenience, and speed at which I could prepare some pasta. Brands like Lipton's Cup of Soup, Ramen noodles, Nissin cup of noodles, etc. etc. were all extremely salty and because of which not particularly healthy with someone that is older or with high blood pressure.
My journey ended in Bangladesh (internet search wise) and it was here that I was first introduced to a new international brand Pran. Their product Mr. Noodles Instant Noodles Curry flavor. Now to be honest, I totally forgot about the lower sodium aspect of my search and was far more focused and interested in having an instant pasta dish with curry flavor. 
With this tunnel vision being so focused on a curry flavored dish I accidently clicked on the wrong image only to get the Nutrition Facts page. I was shocked that after so many brands that I saw which were 50% or over ones daily allotment  sodium that this one was about 7% less than the ones I was seeing all day.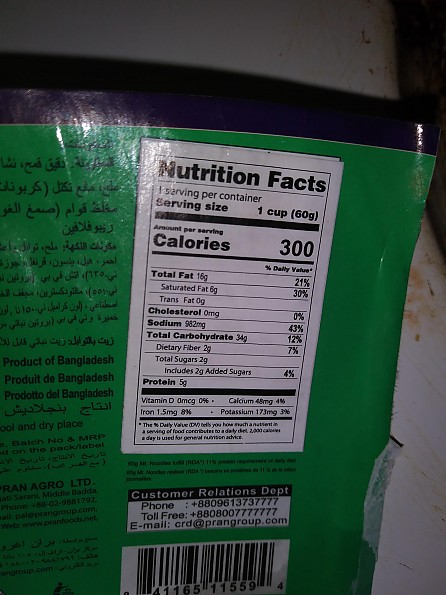 I found via the web that a local market here in NY sold them in the international isle. So off I went and picked myself up one of these Mr. Noodles. This product came in a very sturdy plastic cup with lid enclosed in plastic sealed wrapper. I was excited to see that when I pulled off the lid all of the ingredients were in separate sealed bags. True it is one more thing I have to throw away, but the ability for me to reduce some calories and even more sodium was a huge hit for me.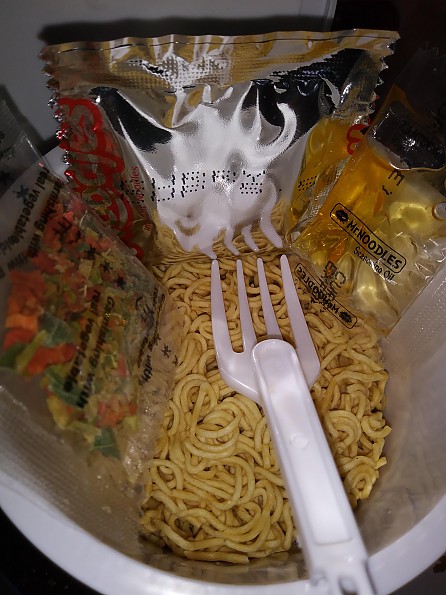 Now as I mentioned earlier, my quest was to find a pasta soup that I could prepare faster and not a complete dish in one while being less salty at the same time. With that said, I still needed to know what it would taste like if I added the entire season packet.
I heated up the water and added it to the cup with the pasta in it. I then added the dehydrated veggies and season packet. I unfolded the included fork and stirred the pasta to mix the ingredients. While the pasta was hydrating I had the remaining water I boiled hydrating some of my own dehydrated beef and veggies that I brought.
Oil packets tend not to agree with me, fact is they kind of hate me, but I still needed to see what it tastes like so I opened the oil and took a sporkful of the pasta and drizzled a drop of oil and took a bite. To my delight it was delicious for a cup of instant soup and pasta and the salt didn't overpower the dish as so many cups of instant soup do for me.
But alas some people like chunky soups and some like it more soupy so I added my hydrated beef and veggies that were unseasoned and let them sit for another 2 minutes in the pasta soup as I tend to prefer the pasta to not be al dente. In hindsight I should have taken a photo prior to adding my own ingredients as the peppers and fat from the beef altered the appearance of the original cup of noodles.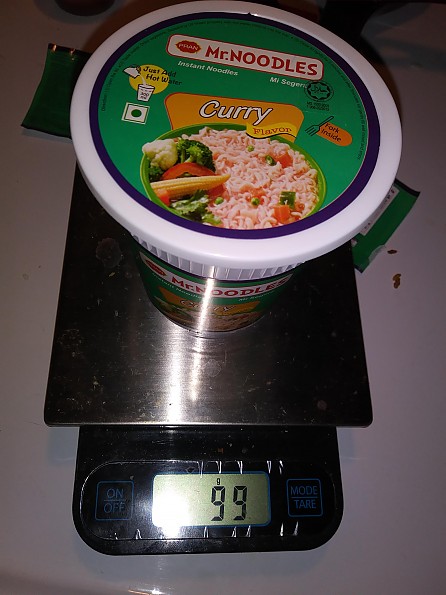 The Mr. Noodles pasta soup weighs 100 grams  as packaged. 
Shrink wrap 1 gram

Plastic cup and lid 26 grams

Food 73 grams
Below I included a copy of the ingredients: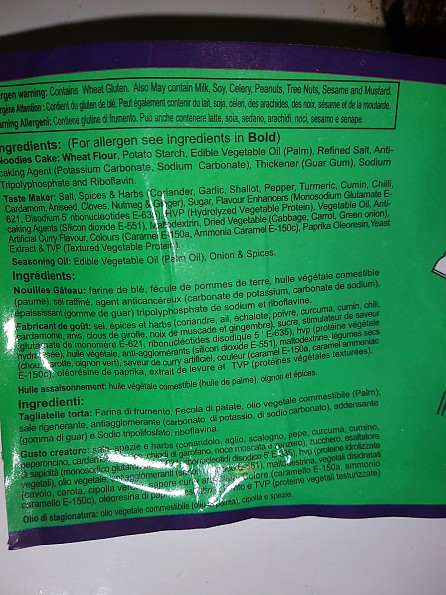 Experience
I am a single, lazy guy, that should say it all. I take shortcuts and at times I want to just skip the usually long evening of cooking numerous dishes and just settle down with a quick and easy meal.

I have tried over the years all of the name brand instant cup of noodles, and over the years my palate has been more aware of the high amount of sodium in these instant pasta dishes with no way to reduce the sodium in many of the brands as they premix the ingredients.

Curry is not a common choice for instant soups and for me this was a rare find. I also enjoyed the noodles themselves. They are thicker then Ramen noodles, which is a bonus for me. Because this comes with such a durable cup and lid I always at least bring one of these Mr. Noodles with me and forgo a drinking cup . It is either an appetizer soup or a main course when adding more substantial food like meat and veggies.

I actually do not add any spices to this which for me is a rarity as I find it tastes great as is. I sometimes use the entire season packet when not adding anything else and others instead of making it a soup I use the seasoning on my other dishes to infuse them with the curry flavor and eat the pasta as pasta.

So Alicia, here is that review you asked from me for a camping food that I do enjoy versus the one I did not.
Source: bought it new
Price Paid: $1

Your Review
You May Like