Proster Anemometer

#5 in Weather Instruments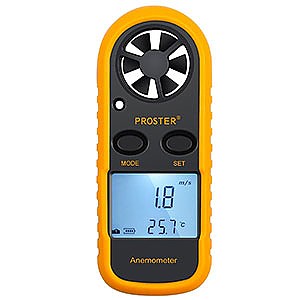 Specs
| | |
| --- | --- |
| Price | Reviewers Paid: $17.95 |
Reviews
1

review

5-star:

0

4-star:

0

3-star:

1

2-star:

0

1-star:

0
A great lightweight gadget for folks who like to carry thermometers and are interested in wind speed as well—it has almost permanently replaced my little key chain thermometer. Accurate readings for what you pay, nice display, and easy to use although the two-button menu takes a little getting used to. Great for recreational use but spend more for extreme conditions or scientific applications. You get what you pay for in durability though.
Pros
Lightweight
Cheap
Easy to operate
Accurate (for recreation)
Battery life
Multiple unit options
Easy to read
Cons
Limited function buttons
Slower temp adjustment in extremes
Switch from degrees F to C behind cover
Durability
Wind chill display only below freezing
Not for deep winter (below 14 deg F)
No more "fish stories" about high winds!
I was hoping to have this review done in time for folks looking for a stocking stuffer…oh well.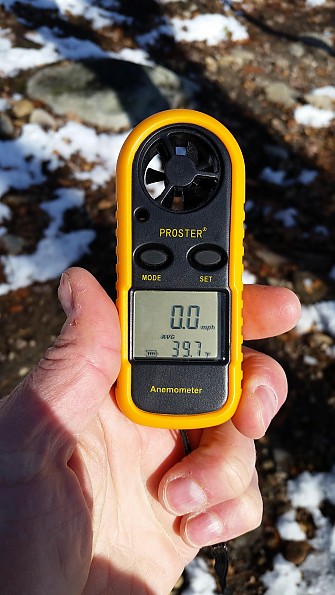 For years I have been recording temperatures when I backpack. I have no idea why I began to do this but it has become a habit at every stop during the day and several times at camp. Even for those not obsessed with temperature records, but like to know how hot or cold it is, I would still recommend the Proster Anemometer.  Since you are looking at temperature, you might as well check the wind as well for a few more grams.  For the price, this little device fits my needs as a recreational backpacker with a few flaws that are expected since its not meant for rigorous scientific measurements.
The knowledge of wind speed, and wind chill, is not only interesting but can increase your awareness of potential safety issues. Mainly I use it for fun though…backpacking nerd alert!...I would spend more money for something to be used in extreme conditions or for scientific measurements.
DESIGN & CONSTRUCTION
The design of the Proster Anemometer is very simple. A decent display (for the limited amount of data it reads) and two buttons, with the temperature and wind speed sensors above them.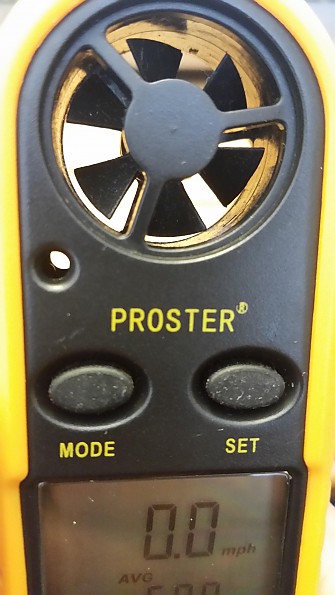 I did not have an issue with this, but if you held the device such that a finger blocked the temperature sensor (small hole above the Mode button) your readings would obviously be affected. I found it inherently easy to hold the unit without that happening even with gloves on.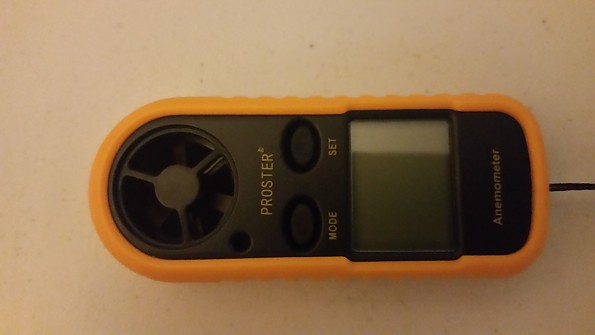 The outer rubber casing is one solid piece and seems sturdy enough to protect the device from dings and scrapes.  The anemometer is so light that I do worry about its long-term durability, but so far there have been no issues.
SIZE & WEIGHT
The size and weight of the Proster Anemometer make it ideal for backpacking use, in my opinion. Here it is next to the common key chain thermometer I used to carry so you can get an idea of the size (about 4" by 1.5").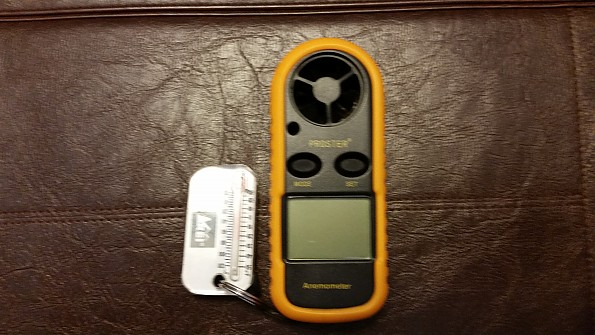 Weighing under 2.5 ounces (mine weighs 2.4 with casing, battery, and lanyard), it was an easy decision for me to carry on every trip, but I am biased toward a handy thermometer. It easily slipped into one of the water bottle stretch cords on my shoulder strap and has pretty much lived there ever since.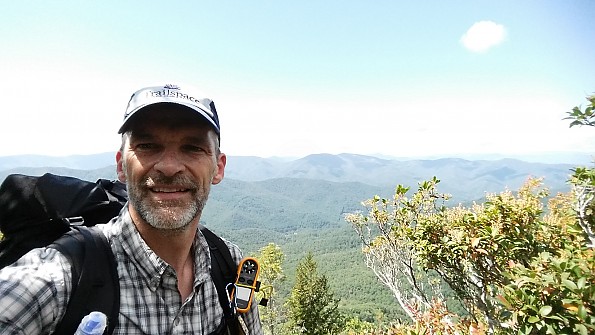 At first I used the full length lanyard to make sure it didn't fall out, but on the last couple of trips I have only used it with the short loop and clipped it on my mini-carabiner that holds other useful items (whistle, knife, etc).
ACCURACY
The accuracy of the anemometer was surprising for the price I paid.  Being from a science background and using much more expensive devices in my past, I guess I had low expectations for a unit under $20. In comparing it to indoor thermostats, two other thermometers, and general weather reports (at job sites and ranger stations) I have found the temperature readings to be very accurate—usually within a degree or two. Well within the manufacturer's stated specs.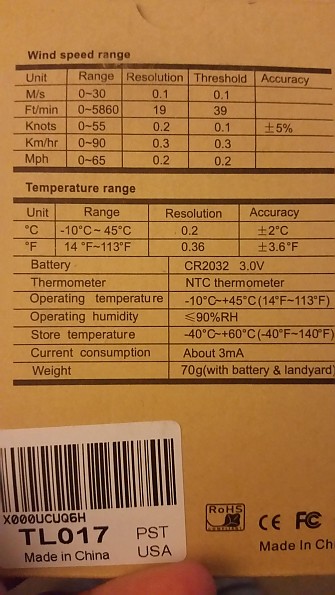 Wind speed is more difficult to assess as I don't own another anemometer. So far I have tested it while driving and against on-site weather stations. It looks to be just as accurate although variability of the wind makes this really difficult to assess without a side by side comparison.
Depending on your chosen settings (instantaneous readings or averages), the wind speed is read quickly and the temperature readings adjust as fast as any thermometer when pulled from a pocket or other shelter and exposed to the conditions.  Update:  Now that I have had a couple of weeks of below freezing temperatures I have noticed that when pulling it out of a pocket that is obviously warmer it takes about a minute or so to stabilize to sub-freezing accurate readings.  The flip side of that is if you turn it off and put it back in your pocket, when you get it out the next time it still has the last outdoor reading on it and stabilizes a bit faster.
Apparently from at least one comment online, electromagnetic field and iron objects can affect readings. However, I have not experienced this as I don't carry iron objects in my pack!
EASE OF USE
The display is excellent—easy to read without my old man glasses and displays temperature, wind speed, and the Beaufort Scale (the two little bars on the bottom left of the screen below as it was low wind speed when I took the picture).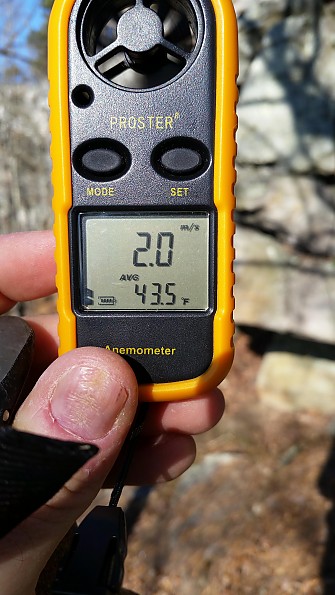 One minor complaint is that the wind chill indicator is only displayed when you get below freezing (0 deg C or 32 deg F). Sorry for the blurry photo - the wind chill indicator is shown just above the temp (-1.3 deg C).
Obviously, you can still do the calculations when it is warmer but it would be nice to know in the hypothermia range (chilly and wet) without having math involved.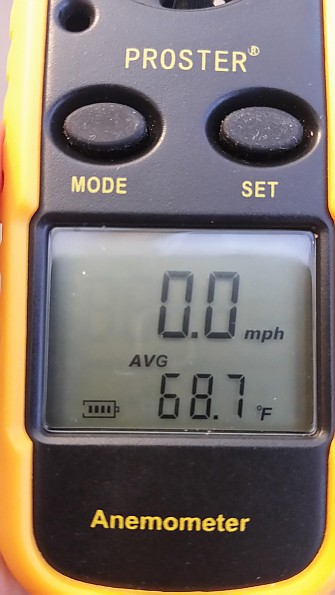 The controls are relatively simple—two buttons. Press and hold the Mode button to turn the device on, and press and hold Mode and Set to turn it off. 
In cold temperatures with gloves on, it was easy to operate the anemometer. Changing wind speed measurements and temperature readings (average vs instant) is relatively simple—holding down Mode and then cycling to the wanted units by pressing Set, then pressing Mode again to save. You do have to cycle past the wind units to get to the temperature recording settings.
Changing between C and F is not as easy—you have to remove the protective cover and have a pin or the like to press an inset button. A couple of reviews I have read stated that the unit resets to degrees C and has to be changed upon startup, which would mean removal of the case and a pin or pen. I have not found that to be the case so far, but for the last month I purposely set mine as degrees C anyway as I am "practicing" for a trip to Scotland where that will be the prevalent units. I have always preferred freezing to be at 0 degrees anyway...just seems right.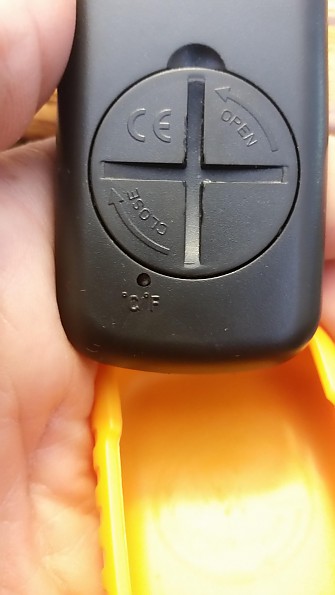 The battery compartment is a little difficult to find at first unless you have had your coffee that morning. The back of the outer case has what looks like a compartment opening. However, that is just an indention to show you it is inside the case at that location (but at least it is a reminder of the battery size so you don't have to take it out when it is running low).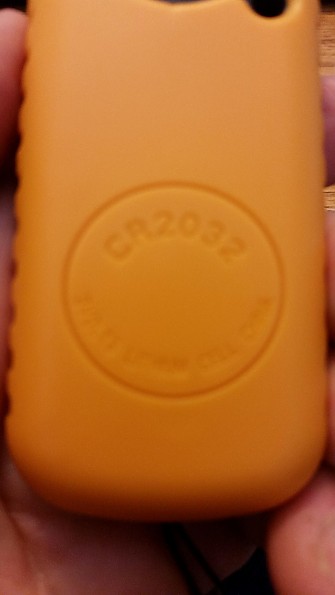 At first test I though the Auto-shutoff function didn't work, but repeated tests show that I wasn't paying close enough attention to the time. However it stays on for 14 minutes, which is way too long for my needs and reduces battery life. I tend to shut it off quickly anyway to preserve battery power since that is so easy.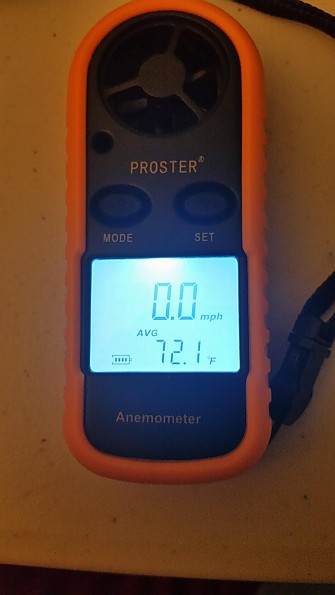 The backlight quickly goes out—about five seconds which should be long enough to read the data. A quick press of the Mode button brings the light back on.
WEATHER RESISTANCE & DURABILITY
So far the Procter Anemometer is weather resistant in rain and snow but has not been tested for extended days as I haven't had that kind of "luck" on the trail. I used it in temperatures dipping just down to freezing but have not operated it much below that yet. Note that the manufacturer claims that the anemometer will function only down to 14 degrees F, so on deep winter trips it may be best to leave it behind.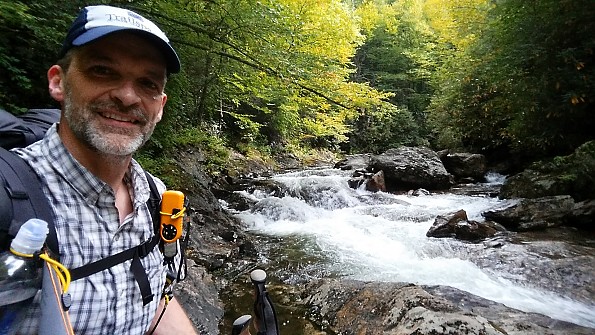 The light weight makes me question the durability but I have kept this strapped on the outside of my pack for three months worth of trips including getting hit by brush occasionally (on the trip above one week after Hurricane Irma, it got flipped around while crawling through downed trees across the trail). The rubber outer casing seems to help protect it well and there has been no damage to the fan blades and no apparent change in accuracy.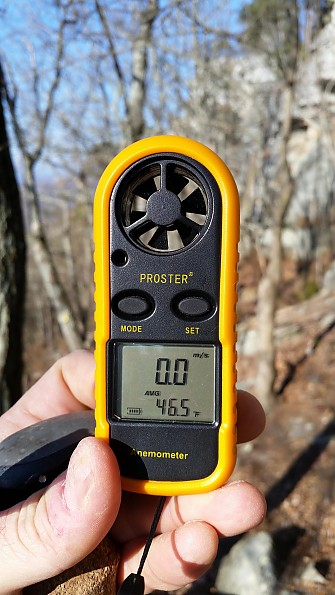 Battery life is good—I haven't tracked my hours of use, but the provided CR2032 battery still shows full charge after several months and lots of playing around with it on weekends. As mentioned above, I do shut it off each time instead of allowing the 14-minute auto-shutoff to run.
Nov 2018 Update: Well, the inevitable happened, my under $20 device failed to restart this summer after a lot of wet exposure in the spring. Go figure—I downgraded the rating.
RECOMMENDATIONS
If you don't have a good head for wind speeds, this little device will definitely calibrate you. Unfortunately, it may impact your "fish stories" about how well your tent held up in 40 mph winds that were really 20 mph! Being an environmental scientist and relatively experienced backpacker I was pleased to find that my wind speed estimates in my head were within 5 mph of actual speeds in general. So a side benefit is giving you confidence in your measurements, or helping you calibrate better for trips without any measuring device.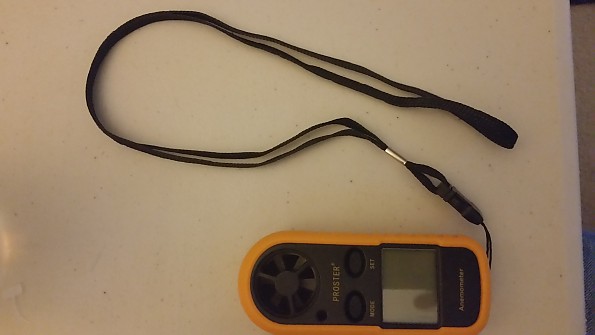 If you are out doing real science or other measurements in the woods and need reliable accurate data, I would probably spend more money. Likewise, I would definitely spend more for trips in extreme conditions. However, if you are a recreational data geek like me you might get a lot of use and enjoyment out of the Proster Anemometer. 
If you are not sure if you would use it, the price point under $20 may help that decision. It's a fun device to carry for a while to calibrate yourself to wind speeds, but I would pay more if you want a device that lasts.
Source: bought it new
Price Paid: $17.95

You May Like
Recently on Trailspace