SafeRingz

#8 in Accessories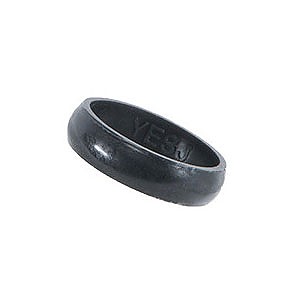 SafeRingz is a great, low-cost investment that can protect the hands of rock climbers, cavers, and anyone working/playing at height. In the months that I have been wearing it, it has already saved me from one close call. Additionally, it makes the use of trekking poles more comfortable.
Pros
Effective
Inexpensive
Stylish
Durable
If you're ever mugged, you're not out much.
Cons
Won't last forever
Exact sizing was a bit of a guessing game
Some Background:
I have worn my gold wedding band everyday for nearly 24 years. I feel naked without it, and I only take it off when...wait, I never take it off.
A few months ago I was reading a blog by Dave Prowitz about "Finger Degloving," and a chill ran down my spine. Like Dave, I am a high ropes challenge course manager, spending my days at height. As I read the blog and googled the images, I was reminded of all the near misses I have had over the past 14 years. These were times, when my wedding band caught on a cable, a rope, or some part of my course. Sometimes it has just hurt. Other times, I have actually cut myself.
In addition to near misses at work, my wedding band has caught while caving, tree climbing, and other outdoor pursuits. [Like Dave, I will warn you not to google images of finger degloving, unless you have a strong stomach.] As I said, I have worn my wedding band everyday for nearly 24 years, but as soon as I talked about finger degloving to my wife, she insisted I act on this information.
Dave's blog actually reviews another silicone ring product. However, feedback of that company on Amazon, plus its exceptionally high price led me to look elsewhere. That's when I found SafeRingz (www.saferingz.com).
SafeRingz:
SafeRingz is a silicone rubber band that is being marketed to electricians, linemen, firefighters, and other professionals who want to wear a wedding band, but need a non-conductive, heat resistant ring that will break before causing significant harm if it gets hung up. The application easily moves into the outdoor realm for climbers, cavers, and backpackers (Ever have your ring finger aching after several hours of holding trekking poles? SafeRingz solved that problem for me.)
Appearance:
SafeRingz offers a variety of finished products from metallic-looking silver and gold to bright red and pink. The black rings are particularly sharp.
In nearly 24 years no one ever asked about my traditional wedding band. What's been interesting is I have only been wearing my Metallic Platinum ring a few months, and on several occasions people have asked, "What's your ring made out of?" They are rather surprised when I take it off and start squeezing it.
Sizing:
Their website has a sizing chart for users to go by. Rings are sold in size ranges, such as 9/10 and 10/11. Because I wear a size 10, I was unsure which to get. Like many people, my fingers swell a bit in warmer weather. I ended up buying two of their discounted blemished rings at half price and ordering both sizes. So far the 9/10 ring has suited me best.
Blemished Rings:
That's right, SafeRingz sells their cosmetically blemished rings for half the price of their regular stock. Because I was uncertain of the right size, I went for the two-for price. I know the blemish on the ring in the picture above, but you're not going to be able to see.
Durability:
I have to say, I didn't expect much life out of a rubber ring. Yet after three months of continual (24/7) wear, the ring is holding up fine. Additionally, SafeRingz has a fantastic replacement policy.
From their website:

"If you ever break or damage your SafeRing in a situation that would have caused you bodily harm by wearing a metal wedding band, we will gladly replace your SafeRing with a brand new one."
How's It Working So Far:
On my high ropes course, I have already had one moment of "tug" on the SafeRing that would have been a painful pull on my metal band. Additionally, I am constantly extending my hand to frightened participants who need a bit of help on my course—now when they squeeze too tightly, I am not fighting down the urge to yelp and pull my hand away. I highly recommend this product for those at risk of injury from a metal ring.
Source: bought it new
Price Paid: $4-$9 depending on style

A nice safe option to metal rings for those who enjoy a more active lifestyle... but they are ugly (when I say ugly, I mean it looks like they came out of the 25 cent machine at the grocer).
Pros
Lightweight
Stretchy
Low cost
Cons
Ugly
Has a seam
Wide (relative to metal rings)
After having a few close calls with my wedding ring catching on things, I'd had it in the back of my mind to buy a silicone ring. I kept putting it off. One night I was watching Jimmy Fallon and saw that he fell and caught his ring on something. He broke his finger and disconnected ligaments, tendons, and other squigglies in his hand. The next day I went online and ordered a silicone ring.
Fit and Comfort: I wear a size 7 and so I ordered a size 7. It fits great. I find that the ring is less obtrusive than my old metal ring. It's snug but doesn't constrict circulation. It's pretty much a perfect fit.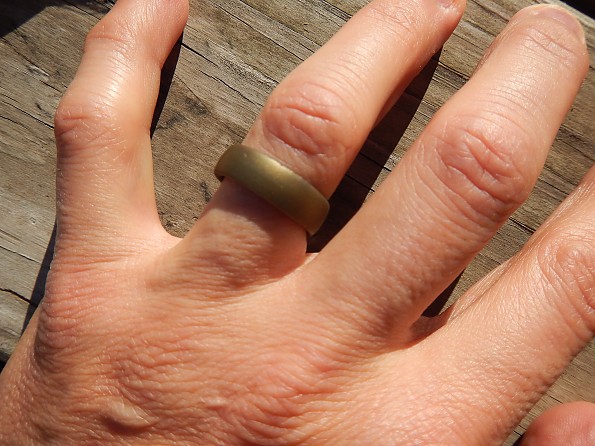 Good fit
Looks: It's supposed to have a mock metallic look to it with a little luster. It's pretty dull and ugly. It actually has a seam line in it as if it were pressed together and melted. That makes it look even worse.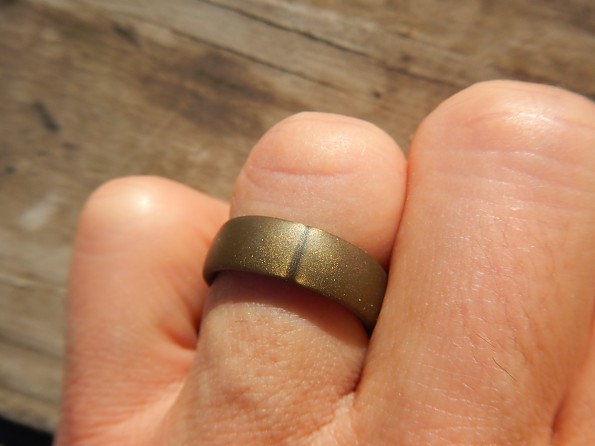 Seam line in ring
There are no silicon alternatives that I saw online that even come remotely close to the look of real metal. You are limited to buying florescent highlighter colors, black, or gaudy fake metals. To minimize questioning of marital commitment, I opted for the most conservative metal-like substitute I could fine. (I spent like an hour trying to find something better.)
My old ring was quite narrow by men's ring standards. I wanted something similar but all men's rings in silicone were way wider than I was willing to wear. I looked for the thinnest women's model I could find and bought that. It was still about 50% wider than my old metal ring.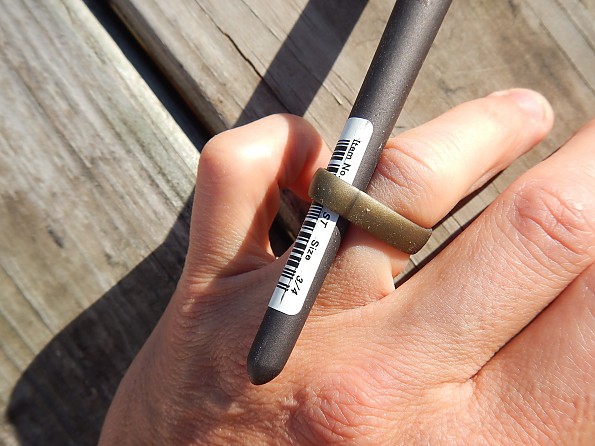 Stretch factor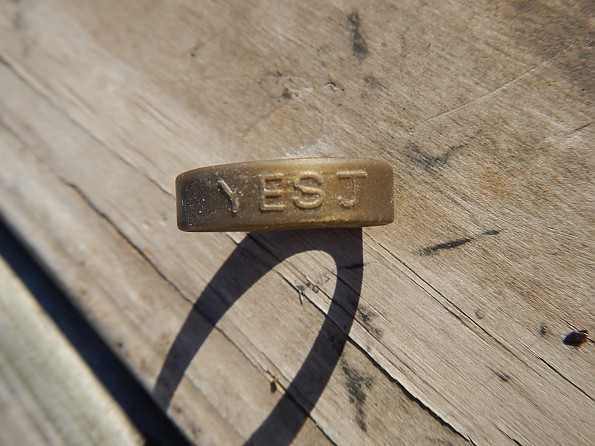 The ubiquitous YESJ on the inside of the ring
The ring stays on fine while in water and in the shower; even when soapy. I've been snorkeling with the ring a number of times in cold water that usually brings down the diameter of my finger but the ring stays snug as my girth decreases.
When climbing, I really notice the difference after a good session. In hot weather and on strenuous climbs, my finger would sometimes swell and my old metal ring would cut off circulation and become severely tight. This ring gives me no problems. When I do pull-ups or climb on my backyard course, ring bite is gone.
I would usually try to remember to take off my old metal ring when doing outdoor activities. You know how annoying it is to try to wiggle it off the finger. If I did get it off, I would then lose it for hours or days. Now I don't have to think about it. It's weird how relieving such a small stress in your life can add up but it does. 
After having worn it for about three months now, it still looks like it's in good condition. I don't notice it at all with the exception of when I am rolling up my sleeping bag, tent or pad; it always snags against the material when rolling. It drives me nuts in the act, but it's really a small price to pay for having a safe finger. 
In the end, the product does its job well. All concerns are just first world problem complaints. I am grateful that this ring is on the market. 
Source: bought it new
Price Paid: $15

My Husband of 12 years has worn his ring maybe 10 days of our marriage, because I have asked him not to!
He is a mechanic by trade, cowboy, hunter, and works construction at a copper mine! All of which is very risky. The last thing I need to worry about is his fingers!
Now he has this ring and hasn't taken it off except to show all our friends and family his new ring! 
EXCELLENT product!
Source: bought it new
Price Paid: $12.99

I wear mine everyday. Never take it off. It's so comfortable, I don't even know I'm wearing a ring! Love it!
Pros
Comfortable
Durable
Pretty
Source: bought it new

Your Review
Where to Buy
Help support this site by making your next gear purchase through one of the links above. Click a link, buy what you need, and the seller will contribute a portion of the purchase price to support Trailspace's independent gear reviews.
You May Like
Specs
| | |
| --- | --- |
| Price | Reviewers Paid: $12.99-$15.00 |
Recently on Trailspace