Wojo Wallet

Top 25 in Accessories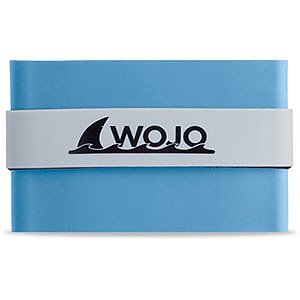 A lightweight wallet that will hold cash, an ID, and a few credit cards. Low profile and easy to use, this wallet has the added perk of being able to float if you get clumsy crossing a creek or paddling a kayak.
Pros
Simple but effective design
Low profile
Low weight
It floats!
Cons
Won't carry wallet minutiae
I won this product in a contest on Brian's Backpacking Blog.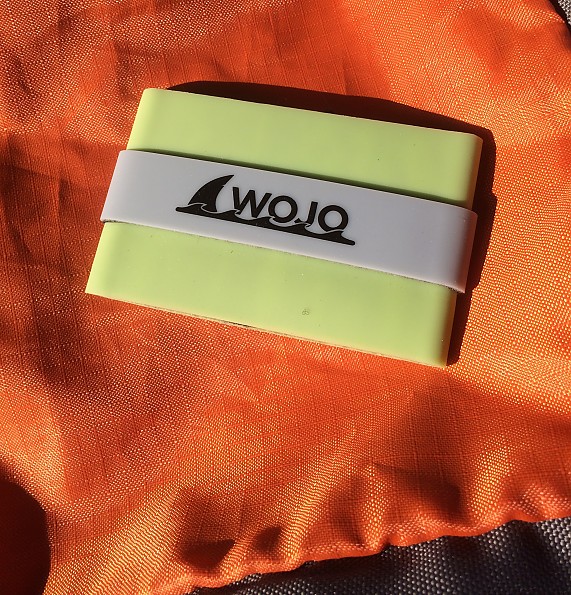 For years I have toted about my leather wallet. It has grown shaped to its contents and to my own body, a smooth lump of well-used leather. Inside I have cash (well, when there are no gear sales happening and I haven't just paid my boys their allowances), credit cards, customer VIP cards, insurance cards, etc.--the usual junk. And the bottom line is that I have carried a 166g/5.86 oz mini-behemoth in my rear pocket (that's the weight sans cash).
A while ago I came across DIY plans for converting a used USPS Tyvek mailer into a backcountry ultralight wallet, and the DIY itch induced me to make one. It was fine, but not something I cared to use on a daily basis once I evaluated the finished product. Back to the mini-behemoth I went. But when I received a bonus prize from a recent Facebook contest, a Wojo Wallet, I was intrigued.
A short while later I had my new daily carry and backcountry wallet. Its adoption came with some gram-shedding, and as with all gram-shedding experiences, I had to jettison what I didn't want to carry from my wallet. I enjoy the gram-shedding process; it makes me more intentional about what I am doing, and in shedding documents and cards here, I also realized the need to be purposeful in my daily planning—if I wanted to go somewhere that would require additional wallet items, I would need to plan for it. 
I ended up with my driver's license, a credit card, and my ATM card. The new weight (still sans cash): 38g/1.34 oz. Perfect for backpacking, perfect for daily use, too. At about 3 1/2" by 2 1/4", the Wojo doesn't eat up much space, either. The Wojo alone, incidentally, weighs 24g/.84 oz.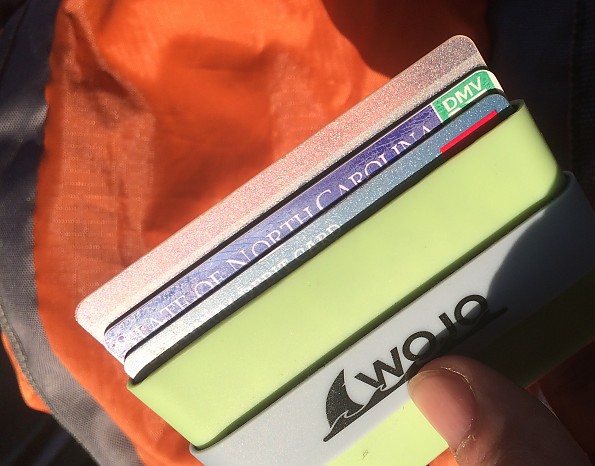 As you can see from the image, the cards simply slip into a sheath that is made of a pleasingly soft and flexible (but still grippy), rubbery material—yes, that is as specific as I can get (the wojowallet.com site offers little more information about the material, save that it is sweat- and water-resistant). It is easily removed from pockets, but the grippiness adds a measure of security in preventing it from accidentally falling out of a pocket, something my slick leather wallet was known to do on occasion when I had stashed it in a jacket pocket and leaned over.
The interior of the sheath is covered with what appears to be a thin layer of neoprene or some kindred material. Owing to the design of the wallet and the external, contrasting band (see image), the cards fit snugly and securely into the wallet. I have no worries about them coming out; when nestled inside, there is still  1/32" of wallet material that extends on either side of the cards. The snugness of the sheath, the external band, and the extra material leaves them fully secure.
How does it hold cash? To demonstrate that I borrowed back part of my son's allowance. A simple fold or two, tucked under the band, and the cash is secure—rather like a rubber and neoprene cash clip.
But what of the claim that it floats? 
Obviously I had to test that. So off to my local creek I went, skittering down the slope to the water, where I boldly tossed the Wojo with my son's allowance into the current to live or die as it would. An eddy immediately caught it, where the Wojo cheerfully bobbed along on the surface. Yep, it floats. So I can take this paddling now, too. I retrieved the wallet and, after judicious drying, returned the money to my son.
So what are my thoughts after a week and a half of daily use? I love it! It is simple to use, light, and very functional. Often it resides in my pocket with my iPhone. The soft material is no threat to the phone's case, and the Wojo is small enough that I can have them both in the same pocket without a lot of added bulk.
I am a creature of routine most days, and my trimmed-down wallet contents work fine on a daily basis. If I need an insurance card or the like, I simply slip it in beside the other cards. If there is a drawback to this gram-shedding approach to wallets, this is it: I did have more cards and documents in my leather wallet, which meant I was prepared for more eventualities on a daily basis. However, I quickly realized upon reflection that I almost never used what I carried: it was dead weight 99 out of 100 days.
I did not think of the burden of my old wallet previously, but after switching to the Wojo, I realized that I was no longer dumping my wallet in my desk upon arriving at work; the Wojo stayed with me, light and unnoticed, yet at the ready. Besides, my real desire was to have a backcountry wallet, something that I could carry from the routine of work into the liberating wilds without having to transfer a license or credit card back and forth between my leather wallet and the plastic bag that previously functioned as a wallet on camping trips.
The Wojo is perfect for that. And I like that fact that it floats, because yes, I have had to dry out a leather wallet before after it leapt out of my canoe.
Craftsmanship seems good; so far I have seen no evidence of wear. I'm sure the shark fin logo will eventually wear off, but there just isn't much to the wallet that could go wrong—it is a simple, clever design that provides the essentials in a pleasing, useful form. The Wojo is a nice compromise between a traditional wallet and something ultralight, like my Tyvek creation: it carries the essentials safely and well without much bulk or weight.
Source: received it as a sample, freebie, or prize (briangreen.net)

Perfect!!
Pros
Lightweight
Fits easily in a pocket
My husband and I both use these and love them!! Great design and fits everything needed in a pocket. So lightweight in a purse!
Source: Bought it online on recommendation

Your Review
Where to Buy
Help support this site by making your next gear purchase through one of the links above. Click a link, buy what you need, and the seller will contribute a portion of the purchase price to support Trailspace's independent gear reviews.
You May Like