Zipfizz

#10 in Drinks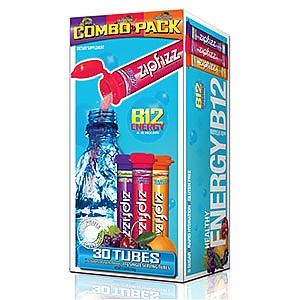 Specs
| | |
| --- | --- |
| Price | Reviewers Paid: $26.00 |
Reviews
1

review

5-star:

0

4-star:

1

3-star:

0

2-star:

0

1-star:

0
The stuff works! Sustained energy quickly from healthy ingredients. Easy to carry and mix. Tastes great, in choice of flavors, in multiflavor packs, that seem to be expanding. I gave this 5-star product 4.5 stars, because I would prefer to have less throw away plastic in the packaging. Also I want potential users to help ensure that they use any stimulant wisely. If too much taken or taken too late, spontaneous circle walking and/or a sleepless night(s) might occur.
Pros
It works ... and with safe, legal ingredients!
Great flavor intensity in multiple, now expanding flavors
Trail weary tedium lifted away by the bubbles, flavor, and ensuing energy
Better pick me up than coffee, and without carrying a campstove
Small, lightweight, stores dry, likely more stable than noodles.
Cost effective (just under a $1 a dose for most folks, $0.5 for me -- see below)
Can win friends and influence fellow hikers cheaply (high reward to investment ratio*)
Can sell it to fellow hikers at a profit at rest breaks.
Low calorie ... in fact it stimulates burning of calories!
*proven trail bait to get other hiker(s) to stop for a break or carry those prized rocks
Cons
DON'T DRINK TOO MUCH or too late, or you may not sleep well that night
UNEXPECTED EXTRA COST might result from carrying extra tubes for jealous fellow hikers
MAY BE MUGGED by fellow hikers, if you don't make some available
DO NOT give it to any hiker in your group, who is faster than you, no matter how much they plead
NOT RECOMMENDED for insomniacs of if have heart / circulatory conditions (except low blood pressure?)
EFFECTS MAY INTENSIFY if you also drink coffee, tea, or eat dark chocolate (see review)
DO NOT MIX FLAVORS unless you can stand 2x, 3x etc strength doses
DO NOT GIVE TO LOUD INCESSANT INDIVIDUALS, unless you want their rate of noise delivery and pitch increased
DANGER!! POTENTIALLY UNEXPECTED CLEANING HAZARDS! Preloaded, FipFizz-activated bottles when capped may explode and/or leak in your pack. Never pour hot/boiling water over ZipFizz of any flavor to serve, or it may erupt and splash over others near you (test result comments are welcome, e.g., did it stain your clothes?) )
What a single dose looks like.  These might be the original flavors (old time) pictured below): orange soda, grape soda, tropical fruit punch.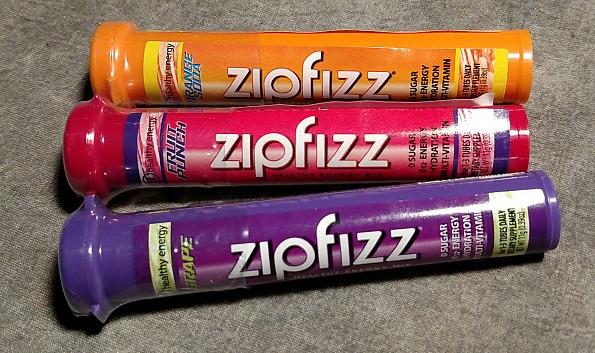 From ZipFizz Website

Zipfizz is a healthy and great tasting energy drink-mix powder that delivers a powerful charge of micronutrients to the body's fuel system. It contains no ephedra or other artificial stimulants. Most people experience an immediate, revitalizing burst of energy after taking Zipfizz.
The Review ... energy for a few hours (4-6 hr). 
ZipFizz has more healthy ingredients (most or all from natural sources) than some of the other options out there.  And it's lighter in weight to carry than Gatorade, Pepsi, and even Coke.  Carbonation is lacking in 5 or 6 Hr energy and similar drinks (which also helps the powdered ingredients in ZipFizz dissolve).  ZipFizz gives some of that extra water weight, that I carried often unused on a long hike, some other more enjoyable uses.  The bottle I/we use for it, works to backup my water supply too.
My Wife and I find this stuff strong and want to sleep well that night afterwards.  Thus, we split one between us at the meal/snack, middle turnaround point, of our day hikes.  That is like a 50% discount!  What is great about doing this is that the rush of new energy speeds and sustains our return trip largely cancelling feelings of fatigue!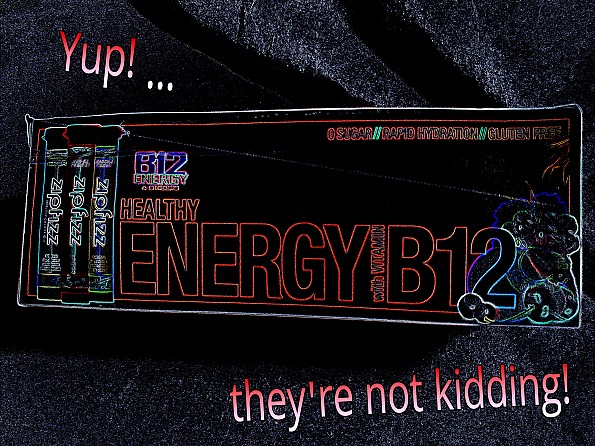 How did I discover this stuff for trail use?  Very slowly, and then tested with restraint.  At work my team makes a lot of daily calls and meets with many people.  Our head supervisor saw some of us using this as an alternative to the free coffee.  Most of my team now have 1-2 a day each.  After seeing this for ~ 4 years now, no one has gotten sick or died.  So I tried it too.  I'm more sensitive.  I can't have more than one a day, and not after 2pm or I feel a pushed feeling, and my brain stays aware as I sleep at night.  
If I have ZipFizz around lunch time and then dark chocolate snack in the late afternoon, it is like I had more than one ZipFizz.  That happened yesterday.  I made a ZipFizz at 5:00 AM to photograph it for this review and by 6:00 drank it as to not waste it.  I had coffee at ~7:30 like normal.  Atypically at 5 PM I had some dark chocolate.  This caused me to wake up at 2:00 AM and lay their until 3:00 AM, when I got up.  Amazingly I'm not tired.  But if repeated often, this may stress my body and wear down resistance to getting sick.  Why risk it?  I plan on using ZipFizz as wisely as I can when I use it.
Typical bulk 3 flavor (3 x 10 each) packaging at Costco, is shown below.  And now other flavor varieties are also now available. One example iincludes the Blue Berry / Raspberry flavored one endorsed by Marshawn Lynch of the Seahawks.  Must help him achieve that now infamous "BEAST MODE"?   ZipFizz lasts a little longer than a football game (4-6 hr) and can also keep you awake during a double movie feature ... or our typical length day hike.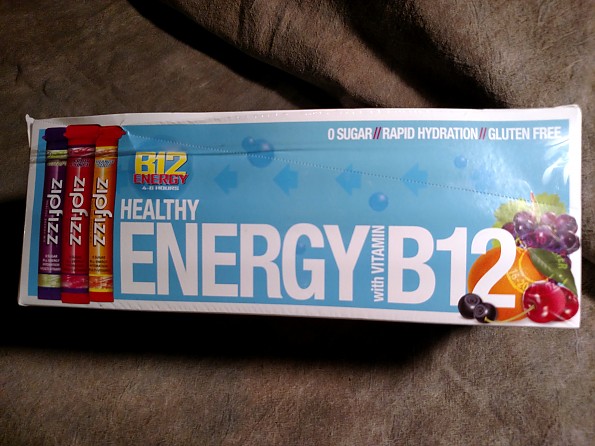 Well I guess we like some flavors even more than others ... the "Rock, Hammer, Scissors" game has proven useful in the recent past to see who gets the last 'Fruit Punch' flavor.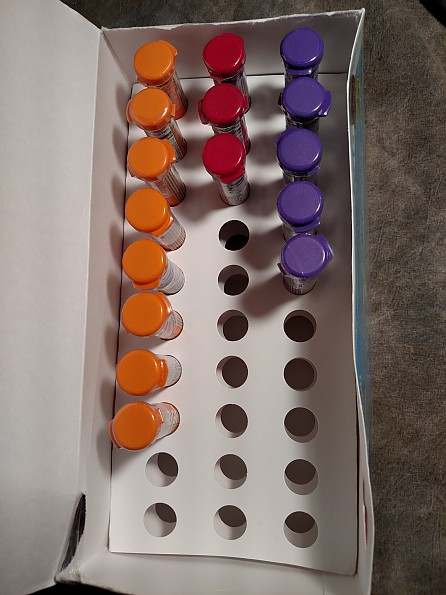 What's in this magic mix? 
... low calorie, B12, other B vitamins, Vitamin C, natural anti-oxidants, caffeine .. and major energy minerals as well as key trace elements.  Besides stimulating energy production, it helps in electrolytic balance and hydration.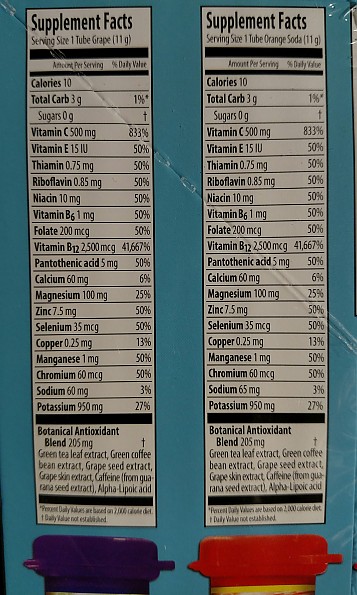 Individually-sealed packaging with tamper proof wrap seal, to be able to see if the Squirrels or Marmots got into your backpack.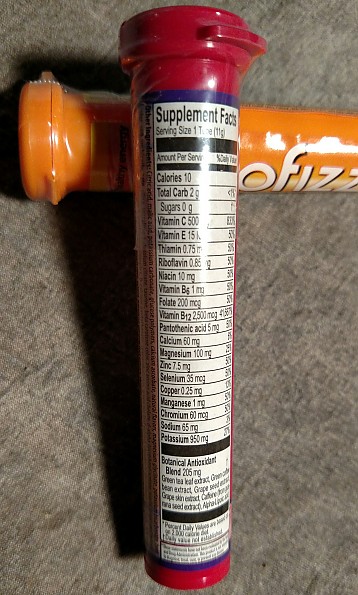 How I carry it in my pack is with a custom rubber/hair band holder.  Be sure to leave air space at the top for mixing.  It foams up and you don't want a mess!  We freeze 0.75 Liter bottles with the right amount of ice so that the drink is still cool when served.  Wrap this extra clothes or blowup ground pad so it is insulated.  This bottle also acts as back up water supply for the Osprey Hydrolytics 2 and 3-L systems that we use (see Trailspace review).  After drinking, refill with water from Osprey bladder and put back in pack.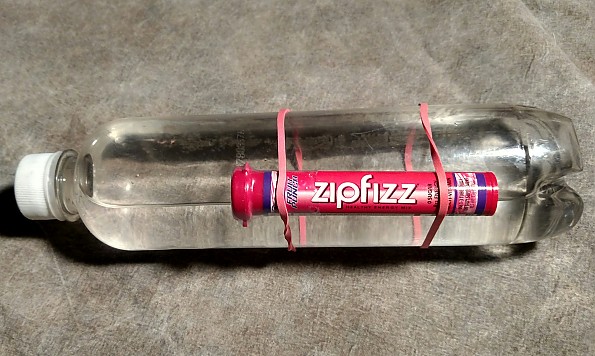 ZipFizz taking the plunge ... in seconds the fun begins!

ZipFizz 'Beast Mode' beginning ... a couple seconds later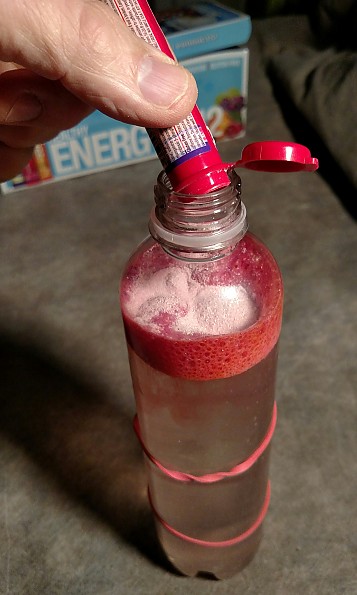 ZipFizz 'Fruit Punch ... the "Zip" part of the name must be due to how fast it is made ... or how fast it runs me down the trail after drinking it.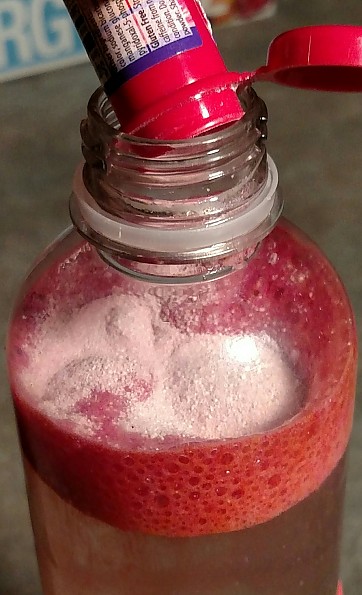 ZipFizz Fruit Punch ... ready to go!  AWESOME pick me up flavor, tantalizing little bubbles, power surge with sustained push.
The empty containers can be used to store fishing emergency kits, waterproof matches, pain killers (if you bought the wrong boots or socks), more B12 as tablets (in case you really want to enter the "Hyper Beast Mode" state", shot of Vodak for the ZipFizz (actually, not recommended on the trail) ... be creative!  If nothing else you can easy peal off the paper label and they can be cross snapped together making a beautiful, colorful garland like decoration that can be a necklace or used as a float ... but is not recommended as a survival rope!
Source: bought it new
Price Paid: $26 for 30 single dose packs at Costco

You May Like
Recently on Trailspace