Outdoor Research Deluxe Bivy

Top 50 in Bivy Sacks
The Deluxe Bivy has been discontinued. If you're looking for something new, check out the best bivy sacks for 2022.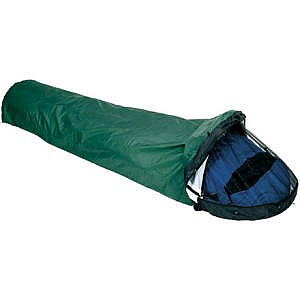 Specs
Price
Historic Range: $218.95-$219.00
Reviewers Paid: $140.00-$240.00

Reviews
5

reviews

5-star:

2

4-star:

1

3-star:

1

2-star:

1

1-star:

0
I bought this bivy for a backcountry bowhunt, and was very happy. I am 6' 165 I had used small, one man tents before, but never a true bivy sack. It took several nights to get used to the cramped conditions, as I use a Downmat 7 short pad, which is 2 3/4" thick, but I did get used to it and how to turn while sleeping. I loved the balance between the weight, true waterproof qualities of the Gore-tex, and the single pole. For my needs it was perfect.
I really liked not having to stake it out, as I set it up in rocky areas. I actually left the bivy, pad and sleeping bag together, which all weighed 4 pounds, in one stuff sack and I would just roll the whole thing out. I am thrilled with this bivy, and expect it to last a very long time due to the tough construction.
Design: freestanding bivy
Sleeps: 1
Ease of Setup: roll out, insert 1 pole
Price Paid: $140 used

It has been good for sleeping on the loft on any shelter along the AT for wind and moisture... But I will tell you it sucks for transpiring any moisture that you may create during your sleep mode. Its purpose for keeping water out has been good. I use it more to keep my bag dry during river crossings in the bottom of my bag. Sleep in it sometimes but wish it was more breathable...
Design: Bivy
Sleeps: 1
Ease of Setup: Easy once you get use to it!!!
Weight: ?
Price Paid: ?

When shopping for it, I tried this and the Bibler hoop bivy. While it was lighter, I did not like the Bibler entrance or pole. The OR Deluxe is nice because it has a single shock-corded pole that keeps the bag/netting off your head and because if I need to save every ounce of weight I can leave the pole at home. In recent trips it has been fine in wet, cool weather -- light rain and 40 degrees and almost no condensation. I also use a tarp if rain is heavy. I always try to keep at least a little of the hood open for ventilation. This bag will also add 5-10 degrees to your sleeping bag.
Design: Bivy
Sleeps: 1
Ease of Setup: put it on the ground
Weight: 1lb 9+ oz.
Price Paid: $200

I've used the bivy for more than two years now in many different conditions. It adds about 10 degrees to the warmth of your sleeping bag. This is great in the winter, but in August I often find myself overheating on warm nights. It has two flexible poles that keep the fabric off your face and is made of gore-tex. There is a detachable netting in it that keeps bugs out very well, and is drier than any tent I have ever used.
Sleeping in it, though, is difficult sometimes. It's very small, so when it rains you can't do jumping jacks or fit another person in to play cards. However, it's great for trips when you expect the weather to be nice and serves as a good shelter. It's also very very lightweight. I always leave the stakes at home, it doesn't really need to be staked, and occassionally do without the poles. It is expensive, but it's pretty cheap compared to a 2 man tent of a comparable weight.
My only complaints are if you breathe into it all night, you get a bit damp, and it can be like an oven in hot weather. It's a much more low impact way to camp than staking out a big tent that kills the grass in the center.
Design: 3 season bivy
Sleeps: 1
Ease of Setup: Very Easy
Weight: 1 lb. 9 oz.
Price Paid: $200

This is a great product. It's gore-tex with sealed seams. It has well designed mosquito netting so you can be snug inside the bivy and stare straight up at the starry sky while being bug-free and comfy. Accomodates a 3 season bag very well occupied by a 6' 1" man (me). For sleeping pads I use a 3/4 length thermarest on top of a Cascade Designs Z-Rest so I've got both of them and my bag in the bivy.... no problem. I especially like the velcro tie-downs on the interior that hold your sleep pad(s) in place. Also the bivy is staked at head and foot so it stays put. Claustrophobia?? No. Warm?? Just fine.
Here's something to think about: the bivy seems to lower the range of my sleeping bag by about 10 degrees. By adding a silk bag liner I get another 5-10 degrees. My bag is itself a 30/40 degree bag so I can be very flexible in my heating or cooling on a trip.
To bivy or not to bivy: I can't help you there... all I can say is that if you want to keep the weight down (way, way down) while remaining comfortable and bug-free, but are willing to have to go to the trouble of hanging all your gear, then this bivy is the one to buy. Is it watertight? Well, I haven't needed to find out, but does Gore-tex work? If so, then this bivy will be as watertight as a tent.
Design: 3 Season
Sleeps: 1
Ease of Setup: Very easy
Weight: 1 lb, 9 oz
Price Paid: $240

You May Like
Recently on Trailspace