Outdoor Research Ferrosi Shorts

Version reviewed: 7" and 10"
Outdoor Research's updated Ferrosi fabric delivers big on comfort, stretch, and durability, but sizing and features should be considered with the Ferrosi Short.
Pros
Rugged without being heavy
Deep front pockets
Functional leg pocket (men's only)
Excellent stretch
Built-in belt
Water/Wind resistant
Cons
Potential sizing issues
No Velcro/snap on men's back pockets
No fly or gusseted crotch
Not particularly fast drying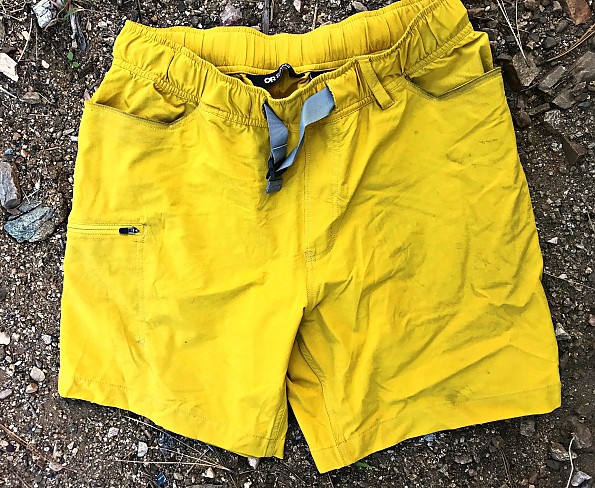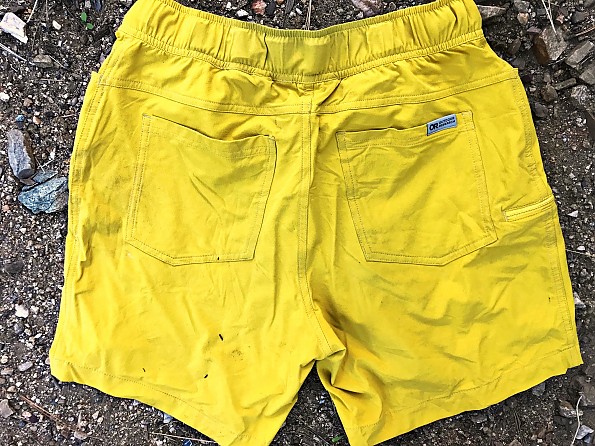 Having previously reviewed an older version of the Outdoor Research 10-inch Ferrosi Shorts, that had a strong but not particularly long life, I was excited to try their latest fabric update in the newest 7-inch model they're offering (see my original Ferrosi Shorts review below).
After a season of very frequent California trail use, including moist Redwood forests, High-Sierra backpacking trips, desert overnights, and frequent use near my home next to a national forest, I'd say there's a whole lot of good with these shorts, but a couple of things to consider if you're thinking about pulling the trigger.
Updated Fabric
In spring 2022, OR updated its Ferrosi fabric and it struck me as a situation of, "If it ain't broke—don't fix it." Prana did that recently with its longstanding star the Zion Stretch Pants and, based on most of the reviews I've read from longtime wearers, they made a big mistake.
But, in this case, I think OR actually improved on the Ferrosi fabric, which wasn't easy to do. OR states that its "new and improved" Ferrosi fabric is "stretchier, stronger, and more sustainable than ever before - with the same trusted performance."
OR is now using 46% recycled nylon, which is an environmental score, and the shorts feel even more durable with the stretch, even better than before. They move with you without restriction, which is a big consideration for me.
OR has a strong handle on gear that performs in mountain conditions and the Ferrosi Shorts are no exception. I've only worn these in upper montane to alpine zones and I think that's where they really shine, although they're certainly not limited to that. I found the shorts to breathe very well but still offer the thickness and durability to roll around on granite without worry of a tear.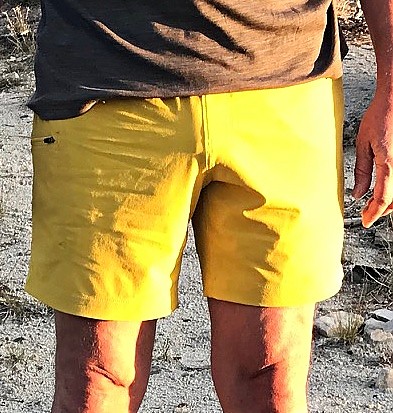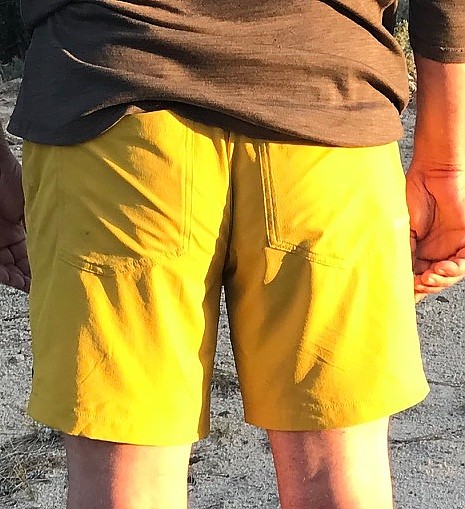 Fit and Comfort
With more modern styles leaning towards shorter shorts, I think the Ferrosi Shorts are pretty close to on the money with the 7-inch version. Not so short as to illicit finger pointing. Several lengths are available: the men's come in 7-inch and 10-inch inseams, plus a 12-inch biking over short; the women's come in 5-inch and 7-inch inseams, plus a 12-inch biking over short.
While the leg opening on the Ferrosi Shorts isn't large and may be an issue for those with tree trunk legs, I didn't find them tight to the point where any mobility was sacrificed. Once they're on they're very comfortable and the four-way stretch really is exceptional.
Getting them on is where it may be a little tricky for some. As the shorts come without a fly or snap, they need to be pulled on like trunks. They do have a very effective built-in belt, which is a nice feature, but means the shorts are limited in terms of stretch around the hips. I've had to struggle a bit to get them on, but when they are, the fit around my waist is on the money.
I got these true to my waist size, but if you're on the fence I'd suggest going up a size. (OR does state for the men's version, "consider sizing up if you prefer a classic Ferrosi fit.") The belt should take away any looseness you might feel in the waist, but they will be easier to get on and off. Best option, as is usually the case, is to try them on if possible.
However, the lack of a fly should definitely be considered if you're considering wearing these with a harness. Either way, bathroom breaks are a little trickier as you either need to drop them from the front or work from the side, which can be a little awkward.
The updated shorts  also no longer have a gusseted crotch. While I think adding that feature would be an improvement, I can't say I've felt a real lack of mobility without it, but you do lose a little extra room in the crotch.
The built-in belt uses a thin webbing and a plastic flip closure which doesn't slip. But given the fit for me I don't have the need to pull it tight. I do like the concept of built-in belts over drawstrings or belt loops though. Nice touch.
I'd like to see future incarnations of the shorts with a fly, a button snap, and a gusseted crotch. I don't see the reason that a shorter length should remove those helpful features. I think they could be close to the perfect shorts with those additional options.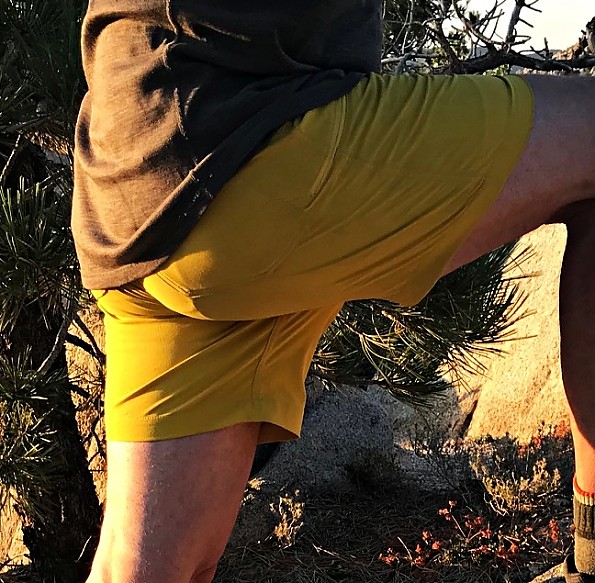 Pockets
The men's shorts have five pockets—two in the back, two deep, mesh lined pockets in front, and a really nice, horizontal cargo pocket on the front of the leg. This is a departure from their previous, slightly slanted, side leg zippered pocket. The women's model only has four pockets though—two in the back (one with a zipper) and two in front, and no longer has a side zipper pocket.
The cargo pocket on the men's short is mesh-lined and deep enough for paper maps or to hold a phone, without a lot of room to spare, either horizontally or vertically. 
I think the addition of either Velcro or a snap to the men's back pockets would be a wise move  as the back pockets aren't very deep, especially for those looking to go trail to town. I wouldn't trust them with a wallet.
Weather Resistance
Unlike the previous version, I found these to dry a bit more slowly and would imagine that's due to the fabric change. These don't have a mesh lining, so there are better choices if you're looking for a water short, but they can still deliver for a quick dip in warm conditions.
While it's not as important for shorts as it is with pants, I found the new Ferrosi fabric to be very wind resistant and, given the DWR coating, they did a great job shedding drops from showers. I'll probably reapply every season.
Colors
I'm not usually a big fan of bright colors, but I ended up really liking the "Larch," which is a sort of golden/yellow. It might be a little out of step walking around town, at least for me, but once they got some dirt on them I began to like the look. And also, for my fellow dudes who tend to go with function over style, I did get a couple of compliments from women on them so…yeah. I'll trust that.
Currently, the men's models come in a range of neutrals, while the women's have more variation with neutrals and some brighter colors.
Recommendation
Overall, I fully expect the Ferrosi Shorts to hold up to a lot of wear over the long-term. I think these are shorts to buy for the fabric—stretchy and rugged without feeling heavy. I've never once felt a lack of mobility, now appreciate the shorter cut, and have no concerns that holes will develop in the short-term, as they did on my previous version. While lacking in some features, along with some tricky sizing, once these are on and I'm out there, they've performed as well or better than anything I've worn.
The men's and women's  Ferrosi Shorts are now retailing on OR's site for $75, which is clearly on the higher end of shorts (the 12-inch Ferrosi Over Short retails for $79). I think I'd need to have a few more seasons before I could justify the "Buy once—Cry once" mantra. But I do think these fall under "gear" more than they do "apparel" if you're looking to justify the purchase. They really do deliver the goods.
Fortunately, OR is a big company and finding their stuff on sale is usually pretty easy. If you're looking to maximize your gear budget, I think if you grabbed them on sale, you'd be making a wise purchase on some well-built, condition-specific gear. Not completely off the mark at full retail either.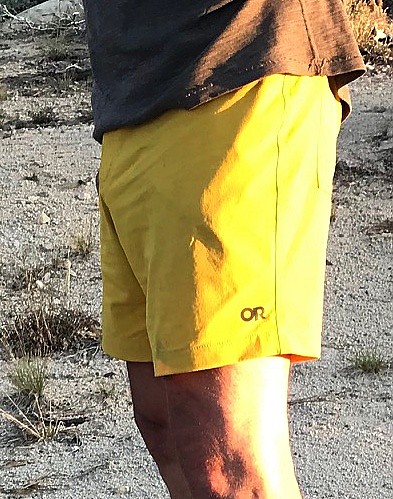 ******************************
Original Review: May 13, 2022
Super comfortable, stretchy shorts that dry fast. Ferrosi fabric is durable but not bomb-proof. 
Pros
Comfortable
Functional
Stretchy
Not binding
Different lengths/colors
Dry fast
Cons
Waist sizing is a little off
So-So durability
I'm a big Outdoor Research fan as much for their gear as their awesome customer service. I'm now on my second pair of OR Ferrosi Shorts and feel I've gotten my money's worth.
These are made with the same material used for the Ferrosi Jacket, so they're designed to offer great stretch, a quick dry, breathability and some durability. If you've purchased OR you know the sizing can be a little hit and miss. I've needed to size up or down with quite a few things. With these I would suggest sizing down. Not only because of how they fit new, but the waist tends to stretch out a bit. There's ample room in the leg opening but a belt might be necessary for some.
There are five pockets: two in back without a button, snap, or velcro (which I think is a mistake with shorts), two front pockets with a mesh lining and decent depth, and a vertical zip pocket on one leg. Perfect for maps but not much else given where it's positioned and its size. The zipper on the fly is excellent.
These are breathable enough for hot weather hiking, but the material does have a little weight to it if you find yourself rolling around on granite. They come in three separate sizes, 7", 10" and a 12" and are offered in a five or six colors.
Overall, I've found these to be very comfortable and functional while being something you can wear in town without looking really techy although they wrinkle pretty easily. I am a little disappointed in the long-term durability. I've developed two small holes in the butt from, obviously, nothing more than sitting in the dirt and on rock. I guess it's a tradeoff for the breathability, but I would have expected them to last a little longer before starting to break down. They're still functional but this, their fourth season, will be their last.
EDIT: After writing this I went to the OR site, and it appears they've done a makeover with the shorts. The 7" now includes a built-in belt (nice touch), but they've changed the leg pocket to vertical and have included a drawstring on the 10" and 12." They've also raised the price to $75 on their site. I'd look elsewhere at the price. On sale under $50? I think you'll get your money's worth.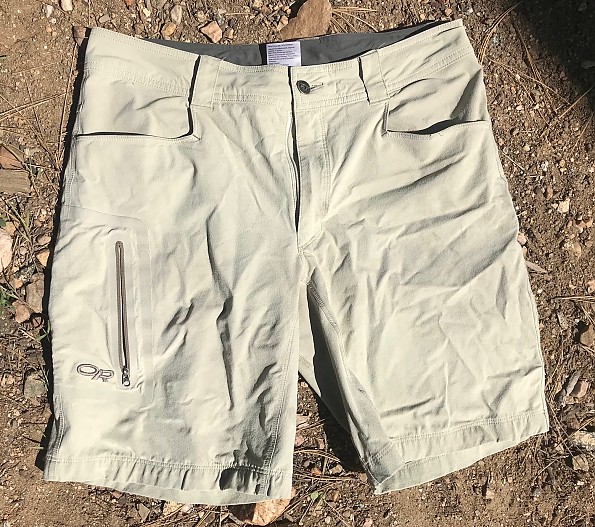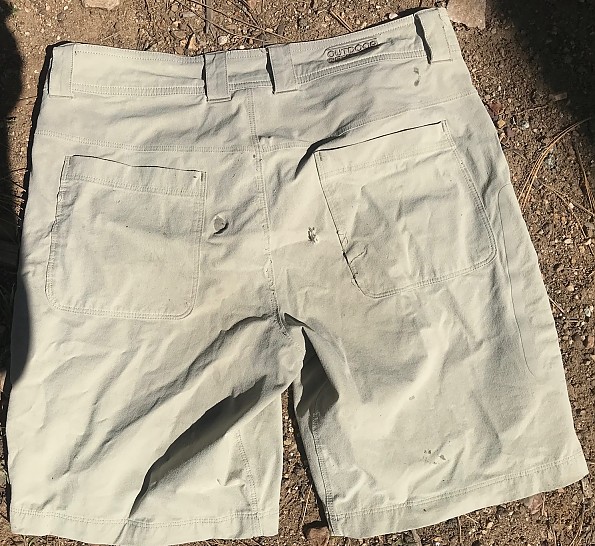 Experience
These are my third pair of OR Ferrosi Shorts and all have been put through the ringer.
Source: Bought first two pairs; most recent sample for testing and review provided by Outdoor Research
Price Paid: $50

The most comfortable, versatile hiking shorts I own!
Pros
Comfort
Fit
Breathability
Flexibility
I love these shorts! They are comfortable, lightweight, breathable, and look great on the trail! I've even had hikers stop me as we pass one another to ask where to get a pair for themselves. 
OR uses a combination of spandex and ripstop material in the construction of these soft shell shorts. As a result, they are durable, lightweight, and flexible. The material wicks moisture away. Wearing my Ferrosis, I've often dipped into trailside swimming holes on hot summer days, and after I've rejoined the path to continue on my hike, the material has dried quickly with no chaffing.
The use of spandex in the design ensures that my range of movement is unrestricted, which is especially helpful on steep terrain. Other hiking shorts I've worn seem to be either durable or flexible, but OR has mastered both with the Ferrosi. The shorts also keep their shape well and stay in place throughout your adventure.
When selecting a size, I'd suggest going with something on the lower end of what you normally wear. Due to the flexibility of the material, the shorts are form-fitting without feeling restrictive.
I like the length of these, but they are a bit longer than the shorts I usually wear. I would love to see OR come out with a shorter length option. I would certainly be a customer!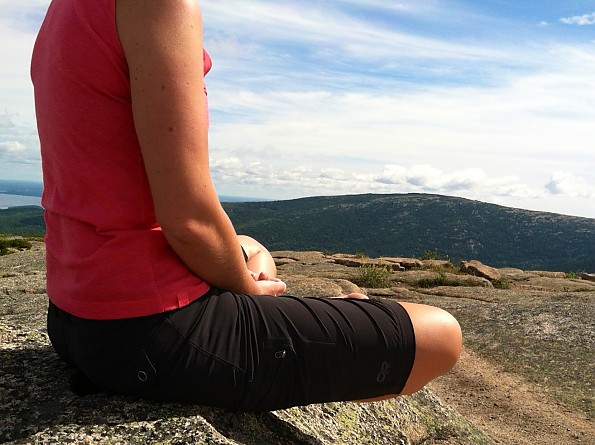 Source: bought it new
Price Paid: $70

By far the most comfortable hiking shorts I have ever worn.
Pros
4-way stretch material
Perfect length
Fast drying
Multi sport capable
Cons
Fabric can pill in high friction areas
I live and hike in the White Mountains of New Hampshire and have worn these on every trip this summer. The 4-way stretch material allows for full range of motion and is also very comfortable against my skin. It also drys quickly after a rain storm and does not feel clammy on humid days. The shorts go to the tops of the knee which I find to be the perfect length. 
When deciding what to wear during a triathlon that consisted of biking (both on road and single track) followed by swimming, and finishing with a hike up Cannon Mountain I chose these shorts. They did not chaff during the bike ride, performed perfectly as a swim suit, and dried quickly and kept me cool during the hike.
My wife has the women's version and she feels the same way about her pair. These really are the perfect shorts.
The only con is that the fabric may pill in high use areas. This does not impact the quality at all and did not lead me to reduce the rating.
Source: bought via a "pro deal"
Price Paid: $35

Your Review
Where to Buy
Help support this site by making your next gear purchase through one of the links above. Click a link, buy what you need, and the seller will contribute a portion of the purchase price to support Trailspace's independent gear reviews.
You May Like
Specs
Men's
7"
10"
12"
Price
Current Retail: $27.60-$85.00
Historic Range: $27.60-$85.00
Reviewers Paid: $35.00-$50.00

Inseams
7", 10", 12"

Weight
7.6 oz / 214 g
7.7 oz / 218 g
7.75 o z /219 g
Fabric
bluesign approved 86% Nylon (46% Recycled), 14% Spandex 90D Stretch Woven Ripstop

Women's
5"
7"
9"
12"
Price
Current Retail: $30.39-$89.00
Historic Range: $12.99-$89.00
Reviewers Paid: $70.00

Inseams
5", 7", 9", 12"

Weight
6.65 oz / 188 g
5.5 oz / 155g
9.4 oz / 266 g
7.45 oz / 211 g
Fabric
bluesign approved 86% Nylon (46% Recycled), 14% Spandex 90D Stretch Woven Ripstop

Recently on Trailspace