Outdoor Research Helium Rain Jacket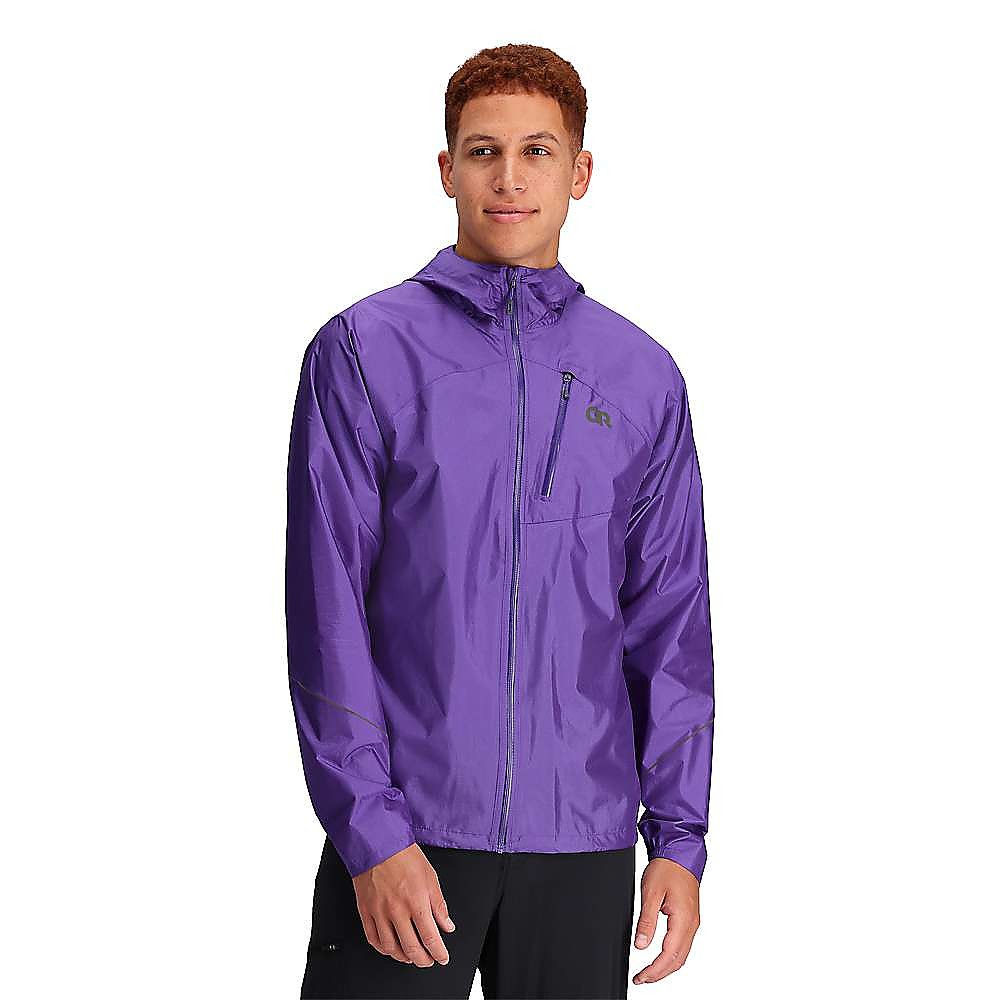 The Helium Rain Jacket is Outdoor Research's latest version of its Helium line of very lightweight compact rain jackets. The Helium Rain Jacket is a very minimalist design that strives to be a durable, lightweight rain jacket that packs down into a very small package. With respect to durability, weight, and packability the Helium design is second to none and is probably one of if not the smallest and lightest jackets available, but with its primary function as a rain jacket, the Helium is best suited for intermittent or unplanned rain showers.

Pros
Very light—6.6 ounces for a men's large
Nice hood design
Extremely packable
Good sleeve length and freedom of movement
Material doesn't stick to bare skin when sweating internally
Has good breathability
Cut allows insulation layers to be worn underneath
Well designed and quality construction
OR is a great company that always stands behind its products
Cons
Because the Pertex Shield material is hydrophilic, it may display some wetness on the interior layer after longer rain exposure.
Venting option would be desirable
Overview
The Outdoor Research Helium Rain Jacket is the latest design to join the very popular Helium line of rain jackets and rain pants. This latest Helium Rain Jacket utilizes Pertex Shield Diamond Fuse 2.5L technology to create a very tear-resistant, packable, lightweight design that is also highly breathable and waterproof. While the quality of construction and design features are typical of what you would expect from an OR-designed jacket, this is still a minimalist design, so creature comforts like pit zips and pockets for your hands are missing, but the end result is one of the lightest and most packable rain jacket designs available.   
Within this review you will see that I include pictures using both a blue and a black colored Helium Rain jacket. I will get into the details later in my review, but I started with the blue Helium jacket and had some questions for OR related to rain performance and they requested that I send the blue jacket back for their evaluation, and then provided me the black version of the jacket to complete my review. The comments I provide in this review include my experience and observations with both of the jackets that were provided.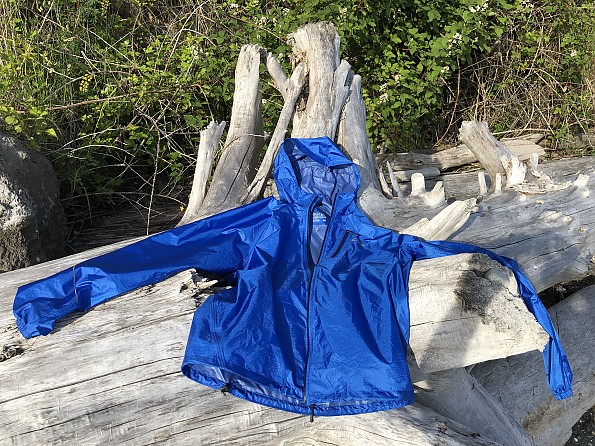 Design and Construction
The Helium Rain jacket is manufactured using 2.5 layer Pertex Shield Diamond Fuse 30 denier ripstop nylon. What makes Pertex unique is that the fabric is designed with larger fibers on the inner layer and finer fibers on the outer surface. This difference in fiber diameters creates a capillary effect which helps move moisture from inside the jacket to the outer surface which results in very good breathability.
The Diamond Fuse refers to the cross sectional shape of the fibers which are diamond shape and are supposed to allow the fibers to pack closer together creating a more durable material. This link from OR provides a more in-depth discussion of the benefits of the Diamond Fuse material from Pertex.
The waterproof properties of the Pertex Shield Diamond Fuse fabric are obtained by using a hydrophilic coating on the interior of the fabric and a DWR (durable water repellent) finish on the exterior to help shed rain and snow.
The end result is a material that has good breathability and a waterproofness rating of 20,000 mm water column. The waterproofness rating is an industry standard that looks at the ability of a material to withstand the pressure created by a column of water. To use the term "waterproof" a material must pass a test using a column of water at least 10,000 mm high and the 20,000 mm high column of water that Pertex Shield can withstand is considered very good. The best materials available are able to withstand the pressure from a column of water 28,000 mm high and greater.
In the end, the Pertex Shield Diamond Fuse 30 denier ripstop nylon enables the Helium Rain jacket to be very light, extremely packable, and still maintain good breathability and adequate waterproofness. Due to the unique design of the Helium, my men's large jacket only weighs 6.6 ounces, which is in line with OR's published weight of 6.3 ounces for a men's medium jacket. The jacket also comes in women's sizes and weighs 5.6 ounces for a women's medium.
The drawcords within the hood and hem use elasticized cord, and the cuffs on the sleeves have an elastic that wraps around half of the opening.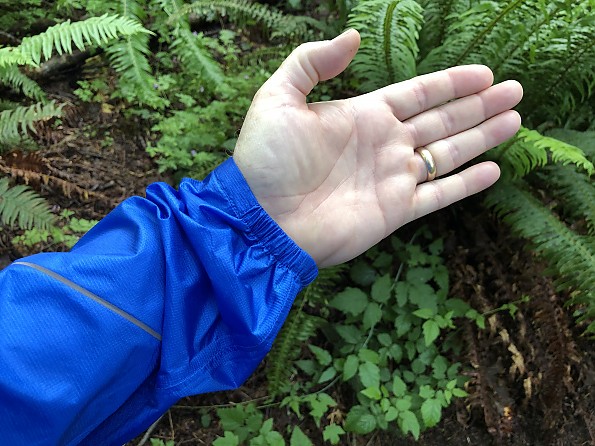 The basic construction of the jacket utilizes fully taped seams throughout the jacket and YKK AquaGuard zippers are used for the main opening and single chest pocket.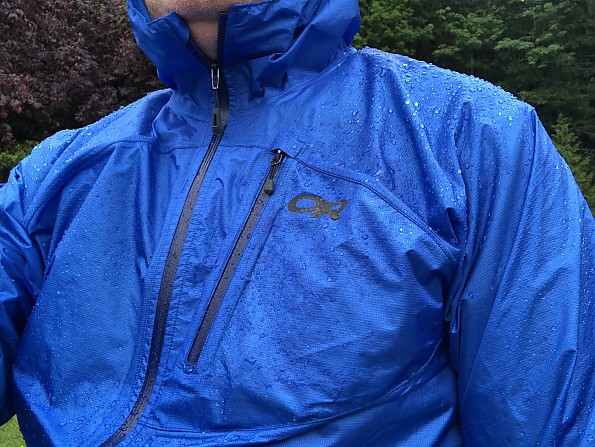 The breast pocket is an adequate size that I was just able to get my iPhone 10 completely in and zipped up. There is also a clip inside the pocket to clip keys too if needed. The pocket also serves as the storage pouch for the jacket as shown in the picture below and the clip that was in the pocket now can be utilized to clip the stuffed jacket to you pack, etc.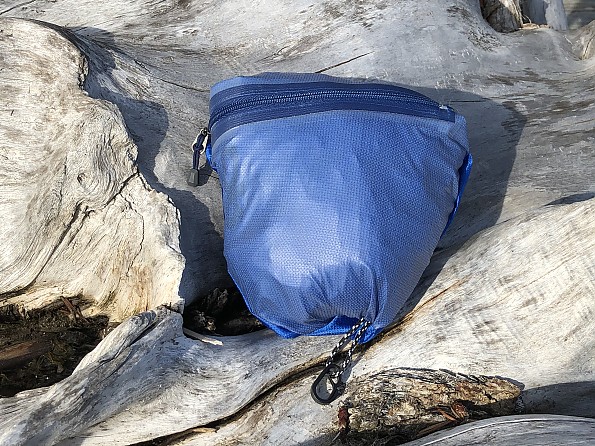 The hood on the Helium Rain Jacket is a very nice design with a great adjustment mechanism and there is a small stiffener within the bill of the hood that helps it maintain its shape.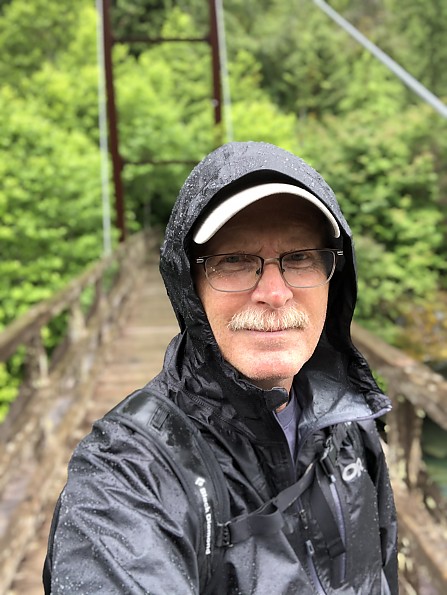 Adjustment of the hood is accomplished by squeezing a cord lock and pulling on a loop of elasticized cord at the back of the hood which in turn pulls in the cord that runs up to the bill and also down to the chin on each side of the hood. This system does a nice job of closing off the front of the hood around the face and also cupping the hood around the back of your head.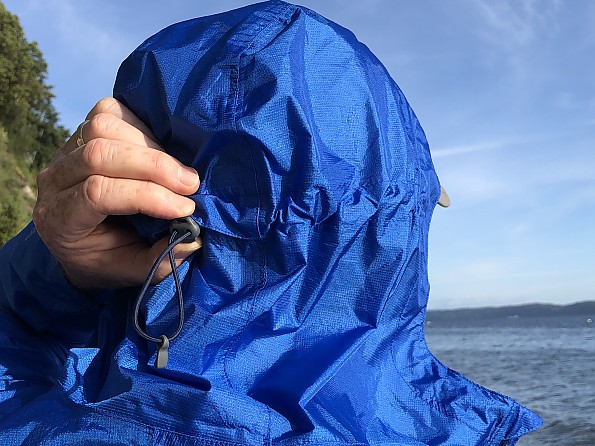 The hood is also generously sized and can easily support a climbing helmet underneath as shown in the picture below where I am wearing a Black Diamond Half Dome helmet.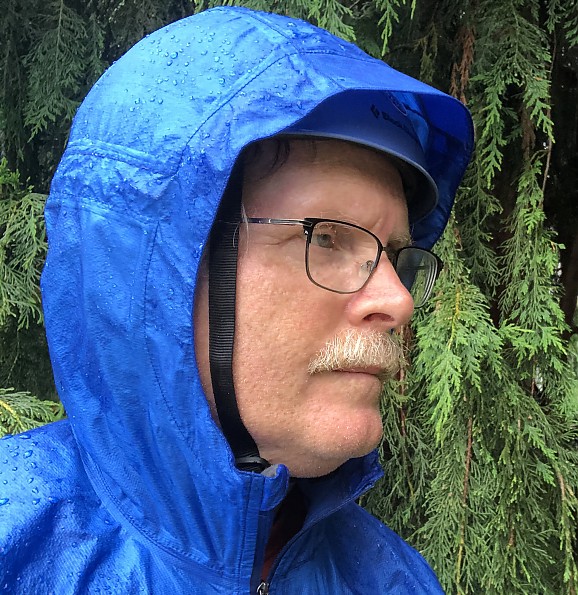 It's worth noting that this jacket doesn't have pockets for your hands or other creature comforts like pit zips. While I personally prefer to have pockets for my hands and pit zips, I can't really find fault with the Helium Rain Jacket for not having these features as it was intended to be this way and is targeted at people who are willing to accept a minimalist design to save weight and space.  
If you're someone who has never had a jacket without pockets or pit zips you should spend a little time and make sure this type of design is right for you and not get blinded by how extremely lightweight it is and the great packability that this jacket offers.  
Performance in The Rain
When I received this jacket to review it coincided with a spat of weather here in Western Washington where we had several storm systems pass through that provided me a lot of opportunities to get out and spend some quality time wearing this jacket in the rain.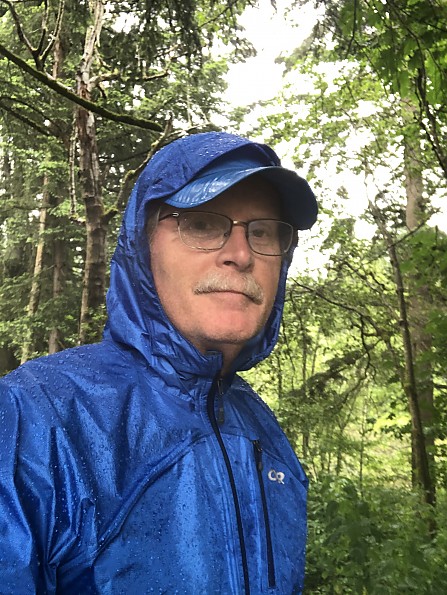 I have owned a number of products from Outdoor Research over the years and the gear has always had very well thought out designs and excellent quality. When I received the Helium Rain Jacket to review I again found the design and quality to be consistent with the other OR gear I have owned in the past. When I was finally able to get out and spend some extended time wearing the jacket in the rain what I experienced left me with a number of questions.
What I found was that after wearing the jacket about twenty minutes out in the rain, I started to feel some slight dampness across the back of my shoulders and at my elbows. When I got to a point where I could take my jacket off I noticed what looked like the Pertex Shield material was wetting out. During my initial walks in the Helium Rain Jacket I wasn't  that active and didn't work up a sweat, so from my perspective the Pertex Shield was wetting out. 
Here is a picture of the inside of my jacket showing the shoulder area after one of my walks in the rain.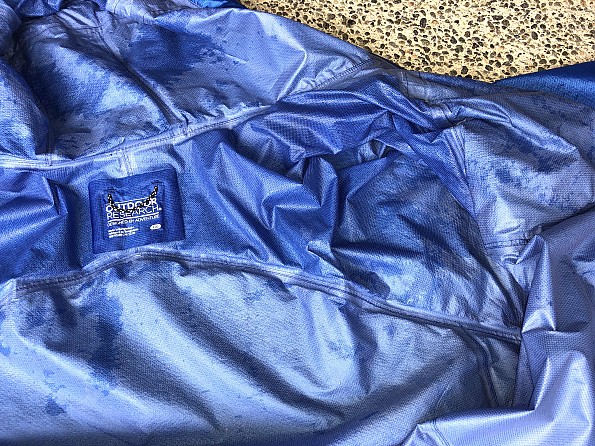 Being part of the Review Corps here at Trailspace I was able to send some questions back to OR and ask if this was what someone should typically experience with the Helium Rain Jacket and the Pertex Shield material.
OR was very responsive and we exchanged emails and also I shared some additional pictures, and in the end they asked if I would send the jacket back to them so they could examine the jacket and see if they could determine what might be going on. OR also sent me out a replacement jacket so I could continue my review.
I should also point out that the DWR finish with my first jacket seemed to be working as intended as the rain was always beading up and shedding off the Helium Rain Jacket as shown in the picture below even after I had sensed the internal dampness with my first jacket.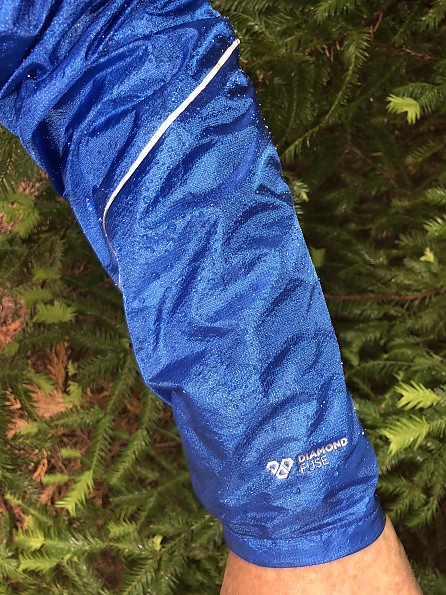 So with the second Helium Rain Jacket in hand, and the rain gods cooperating by continuing to provide rain into July here in Western Washington, I was able to continue to get out on trips in the rain using the new Helium Rain Jacket. The picture below is from a Huckleberry picking trip up near Mt. Baker.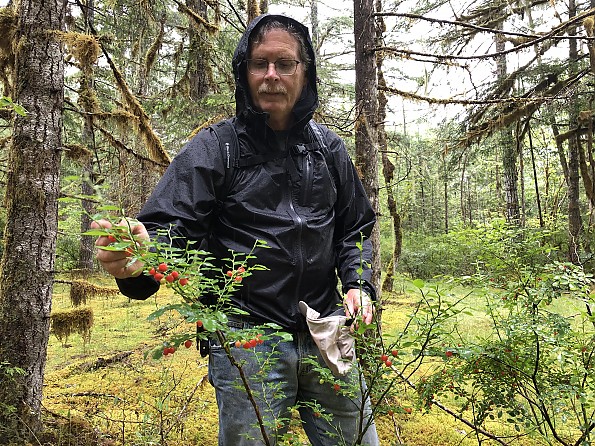 Has my experience been any different with the second Helium Rain Jacket provided from OR? Not really. It still seems that after about twenty minutes or so in light to moderate rain I still experience the light wetting in areas where the jacket is directly in contact with my body, which has primarily been my shoulders, elbows, and the top of my head in the hood. 
The picture below is the inside shoulder area and an example of what I have typically seen with my black version of the Helium Rain Jacket.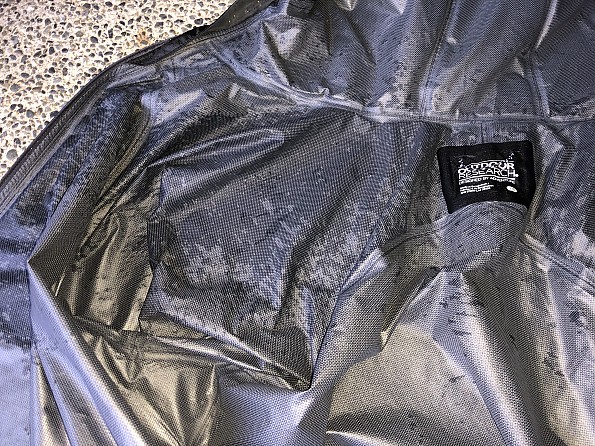 To get another perspective on the rain performance of the Helium Rain Jacket I decided to set up a test in my backyard. The test was simple, I would set the nozzle of my garden hose on "shower" (which seemed appropriate), point it up in the air, and then with the jacket on, I would go and stand motionless in the falling spray as shown in the picture below.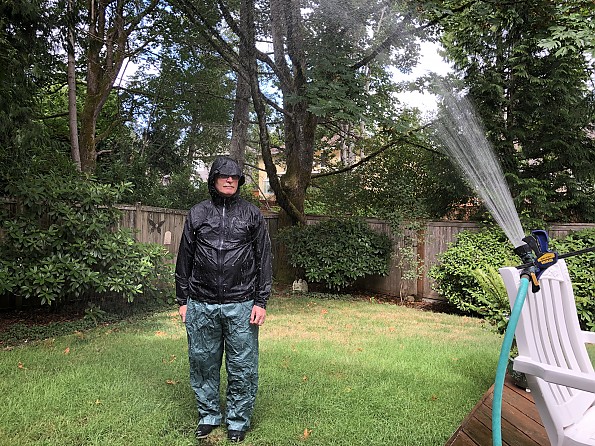 The temperate was in the low 70's and my goal was to make sure I had minimal activity so perspiration wouldn't come into play. The falling water from the spray of the garden hose was close to what you would experience in a heavy shower, so it was a pretty severe test.  
After about 10 minutes I stepped out of the spray to check and see what was going on and at that point there was no wetness on the interior of the jacket or dampness on my shirt. With the check complete I stepped back into the spray for another 10 minutes.
After 20 minutes in total I stopped the test as that was the point where I had consistently seen my shirt get wet and evidence of moisture on the interior of the jacket when out on trips in the rain, so it seemed like a good time to check and see what was going on.
When I removed the jacket, I had my wife check the back of my shirt across my shoulders where I typically would experience wetness out on trips and she said my shirt was dry, but cool, so the jacket seemed to still seemed be working.
The picture below is of the inside of the jacket and there are clearly indications of moisture trying to make its way through the Pertex Shield like I had seen previously after wearing the jacket out in the rain, but it had not yet reached the point where it had passed through. Based on this test, some (but, definitely not all) of the moisture I experienced on my earlier outings where I found my shirt getting damp after 20 minutes was probably also due to perspiration.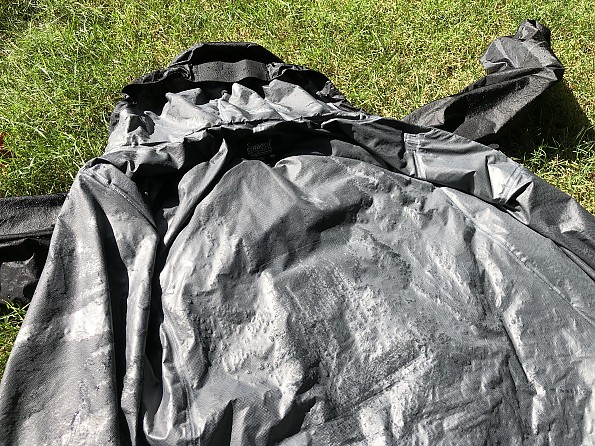 So with respect to rain performance, I would say that Helium Rain Jacket with Pertex Shield is good for use during extend very light showers and short duration heavy showers. Is the rain performance of the Helium Rain jacket using Pertex Shield as good as my other OR and Arc'teryx jackets that utilize the latest Gore-Tex materials? No, not even close, but those Gore-Tex jackets also weigh three to five times what this jacket weighs, cost twice as much (if not more), and they wouldn't stand a chance of packing down as small as the Helium Rain Jacket.  
Feedback from Outdoor Research Investigation on Returned Jacket
Just before finalizing this review, OR provide a summary of what they had found with their investigation of the first Helium Rain Jacket I had started testing and then returned to OR.
OR shared that the jacket had a lower water repellency score compared to their fabric test samples and other new batches of Helium Rain Jackets and also the previous generation Helium II Jackets. Water repellency refers to the ability of the fabric to shed water and is different from waterproofness which is the ability of water to penetrate the fabric. With respect to waterproofness, the jacket I had returned fully met both the industry performance ratings of 20K/20K for waterproofness/breathability.
OR also shared some insight about the hydrophilic membranes that are part of the Pertex used to make the Helium Rain jacket. They indicated that hydrophilic membranes provide a balance of good breathability and comfort while active, but one of the trade-offs is that these types of membranes tend to swell a bit when exposed to water, which can result in some wetness on the back of the fabric/inside of the jacket.  
For my particular case, OR suggested that the lower water repellency on the face of the fabric combined with the hydrophilic membrane of the Pertex material, contributed to sweating/moisture I had observed during my testing of the jacket. They further stated that while you may encounter a bit of moisture like I experienced, the jacket will ultimately be very protective in the rain.
OR indicated that they are continuing to work with Pertex to test and verify what was described above is indeed what was going on, improve any water repellency issues, and ensure optimal performance of the Helium Rain jacket going forward.
OR shared that the Helium Rain Jacket is intended to provide wind and precipitation protection in a low-bulk and lightweight package and is best used as a packable piece to have in case you encounter rain, or if you want to go fast and light. OR has other jackets that are more protective and designed for extended exposure to heavy rain.
Breathability
One of the ways manufactures evaluate the breathability of fabrics is to perform a lab test that determines the amount of water vapor that can pass through a square meter of fabric in a 24-hour period. Based on the information I could find the Pertex Shield material is rated at being able to allow 20,000 grams of water vapor to pass through a square meter of fabric in a 24-hour period which makes it one of the best breathable fabrics available from a lab test perspective.
From a practical standpoint this allows you to compare one fabric against the other in the lab, but doesn't mean it won't get clammy inside of your rain jacket. I don't think I have ever owned a rain jacket where it didn't get clammy with exertion, and the Helium Rain Jacket is no different.  
To hopefully help share my personal experience with the breathability of the Helium Rain Jacket, I've created a new term I've decided to call the Clamminess Comfort Limit or CCL. With the Helium Rain Jacket my CCL is approximately 60 degrees F, with a slight breeze, moderate activity (hiking at brisk pace with elevation gain), and low humidity. At my CCL I can keep the Helium Rain Jacket fully zipped up with the hood on and continue activity, but any increase in temperature, humidity, activity, etc. and I'll be past my point of comfort and need to vent or take off the jacket. With the Helium Rain Jacket venting options are limited and consist of taking off my hood and unzipping the main zipper.
How my CCL would relate to your own personal experience would most likely be different, but hopefully this gives you at least a data point to use to make your own assessment.
Durability
At the time of this review I have had the Helium Rain Jacket for about four months, which really isn't that much time to assess the long term durability of the jacket. I can say that I haven't observed any issues with the material the jacket was made from and it doesn't feel very fragile considering how light and packable it is.
I have been using the jacket on a number of trips in the Pacific North West and also down in the California Sierras and haven't run into any issues at all with respect to durability, but if something does come up at a future date I'll make sure to update this review.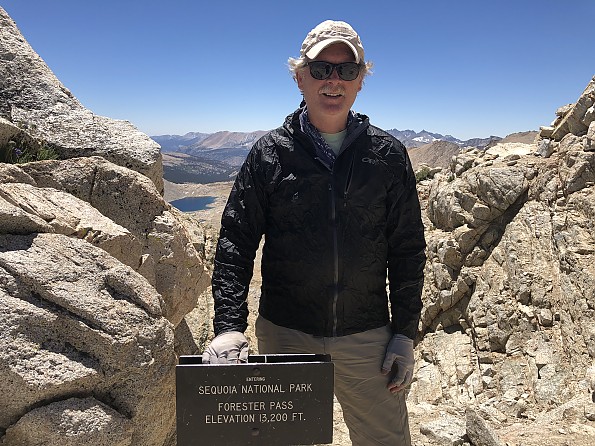 Fit
I'm about 5'11" tall and around 195 pounds and the Helium Rain Jacket in a men's large fits me great with more than enough room for an insulating layer.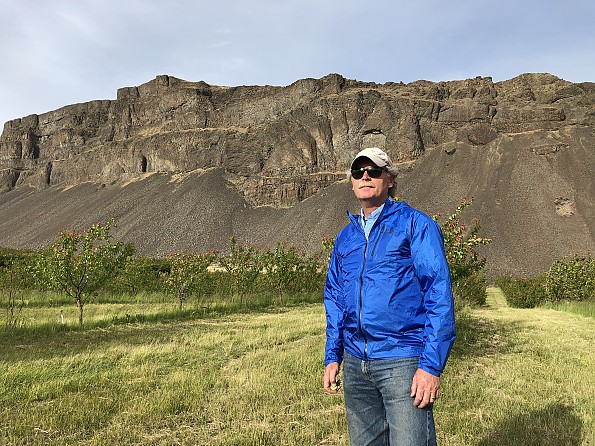 The design of the sleeves allow full range of motion of your arms with no restriction and the length of the sleeves is long enough that I am able to withdraw my hands up into the sleeve to get them out of the wind (since there are no pockets).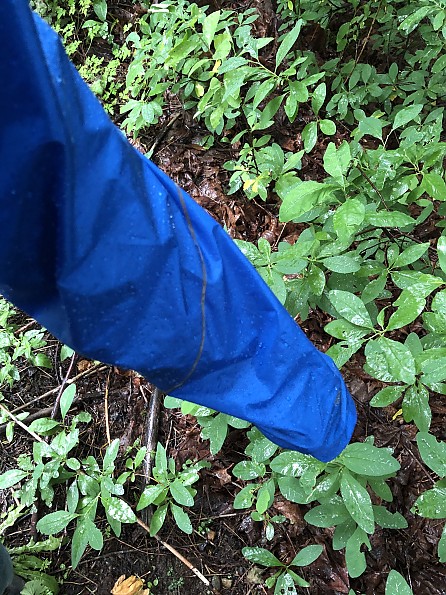 The hem of the jacket comes down to around the middle of my butt (I think I can say that…) and seems to be a good length and never feels too short when I'm out and about.
Overall the Helium Rain Jacket is a very comfortable and well-fitting jacket.
Price
The list price of the Outdoor Research Helium is $159. This price is in-line with comparable offerings from other outdoor jacket manufacturers that are peers to Outdoor Research, and in my opinion a fair price to pay for someone looking to get a durable, lightweight, and very packable rain jacket.
Summary and Recommendation
Overall I think that the Helium Rain Jacket is a great option for someone looking for a durable minimalist design where the focus is to save weight and space in their pack. 
In use, the Helium Rain Jacket is best suited for unplanned rain events or traveling in conditions where rain showers are intermittent and/or of shorter duration. I wouldn't recommend this rain jacket for someone who is looking for a rain jacket to be used for long periods of constant rain. For that application I would recommend looking at other Outdoor Research rain jackets that are designed for extended rain exposure.  
While I feel there are some limitations with the performance of the Helium Rain Jacket, I think those limitations are a reflection of the challenge of trying to squeeze something out of nothing. Overall, I think that OR has delivered a very capable design with the latest version of the Helium Rain Jacket, which I feel is more tailored to individuals who have experience with waterproof jackets and understand the tradeoffs that sometime come with ultralight gear.
Many thanks to both Trailspace and Outdoor Research for the opportunity to evaluate the Helium Rain Jacket for the Trailspace Gear Review Corps!
Experience
I have been testing the Helium Rain Jacket from Outdoor Research since late April of this year and have been using it on hikes and around town here in Western Washington since that time and had extensive opportunities to wear this jacket in the rain. In addition, I have had the opportunity to use this jacket on a recent extended backpacking trip down in the California Sierras.

In general, I have been active in the outdoors since the 1970s and have owned rain jackets/parkas from the original Sierra Designs 60/40 parka and GPIW Foamback, to early Gore-Tex jackets from Moonstone, and more recent rain jackets from OR, Patagonia, and Arc'teryx.
Source: received for testing via the Trailspace Review Corps (Sample for testing and review provided by Outdoor Research)

Your Review
Where to Buy
Help support this site by making your next gear purchase through one of the links above. Click a link, buy what you need, and the seller will contribute a portion of the purchase price to support Trailspace's independent gear reviews.
You May Like
Specs
Men's
Price
MSRP: $159.00
Current Retail: $76.48-$170.00
Historic Range: $76.48-$170.00

Weight
6.3 oz / 179 g

Fit
Standard Fit

Fabric
Pertex Shield Diamond Fuse 2.5L, 100% nylon, 30D ripstop

Women's
Price
MSRP: $159.00
Current Retail: $55.63-$180.00
Historic Range: $51.52-$180.00

Weight
5.6 oz / 159 g

Fit
Standard Fit

Fabric
Pertex Shield Diamond Fuse 2.5L, 100% nylon, 30D ripstop

Recently on Trailspace