Outdoor Research Hemispheres Bibs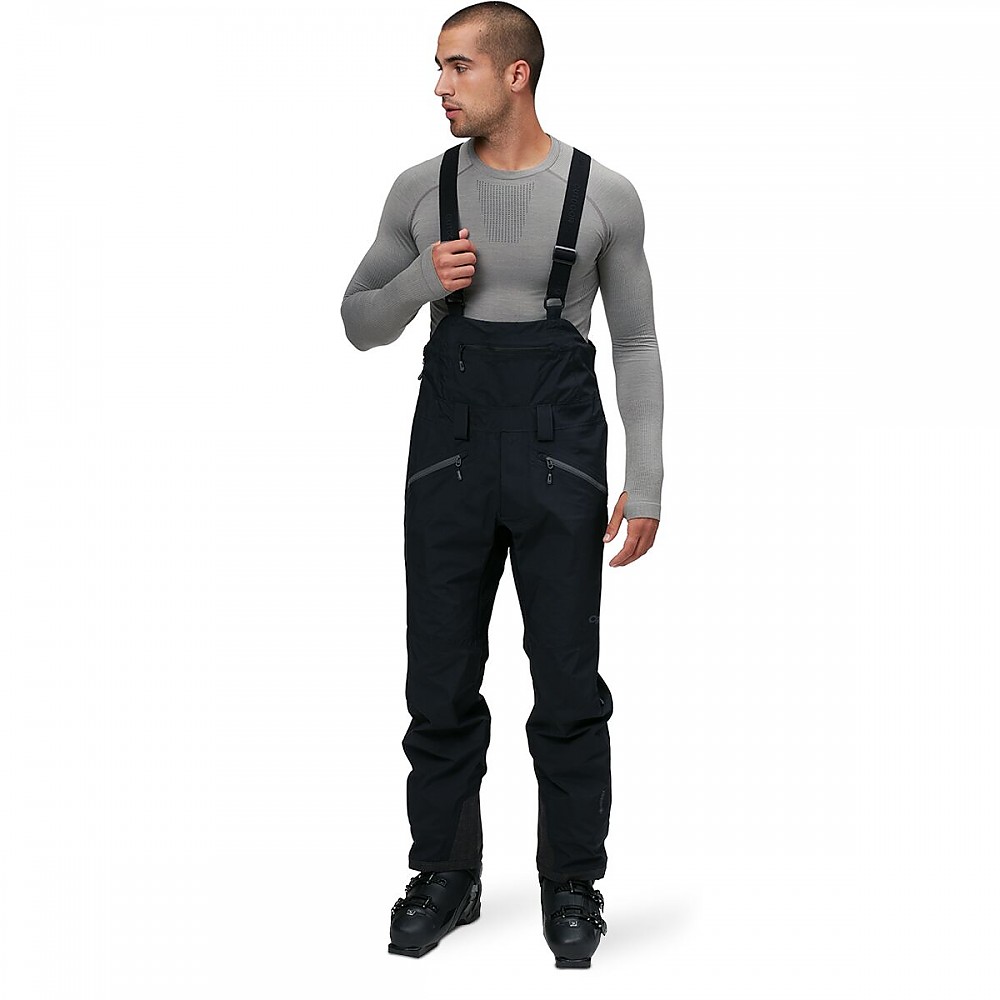 The Outdoor Research Hemispheres Bib is an excellent snowsport pant. It was designed with backcountry touring in mind, but works well as an all-mountain pant, and is equally functional both on and off-piste. It has an extremely strong construction and fits me well, (I'm pretty skinny and there's still some room left in them, although this isn't a problem). The full Gore-Tex construction holds up to the brand's waterproof, all-weather protection claims and will keep the wearer dry even in pouring rain.
Pros
Waterproof
Good fit
Flexible
Breathable
Durable
Cons
Low profile for a bib (feels like a high-waisted pant)
Torso pocket hard to access
Silhouette is tighter around the crotch, baggier near the ankles. (This is a personal quibble about how it looks. For going uphill, this is actually a good thing, but style-wise it doesn't look too great.)
About
The Outdoor Research Hemispheres Bibs are premium, waterproof, backcountry-oriented snowsports pants for skiers and snowboarders. They're offered in both men's (S-XL) and women's (XS-XL) sizing. There is also a coordinating Hemispheres Jacket for men and women. 
I use the Hemispheres Bib as my only pant, both for park skiing and backcountry and sidecountry skiing. They definitely stand out as a touring bib, as they are extremely lightweight and breathable. I've been using them for about 100 days so far this season, and skiing at least three hours a day in them. This includes everything from -13°F waist-deep powder shredding, to 40-50°F days spent hiking park.
Fit and Comfort
The Hemispheres Bibs (in men's medium) fit me pretty well. I'm relatively tall (5'11") and skinny (140 lbs), and they're definitely made for someone equally lanky, if not even more so. (The women's medium and men's large both have an inseam length of 32.5 inches / 82 cm.)
One issue that comes with the long legs, is that they tend to become extremely baggy around the ski boot. Also, adjusting the suspenders so the legs are less baggy, makes the crotch tighter and disappear beneath my jacket, giving the appearance of a long torso. This being said, I do wear a longer, baggier, freeride jacket (Trew Powfunk), and the sizing hasn't posed any actual problems of discomfort other than how it looks. When hiking, the looser cuffs allow for more freedom of movement, even when the gaiters are being used.
Adjustability
The bibs come with a pair of elastic suspenders that cross in the back and can be adjusted quite easily. They cannot be removed, and that makes sense since the entire bib portion of the pants wouldn't be able to support itself, even if a belt was being used.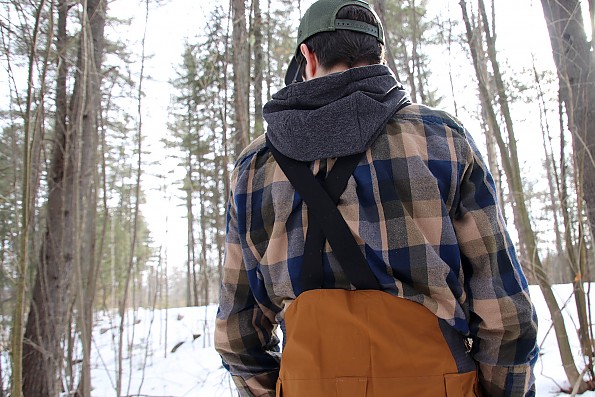 Other than the suspenders, there's really no way to adjust the fit other than cuffing the ankles or using the belt loops around the waist. Considering there's a good amount of material above the waist, and suspenders to keep the pants up, a belt seems somewhat redundant and useless.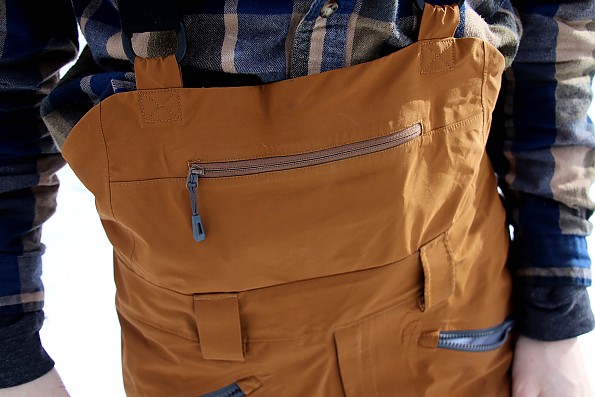 Not being able to adjust the waist doesn't seem to cause any problems, other than there being a bit of a gap near the waist. If one chose to wear a belt, this would fix that, but the gap hasn't presented itself as a problem, and if insulation is a concern, then it can be fixed just as easily by putting on more layers.
Waterproofing and Resistance
The Hemispheres Bibs are made almost entirely of waterproof GORE-TEX Fabric with Stretch Technology, and that clearly shows. I've worn them skiing in pouring rain for multiple hours at a time and stayed completely dry. Snow, neither wet nor sugary nor powder, doesn't cause problems either. They also provide protection against wind, although when wet, they provide less protection from the wind.
If you do purchase these bibs, and it looks like water is soaking into the pants, don't worry, it's only wet on the outside. You will stay dry.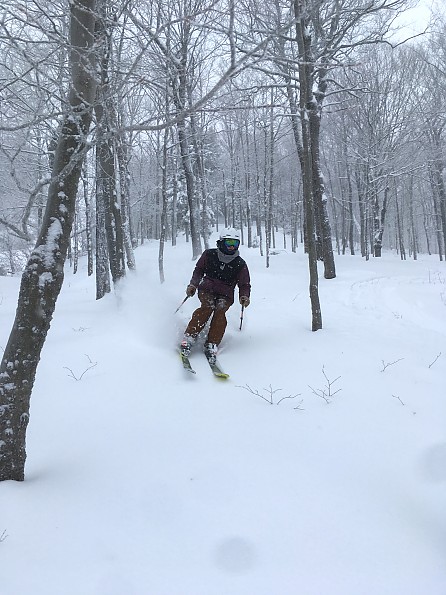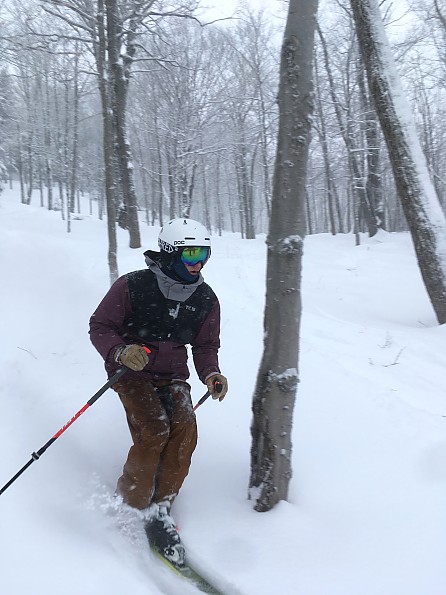 I also wore them my first time ice climbing and stayed dry.
Breathability and Moisture
Both legs have large zippered outer thigh vents running down the outside. On the left leg, the vent runs from hip to knee, and on the right, the leg can be unzipped from the top of the bib all the way down to the knee to accommodate the drop-seat feature (more on that below). Even without the vents, the pants are extremely comfortable, and my legs haven't gotten sweaty, even on warmer days (35°F +) when I've overlayered on the top and am sweating.
Layering and Warmth
As I mentioned above, I tend not to layer too heavily on my legs since they're the part of my body doing most of the work skiing, instead opting for a pair of sweatpants and nothing else. But despite that, my legs never seem to get cold. I'm not sure if this is a testament to how well the pants keep in warmth, even without insulation, or simply down to my legs just not getting cold, even down to -13°F when my torso and feet are near numb.
Where the bib really shines is when it comes to layering on the top. I tend to layer my bib with base layers underneath, followed by the bib and suspenders, with midlayers over the top. Unless I'm wearing nothing but base layers and the bib, I can hardly notice the extra fabric around my abdomen, and probably wouldn't at all if my phone, wallet, and keys weren't in the pocket. 
Construction and Durability
In addition to freeride skiing, I spend a decent amount of time skiing in the park, and no amount of use has done any noticeable damage to the pants. Even on my left hip, the side I hip slide boxes with, has no scuff marks at this point after four straight months of use.
Even more impressive is how well the ankle scuff guards have held up. I have the narrowest ski stance out of anyone I know, and the Kevlar in the scuff guards seems to do its job and protects itself from my other boot while skiing, and even the odd ski edge, again sustaining no damage.
I took them my first time ice climbing and the Kevlar cuffs sustained no damage from the sharp points. However, you can see a small cut below where I nicked the regular pant material above the scuff guards.
Features and Functionality
The Hemispheres Bibs have several features worth pointing out:
Pockets: The Hemispheres Bib has three main pockets. The torso pocket, which is the perfect size for all your personal items (phone, wallet, keys, snack, etc.), and the zipper pull is the same size as the pockets on the sides, meaning it can be opened with gloves when worn over clothing.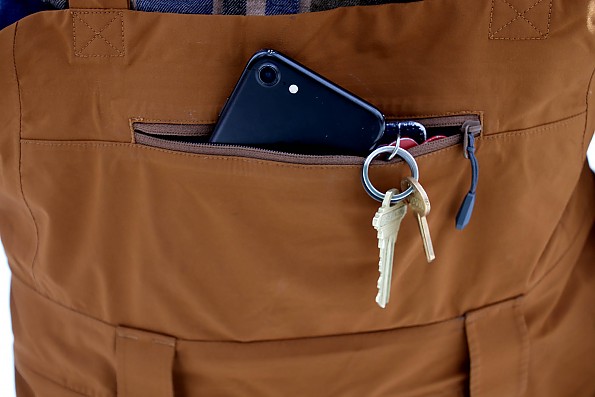 The two side pockets are massive. The right one has a beacon clip in it, and even with a beacon in it, has plenty of room to spare. I tend not to use the pockets, as they are so deep that any small item I might be carrying around the mountain would get lost in them, and I tend to put things like snacks in my smaller jacket pockets.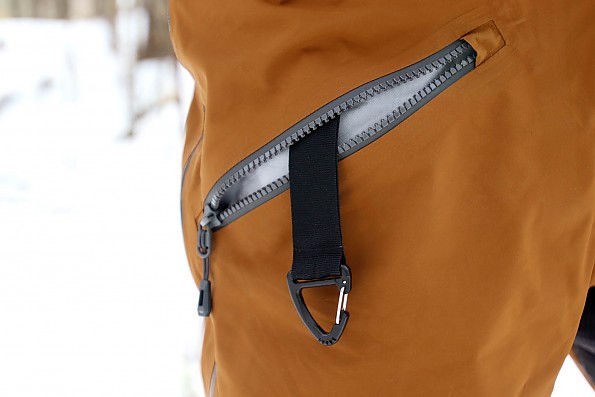 The deepness of the pockets is, in fact, a good thing for touring, as a full skin bag can be fitted into one pocket, with a beacon and any miscellaneous equipment in the other, this could allow for touring without a backpack. Obviously, skiing with large items in your pockets isn't going to be comfortable, but if you'd rather opt for no backpack, and/or maximum storage on all your items of clothing, then these pockets are perfect.
Vents: Both legs of the pants have long vents running the length of each leg. For touring, this is an excellent feature, since if someone finds themselves overheating, they have plenty of range to adjust the breathability. One downside is that there is no mesh lining or otherwise beneath the shell, meaning that when the pants are unzipped, anything can get into your pants, and worse, slide all the way down into your boot. Both sides have two zippers, so the vent can be opened any amount in any location along the leg.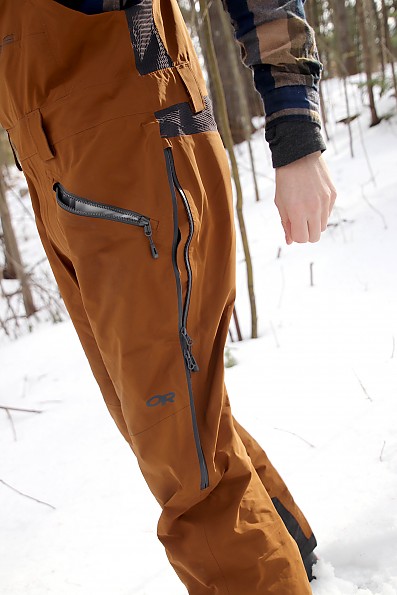 Drop-Seat: Going to the bathroom in ski gear is typically pretty difficult, however, the addition of a drop-seat on both the men's and women's versions makes going #2 far easier. The right-hand side vent unzips all the way from the top of the bib to mid-calf and is secured at the top with a button. This allows for half the pant to swing away from your body, and if you're using a toilet, it can go to the other side. It is a little cold, and a backside panel with buttons would be more ideal, but it gets the job done.
FYI, OR is calling this detail a Swing Hatch for winter 2020-21, but it's the same design.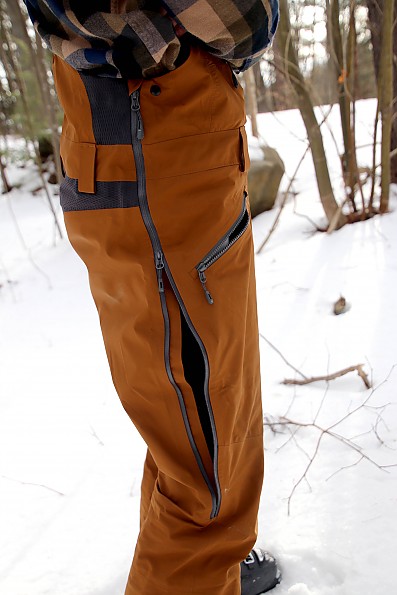 Stretch-Mesh Internal Gaiter with Power Strap Slot: The gaiter at the bottom of the legs is a pretty solid gaiter, and is, as a gaiter, more or less average. However, the gaiter has an internal slot to thread your ski boot's power/booster strap through and put on top of the gaiter as opposed to putting the gaiter on over the strap. I don't want to say this feature is useless, but it sort of is. I've used it a few times and haven't noticed any difference in how it feels to ski or any difference in how it feels. One way or another, your boot is strapped, and your gaiter is on, and the only difference it makes is how long it takes you to boot/unboot.
Stretch back and gusset panels: The pants come with flexible Gore-Tex panels on the lower back and crotch. These panels allow for greater mobility and comfort while using the pants. Both panels are very comfortable and do allow for a noticeable increase in flexibility to the pants. Both panels, while looking much softer than the rest of the hardshell Gore-Tex, are just as waterproof, since they are also a Gore-Tex material blend.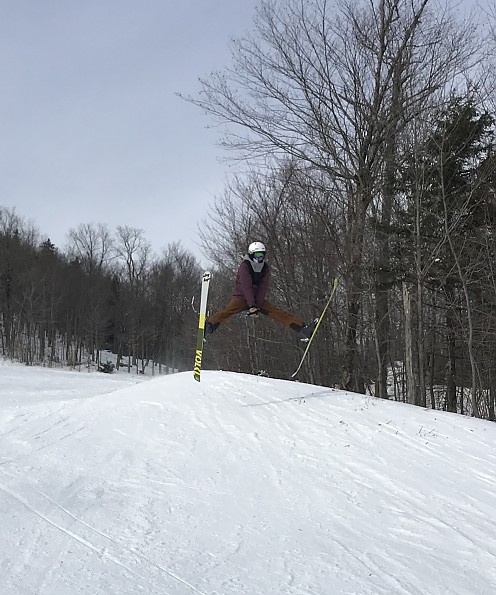 If you have enough stretch to cossack, you have enough stretch for anything.


For the most part, all of the pockets and hidden features of the Hemispheres Bibs work very well. The vents and hip pockets have beefy enough zippers to be opened with gloves on (I wear a pair of insulated Kinco gloves), and the avalanche beacon clip in the right pocket is also the perfect size and placement to put a ski pass on if you don't have the need for a beacon. 
Some Cons
While the Hemispheres Bibs are an all-around excellent pair of pants, there are a few drawbacks, particularly the fly zipper and bib. For starters, the fly zipper is extremely hard to use because of its very small size and the zipper tab's tendency to get stuck in the folds of fabric at the top of the fly. Also, it is a very small zipper, and if someone wished to use the bathroom while out in the woods they'd have to remove their gloves to undo the zipper.
The bib is an excellent addition to the pant, and the pocket is nice to have and is large enough to fit all your valuables in (phone, wallet, keys, etc.) However, the low cut of the bib places the torso pocket in an awkward place. While it is easy to use without lots of layers on over the top, or in warmer conditions with only a sweatshirt to pair with it, the bib becomes hard to use while on the mountain. The low cut profile of the actual torso portion makes the "bibs" feel more like a high-waisted pant than an actual bib-style pant, and if you want to access the pocket when fully bundled up, you either have to almost completely unzip your layers, or come up from the bottom, causing your other clothes to bunch up.
If the torso section was a bit longer, this problem could be avoided. Then to access the pocket, all one would have to do would be to unzip their jacket and midlayers about a quarter of the way, get to the pocket without exposing themselves to the elements too much, and zip back up. Personally, I feel it would be better if Outdoor Research made both a Hemispheres Pant, with a medium to high waistline, around where the belt loops are currently, and a remodeled Hemispheres Bib with the mid to upper torso height of most traditional bibs. (OR reports that they have no plans for a pant version at this time though.)
Conclusion
Overall, the Outdoor Research Hemispheres Bib is a good pair of pants that is very versatile and packed full of different features. I would personally recommend them as a touring pant, although they can be used as an everyday ski pant. The Hemispheres Bibs are available in both men's and women's versions, plus there is a corresponding Hemispheres Jacket for men and women.
Experience
I've used the Outdoor Research Hemispheres Bibs for about 100 days so far this season, and have used them for at least three hours a day, sometimes for as much as six, so they've gotten a fair amount of time on the hill. As such, they have dealt with all sorts of Ice Coast weather, everything from snow to pouring and freezing rain and everything in between has been thrown at these pants, and they've held up really well. I even brought them to Alaska in January and they worked quite well in -13°F weather and waist-deep powder. I also brought them ice climbing once. I plan to use them for some spring ski touring and will update this review after those experiences.
Source: received for testing via the Trailspace Review Corps (Sample for testing and review provided by Outdoor Research)

Your Review
Where to Buy
Help support this site by making your next gear purchase through one of the links above. Click a link, buy what you need, and the seller will contribute a portion of the purchase price to support Trailspace's independent gear reviews.
You May Like
Specs
Men's
Price
MSRP: $599.00
Current Retail: $326.99
Historic Range: $119.79-$599.00

Weight
20.8 oz / 589 g

Fabric
GORE-TEX C-Knit Technology 3L, 100% nylon 70D, GORE-TEX with Stretch Technology 2L, 37% nylon, 44% polyester, 19% elastane panels, 85% nylon, 15% kevlar scuff guard

Inseam
32.5 in / 82 cm (large)

Women's
Price
MSRP: $599.00
Current Retail: $216.56-$449.73
Historic Range: $216.56-$599.00

Weight
20.1 oz / 570 g

Fabric
GORE-TEX C-Knit Technology 3L, 100% nylon 70D, GORE-TEX with Stretch Technology 2L, 37% nylon, 44% polyester, 19% elastane panels, 85% nylon, 15% kevlar scuff guard

Inseam
32.5 in / 83 cm (medium)