Outdoor Research Inception Aerogel Gloves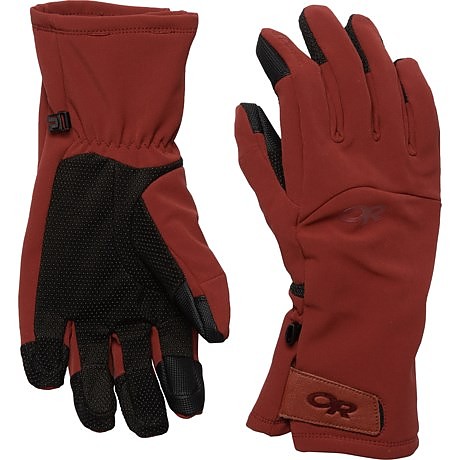 The Outdoor Research Inception Aerogel Gloves are warm, flexible, and comfortable gloves. They have become go-to gloves that I use on my daily snowshoeing and winter hiking outings. I have used these gloves for more than 60 days, in temperatures ranging from minus 4 (f) to 33 degrees, and in both dry and wet and snowy conditions.

As the winter has progressed, in addition to use during my daily snowshoeing and winter hiking outings, I have used them while kick-sledding and shoveling snow. They are not bulky, permit dexterity, and work well with poles. The Inception Aerogel Gloves are well made, and are comfortable for my winter activities.



Pros
Comfortable
Warm within the range as designed
Palms provide secure grip
Water resistant
Maintain pliability even at very cold temperatures
Cons
Touchscreen option performs inconsistently
Introduction
I began testing a pair of these Inception Aerogel Gloves in early November, in Northern Vermont, and have used them for more than 60 days of snowshoeing and winter hiking. While engaged in these activities, I actively use poles, so my hands are moving almost all the time. My needs for suitable gloves for my winter activities require that the gloves be comfortable, warm enough in a variety of conditions, large enough to permit use of a glove liner and to accommodate an arthritic thumb, yet not too bulky to easily use with poles. 
The gloves are available in two colors options, all black, and a black and saddle (dark tan) combination. I am using the all-black version, in a size XL. There are unisex sizes available from XS to XL.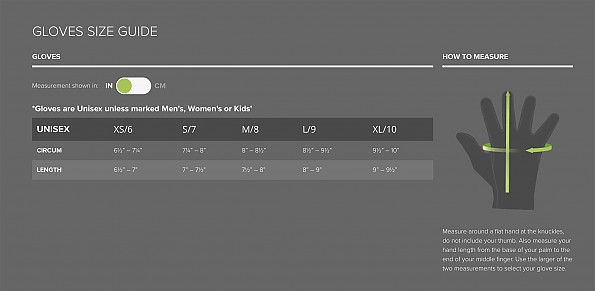 During my winter outings, I need to be able to manipulate carabiners, dog leash snaps, snowshoe bindings, and a camera while wearing the gloves. If conditions are warm enough, I may frequently remove my gloves to adjust camera settings, use an iPad, or put boots on the dog; the ease with which my hands can slide in and out of the gloves is therefore also important.
Though the OR glove sizing chart would put me in the Large size option, I choose to use an XL glove to accommodate long fingers, use of liners, and the aforementioned arthritic thumb. The larger size has not inhibited my use of the gloves for normal agility tasks. I am even able to use the shutter release, power button, and lens cap on my camera, while wearing the gloves.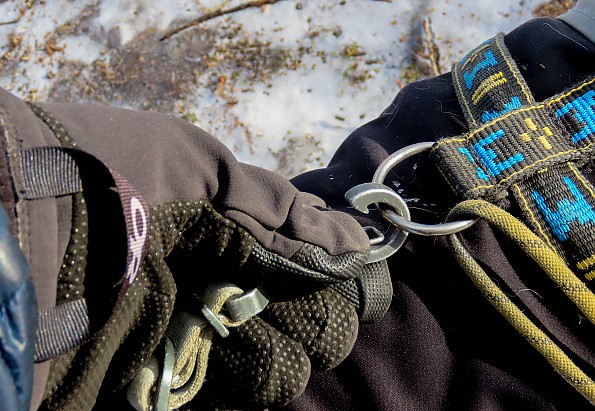 Unclipping a snap-link on my dog's harness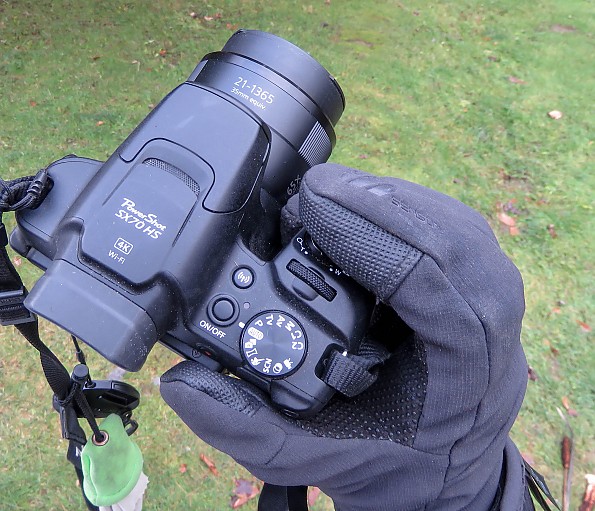 Using the camera while wearing gloves...usually only when very cold


Warmth
Outdoor Research (OR), describes these gloves as an "Alpine" glove ; the OR website provides the specs and technical information for the gloves, but does not provide a suggested temperature range. However, on the packaging card, there is an icon indicating that the gloves are for use in 0-30 degrees f. (-17 to -1 C). I have used the gloves in temperatures ranging from -4 degree (f) to 33 degrees (f) and have found them to keep my hands quite warm. There is variability in one's individual tolerance to cold, and this may affect a glove's ability to keep your hands warm, but for my use, these gloves have proven to keep my hands quite warm in a variety of conditions.
The gloves have PrimaLoft Aerogel Insulation; OR describes this synthetic insulation as being "trusted and tested by NASA... for the world's - and space's - most reliable warmth." 
On the Outdoor Research website, there is a technical discussion of this insulation and its properties, and why it is such an effective insulation material for gloves. The essential elements are:
Aerogel is a flexible, lightweight, compression-resistant insulation that won't conduct heat or cold. It's created by combining a polymer with a liquid to form a gel, and then replacing all of that liquid with air. We (OR) chose to use Aerogel in our gear because of its light weight, flexibility, and extreme compression resistance. Unlike other generic synthetic insulations, Aerogel is best for applications where compression resistance and warmth is most important, like your hands, feet, and face.

Compression resistance is important here. Insulation that's compressed for long amounts of time will slowly leak warmth. That's what makes Aerogel so unique: Its insulation actually retains warmth even during extreme levels of compression, like when it's on the bottom of your feet on the ground, or throughout the palm and fingers of a hand that's gripping a rope or ice tool. Aerogel is unique in that it retains on average 96% of its original thermal performance under pressure, meaning that no matter how hard you grip, or how much weight you apply, it will start warm and stay warm throughout your day.
With this insulation in the palms and fingers, the gloves should remain warm even when being utilized to grasp, such as when using poles or adjusting other equipment.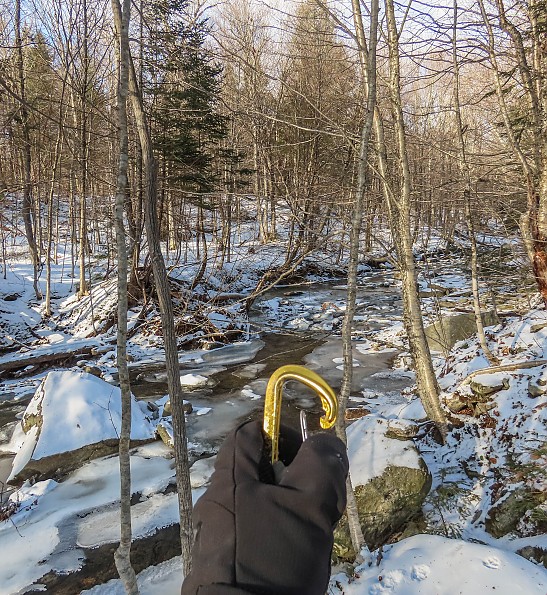 Grasping and utilizing a very cold carabiner
On a day when I started out snowshoeing in -2 degree (f) temperature, the tips of my left pinky and thumb were cold; I thought about using glove liners, but within five minutes, the fingers were warm, and no liners were necessary. At above 30 degrees, the gloves actually become quite warm, especially during active use; the resultant warmth and sweatiness of my hands can make taking off and putting the gloves back on a bit "sticky." In these situations, the loops on the wrists of the gloves prove very helpful in pulling on the gloves over sweaty hands. I think that the suggested 30 degree (f) upper limit for comfortable use of the gloves is accurate.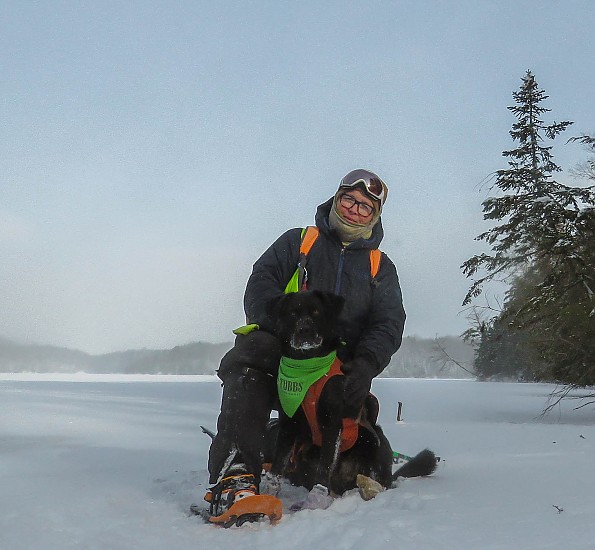 Keeping warm at -12° windchill


The gloves remained pliable and flexible even at the lower end of the temperatures in which I used them. I used them while kick-sledding on a cold day; the gloves had lots of grasping, harness adjusting, line grabbing, and goggle adjusting action on this outing, and their performance was top-notch.

Features
The interior lining is a very soft waffle pattern fleece polyester. This lining can get sweaty at the higher range of the glove's suggested temperature, but it appears to wick well, and the gloves do not remain clammy, and dry quickly.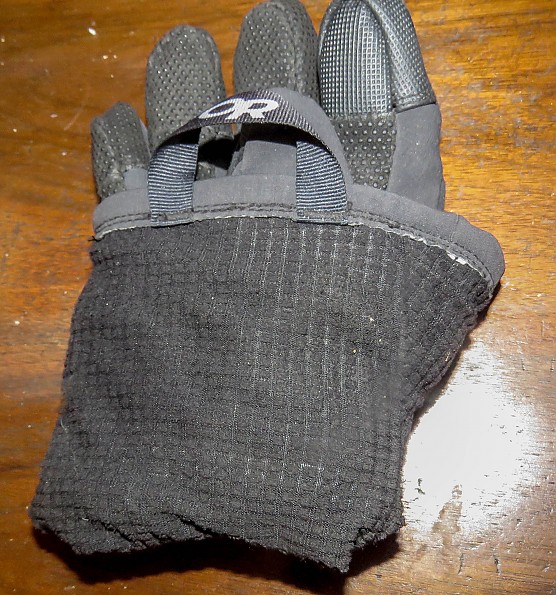 Comfortable and soft lining; loops rally help in pulling on the gloves

The palms are dotted with a silicone material, creating a very good non-slip grasp (and the dogs love to be petted with these gloves!). 
The thumb and index finger have the touchscreen material Sensor. I do not use a smartphone, but found that on my iPad, the gloves were inconsistent in my being able to utilize a touch pad.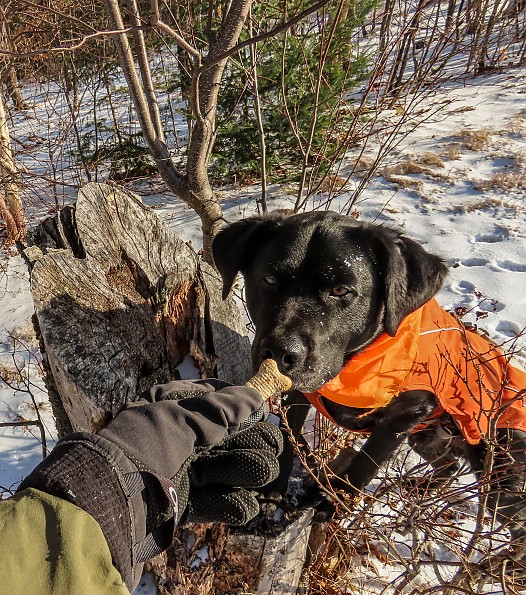 ...but dexterous enough to give a treat!

                              
Comfort
The gloves are not as bulky as many alpine ski/snowboard type gloves, and that is exactly how I like it. They weigh only 5.5 ounces (157 g). There is a small cuff on the glove, which is adjusted by a Velcro tab. This cuff is small enough to fit under a jacket sleeve or over a sleeve; I often roll the cuff down, especially in warmer temperatures. The large pull-on loops also serve as a nice way to hang up the gloves after an outing.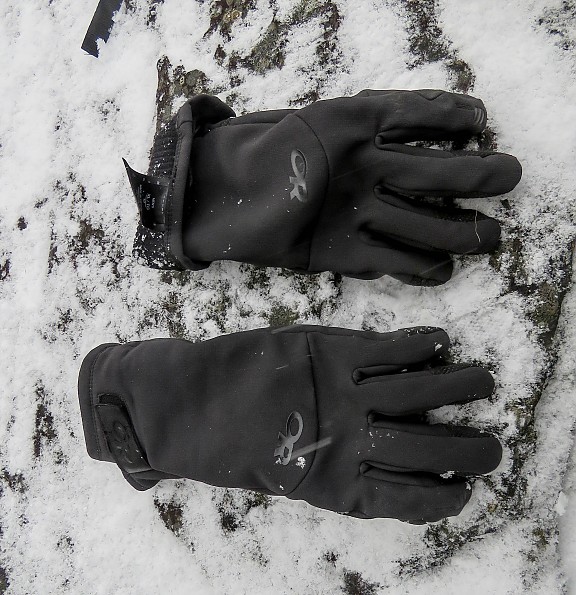 Cuff rolled and extended with velcro adjustment
So far, I have found the gloves to be extremely comfortable. They are warm and have some stretch and flexibility due to their soft shell construction with four-way stretch and a three-layer nylon/spandex material. Their lack of bulk permits finger dexterity. They appear designed for durability and resistance to abrasion and wear; they have been used almost daily for four months and they show few signs of wear. This durability factor is important for gear that is utilized over the course of a Vermont winter.  
Wind and Water Resistance

The  Inception Aerogel Gloves have been used in dry conditions as well as heavy wet snow. My initial impression is that the gloves are water resistant from "light precipitation," as described in the manufacturer's specs. On a day of snowshoeing with very wet snow falling, the gloves were quite soaked after 90 minutes. My hands remained warm, as the temperature was in the low 30's, but I am not sure I would want to remain exposed outside for an extended length of time with such wet gloves. OR also describes the gloves as "highly water resistant" ; however, they are not water proof.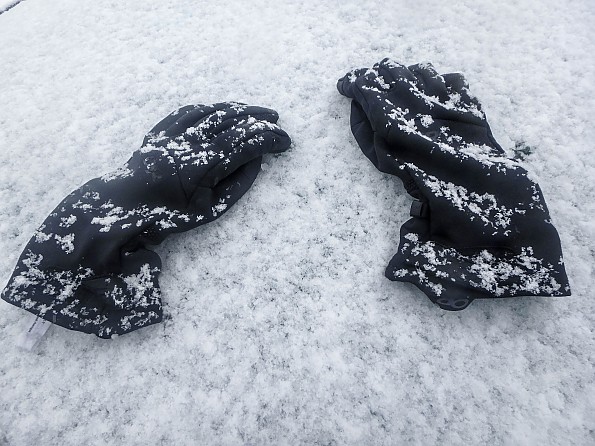 Soaked gloves, during a late winter heavy wet snow outing

I have found them to be adequately windproof, as described in the manufacturer's information. The gloves have been used in winds up to 35 mph, and wind chills as low as minus 12. My hands have not yet negatively felt the effects of wind, but then, my hands are also almost always moving and flexing, especially in cold and windy conditions.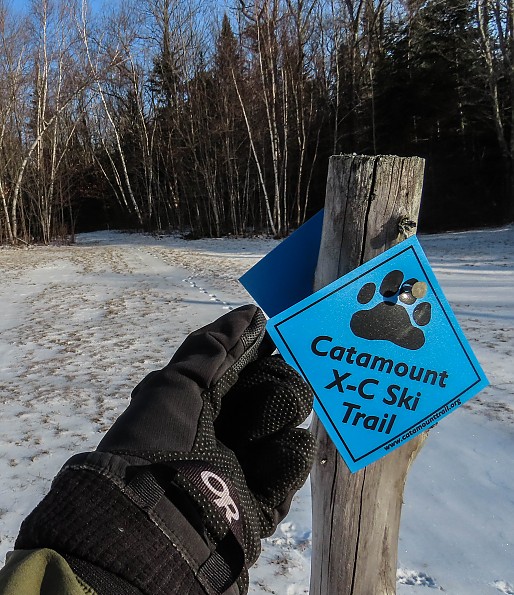 Straightening trail blazes...
About Me:
From November until  April, you will find me on the trails and mountains of northern New England, snowshoeing or skijoring daily with our two rescue mutts. We live in Vermont, in an area with superb winter recreation opportunities. Our location provides us a means to not only survive, but to relish, our long and snowy winters. From April until November I am out canoeing daily, in my solo canoe with a canine navigator.  
I am a very amateur birder and wildlife photographer, and my early morning pursuits give me amazing access to our local natural world.
My husband and I  travel and camp frequently (primarily canoe camping), all over the Northeast and Canada, while promoting safe and responsible outdoor adventuring with dogs. You can follow our exploits on our blog vermontpaddlepups.com, or on our Instagram page Vermont Paddle Pups.
Experience
This review covers my impressions after using the Outdoor Research Inception Aerogel Gloves regularly from early November 2019 to late February 2020. I'm continuing to use the gloves regularly this winter, and anticipate continuing to use them in future winters.
Source: received for testing via the Trailspace Review Corps (Sample for testing and review provided by Outdoor Research)

Your Review
Where to Buy
Help support this site by making your next gear purchase through one of the links above. Click a link, buy what you need, and the seller will contribute a portion of the purchase price to support Trailspace's independent gear reviews.
You May Like
Specs
Price
Current Retail: $29.68-$54.73
Historic Range: $29.68-$99.00

Weight
5.5 oz / 157 g

Fabric
4-way Stretch 3L Soft Shell 86% Nylon, 14% spandex, Synthetic Abrasion-Resistant Palm with Silicone Dot Print for grip, Grid Fleece 100% Polyester Lining, Touchscreen synthetic leather thumb and index finger, PrimaLoft Aerogel 1.5mm Palm and Fingers

Recently on Trailspace