Outdoor Research Lodestar Sensor Gloves

#3 in unisex Soft Shell Gloves and Mittens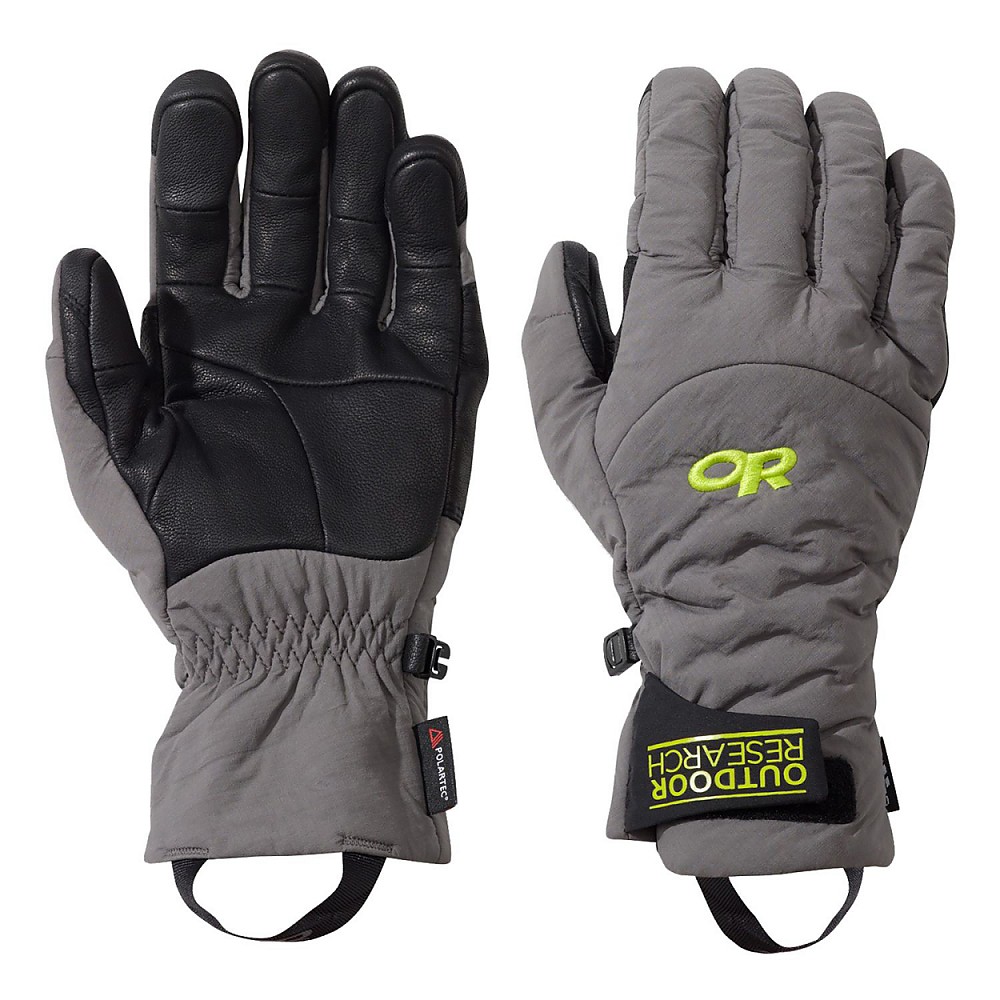 Great hand protection for most any active cold weather pursuit. Contoured design provides comfortable grip and dexterity to perform tasks without removing the glove. Ventilates well for high activity applications in cold, dry environments.
Pros
Light: 3.8oz avg, 4.1oz Large
Conforms to hand really well
Great ventilation
Elastic and adjustable strap at wrist
Touch screen compatible
Fast drying
Pull on loop at wrist
Cons
Not very warm when inactive
Interior finger stitching noticeable at times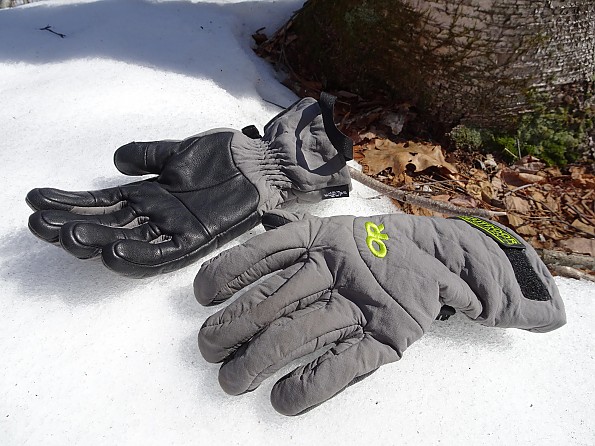 Soft, articulated, goat leather palm and finger with Polartec PowerShield covering the back of the hand. Note the extended cuff length giving them a gauntlet sort of feel.


Outdoor Research has put a lot of thought into the redesign of their Lodestar Sensor gloves and combined that with high quality materials and construction. This is an updated version of a great glove that made it even better. I hate to give away spoilers, but these gloves were a real joy to test. No product is perfect, always something that could be better, but I was really impressed with how well these performed. Let's take a good look at why that is.
Fit & Comfort:


When I checked the sizing chart on the OR website I was surprised to find that they recommended a Large as I wear an XL in most gloves that offer it. Taking them at their word and figuring it was my duty to test their accuracy the Large is what I requested and sure enough it fit my hand like…well…a glove. Nice to see four sizes instead of two on a glove meant to fit well enough to allow use of the fingers.
I was quite blown away by the natural feel of the Lodestar Sensors when I put them on. The contoured sewing of the panels let them wrap around my palms without restricting finger movement. Their light weight was also apparent leaving the hands feeling totally unencumbered.
The softness of the interior was immediately appreciated as well. The plush pile of the Polartec PowerShield High Loft is there to insulate and wick, but it feels pretty nice too. There were times I really noticed the stitching inside the fingers though, where the leather was joined to the Polartec fabric. It could be distracting when trying to do more delicate tasks and led me to pull them off once or twice to save time.
Breathability & Moisture: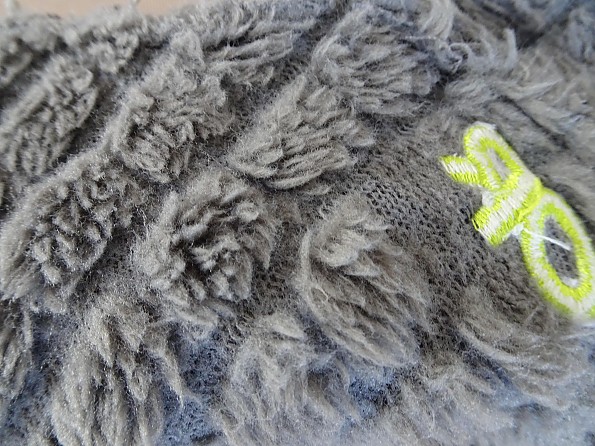 Macro view of the interior face of the PowerShield fabric. Deep fleece pile with plenty of grid spacing for added ventilation.


The Sensors are made for active use, so I think it makes sense to leave warmth until later and talk about how they hold up during high activity first. This is an area where these gloves really excelled. In cold weather you don't want to have to take off your gloves because you've sweated them out. I found that even when I pushed the limits by wearing them in warmer conditions they got damp inside, but not so wet I had to take them off. The fleece like interior of the PowerShield fabric used squares of deep pile to pull moisture off the skin while the surrounding grid of breathable fabric maintained a nice level of venting. This worked well to prevent moisture accumulation and helped the internal climate recover in most cases when sweat did build up.
Warmth: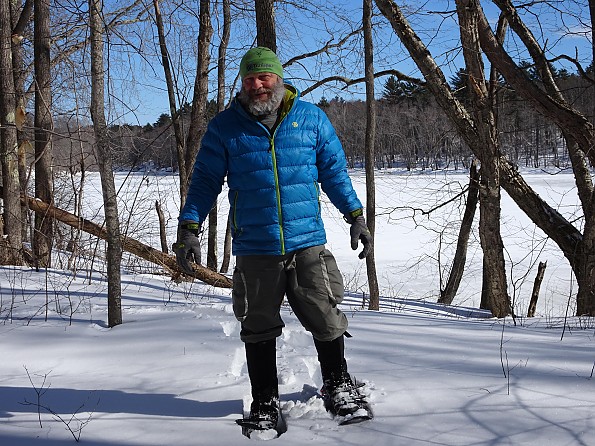 Testing is hard work! This day of snowshoeing along the Androscoggin was incredibly bright and I should have brought my shades.


Designed for high activity use in cold, dry climates these gloves are meant to keep you warm when in motion. Climbing, skinning, snowshoeing, and other active cold weather pursuits allow the participant to generate some heat and the Lodestar Sensors take that into consideration.
These gloves are not very warm when you are inactive, but have the wind breaking quality you need to keep fingers and hands warm when active in the cold. Even in windy conditions they hold in just enough heat to keep you comfortable for hours of activity. The same deep pile that helps move moisture also works to balance heat distribution. It holds some warmth while allowing excess heat to be continuously vented.
Adjustability & Function: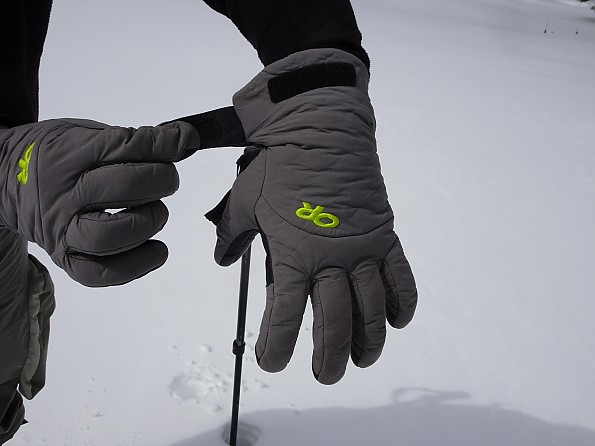 The extra long cuff kept snow from sneaking in. The hook and loop strap allowed sizing to fit inside or outside of a sleeve.


Some gloves rely on elastic to tighten the cuff and others will use a strap across the back of the wrist. Outdoor Research took the belt and suspenders approach on the Lodestar Sensors and used both to great effect. The elastic is right at the wrist and uses two bands combined with a pair of zigzag stitches to give a solid, but flexible embrace which keeps the glove on the hand.
The hook/loop strap on the back of the hand lets you adjust the size of the cuff as needed. Cinched tightly for fitting inside a sleeve or wide to fit over the top, you can change the size and shape of the cuff quite a bit.
Water Resistance:
Designed for cold and dry climates the Sensor is not going to keep you dry in the rain. They are rated as water resistant which is enough to deal with snow melting on the cloth part of the hand while the leather palm and finger surfaces provide good protection in the gripping area. If wetter weather was expected pairing these gloves with a waterproof mitt would probably work well.
Features: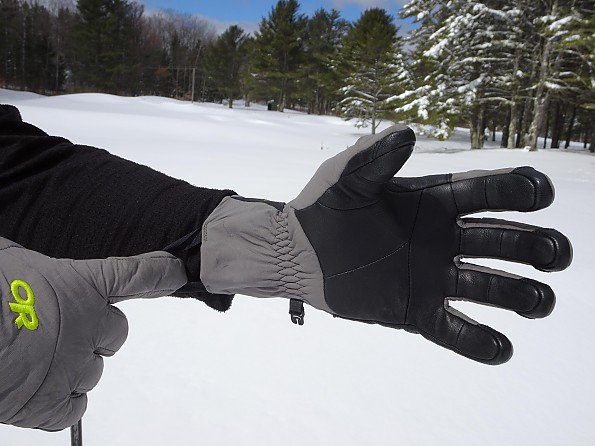 Good view of the articulation created by the stitched panels of leather. Not so great view of the pull loop at the wrist which was great for putting on the second glove.
There are a lot of nice touches that went into these gloves. The articulation created by the design of the stitching is noted even before you put them on. They have a natural hand shape without a hand inside. The materials used, from the science and technology behind the PowerShield fabric to the soft, supple goat leather covering the gripping area of the palm and fingers, work together to provide comfortable function.
That goat leather on the fingers makes them touch screen compatible too. I've used other gloves making that claim and all have worked to some extent, but none as well as the Lodestar Sensors. There is also a built-in clip so you can keep the gloves together in your pack or hang them from a loop to dry
Construction & Durability: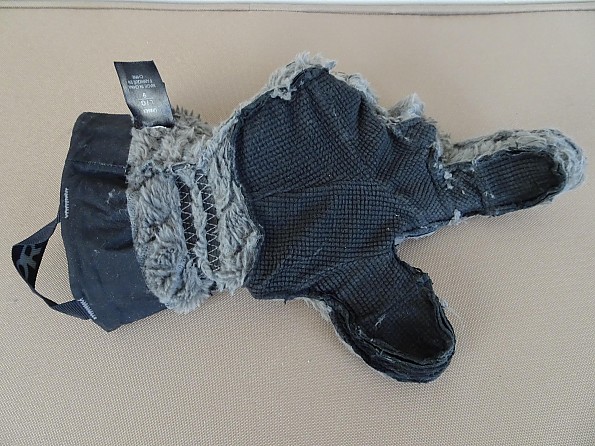 Turned inside out you can see the double elastic at the wrist and the grid fleece backing of the leather panels.


I know I've already covered the materials and design while talking about other areas, but I wanted to state again how well made these gloves are. From design, to material selection and construction good choices were made. The gloves fit both hands and the things they grab well, avoiding the wear that repeated stress creates. The materials show no signs of wear after an entire season of heavy use.
Testing Conditions: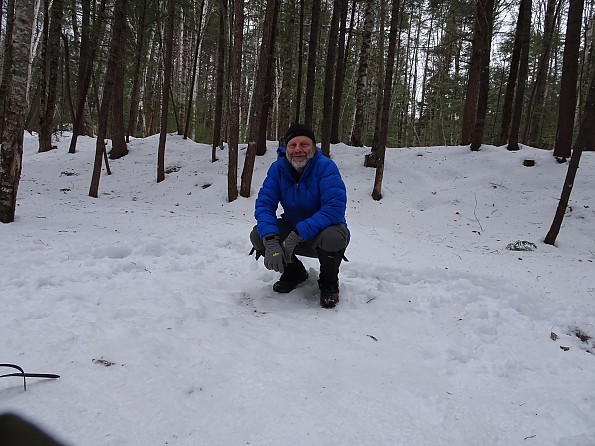 Setting up or breaking down a tent was no problem in the Sensors. Fingers and hands can grip and move naturally. I'm smiling after packing up camp in NH's Pemi Wilderness on a late December morning. No really, the sun didn't come up until very late :)


The Lodestar Sensors were tested on day hikes and snowshoeing locally here in Maine. I also used them on camping trips in the White Mountains of New Hampshire and in the Mahoosucs here in Maine.  Temps ranged down slightly below 0°F with most use coming in the 0-32°F range.
Conclusions: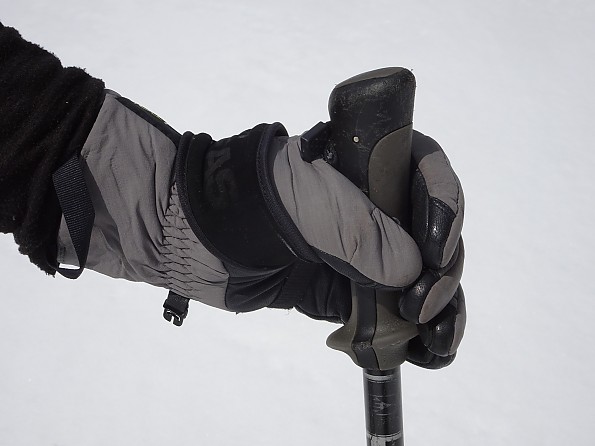 The Lodestar Sensors just feel at home wrapped around the handle of a hiking pole. They are made for using your hands, gripping well, and flexing easily.


No surprise here, I really liked these gloves. Being highly active in cold weather requires the right gear for conditions. The Lodestar Sensors worked best for me in a range from roughly 5°F to 25°F with diminishing happiness as temps extended beyond. Warmth at the cold end of the scale was negatively impacted by stronger winds. On the other side, when it got warmer a good breeze could extend the comfort range well into the 30s.
I was able to sweat the gloves out by working hard on a warmer day, but when used in reasonably cold temperatures I was able to climb hard or break trail in deep powder without overworking the ventilation system. The leather grip surface protected from snow and ice contact, but also has a grid fleece lining to keep skin from feeling clammy. It did freeze a bit overnight on multi-day trips, becoming stiff until warmed by my hands, but the lining didn't seem to have retained moisture.
Buckles and straps were no problem so there was no need to take the gloves off and get wet hands.


The dexterity of this glove is hard to imagine in terms of finger movement. The leather is too thick to feel small objects well, but there was never a need to take them off when donning or doffing traction devices. Buckles and straps were easy to grasp and manipulate. Knot tying with rope felt pretty natural. Boot lace tying was a bit less than natural, but certainly no issue.
I found these gloves were great for setting up the tent in the snow after hiking in or for wearing while taking down camp in the morning. I was generally able to operate my camera with the Sensors on. Point-and-shoot type shots that didn't require a lot of setup were no problem. Anything complicated I preferred to take off the gloves to save time making tiny adjustments to the camera settings.
There weren't a lot of negatives to speak about after testing these gloves. They do not keep my hands warm if I'm standing around in a cold wind, but I imagine if they did that they would be too warm when I'm working. I carry other gloves to wear in camp which are meant for standing around rather than activity.
The other bit of nitpicking I'd do would be to mention feeling the seams inside the fingers at times. Stitching the rest of the glove to the leather parts created a noticeable seam in some spots when the fingers were bent. This didn't cause any real issues. Just something that was annoying at times.
After three months of frequent testing I feel comfortable giving the Outdoor Research Lodestar Sensor gloves a solid recommendation for those who get busy when they get out into the cold. These gloves are made for folks who are involved in active pursuits, to keep their hands warm and dry while climbing, snowshoeing or ski touring. While they'd feel good on a downhill run they won't keep your fingers from freezing on a long lift ride and they definitely aren't great camp gloves for long hours of standing around in the cold.
Use them as intended and I think you'll be as pleased with them as I was.
Source: received for testing via the Trailspace Review Corps (Sample provided by Outdoor Research for testing and review)

Your Review
Where to Buy
Help support this site by making your next gear purchase through one of the links above. Click a link, buy what you need, and the seller will contribute a portion of the purchase price to support Trailspace's independent gear reviews.
You May Like
Specs
| | |
| --- | --- |
| Price | Historic Range: $48.73-$99.00 |
Recently on Trailspace