Outdoor Research Mithril Jacket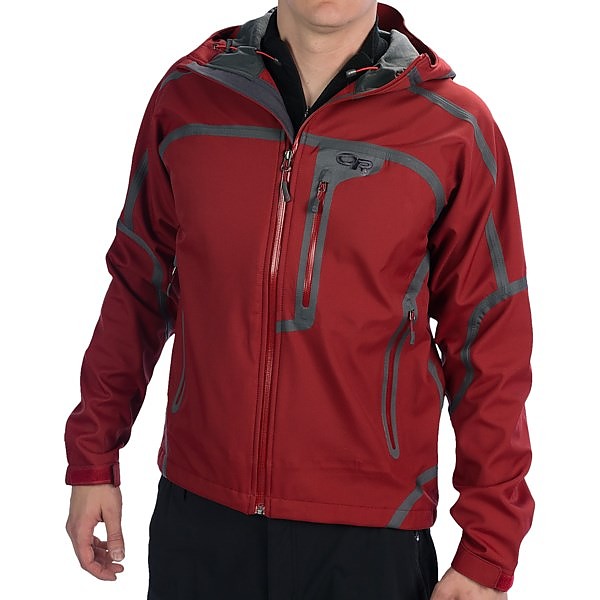 This jacket lives up to OR's summary. Overall solid performance. Good go-to jacket for cool weather, damp conditions.
Pros
Decent DWR in drizzle/light rain
Big hood, goes over helmets
Good wind performance
Sheds snow
Excellent layer piece
Attractive
Cons
Too many seams
Seam tape separates from jacket
Wets out in moderate rain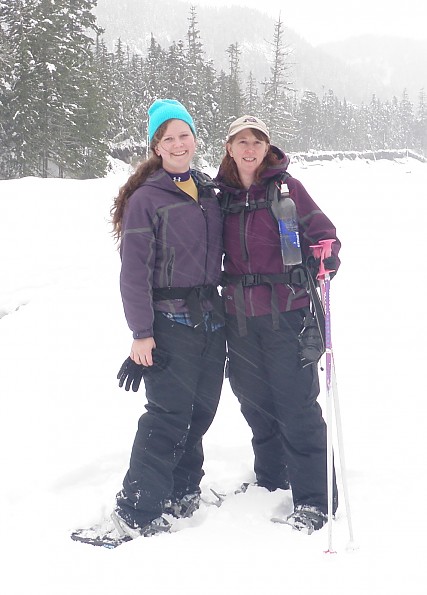 (She and I in our OR coats)
I have two jackets to use as a basis, mine and my daughters.
She is 5'7" with medium build, and I am 5'4" with a medium build, and the jacket fits both of us really well. In fact, I liked hers so much, I bought my own.
She uses hers heavily at college, so it is her primary outdoor coat. I use mine for my winter outdoor sports and my go-to winter coat. It is sturdy enough for serious outdoor wear and attractive enough for professional attire outer wear.
The only discomfort I have found in wear-ability is the way the zipper/hood under the chin fits. It feels bulky when zipped all the way up. And the garment gets 4 stars because of the seam taping coming off my daughter's jacket in two places.
When the fabric is washed and retreated with DWR repellent, the coat works best. But we have both noted that in heavier/steady rain, the coat will wet out. So, if you are looking for a rainproof coat, this isn't for you. But, if you want a versatile one-coat-does-lots, this does a good job fitting that description.
This coat layers great. My only caveat with that is my arms can get cold if I just have one layer underneath.
My daughter has had her coat for over three years. She is also a geology major. She has had to really put her coat to the test.  The coat has had to be out in the field, deal with downpours, shuck snow, travel hard over brushy terrain, and it has held up. We have both taken our respective jackets on backpack trips, snow sport outings like snowshoeing or snowboarding. She says she stays warm all day on the slopes with her coat.
Neither coat has not peeled or abraded. The only issue my daughter has had is the outer seam tape coming loose in a couple of places. We have not had an opportunity to learn what it will take to repair it, and since the rest of coat is still performing well, she is very reluctant to move on with a different coat. I have only had my coat since the beginning of fall, and I have had no issues, but I do not need to demand as much from my coat as she does.
All of the zippers, drawstrings, velcro, cuffs are still in good shape. I like the pockets and zippers fine, but I would like if the coat, besides having an inner zip pocket,  had an inside drop pocket and/or a sleeve pocket, too.
This coat is quite comfortable. I don't even notice wearing all day, like I have with some jackets. The cuffs are really adjustable, so they can be cinched down if it is rainy, or relaxed to fit over heavy gloves.
I think it says a lot about OR's product when I spent quite some time tracking down *just* the right garment and color because I liked my daughter's jacket so much.
It is well made, well designed, and when used in the conditions it was designed for, functions well. The jacket has taken a beating, traveled hard, and still gets the job done. She and I would both buy this jacket again.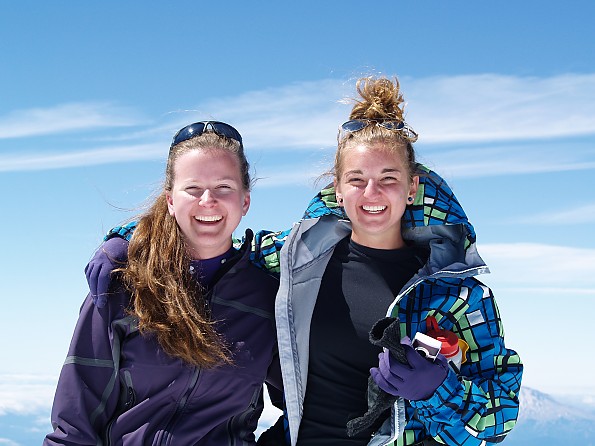 Atop Mt. Adams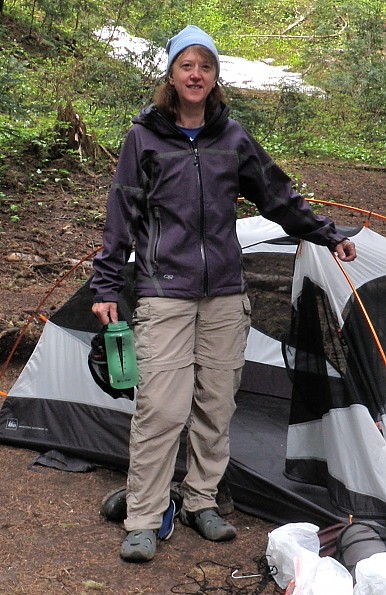 On the Wonderland Trail, Mt. Rainier
Source: bought it new
Price Paid: $200

This is an awesome jacket. I used it all last winter ice climbing and above timberline in brutal conditions in the mountains of NH. The material breaths, it stretches it's really great.
I had originally assumed since it was a softshell type material that it wouldn't block the wind sufficiently for those -10f, windy days spent on Mt Washington guiding. But it does, and is still breathable. I don't understand how it works, but I don't have to.
It quickly became my go-to peice for almost any cold day whether I was climbing steep ice or walking on snow.
I am typically a size large, and this fits me perfectly. Great hood, great arm length.
Price Paid: not recall

Very reliable and warm waterproof softshell for cold conditions.
Pros
Robust
Waterproof
Versatile
Cons
Vapour transmission
Stiff fabric
Lack of collar leaves neck exposed
This is a jacket that bridges the gap between softshell and hardshell.  In fact this is a taped seamed hardshell with a fleece lining. This makes it either the most versatile jacket you'll ever own or a jacket that you don't know quite what to do with.
Fit & Comfort:
Fits small. Comfortable with a base layer but cannot layer anything but a base and insulated vest under this jacket. Material is stiff and binds when moving. I suggest that this jacket ought to be worn with a base for best result — or buy a size up. The stiffness is a bonus in very high winds as it keeps some air trapped in the fleece and the hood doesn't easily blow off.
Adjustability
Cords for waist and hood make this a very adjustable jacket. It is easy to adjust the hood which stays put in strong wind.
The jacket has no collar which leaves your neck exposed when unzipped to the throat. This makes it difficult to regulate temperature in cold blustery conditions. 
Water Resistance
This jacket is practically waterproof. I have not noticed leakage in multi-hour walks in persistent rain. It is snowproof.

Breathability
This is an interesting point the jacket doesn't transfer moisture particularly well as there are no pit zips and the material is a membrane based nylon. But I'm not sure if this is such a big deal as the fleece lining keeps warmth even when damp. Lets face it, all jackets are overwhelmed by sweat when exercising hard in moist climates, it's how the jacket performs when it gets clammy.
This is quite a lot more comfortable than Windstopper or Goretex due to the fleece. It does need pit-zips or the excellent 'torso-flow' zips that other OR jackets have for true versatility though. I imagine that this jacket is designed for very cold dry conditions—not something that I am ever exposed to.

Moisture
As above, I don't think that any significant wicking goes on, more that air is trapped by the fleece which keeps the jacket from feeling cold and it feels comfortable when damp.
Warmth
Definitely warm when active but not sufficient without further insulation in cold conditions at rest.

Layering:
Get a size up if you wish to layer.
Abrasion:
I'm not a climber, but this jacket has stood up well to pack straps and abrasion form the bush. It is not a flimsy jacket and I do not treat it with kid gloves. If I worked outside (i.e. on a farm) I would wear it fencing, working with stock etc without worrying about it. In contrast, I always worry that my Goretex Paclite hiking shell is going to rip or get worn out. This jacket, I never worry. I wear it everywhere.

Function
Pretty good. I like the hood.
Construction & Durability:
I have had this jacket for a few years and it gets used more than my hiking shell due to its versatility. The cuffs are getting a little worn, but the DWR still functions (amazingly) the fleece is holding up, the taped seams are still just as good as when I bought it.  I anticipate that it will get a few years more use.
Conditions:
Mainly day walking in the mountains and x-country skiing in Australia and NZ. I've sat in a pub and skied in gale force blizzards in this jacket.
Appearance
Because this is a versatile jacket appearance is important as it gets worn in the urban environment as well as on the trail. It is a smart looking jacket for both leisure and for working outside in a professional environment. The externally taped seams make this a unique garment that looks subdued and purposeful.

Conclusion
To be honest this gets the most use as my go-to jacket in the car for most urban use and day walking in cooler conditions.  It's too warm a jacket for x-country skiing outside of blizzard conditions (in Australia that is) too specialised for multi-day walks (when I'd use a dedicated shell), but I walk the dog in it, wear it to the pub with jeans, to work when it's wet and take it up to the mountains for day walks. It's that kind of jacket. 
Source: bought it new
Price Paid: $100 US on sale from Amazon in 2012

This is an awesome soft shell for winter activities. If it were not for this jacket, I would be stuck inside during this very cold—and extremely windy—winter season. I've been using it for snowshoeing on the prairie and it hasn't even come close to letting me down.
Pros
Wind proof
Waterproof
Lightly insulated
Great hood
Cons
Material is stiff at first
Size M is a little long for a 5' 2" person (zippers fall under pack belt)
Before I reviewed this jacket, I wanted to try it out in various conditions, temps, and moods, to make a good assessment. I have been using and will use this jacket in the winter as an outer shell for snowshoeing, so I am basing my review on that activity. 
If you asked my husband, he would tell you that I have a few too many jackets. He would also tell you that this is my pride and joy. I talk about it all the time. It is tough to find a jacket that works in all (cool to cold) conditions, and this does it all. It is windproof, waterproof and breathable and is of excellent quality and durability. I guess I am a pretty good salesperson, because he ordered the men's version for himself.
I have used this jacket when it's been anywhere from -15 degrees (F) to 30 degrees. Typically, if I'm working, I can easily get by with one or two thin base layers underneath, even if the wind is blowing 20 mph. If needed, I wear a fleece, vest, or lightweight jacket underneath as a mid layer and it is a comfortable fit. 
The thing that stands out to me the most with this jacket is the windproof quality and the hood. It makes it possible to have a life outside during the winter months. Wind does not penetrate this jacket. It just doesn't. We have had crazy wind this winter with crazy low wind chill temps and it doesn't even phase this jacket. The hood stays put where I want it, even with long hair, a hat, Buff, goggles, and earbuds tangled around my head.
Other features I find awesome:  taped zippers and seams, elastic/Velcro cuffs, bottom hem drawstrings, and drawstrings around the hood. The zippers stay where you want them and the pulls are easy to grip with gloves or mittens. The inside zipper pocket is super handy. I always wear this jacket with a pack and the jacket shows no wear in the expected areas.
Notes about myself...I am about 5' 2" and about 115 lbs. I have a size Medium and it fits nicely by itself and with two to three layers underneath. It could be just a hair shorter so I could access the pockets a liile more easily when wearing a pack.
Source: bought it new
Price Paid: $97

Great waterproof soft shell jacket. Durable and stylish.
Pros
Waterproof
Windproof
Tough
A great soft shell jacket. I have used it skiing and as a hiking jacket, and it had no problems keeping me dry in rain and snow showers. Also became my around town jacket in the late fall and early spring.
It is a good mid weight, not overly warm (which is good for me, I tend to overheat), but provides much more warmth that my other rain shells.
Velcro wrist adjustments work great, much prefer them to the elastic style. Plenty of pocket space to store items while skiing or hiking. Got many comments on how good looking of a jacket it is as well.
As with all OR gear I have, it is built very well and I don't worry about its toughness at all. Overall a great jacket I would happily recommend to anyone.
Source: bought it new
Price Paid: $89.90

Your Review
Where to Buy
Help support this site by making your next gear purchase through one of the links above. Click a link, buy what you need, and the seller will contribute a portion of the purchase price to support Trailspace's independent gear reviews.
You May Like
Specs
Men's
Price
MSRP: $215.00
Historic Range: $90.98-$260.00
Reviewers Paid: $89.90

Women's
Price
MSRP: $215.00
Historic Range: $89.95-$260.00
Reviewers Paid: $97.00-$200.00

Recently on Trailspace