Outdoor Research Salamander Gaiters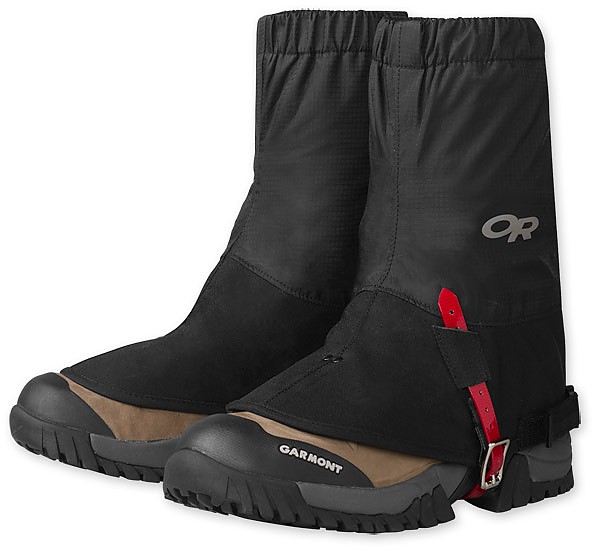 A weather resistant gaiter that suffers immensely from too much thought and over-engineering. Sometimes keeping things simple is a better approach to designing a product.

I feel this is one of those times...
Pros
The overall construction of this model is on par with other OR products that I have purchased.
Materials are very durable for the most part.
Durable instep strap can take a hammering on rocks.
Material breathes and wicks away moisture very well.
Very comfortable regardless of conditions or even if I am wearing shorts for that matter.
OR's Infinite Guarantee (guaranteed forever.)
Cons
I personally do not feel the need for the forefoot extension. It just kills this model for me as a whole.
The polythylene sheet that forms the forefoot extension can wear through the fabric exposing itself after prolonged use.
The backside hook and loop closure can be a pain in the tail to get cinched up.
This model just seems to be over-engineered to me after prolonged use (see below.)
Shear tabs make putting the gaiter on even more cantankerous than it should be.
I was on the hunt a while back for a pair of gaiters that were geared more towards warmer, wet weather trekking as opposed to my taller winter wear (OR Crocs and MH Ascent Stretch) and I came across Outdoor Research's Salamander gaiter. 
I looked into this model for a bit and the materials seemed to be pretty stout/durable from a general observation so I decided to pull the trigger on them. I have also had really good luck with Outdoor Research products in the past so this pretty much solidified my purchase.
After hammering on the Salamanders for quite a few miles in hot, humid, wet, and rocky terrain I have become quite familiar with this model as a whole. So I thought that I would share my findings here so that others who may be interested in this model may have the opportunity to get a bit of feedback on the OR Salamanders from a user's perspective. 
A few photos of this model for familiarity: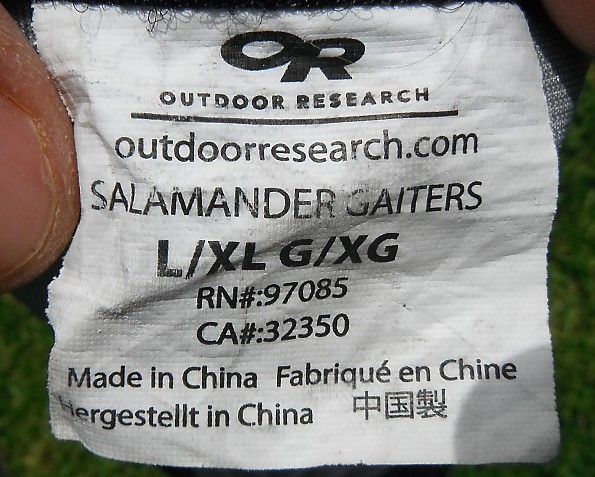 A brief overview of this model (intended use/etc.)
Outdoor Research designed this model as a waterproof wet weather gaiter for use in rainy weather as well as for bushwhacking. This model is not intended for use in snowy conditions, which I will get into further along in the review.
The implementation of the polyethylene sheet in the forefoot area of the gaiter is intended for more overall protection for the forefoot portion of your footwear. 
Specs:
Average Weight: 6.2 g/176 oz (L-XL)
Height: 11" (as seen below)
Size: L/XL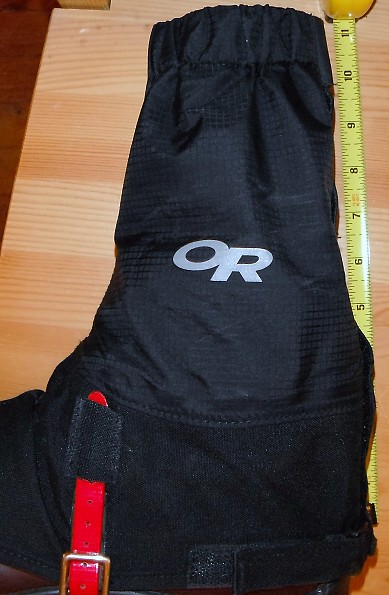 Fabrics utilized in the product:
The upper portion of the Salamanders are made with w

aterproof/breathable 3-layer 50D ripstop Ventia fabric.

The lower portion is made from Cordura.
Features, Fit, Comfort, and Function:
Main closure:
The Salamander has been designed with the hook and loop closure on the backside of the gaiter. This is a new thing to me being all of the other models that I have owned and encountered over the years have had the closure located on the front of the gaiter.
The main reason from my understanding is that it had to be moved in the back because of the rigid forefoot extension that is implemented into the design on this model.
I have found that while this is a welcomed feature when bushwhacking or during off trail travels (green brier etc isn't constantly catching on the closure and ripping it open) it can be somewhat frustrating getting the gaiter secured correctly due to the location of the closure (as seen below:)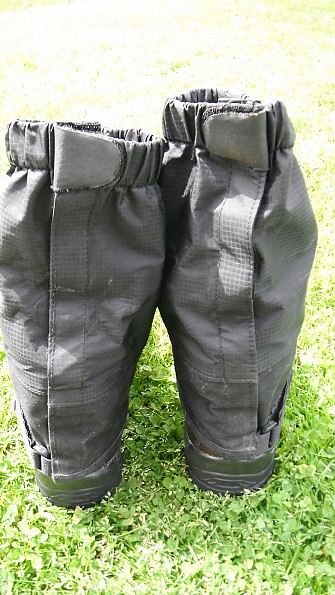 In order to get the gaiters fully secured you have to somewhat contort your body in odd positions to get everything cinched up correctly.
Elasticized top cuff:
There is an elasticized cuff on the top portion of the Salamanders that keep them from sliding down your calf. I have found that this cuff stays in place after prolonged periods on the trail as well as remains comfortable regardless of how long of a slog you may be on.
Elasticized cuff photo:
Lace hook:

There is a forefoot lace hook on this model as with other models I have previously used for the purpose of securing the forefoot portion of the gaiter to your footwear (as seen below:)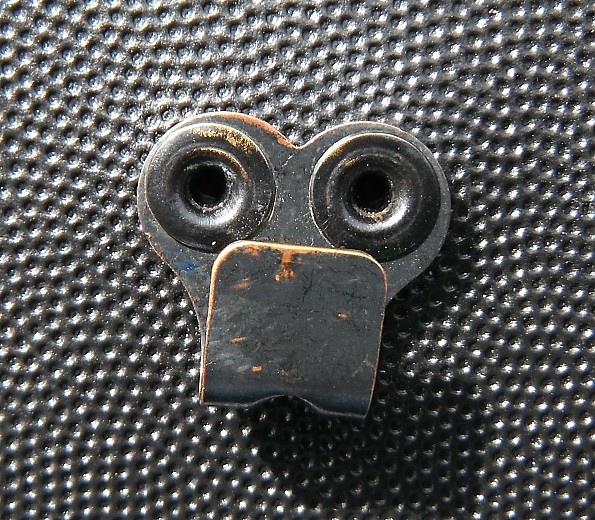 Instep strap:
OR utilizes an instep strap for securing/fitting the gaiter to your various footwear. The strap is nylon coated in urethane. I have had absolutely no problems with the instep strap on this model regardless of how much sandstone they have encountered here in SW Rocksylvania which is quite alot. A "guesstimate" is that I have around 300 miles on these gaiters to date (maybe more) and they have held up very well.
Instep strap photo:
As seen in the above photo the instep strap is adjusted via a metal buckle (think belt) and there is plenty of adjustability for higher or lower profile footwear. Regardless of what footwear I have tried to secure them too I have yet to encounter any troubles what so ever. 
Hook & loop shear tabs:
The Salamanders incorporate a 2nd level of security in regards to unintentional main closure openings on the rear of the gaiter (see photo below:)
Upper shear tab: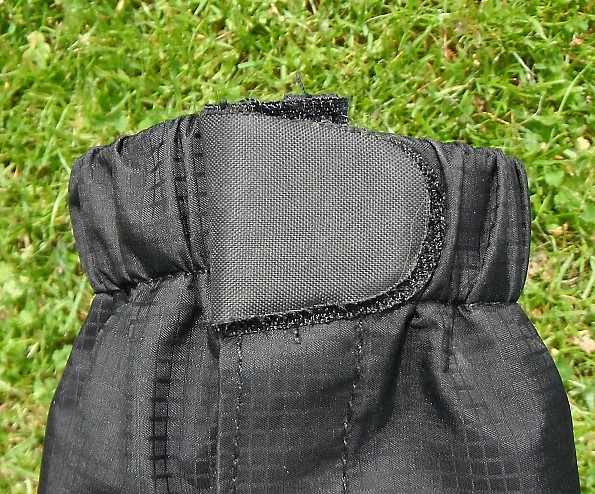 Lower shear tab: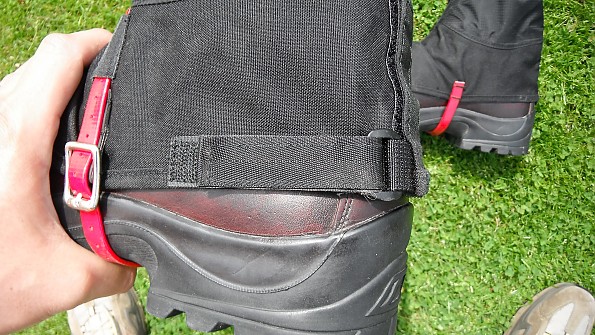 I do understand the logic behind the lower tab being it helps to snug the gaiter to the heel of your footwear so debris won't make it's way up into the gaiter as well as providing one with a more dialed in fit but, the upper tab to me is not needed and makes securing the gaiter to you footwear more cantankerous.
I have considered removing it, but thought that if I did so the warranty may be voided due to the fact that I altered the product. 
Forefoot extension:
The OR Salamanders incorporate an extended polyethylene/Cordura forefoot extension that (you guessed it) covers the forefoot portion of your footwear (as seen in the photo below:)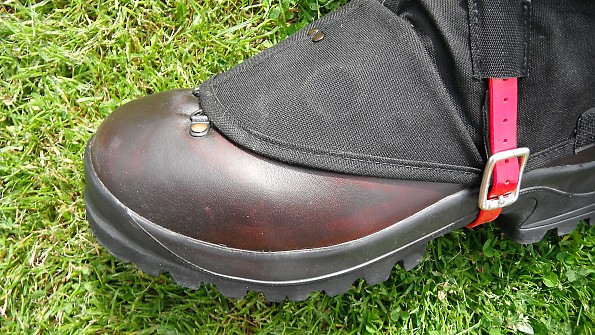 (A side mention that I would like to make is that OR specifically notes that this model is not intended for snow use in their product description on their homepage. I would think that this would be due to potential snow buildup in between the forefoot covering and your footwear.) 
This feature is probably my biggest gripe with the OR Salamanders. I believe its intended purpose as OR states is increased protection for rain as well as when bushwhacking it could save your laces from brier snags, etc. (the latter is my observation.)
Now while it does the above admirably there are a few other things that this feature does:
It collects twigs to no end. I am constantly pulling sticks and twigs that get trapped in this area out from in between my the gaiters and my footwear. It seems as though they are magically drawn to this area of the gaiter. Fall can be a real pain in the posterior to say the least.
Small rocks have also gotten caught up in between my boots and this area of the gaiter which results in abrasion marks on my footwear being that any small rocks that get caught up under this extension get ground into your boot from the footwear and gaiter moving separately which results in a sandpaper effect. 
The 

polyethylene sheet that forms the forefoot extension will/could cause unnecessary 

abrasion to the forefoot area of your footwear due to its rigidity(see photo below:)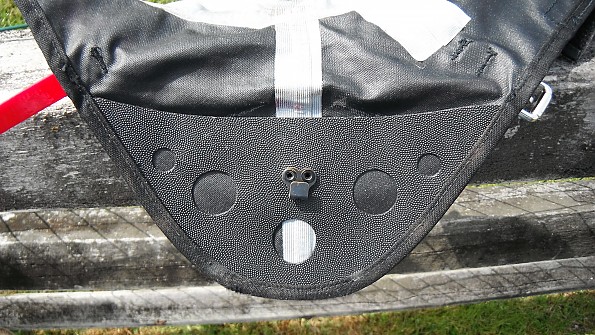 I have noticed that it removes the coating of any lace hooks that this rigid sheet comes in contact with whether it be my Scarpas or my Keens (as seen in the photo below:)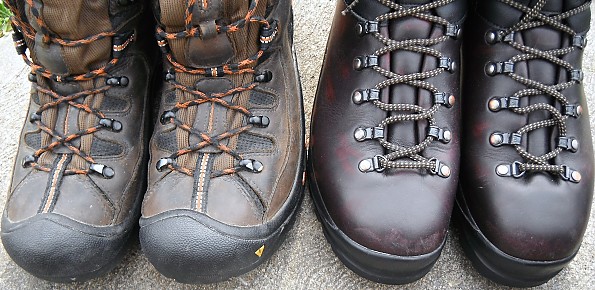 Now while I know this is merely cosmetic and adds "character" to my bc footwear my concern is that it may also cause unnecessary premature wear and tear on footwear models that incorporate eyelets that are "lower profile"(think Pivettas of days past) and are basically flush with the material(leather, synthetic) that the footwear is actually made from.
Dependent upon the size of your footwear if your boot utilizes a protective rand or toe cap this extension could cause delamination from the rand/toe cap making contact with the extension while in transit.
I would be more concerned with wearing the Salamanders with footwear that is primarily constructed from a synthetic material due to the potential abrasion issues previously mentioned.
The last problem that I have personally encountered with the forefoot extension is that the rigid sheet seems to be slowly working it ways through the Cordura fabric that covers it (see photos below:)
Now while this is nothing "major" at the moment, is still gives me reason to be concerned being I am left wondering how bad will this be a few years down the road.
I thought for others out there that this is worthy of mention. 
Water Resistance:
I have worn the OR Salamanders in what I would consider "wash-outs." I have yet to ever experience any moisture making its way through the gaiter itself. I have also worn this model with shorts when traveling trough dew covered trail over-growth/vegetation (mainly ferns here) and have not experienced any trouble with the upper portions of my socks getting wet.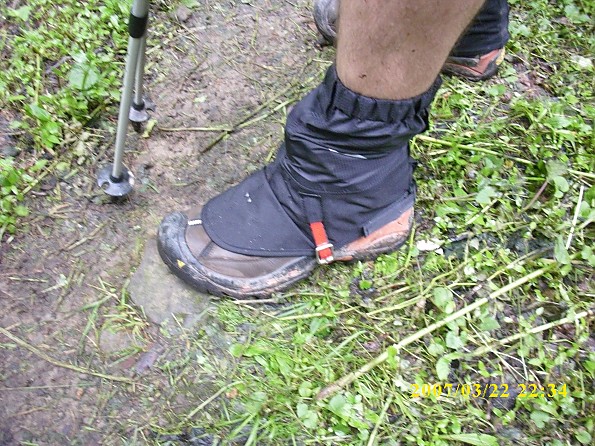 All of the seams on the OR Salamanders are taped as seen in the photo below: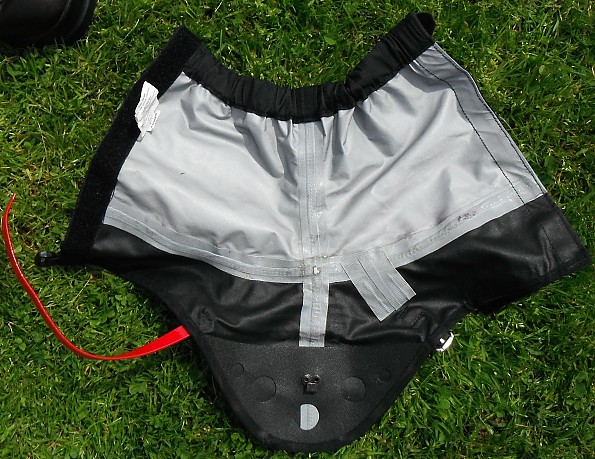 Breathability & moisture management:
In the aspect of breathability/wicking I have to honestly say that I am pretty impressed with the Salamanders. I have never experienced any build up of moisture on the inner of the gaiter itself regardless of temps, conditions, or humidity levels nor was I ever uncomfortable while wearing the Salamanders even when wearing them with shorts. 
Mind you I was wearing the gaiters in conditions where humidity was off the charts and temps were in the 90s (last summer.)
So the big question:
Would I purchase this model again if I had it to do all over?
My simple answer is no. 
This does not necessarily mean that I will not use the Salamanders during my 3-season travels through the hills. I mean I did spend the coin on them so I may as well use them until they meet their demise. 
But from an overall user's perspective from the past year+ of using this model if I were in the market for a gaiter of this type there are better options out there (some of which are made by OR.)
When these kick the bucket I may go after Integral Design's eVent Shortie gaiters.
I just feel from experience that too much thought and over-engineering was put into Outdoor Research's Salamander gaiters.
Some products are a lot better off when they are kept simple in regards to design.
This is one of those products that falls under that criteria.
Areas and conditions of use:
I have used OR's Salamander gaiters primarily on mutiple thru-hikes on the LHHT here in SW Pa. Terrain variations included lush vegetation, a plethora of rocky terrain, and as much mud as one could ever want.
Temps varied from the upper 30s in the fall to the upper 90s during the summer months.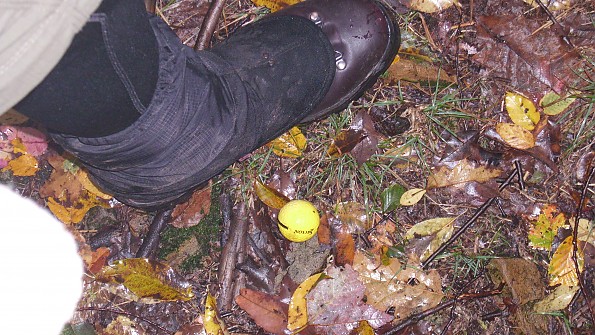 As always I want to personally thank you for taking the time out of your day to take a look at my review of Outdoor Research's Salamander gaiter. I hope the information and feedback from my experiences with this product helps you to get a better overall perspective of this product as a whole. 
I also hope that this information and feedback serves you well.
Happy hiking-Rick
Source: bought it new
Price Paid: $40 USD (msrp $45)

Your Review
Where to Buy
Help support this site by making your next gear purchase through one of the links above. Click a link, buy what you need, and the seller will contribute a portion of the purchase price to support Trailspace's independent gear reviews.
You May Like
Specs
Price
MSRP: $45.00
Historic Range: $29.93-$44.95
Reviewers Paid: $40.00

Recently on Trailspace