Outdoor Research Stormtracker Gloves

#3 in Soft Shell Gloves and Mittens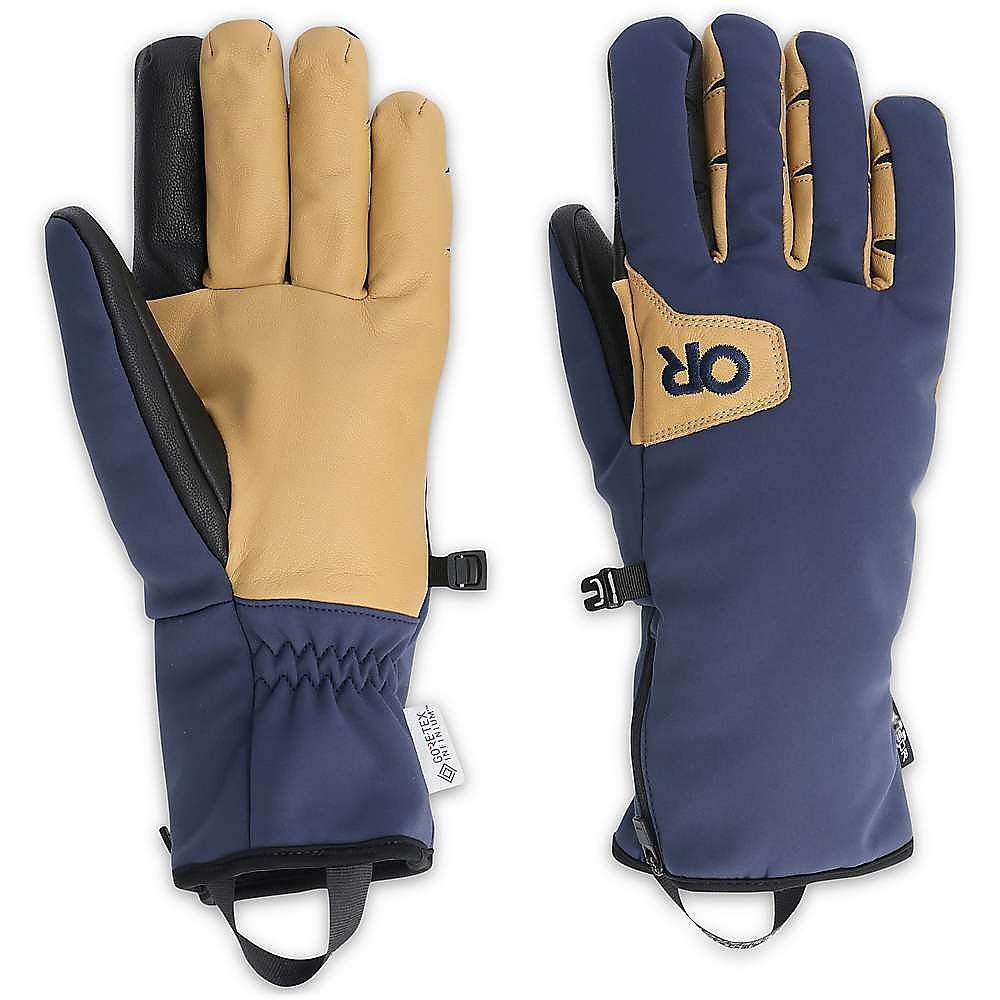 An excellent softshell glove that provides great dexterity, comfort, and protection from the elements. I would most certainly purchase these gloves again without a second thought.
Pros
Awesome dexterity
Very comfortable
Great wind and cold weather protection (with limitations)
Quality materials
Quite durable
Water resistant
Breathes/wicks moisture well
OR's "Infinite Guarantee"
Cons
Zipper (YKK) toggle can be a bit finicky. Not to the point that it fails or malfunctions, but the toggles are small and I have now resorted to getting them closed up at times with my teeth
Glove Model: OR Storm Tracker
Glove Type: Softshell (Windstopper)
Target Comfort Range: 15/35 degrees Fahrenheit (-9/2 degrees Celsius)
Size: XL (S, M, L, and XL available)
Gender: Mens (Womens also available in S, M & L (black/charcoal only)
Color: Black/Charcoal(Chili/Charcoal also available)
Weight: 5.9oz. / 168g.
Warranty: OR's Infinite Guarantee (lifetime)

Date of initial purchase: December 3, 2011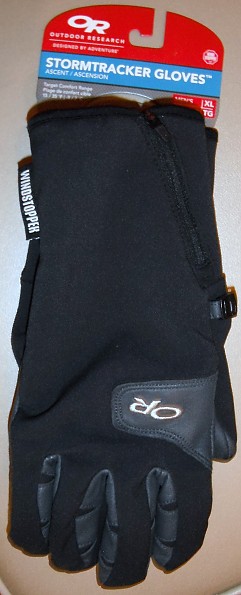 As some of you may already be aware I really enjoy being on trail during the winter seasons. Well with these types of endeavors comes the need for gear suited for the conditions. 
It seems as though my favorite time of year is making it's presence known early this year here in SW Pa. We already have a foot of snow on the trail that I frequent regularly. 
Prior to last winter season I decided I needed a pair of gloves that were a bit less bulky than my deep winter gloves (Dakine Rangers.) The Ranger is a solid glove but unless the temps are in the "nether region" they are overkill. 
Okay, let me rephrase that; they take overkill to a whole new level. 
If I am on the move I want a glove that doesn't smother my hand in a level of warmth that is somewhat comparable to a blazing inferno. I also want a glove that gives my fingers the ability to move without them feeling restricted.
I just want the digits to be comfortable. No hot, not cold... Just comfortable. 
So after some extensive (exhaustive) research I ended up snagging up a pair of Outdoor Research's Storm Tracker gloves. 
I have to say I am quite impressed with these gloves and this model has met all of my needs exceptionally well. 
I figured with the colder seasons fast approaching this would be a very good opportunity to share my experiences with these gloves with those interested.
How do they perform? How do they hold up ya ask....
Well if ya have a little time and are willing to read another one of my "ramblings" I will do everything I can to answer those questions and maybe a few more...
So with that being said let's not beat around the bush, here is my review of the OR Storm Trackers.
A brief overview of the Storm Trackers:
(manufacurer's description:)
"The ultimate in backcountry versatility, the StormTracker Gloves™ are equally at home alpine climbing, ski touring or ice climbing. Low-profile WINDSTOPPER® soft shell fabric deflects biting gusts, and a tricot lining retains valuable heat. The streamlined profile allows for amazing breathability, unprecedented dexterity and extraordinary tactility. If you are looking for a durable, nimble glove that performs well in moderately cold conditions, the StormTracker Gloves™ are for you."
The Outdoor Research Storm Trackers are best described from my standpoint as a non-adjustable, no nonsense approach to a low profile, streamlined, softshell glove that not only offers protection from the cold but also provides excellent dexterity. They implement features such as WINDSTOPPER softshell fabric to deflect the cold biting, wind as well as a tricot lining to keep in a bit of heat when the temps plummet.
They have locking YKK zippers on the wrist gauntlet entry points and a few other features that just make sense.
These gloves are suited for those that are on the move and those that use their hands whether it be logging miles with trekking poles, or swinging an ice axe. They are not a bulky, seriously insulated glove that will keep one warm while standing by a tree at -40°F. 
What they are is one heck of a great glove for keeping one's digits shielded from the cold biting winds of winter while still providing optimal tactility/dexterity.  
The skinny on the Storm Trackers:

Fit:
The OR Storm Trackers fit me very well. I typically wear a XL in any glove and there is no exception here.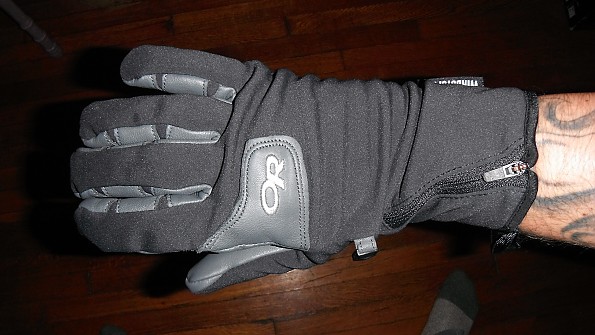 The Storm Trackers are more of a form fitting/lower profile glove. They fit my "paws" about as perfect as I could want them too. 
My hands are approximately 8" long and (roughly) 9" in circumference: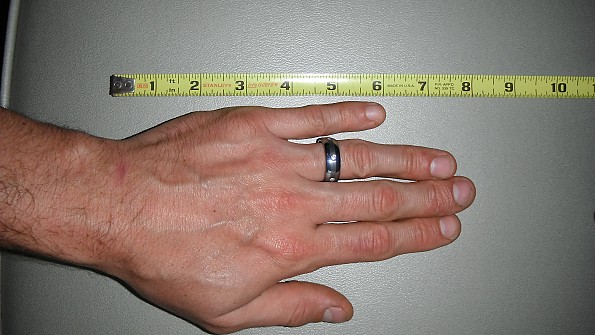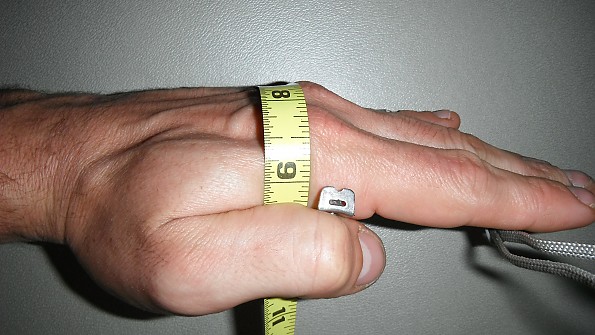 The reason I say "roughly" above in regards to circumference is because I can't seem to find my tailor's tape so I was left using the ol' Stanley. 

The XLs fit me very well. If my paws were any bigger these glove might not work for me. So keep this in mind if you have your eyes on this model.
You can find a sizing guide here for OR's gloves by clicking on the sizing guide tab on the page.
Comfort/Warmth:
As far as comfort goes with this model all I can really say is I couldn't be happier. The WINDSTOPPER softshell material in combination with the tricot lining does a very good job at providing a bit of warmth for as thin as the glove is. The tricot lining is also very comfortable and soft. 
I have worn these gloves on trail for 10hr days (as well as nights) and I have to say there has not been one time that I can recall where the gloves became uncomfortable.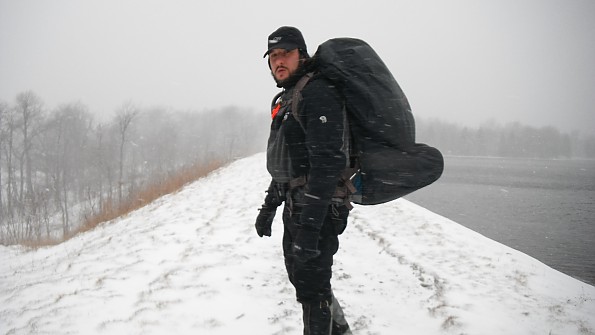 The WINDSTOPPER softshell material does a very good job at keeping the cold, winter winds at bay. Now keep in mind this is when one is on the move. 
Blood flow decreases when one's activity levels are decreased(like sitting around camp at night)so if you are considering these gloves for that purpose then look elsewhere. The Storm Trackers are not designed for that type of use nor do they provide the type of insulation that is necessary for that type of activity...
Or should I say "lack of?"
The Storm Trackers are a great glove for me down to the single digits from my experiences when on trail during the colder seasons. Notice, I said "for me." Your experiences with this model may vary dependent upon your activity levels, body chemistry, conditions, as well as other variables that vary from individual to individual. 
To me this goes hand in hand with the subject of how cold one sleeps in regards to temp ratings for sleeping bags compared to another individual. 
There is no "definite" answer. We are all different. 
If you look at the target comfort range per OR (photo below) you will see that I am well past their recommended range:

This is the case for me and as I stated above I am sure others experiences will vary. 
Water Resistance:
For the purpose of this review I just ran the Storm Trackers under the faucet while wearing one of the gloves. Here are my findings.
At 6 seconds the WINDSTOPPER fabric started to wet out, at 10 seconds the water made its way through the zipper on the wrist, and at 21 seconds the inner (tricot lining) of the glove became wet.
Now I know personally that these gloves are not waterproof from past experience but at the same time they are not claimed as being waterproof on OR's product page. They are stated as being water resistant. 
I have found that in a drizzle they do not seem to wet out from prolonged exposure. The whole issue with the zipper letting water in is easily remedied by placing the cuffs of your shell over the wrist gauntlet which will cover the zipper shielding it from the elements.
If you are going to be utilizing these gloves in really wet( downpour) conditions I highly advise that you consider incorporating a waterproof over-mitt with them. This is not a bulky glove so using this model as a part of a system can be done.
The leather palms and fingers of the gloves also seem to absorb water at a fairly quick rate so treatment of the leather might be a good idea. 
I have been considering treating the gloves with a sponge on treatment such as Nikwax Glove Proof. At the same time I know the results will only make the glove more water resistant based on the fact that (as I stated above) the Storm Trackers are not intended as being waterproof so I doubt that there was seam tape implemented into the construction of the glove during the manufacturing process.
I can't set my expectations to high on a treatment. Treatments can only do so much.
If your gloves wet out, and the conditions are cold(which could potentially cause the loss of ability to use your fingers) you can find yourself in a real bad situation very fast. 
So please keep this in mind. 
Breathability/Moisture Management:
The OR Storm Trackers breathe very well from my experiences.
I have yet to experience any moisture build-up on the interior of the gloves whatsoever. Nor have I experienced any type of clamminess/dampness on my hands.
The tricot lining and the face fabric does a very good job at transferring moisture away from my skin.
So this leaves me to believe that the glove breathe very well in regards to the conditions/levels of exertion that I have exposed the gloves too. 
Simply put they breathe very, very well. 
Construction/Durability/Abrasion resistance:
The construction of the Storm Trackers is quite good and on par with what I have come to expect from OR products that I have owned currently as well as in the past. 
There are no loose stitches and all of the stitches are uniform. From looking at the glove nothing seems to be amiss. 
The face fabric (WINDSTOPPER) on the Storm Trackers has yet to show any wear after fairly extensive use.
(WINDSTOPPER softshell face fabric)
The leather also seems to be holding up quite well. I always use trekking poles so the palm and inner finger areas are constantly in contact with the grips of my poles when on trail. 
(leather "high wear" areas)
They have also been subjected to gathering/splitting firewood, priming/operating various stoves, preparing meals, pitching tents and other various camp chores. 
They show very little wear for the amount of time that I have owned them. Honestly, other than a few scuffs they are no worse for wear than when I bought them. 
I have to say for as light weight as they are these gloves seem to be quite durable. 
(Then again I have yet to subject them to the "crampon test.")
Adjustability:
There is no hook & loop, no adjustable toggles, no high tech BOA type tensioning system or any other real way to adjust the gloves. I mean you do have the zipper on the wrist gauntlet so I suppose one could consider this to be a way to adjust the glove for the purpose to vent to some degree. 
Function/Ease of Use:
They are gloves. They are pretty straight forward. Somewhat like socks for your hands. Ya put them on and take them off. 
But for the sake of this review I will give it a whirl...
Looking at the Storm Trackers from a functional perspective they do what they claim to do and they do it very well. They provide awesome, unrestricted range of motion and feel while also providing quite a bit of warmth for as thin as they are. 
When it comes to being able to use my hands to perform camp chores that I have previously referenced earlier in the review I can honestly say that I have not used a glove that provides better dexterity and feel than the Storm Trackers.
I actually typed part of this review while wearing them. ;)
I could cover the gloves features here but for the sake of keeping this review organized I am going to save that for the features section of the review.
I would like to mention that I did clip the product a half star due to the wrist gauntlet zipper toggles. They are small....
Okay, make that tiny (see pic:)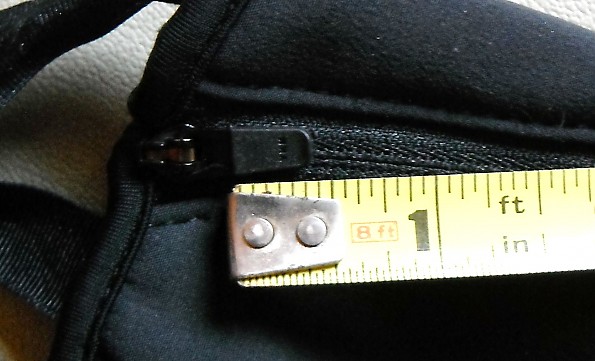 I have on more than one occasion utilized my teeth to zip the gloves up on trail. I mean don't get me wrong, they do work but still can be somewhat inconvenient due to their "smallish" size.
Features:
There are not a ton of features on this model. As I stated earlier they are for the most part pretty streamlined but there are a few so I will break down each feature and provide a photo so ya know what I am referencing. 
WINDSTOPPER Softshell fabric:

(Manufacturer's description provided below)
"WINDSTOPPER® Soft Shell offers all the wind protection and warmth of standard WINDSTOPPER® fleece with the addition of a durable stretch-woven exterior for improved resistance to snow, spray, and abrasion."
Leather palms & inner fingers: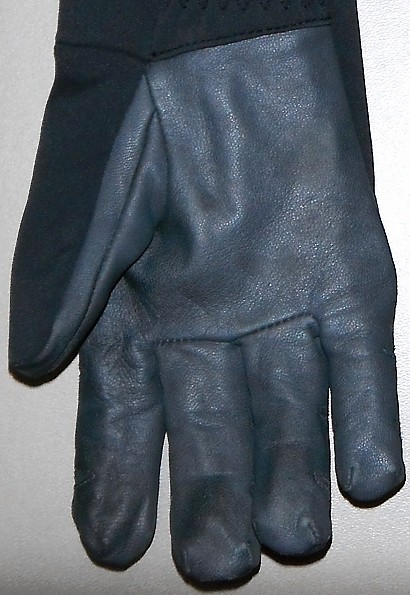 The OR Storm Tracker incorporate leather into their design for areas where a bit more abrasion resistance is needed (palms/inner fingers) for performing such tasks as utilizing ice tools, trekking poles, adjusting crampons, etc.
There are also cuts in the finger areas of the gloves so range of motion isn't impeded in any way, shape or form
(finger cut-outs:)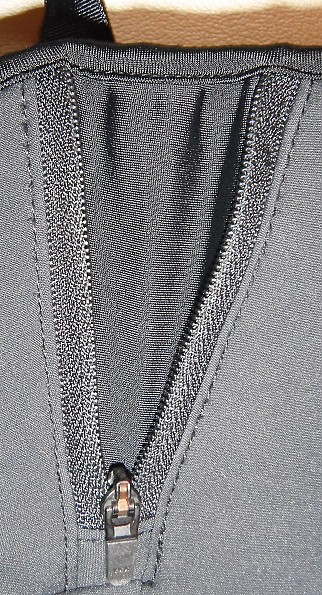 The zippers on the wrist gauntlet are non-waterproof YKK zippers. When the zipper toggle is vertical or horizontal (pointing towards your arm) they are free flowing. Once you flick the toggle flush with your hands (horizontal towards your fingers) the zippers lock and do not slip out of their position.
There are pull loops on both gloves so that they are a bit easier to put on.
Gusseted Wrist Gauntlets:
The gussets under the zippers provides protection while still giving one the ability to open the glove for venting purposes, etc.
Quick connect squeeze buckle:
The Storm Trackers also have a quick connect squeeze buckle so you can connect the gloves to one another so ya don't misplace one.
Areas and Conditions of Use:
The OR Storm Trackers are my go-to gloves for my trips during the fall through early spring seasons here in Sw. Pa.(LHHT.)
I typically use these gloves when the temps are 32°F or colder. 
The gloves provide great protection from the elements for me down to the single digits and have proven to be a formidable adversary of cold, windy winter weather. During the winter season they are a very important part of my winter kit.
They also provide an awesome level of tactility and dexterity which I most certainly appreciate when I truly need optimal use of my fingers.
If you are looking for a great pair of softshell gloves for your cold weather forays I would highly recommend that you give the Outdoor Research Storm Trackers are very hard look.
They are awesome as long as you keep in mind what they are and what their intended use is.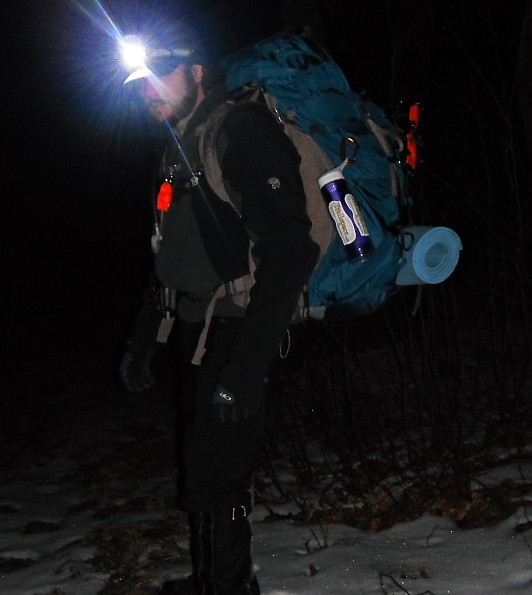 In closing...
As always I want to take the opportunity to thank you for taking the time to read my review of Outdoor Research's Storm Tracker softshell gloves. 
I sincerely hope that the feedback that I have provided in the review above helps to clear up any questions you may have in regards to this model. 
If you have any questions that may not be covered in the review feel free to post them in the comments section at the end of the review.
I will be more than happy to do whatever I can to answer each one to the best of my ability. 
Happy hiking-Rick
Source: bought it new
Price Paid: $70 (usd)

Your Review
Where to Buy
Help support this site by making your next gear purchase through one of the links above. Click a link, buy what you need, and the seller will contribute a portion of the purchase price to support Trailspace's independent gear reviews.
You May Like
Specs
Men's
Price
MSRP: $69.00
Current Retail: $74.95-$79.00
Historic Range: $29.98-$79.00
Reviewers Paid: $70.00

Women's
Price
MSRP: $69.00
Historic Range: $33.10-$75.00

Recently on Trailspace