Outdoor Research Transonic Jacket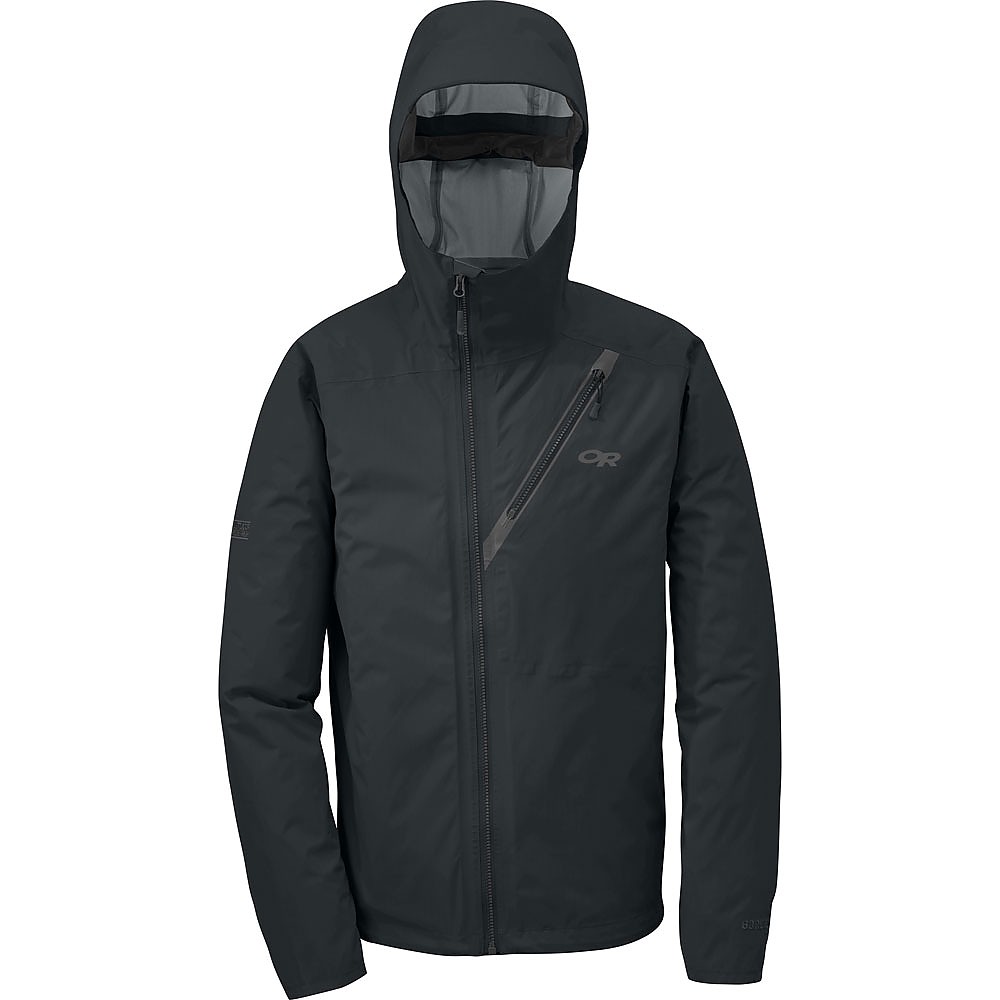 The Outdoor Research Transonic jacket is a lightweight, streamlined, highly breathable hard shell. This shell is perfect for those looking to shave some weight from their packs, but still have a reliable and fully functional shell.
Pros
Lightweight at 11.7oz (Size XL)
Breathable GORE-TEX Active shell
Motion-Mirroring Stretch fabric
Hood adjustment cinches from rear, and will fit over a helmet
Excellent hearing and visibility while wearing hood
Offset zipper to prevent zipper stacking
Trim fit
Streamlined design
Cons
No wrist cuff adjustment
No pit zipps
No hand pockets
I have had ample opportunity to test out the OR Transonic Jacket over the past two months due to higher than normal rainfall here in the Northeast. I have full confidence in this jacket's ability to keep its wearer dry, and protected from the elements. The minimalist design cuts down on the jacket's weight, but does not compromise its durability, or functionality. 
I would recommend this shell to anyone that is looking to shave weight from their packs but still have a fully functional, durable, and quality shell; Perfect for those alpine pursuits, backpacking, belaying, hiking, fishing, or just a walk around town.
Construction: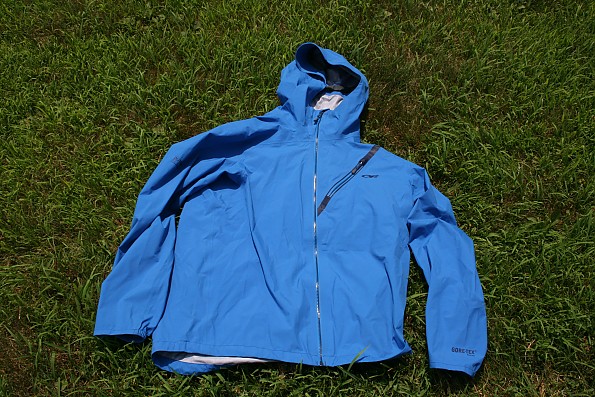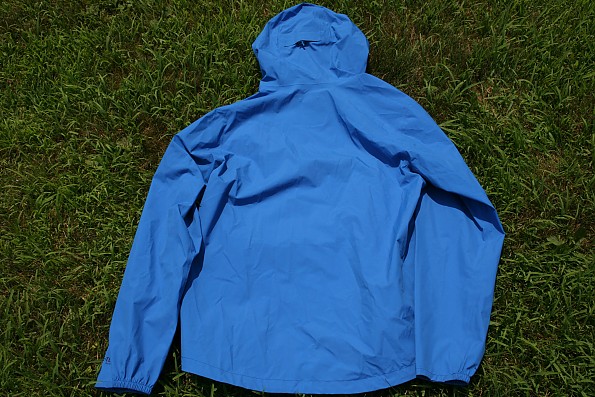 Weight: 11.7oz –Size XL
Waterproof zippers
Taped seams
1 Chest pocket, with internal sub mesh pocket and headphone passthrough
GORE-TEX Active shell breathable membrane
OR's motion-mirroring stretch fabric technology
Offset zipper
Helmet compatible hood with adjustable wire brim
The OR Transonic Jacket is a very high quality constructed jacket, all stitching is top notch, seams are taped, waterproof zippers, and thread ends trimmed. The jacket fabric feels tougher and more durable than other lightweight jackets in my experiences. Made of GORE-TEX Active shell, and a motion-mirroring stretch fabric the Transonic provides excellent maneuverability in a durable, lightweight, yet highly breathable package. The slight stretch of the jacket fabric allows for a very comfortable wear, and does not feel constricting or limiting in anyway while moving about, reaching, pulling, etc.
I especially like the hood on this jacket. It cinches from the rear and leaves the fabric loose around your ears and face/forehead which allows for superb hearing and visibility yet still provides a snug fit. The hood also has a wire brim which is easily adjustable and holds its shape well. Through the course of my testing I felt that the hood when cinched up did an excellent job of keeping rain out of my face without the use of any other hats etc.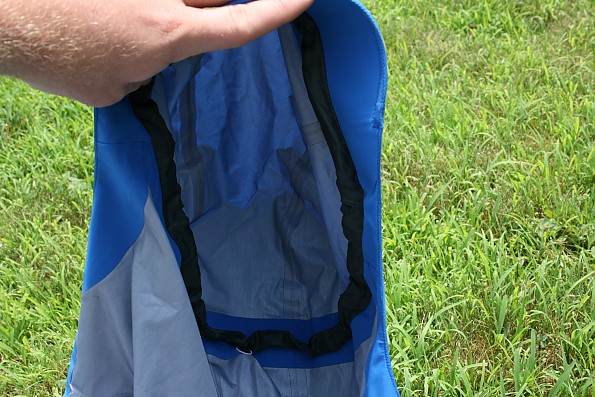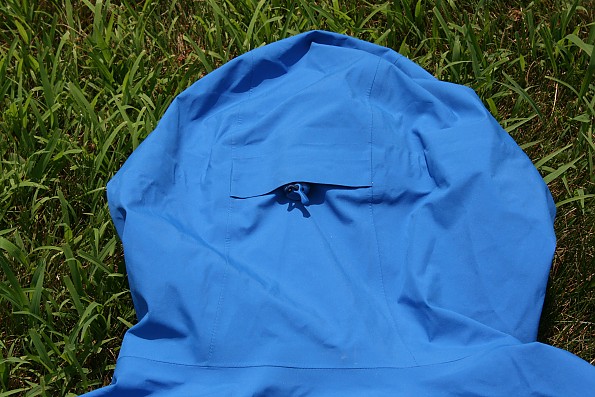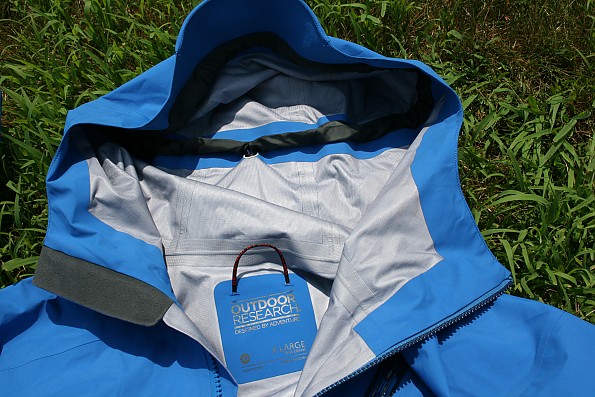 The lining of the jacket is actually part of the breathable membrane, which allows for enhanced breathability, and superbly comfortable feel during active activities. Traditional Gore-tex has a separate PU lining that helped to keep the membrane clean and protect it from body oils but impaired its breathability in my opinion.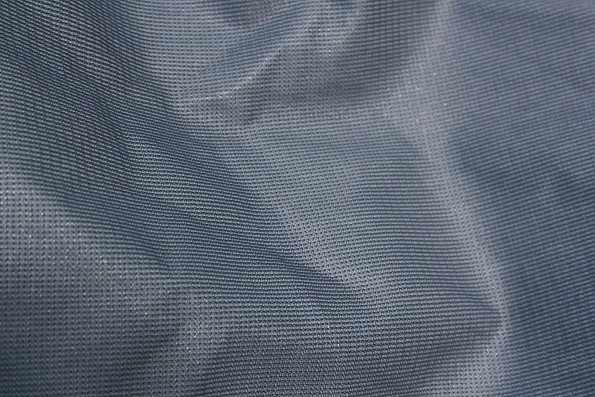 An offset zipper is utilized to prevent zipper stacking when layering other clothing under the shell. All zippers are waterproof and operate smoothly without catching or snaging on the fabric.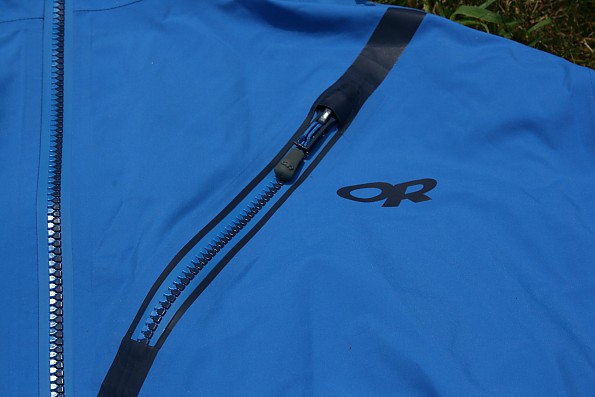 There is only one pocket on the jacket, and that is the chest pocket. The chest pocket has a mesh sub pocket which is about the size of an average smartphone, and there is a pass-through point for headphones.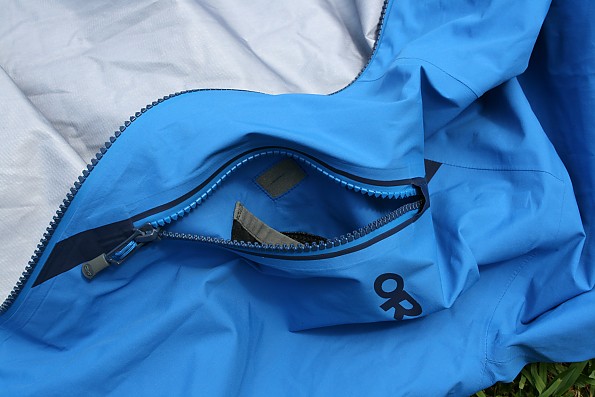 My one gripe is with the wrist cuffs. The elastic only goes halfway around the cuff in an effort to save on weight I suspect, but if your wrists are in-between their jacket sizes then you are stuck with an ill fitting wrist cuff which slides around annoyingly when you are in motion.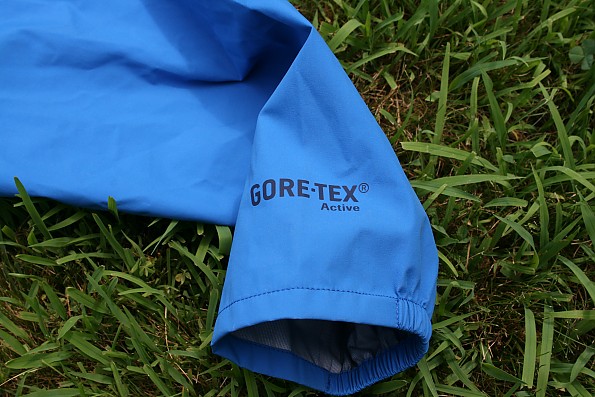 This jacket does not have pit zipps.
Performance:
Outdoor Research and GORE-TEX make claims that the Transonic jacket is highly breathable, and perfect for aerobic and other active activities, and goes further to claim that it is so breathable that pit zips are not needed.
Well, I found this to be a pretty true statement.  I tested the Transonic Jacket under a wide array of conditions; backpacking, trail running, fly fishing, and simple walks with the dog.  All of this testing was done in temps ranging from 65-100°F with humidity 60%+, though the majority of the testing was done in 85°F+ temps with 80%+ humidity. Given the high temperatures, combined with high humidity this jacket performed flawlessly in my opinion. In cooler temperatures I feel this jacket would excel even when doing high exertion activities. I hope to provide a product update at some point this coming winter.
During the more active and aerobic activities of backpacking and trail running I found that the jacket performed very well. While backpacking the jacket performed flawlessly in the 60-80°F range when the humidity was around 60%, and provided more than adequate breathability. However, when the temperatures were up in the high 80s-90s combined with the high 70%+ humidity the jacket become a bit uncomfortable to wear sealed up for prolonged period, and I found myself wishing for pit zips on more than one occasion.
While trail running it did quite well also, though I could definitely feel moisture buildup inside the jacket though I felt it was doing a good job of expelling that moisture. A slower more relaxed walk after a period of higher activity allowed the jacket to stabilize and vent off the excess moisture over the course of a half hour to forty five minutes or so. Activities involving a much lower exertion level were extremely comfortable with this shell, no matter the temperature.
I understand why pit zips were left out, because they add weight and some people do not like them while wearing a pack. However, I think the claim that they are not needed is a bit overblown. I definitely can see a need for them, especially so during the warmer summer months during highly active activities. I think if this jacket had pit zips or if they offered a different model of the same jacket with a pit zip option it could definitely be a real winner for year round use. Pit zips would allow that excessive heat and moisture build up I experienced to vent off at a much quicker rate. You can make do with this jacket without them just fine, but the claim that it breathes so well they aren't needed is indeed a stretch.
I am unsure of the exact hydrostatic head rating of this jacket, but it must be fairly high and at a minimum more than adequate for continuous heavy rain. Through the course of this testing we had quite a few periods of very heavy rains here in the Northeast. The Transonic held up like a champ, and never once wetted through despite being exposed to some truly torrential downpours. At no time did I encounter any wet spots inside the jacket, all of the zippers, seams, and fabric maintained its waterproof integrity.
Conclusion:
I found that the Outdoor Research Transonic jacket lived up well to its marketing claims. A lightweight, streamlined, breathable, and durable jacket is what was promised, and they certainly delivered. My main complaint was with the lack of adjustment on the wrist cuffs; if they addressed this the jacket would be a homerun.
Whether you are out on a multi-day backpacking trip, climbing that wall, or running your favorite trail this jacket will not let you down. I would recommend this jacket to anyone looking for a lightweight, breathable shell for high exertion outdoor activities without hesitation.
Source: received for testing via the Trailspace Review Corps (Sample provided by Outdoor Research for testing and review)

Your Review
You May Like
Specs
| | |
| --- | --- |
| Price | Historic Range: $146.99-$300.00 |
Recently on Trailspace