Outdoor Research Ultra Trail Gaiters

The Ultra Trail Gaiters has been discontinued. If you're looking for something new, check out the best gaiters for 2023.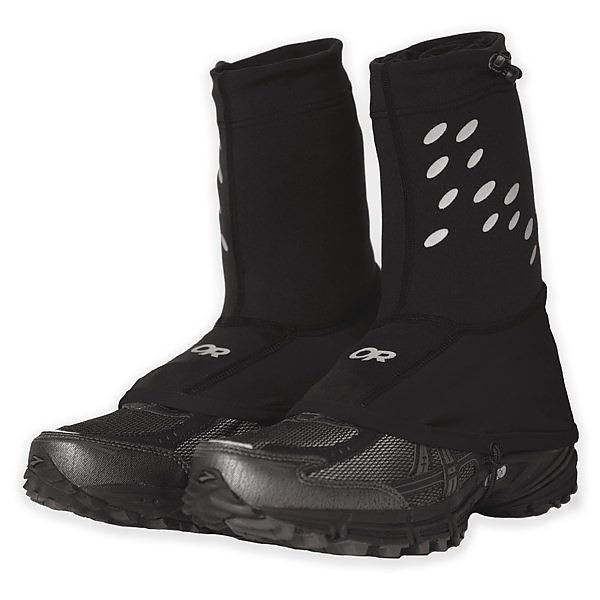 Lightweight fairly minimalist low gaiters, work OK to keep debris out of low-cut trail shoes. Fit is not superb on low shoes, but it works well enough.
Pros
Lightweight
Well built
Breathe well
No zipper to break, no velcro to foul up as it's slip-on style — but see Cons :-)
Cons
Top opening is a bit tight for fat (er... "muscular") calves
Need to take shoes off to don or doff the gaiters — but see Pros :-)
Velcro tabs are supposed to be glued on the shoes, to hook on the bottom of the gaiter to keep them from riding up. I didn't bother when i first used the gaiters, and it's worked OK without them for hiking with my low hiking shoes, the rubbery grips inside at the rear works well enough to keep them in place — might be more problematic if energetically trail-running with those shoes, though. Does not work on minimalist

Merrell

barefoot running shoes, the gaiters ride up right away. That's why the velcro tabs are there, but I suspect (albeit with no proof since I don't want to try) that a) the tabs would fall off soon enough from shoes, b) not very convenient since i use a number of different pairs of shoes depending on what i'm doing.

Simple laces are used to go under the shoe sole to keep the gaiters in place. Just like I did for the velcro tabs, i didn't bother put them on yet, and it's worked OK as-is for my low trail hiking shoes, so I usually don't bother. The laces appear to be just plain regular low-cost laces, and i don't see them lasting very long when used on rocky terrain.

The front has a semi-rigid tube sewn inside the front seam, right where the front hooks are riveted. I found that although they are somewhat moldable, they do not bend or stay bent enough to conform correctly to the front of the shoes. Pretty useless on barefoot-style shoes for sure, they leave a gaping gap on both sides, and even a bit wide on my Salomon low hiking shoes. See photo.

Not a huge deal, as I'm mostly looking to keep debris from sliding down the top of the shoe, and most likely will be much improved if you used the under-arch laces. But as-is it will let dust in and will more readily catch on "things" as I walk through grass or low brush.
One last con for some people will be that the top opening is a bit tight for my big calves. It fits ok when crushed down towards the top of the shoe, but if i pull them up when my calf starts bulging, the opening is quite tight. Good to keep scree out, but it does leave a bit of a mark, specially when wearing thick hiking socks. As you see in the picture above, I keep them low, which leaves a bit of sock exposed, which means the socks will get wet if walking through wet grass, or if it rains. My calves are not spectacularly developed, but no chicken legs here either, so the gaiters will fit well a more slender leg, and do their job of keeping stuff out of your shoes, but no He-man Mountain Gorilla need apply.
Pros:
Outside is "water-resistant". Indeed, it did quickly leak when hiking in the rain (sigh... welcome to the joys of the Great NorthWet Outdoors...), but it works very well keeping things dry when going through wet grass, brushes, etc. The fabric dries in a jiffy when wet.

Lightweight, small, lycra makes them hug your ankle and shoe, you hardly know they're there.

Packs extremely small.

Well-built, fabric seems strong (I've only used them for 1/2 dozen hikes, but did rub through rocks, brushes, sand, took them off and put them back on in a hurry, and they still look as new. 

They breathe well enough: I haven't hiked or run in the desert, but they were fine in 85F+ with mid-weight wool or synthetic socks.

Fairly stylish... If you're into that type of style.

Brushed inside fabric, very pleasant on bare skin when using barefoot-style shoes or very low socks.

Reflective accents on the back & side
Overall, those are not the perfect minimalist gaiters I was hoping for, but they're good enough for me to wait till they get destroyed, before looking for a better pair. They keep debris out of my low-cut trail shoes while being light-weight and unnoticeable on my feet, and are rugged enough to resist rough treatment, which is what I was looking for.
Size L fits my Size 44 euro, 10 1/2 US low cut trail shoes & 43 / 10 barefoot style shoes.
Source: bought it new
Price Paid: US$40+

Go either heavier or lighter.
Pros
Keeps dirt out like it should
Cons
Very narrow top opening
Heavy for what they do
For me these gaiters did't work so well and I think there are better alternatives out there. To be honest I haven't used these as much as other gear that I review. This is partly due to their fit.
I wear 46 (US 11.5) and got these in a large. I could put these on no problem (removing shoes first of course). The top of the ankle 'sock' has a small elastic drawstring. I would say that I have quite thin ankles with low body fat and the elastic is already tight.
When I would wear these with mid high shoes or boots, the top part would go higher on my calf muscle and be too tight on its loosest setting. For an elastic cord with a drawlock on it, the widest setting is simply too tight, especially for people with average or higher body fat levels.
These gaiters are made from very solid materials, with nice reflective accents that will add to your visibility would you have to road walk. 
My problem with this soft shell material is that I think it's a middle of the road solution that works OK for a lot of conditions, but not great for any of them. It holds out debris of course, but if you need something waterproof this isn't it. The gaiter is too short for that, and the fabric is not waterproof and dries slow. If you need waterproof/snow protection go with a GTX, eVent, or NeoShell gaiter that comes up to your knees.
If on the other hand you just need small, light, breathable gaiters than there are others that do that better. Dirty Girl Gaiters for example are lighter, dry quicker and breath better than these — and they are cheaper too.
Recently Outdoor Research has come out with their own version of Dirty Girls Gaiters, the Outdoor Research Sparkplug Gaiters. My Dirty Girls are getting old, and they look like a good alternative as well. I might check those out if I can buy them locally. 
So, I would think through what conditions you want your gaiters for and make a choice: Either go with heavier, longer but fully waterproof gaiters, or go with even lighter, more breathable and faster drying gaiters. 
Source: bought it new

Great for running on light trails or on roads to keep light rain and debris from entering shoes. Secure fit that does not ride up and expose foot opening in shoes. Reflective striping a bonus welcome safety feature when running in low lighting conditions.
Pros
Water resistance
Secure fit
Lightweight and does not impede walking/running
Cons
Could use a fully waterproof membrane and velcro on back heel to more properly ensure the back flap stays in place when running on rough surfaces with lots of debris
Great fit and adjustability. Secure top closure for keeping out debris and light rain. Would like to see a fully waterproof membrane in future designs to properly keep feet dry in heavy rain. Good breathability and moisture wicking features.
Experience
First time to try this gaiter. Seems to perform as advertised. Would like to see a fully waterproof/breathable membrane incorporated into future designs so that it will keep feet dry in heavy rain.
Source: bought it new
Price Paid: $50

Superb fit, quality, and style for the amateur to the pro hiker.
Pros
Stretch material makes for easy on and off
Keeps out rocks/sticks/sand
Breathable
Easy to wash and quickly dries
Folds up nice and small for storage
These gaiters have been the best! I have hiked over hundreds of miles with them (240 new peaks last year and on 130 so far this year) helping me keep the sand/sticks/rocks and dampness out of my shoes enabling me better to achieve my goals and beyond.
Nice fit, easy to put on/off, washing takes minutes and dries quickly. The drawcord is a nice touch on the upper for those slopes keeping lots of dirt out and great for telling me which one goes on what ankle at a glance. Velcro at the heels attach to my shoes to keep these gaiters nicely in place as well. 
Outdoor Research replaced a pair when the stitching came loose — no hassle and quick exchange.
Source: bought it new
Price Paid: $36

Your Review
You May Like
Specs
Price
Historic Range: $17.98-$47.50
Reviewers Paid: $36.00-$50.00

Recently on Trailspace