Outdoor Research Ultralight Ditty Sacks

#6 in Stuff Sacks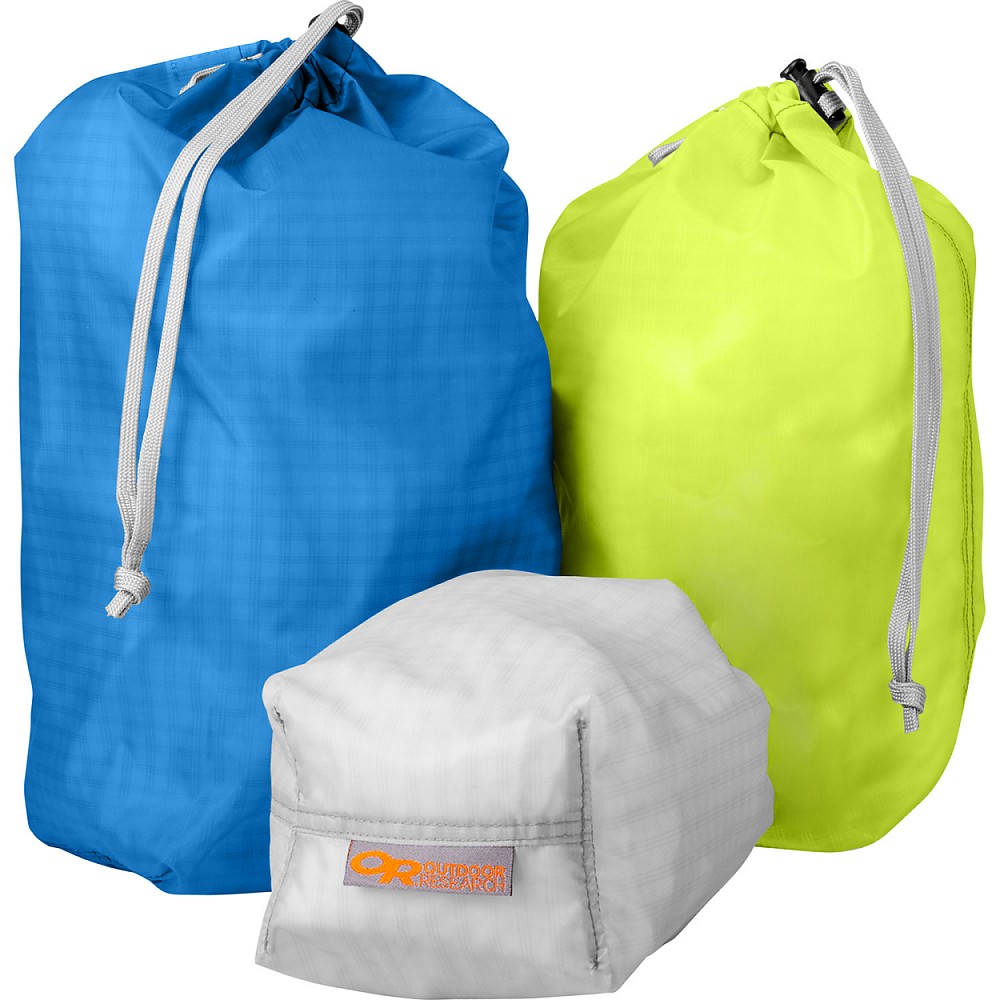 These three little bags have been my hiking companions for as long as I've been a backpacker and not only look as good as the day I bought them, but function as well, too. Lighter, and a LOT more water-resistant than mesh stuff sacks, these little bags are terrific little organizers. Soft to the touch and whisper-quiet, they sit well in a pack and make it very easy to pack other items around them. For as banal of gear as stuff sacks are, I have no shame admitting these ditty bags are EASILY some of my favorite pieces of gear.
Pros
VERY lightweight—lighter than OR's mesh stuff sacks!
Durable and can take a liberal beating — and then some!
Unique fixed-side closures prevent awkward bunching
Backed by OR's Infinite Lifetime Guarantee
Water-resistant: contained a busted bottle of Bronner's from sliming-up my pack!
Cons
Only sold in 3-packs: wish these could be bought ala-carte
On the smaller side for stuff sacks
UL ditty sacks limited to sizes offered in set
Cord diameter and plastic cord lock could be smaller and more minimalistic
Outdoor Research Ultralight Ditty Sacks (Set of 3)
I've had this set of stuff sacks ever since I started backpacking. Since then, I've either upgraded or substituted damn near every item in my rig. Not only have I kept these with me, but they look as good as the day I bought them, and perform the same.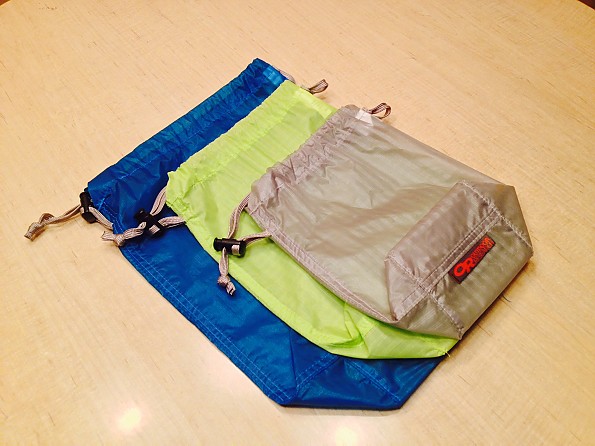 COST
$28 from REI.
Is thirty bucks steep for a set of three bags? I'd be lying if I said it wasn't.
Did I possess the sewing skills and material knowledge to make my own? No way in heck.
At the end of the day, they were made by Outdoor Research (whose products carry their "Infinite" Lifetime Guarantee) AND they were purchased under my REI Membership, which pretty much allows me to return them, no-questions-asked, should something go awry. Really wasn't much to lose, here.
I've spent $30 in dumber ways, and if this became my biggest purchasing regret, well, there're worse problems.
COLOR CODING
The small bag is gray, the medium is green, and the large is blue.
Using different-colored items in my pack makes them instantly identifiable. Keeps me from wasting time rummaging through my pack, and moreover, when the weather's bad, I don't have to unpack my entire bag just to get at one item. 
I like using stuff sacks to begin with because it keeps like items consolidated.
I want some grub? Blue.
I need a band-aid? Grey.
Time to boil some water for coffee? Green.
You get the idea.
It makes locating my things a completely brainless affair, which - after some long days on the trail - is a feature that comes in handy.
SIZE
Small (Grey) : 8.625" x 4.25" x 3"
Medium (Green) : 11.25" x 4.75" x 3.5"
Large (Blue): 12.875" x 5.5" x 4"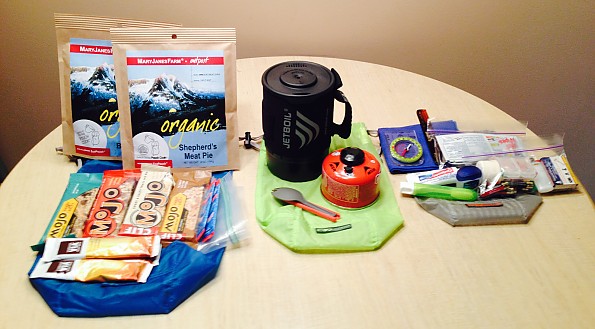 This is a set, so be sure they're all sizes which will prove useful to you. They are on the smaller side as a whole, which works for me, but may not for folks looking for something with a little more capacity. 
The pictures below were taken after the end of my 2013 hiking season, so while all the components mentioned may not be pictured, I can assure you, they all do fit. 
The small bag fits all my toiletries, first aid and repair kits, and small personal items - including a small notebook and an eyeglass case.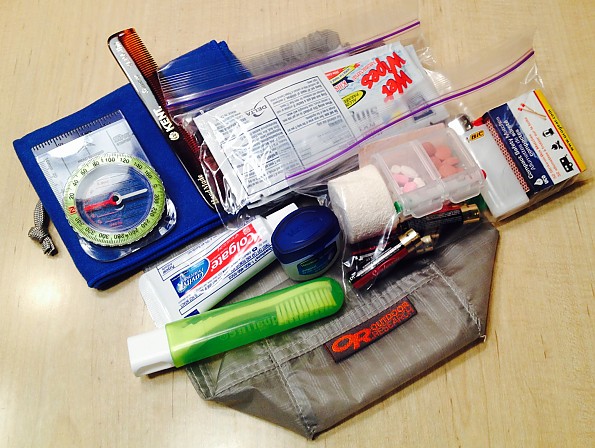 The medium bag I used in the past to hold a Therm-a-Rest NeoAir Trekker sleeping pad, a Black Diamond Storm headlamp, and a sleeping pad pump.
These days, it fits a JB PCS, spare fuel canister, folding spork - and leaves plenty of room to spare.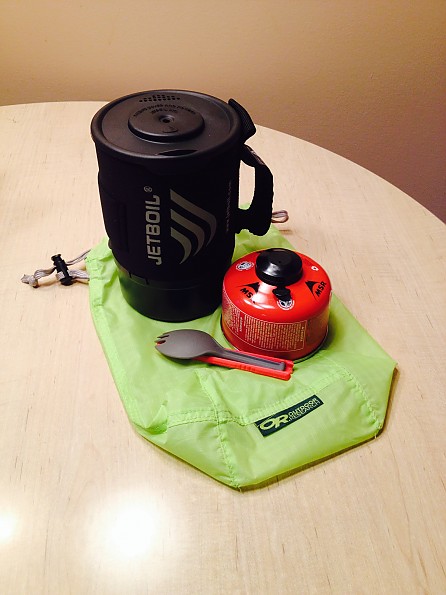 The large bag fits all my food and snacks for a typical two to three-day trip, including 2 to 3 freeze-dried meals, snacks (nuts, candy bars, jerky, crackers, etc), and drink mixes (instant coffee and drink mix packets).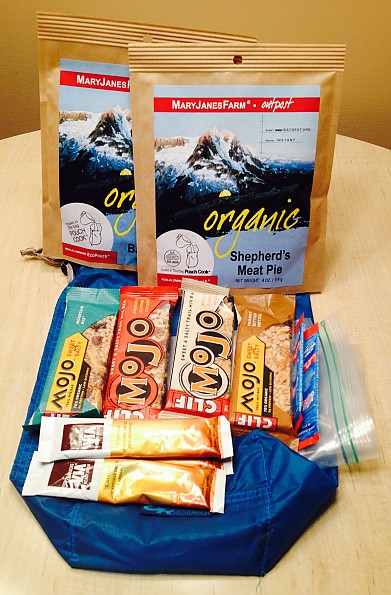 These, as far as I know, are only sold in a set of three, which is a major bummer for me. Once you figure out what you can fit in each bag, and how much of it, you start thinking of other uses and begin to wish you could purchase these bags piecemeal, because you'd really love a spare one for something else.
Really, really love.
OR, if you're reading this, consider this a less-than-subtle Christmas wish.
WEIGHT
Small: 0.6 oz / 18g
Medium: 0.7 oz / 20g
Large: 0.8 oz / 22g
"Ultra lightweight."
First part of the title usually is the most important, and is definitely the selling point for these stuff sacks: they're billed as "ultra lightweight." 
Well, let's frame it up this way:
The average weight of an OR mesh ditty bag? 1 oz.
The average weight of an OR sil-ny, UL ditty bag? 0.7 oz.
The idea of mesh is to create a skeleton by perforating the surface areas enough to lighten the weight while maintaining the structure. These are not only lighter than the mesh bags, but you retain both the surface AND the skeleton.
WATER-RESISTANCE
"Moisture/Water-Resistant"
Waterproof? No. But they are pretty water resistant. I haven't left them in the rain, but I have had a bottle of Dr. Bronner's bust open, and this bag kept the soap from permeating into the rest of my pack. At the very least, more water-resistant than mesh!
DURABILITY
Mesh is prone to snags, tears, and could possibly unravel itself over time. These are one continuous sheet of material, and I haven't even been able to poke a pinhole through them. I'm sure there's a scuff mark or two, but that's it. Those scratches stay at surface-level.
FABRIC
I don't like stiff or noisy fabrics. Chalk it up to the misophonia I suffer from - all kidding aside. The 100% 30D Siliconized Nylon these are made from is not only quiet on the ears, but soft to the touch, too. Before you think I've completely lost it, and use my stuff sacks as a surrogate petting zoo, wait up: they are easier to fill to capacity, and likewise, it's easier to pack other items in around these bags inside your pack. 
CLOSURE
The drawcord is actually unique on these, or I've not seen another like it. Typical stuff sacks run a cord through the top circumference of the sack, and it causes some awkward bunching. You're also causing a lot of unneeded friction because the cord is perpetually being re-adjusted, and this will wear the fabric down prematurely.

This drawcord is permanently sewn to one side of the opening. If you hold the cord by the knotted end, and push the cord lock inward, you close the bag neatly and without any bunching. There's also a loop on the side opposite the cord lock, through which you can thread the knotted end up the cord. It allows for a tighter cinch, and also makes the bag hang symmetrically and centered.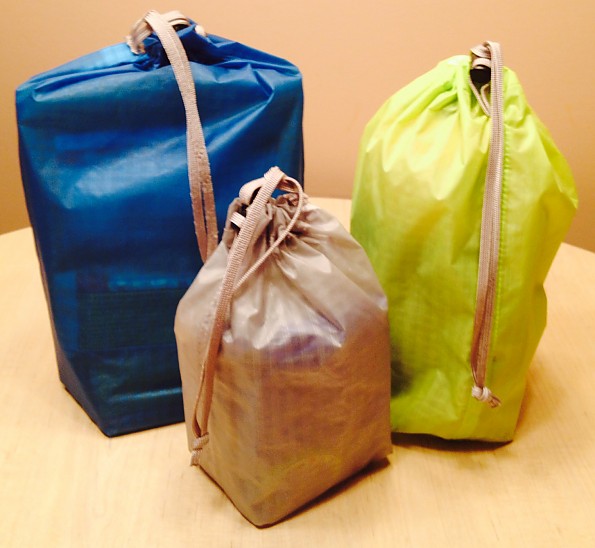 In making these bags as ultra lightweight as possible, I wish they would use a smaller cord lock, or even a minimalist-style one like ENO has started using on their hammock equipment. There's really no need for as big a cord lock as they've used here. Naturally following, if you can downsize the cord lock, you may as well downsize the cord material and make it a smaller diameter. I think I higher-tensile cord would also improve the hanging capabilities of these bags.

HANGING
The largest of these bags I've used as my food bag, filling it with 2 to 3 freeze-dried meals, snacks, and instant coffee and powdered drink mix packets. 
The smallest I use for all my toiletries, first aid and repair kits, and personal items. 
These both contains "smell-ables," and although I don't live in bear country, I do hang these items up at night. If you thread the cord through the loop to center the line, all it takes is clipping a carabiner onto the cord. The food bag especially can get a little heavy, and despite the weight, I've yet to see any sign of the stitching or seams becoming stressed.
When I'm done with my food, I'm done carrying that weight: these bags weigh next to nothing, and pack down to an almost forgettable size.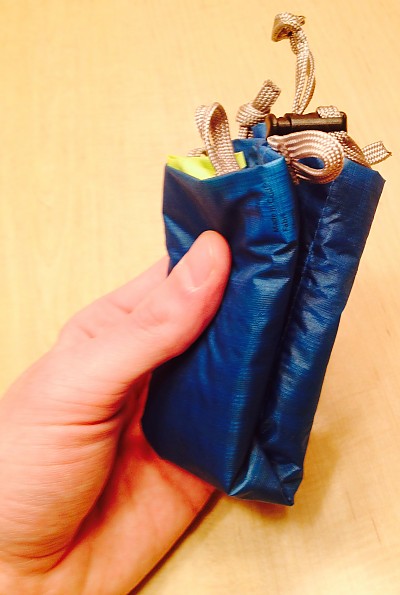 They are truly the Platypus bottles of stuff sacks.
TESTING LOCATIONS
Mississippi Palisades State Park (Savanna, IL), North Trail System
Shawnee National Forest (Southern IL), River-to-River Trail
Weldon Springs State Park (Clinton, IL), Salt Creek Backpack Trail
Forest Glen Preserve (Westville, IL), River Ridge Backpack Trail
Source: bought it new
Price Paid: $28

Your Review
Where to Buy
Help support this site by making your next gear purchase through one of the links above. Click a link, buy what you need, and the seller will contribute a portion of the purchase price to support Trailspace's independent gear reviews.
You May Like
Specs
Price
MSRP: $25.00
Historic Range: $15.95-$30.00
Reviewers Paid: $28.00

Recently on Trailspace