Outlery Full Set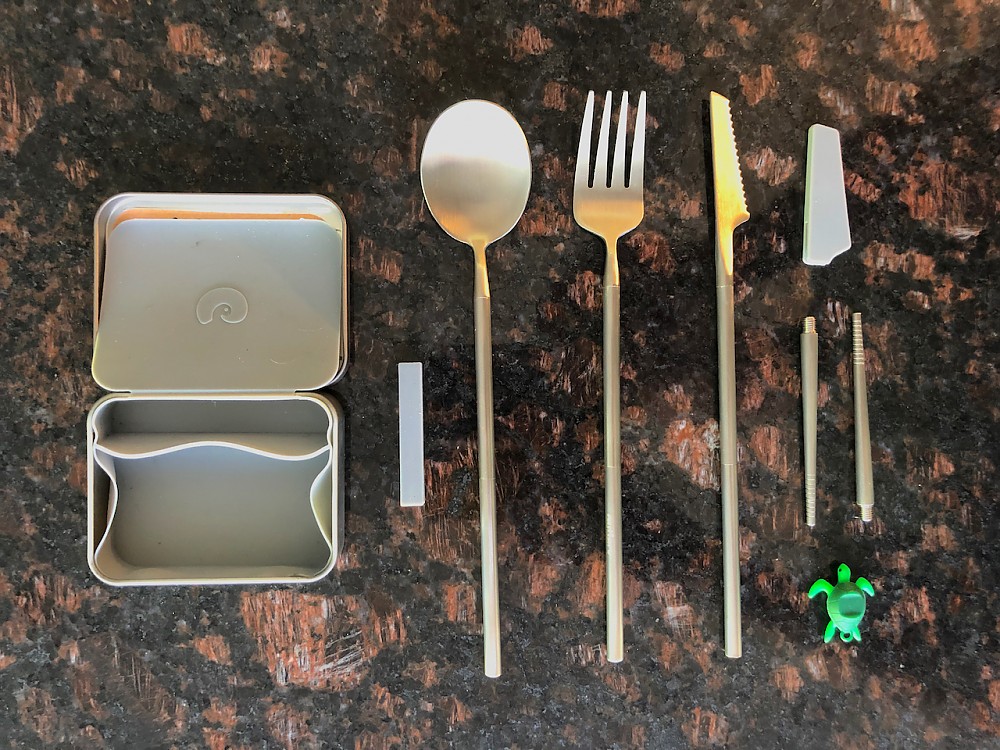 Elegant eating utensils in a pocket size box. Intended to displace single use plastics, Outlery can also add a little elegance to outdoor meals in a variety of settings but is too heavy for extended backpack trips.
Pros
Replaces single-use plastic utensils
Pocket size when not in use
Nice design and feel
Cons
A bit heavy for backpacking
Risk of losing pieces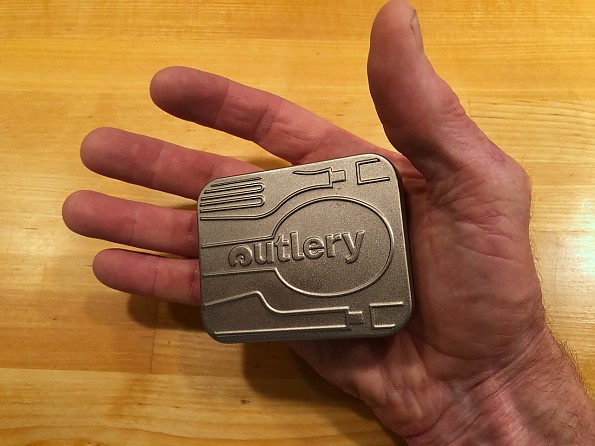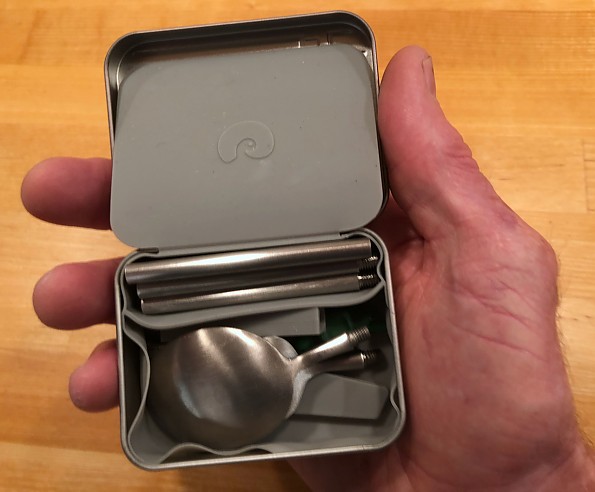 Judging by my review history, I seem to have an inordinate fondness for spoons, or maybe outdoor cutlery in general. The internet in its infinite acquisitive wisdom seems to know about this, and so channeled an ad for Outlery portable cutlery in my general direction. I critically examined the offering and eventually decided to spring for a couple sets for me and my wife, to be gifted when her birthday rolled around.
After click-confirming the order I felt like I had been maybe "dumb-gassed", as my wife likes to say, meaning that I had engaged in mindless consumerism. But the gift was well-received, and, while too heavy for backpacking, the Outlery sets are great for car and canoe or kayak camping or other outings when weight isn't as much of a concern.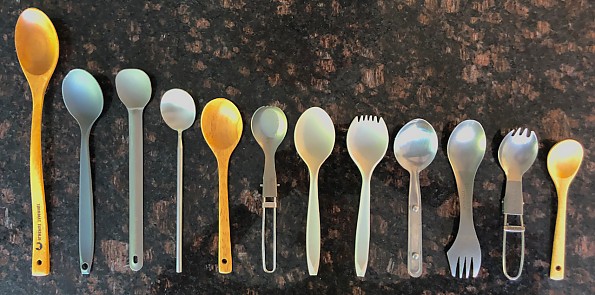 As evidenced by the "proudly carrying my own cutlery" motto printed on the bottom of the box, Outlery's main marketing pitch is that you can keep it in a purse, backpack, or pocket and whip it out to use instead of disposable plastic utensils for take out meals from cafeterias, supermarket salads, roach coach kung pao chicken and the like. Good idea!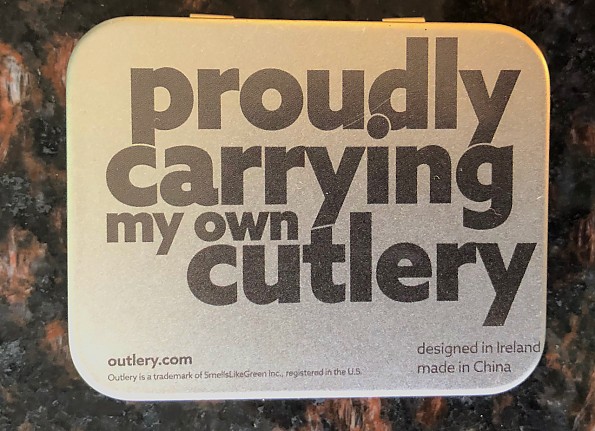 The Outlery Full Set consists of a spoon, fork, knife, and chopsticks, all packed neatly away in a shirt pocket-size tin box. The Cutlery Set omits chopsticks at a slightly lower price.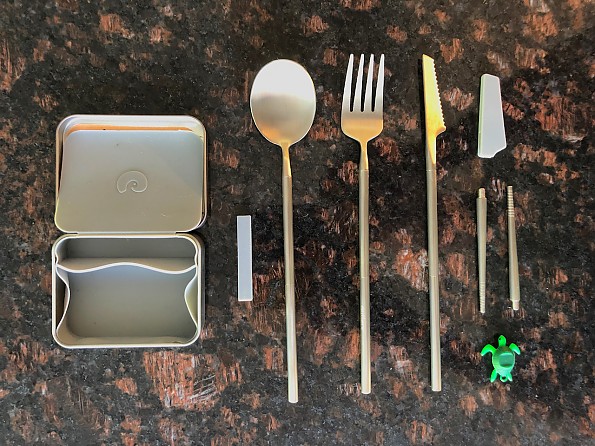 All parts are brushed stainless steel. Each piece has a business end and a two-part handle, all nicely machined to screw together. Outlery's stop motion video included among its product photos explains it all rather nicely. The kit comes with three pairs of handle sections, so the chopsticks have to borrow handles from the other pieces. The box has an anti-rattle silicone rubber liner with a small compartment for the handle sections and chopstick ends and a large compartment for the business ends and two accessories: a silicone jacket for tightening the handles and a cute little chopstick rest in the shape of a sea turtle, I suppose to remind us of the Good we can do for turtles and other denizens of our plastic-plagued oceans. The knife blade also has a protective silicone sleeve.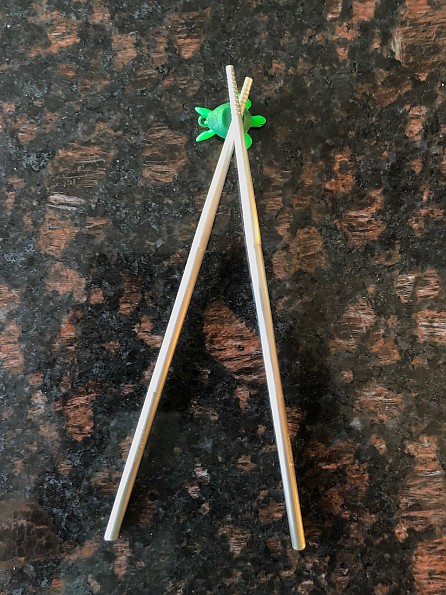 The complete kit weighs a hefty 172 g with or 152 g without the chopstick business ends. The spoon with its two-piece handle weighs 36.4 g. So this is not lightweight backpacking gear, but works for an elegant picnic, car or canoe camping, hut-to-hut trips, or maybe backpack weekenders with fancy food where Outlery can add a touch of class.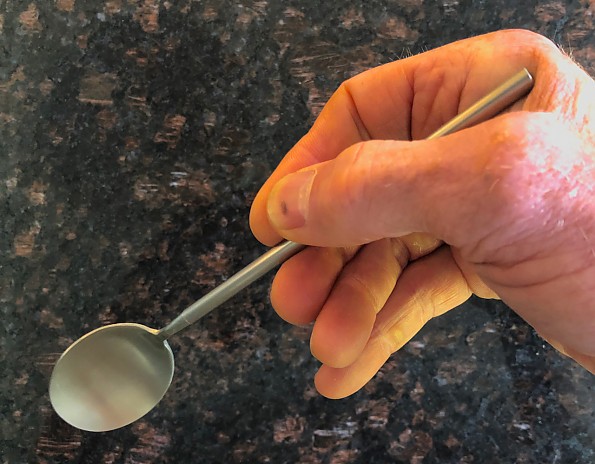 The long-ish, simple, cylindrical handles feel good in the hand. The bowl of the spoon is on the small side, somewhere between a teaspoon and a tablespoon, and so maybe more suited for dipping and sipping as opposed to hungry shoveling. For what it's worth the handle is almost long enough to serve as a pouch spoon and can be extended by borrowing a middle segment from one of the other pieces ("That's not a spoon. THIS is a spoon!"). The fork head is on the same scale, desert fork sized but sufficient for spearing whatever chunks turn up in your bowl. The knife blade is only about 5 cm long, serrated and sharp enough for a tender cut of meat but maybe not so great for slathering butter or cutting cheese...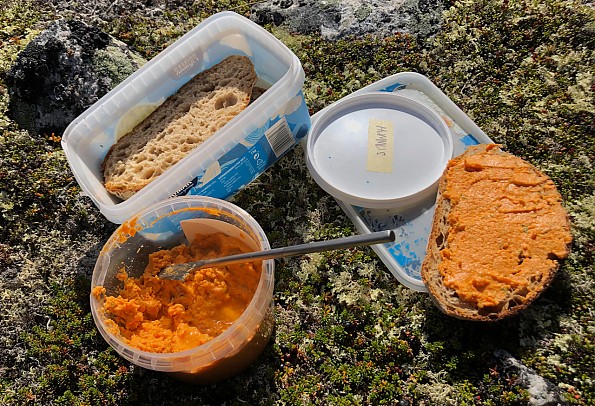 When my wife and I first tried out the forks on some fried fresh trout on a canoe camping trip, we both found the business end loosening when we used the edge of the fork to tease flesh off bone. Then I found the "important instructions" card tucked under the silicone liner in the box lid, which suggests using the silicone jacket to get a good grip when tightening the handle. The threads are machined to lock when sufficiently tightened. That took care of the problem. I've since found that I can tighten sufficiently without the silicone jacket.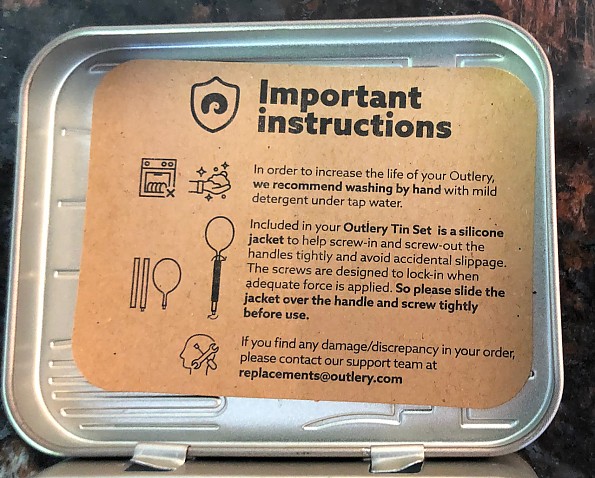 One possible downside to using Outlery in an outdoor setting is the potential for losing pieces, especially the roly-poly handles, or maybe the little turtle (noooooo!). Also, in some settings a full wash may not be possible, so the pieces may have to go back in the box more or less dirty and washed up later.
Outlery sets come in six colors. We ended up with raw silver because I didn't like any of the other colors, especially the rather garish Rainbow finish, that were available when I placed my order. But it might have been nice to have Whale Blue for me and perhaps Rose Gold for my lady.
The price tag is rather steep, in my case justified as a birthday present, but I have to admit the dumb gas may have had some effect. But hey, it's good for the environment!
Outlery also offers a telescoping stainless-steel straw so you'll never have to use a throw-away straw—plastic or paper—again. Oh, and also a silicone case to replace the tin box, a spork head, an ice cream spoon head, and a (supposedly) TSA-friendly butter knife head to replace the lethally serrated standard knife head. You can run up quite a tab if you order one of everything for two!
Combined with portable wine glasses and a checkered tablecloth, Outlery is the perfect accompaniment for "a loaf of bread, a glass of wine—and thou" – and might also put a small dent in the planetary flood of plastic single-use utensils.
Background
I've been using spoons since I was a baby, and forks and knives a little less long. When it comes to cutlery for outdoor life, I can't resist a good lookin' spoon. The Outlery sets have only been out a few times, plus some trial runs at home and in the car.
Source: bought it new
Price Paid: NOK499 (about $50 including 25% VAT)

Your Review
Where to Buy
Help support this site by making your next gear purchase through one of the links above. Click a link, buy what you need, and the seller will contribute a portion of the purchase price to support Trailspace's independent gear reviews.
You May Like
Specs
| | |
| --- | --- |
| Price | MSRP: $49.00 |
| Collapsible set includes | spoon, fork, knife, chopsticks in metal case that fits in a pocket |
| Length assembled | 8.3 in / 21cm |
Recently on Trailspace