Ozark Trail 2 Burner Propane Stove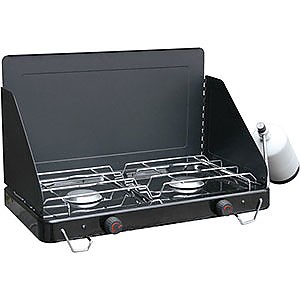 I bought this piece of junk 3-4 years ago, pretty much for emergency situations. Used it twice (it's still shiny) went to use it last week and it would not light at all. Walmart puts out junk when it comes to camping supplies. Do not buy this, you will be sorry.

Cons
Junk, waste of money
Can't count on it to work
Junk
Source: bought it new
Price Paid: $35

Terrible stove for a single mom going camping with her kids.
I wish I would have read the reviews before wasting my money on this product. I bought it on a whim in the store last summer and could never get the darn thing to light.
Thankfully it wasn't raining enough to not be able to build a fire because this stove is a piece of crap. :(  Re-reading the instructions even did not help.
I guess I will be replacing this with a better brand. Maybe tomorrow on the way to the campsite we will stop and get a Coleman.
Source: bought it new

I bought this stove from Walmart while on a camping trip. We set it up and used it to make a pot of perk coffee. We turned the stove off after the coffee was done and collected what we needed to make our breakfast. When we went to relight the stove the gas would not come through the tube. We changed the gas can and waited ten minutes and tried it again. Still nothing happened.
We took out the directions to check for some troubleshooting solutions. All the sheet had was a web address to go to for the troubleshooting information. Fat lot of good that did us in the middle of the freakin' woods. This stove is trash and the troubleshooting information should have at least had a phone number along with the web address.
I will be returning this stove to Walmart. I'll never buy any product made by this company ever again.
Price Paid: $33.88

Pros
Works initially from a week to few months
Cons
Regulator is defective
Replacement regulator will work for short time
Had to call Customer Service and get replacement gas regulator within days of purchasing this stove. Then it worked for a year (stored and unused). We didn't go out camping throughout this time, and didn't use the stove.
Tried it after a year, the stove works for a few minutes, then the flame sort of dies down. We adjust it to compensate, a few minutes later the flame starts sputtering, and then like a huge flame thrower it will put out the flame in a flower pattern.
Tried cleaning up as much as possible everything. Still no good.
There's no number for customer service that I can find now.
Source: bought it new
Price Paid: $34.99 + tax

For the money, we haven't found a better option. It has held up well despite some probably unnecessary abuse. We like it better with an adapter and a 20-pound propane tank.
This stove has worked out great for us. We did some shopping around, and it wasn't the coolest looking, most luxurious, or probably even the highest quality materials. But the price was much better than the other two-burner options we looked at.  
We've used it nearly daily, two or three meals a day, for a couple of months and it's still working well. After a week, we stopped using the little 1-pound propane canisters and bought an adapter and a 20-pound propane bottle, which burns hotter and lasts much longer.
One night we laid a green log on it and maxed out the burner dial trying to get the log to catch fire for our campfire. That made the grill turn red hot. But we bent the grill back into shape and it's been working fine for at least a month since then.
Some paint has peeled off in places where it gets hottest, but that hasn't affected the way it functions.
We would definitely buy this stove again.
To hear more about our family's adventures out on the road camping in free campgrounds and having some great times on a go-where-we-want-when-we-want road trip, please see our blog: illtaketheroadbuddy.tumblr.com
Source: bought it new
Price Paid: $24.44

This stove is a piece of junk. Regulator went bad after four meals and that left us in a very uncomfortable situation. Please do not purchase this product!
Cons
Just about everything about this stove
Every detail of this stove would get an F in grading it.
Source: bought it new
Price Paid: about $35

Stove works OK! But the regulator gives a LOT of trouble! We figured we just got a bad one the first time!, but nooooo we got bit twice! because we are stupid that way!
Source: bought it new
Price Paid: 30 plus dollars

Used it two times, then on third time no gas feeds to the burner's regulator. This is a piece of crap, a waste of money, don't buy and there should be a recall on them and get our money back. I would have given it ZERO stars, but it wouldn't let me...
Piece of crap.
Source: bought it new
Price Paid: $35

While both my burners and regulator work great, this stove is not worth its weight. You would think a nearly 10-lb stove could support boiling a stockpot full of chicken? Nope.
Pros
It's a 2 burner
Cheaper than a Coleman
The burners are pretty hot
Cons
Heavy
Poorly designed
Weak
(gct1304w MFG march 2013 in china for Blue Rhino and Ozark Trail)
I used this as my main cook top for 6 months, mainly boiling meat, noodles, and heating canned food before it failed me and I gave it away.
It failed when I went to boil some chicken leg quarters. After maybe 10 minutes of boiling I see my stockpot is crooked, so I pull it off and see the grate has collapsed. While it is a camp stove it weighs nearly 10 lbs so it should be able to support the weight of one stock pot.
When folded up it rattles. Not a problem if you are car camping with it in the trunk but in a pack, saddlebag, van or SUV it will get annoying quick.
Unlike many examples of this stove mine still works, both burners with good flame control, but I still wouldn't recommend it.
4/24/17 UPDATE and jump from 2 to 3 stars.
in early 2016 I gave this stove to a family member who was struggling, but in April of 2017 the stove fell back into my possession after mentioning to another family member that my single burner died. He had in his backyard the very stove I had bent the grate on, now rusted and a bit dirtier, but it still works. The grate is nowhere near level but it's getting me by.

The fact the stove survived whatever it had to survive to come back to me fully functional, with no regulator or valve issues is a testament to this one stove's durability. Now that my diet has changed and it's unlikely for me to cook a 25lb+ pot of anything I think this stove will return to serving me well in my time of need.

Source: bought it new
Price Paid: $35

A single mom, I bought this from Walmart to take my girls camping. Tried to light it. It doesn't work. You can hear the propane start to come in, then nothing. Unable to light it at all.

I have owned several camp stoves before but this is a piece of junk. Total waste of money. I should have paid higher and got a Coleman again.
Source: bought it new
Price Paid: $32

Don't do it!
Cons
Not even heavy enough to be a boat anchor.
If you have purchased one of these, look for your receipt and return it to Walmart or wherever you bought it.  Bought one new and sent it with my son on a trip to Canada. The piece of junk won't light! Returning it for a full refund when he gets back. 
Source: bought it new
Price Paid: $39.97

Purchased this stove from WalMart in 2012. Used only three times when on camping trips. Went to use it last week while camping , no gas would come through the regulator to the burners :(

As I see in other comments this stove is trash. I bought a Coleman stove to replace this.
Cons
Regulators die in a very short time
Would not recommend  Ozark Trail stoves to anyone, friend or enemy.  :(
Apparently the regulators do not last very long. Only two years old and barely used and now it's shot and had to go buy a new stove, only this time I bought Coleman. 
Source: bought it new
Price Paid: $55

Looks like an excellent item. But it does NOT work. The regulator is a piece of junk. They should be ashamed to market a product that is WORTHLESS!
Pros
Looks good, but looks can be deceiving.
Cons
Totally does not function.
In the backcountry with NO coffee, eggs etc. because the stove did not light. 50 miles to nearest breakfast joint. I was disappointed and furious.
Source: bought it new
Price Paid: Too much for an item that wound up in the garbge

I too have had problems with the regulator on this stove. I took a socket and opened it up because the first time I thought maybe it was just plugged up with dirt or something off of the cylinder. Lo and behold, there is just a plastic disc with a tab at the top of the pop valve to shut off the gas. The plastic isn't even really connected to the pop valve..

I put it back together and it worked fine. I have only had to do it twice so far in 3 years. I may try to get a Coleman regulator to work on it, but I can get a Coleman two burner for about $15 more than I bought this stove. I wish I had spent a few dollars more.
Cons
Regulator is bunk
Regulator is hard to fit into storage area
Metal starting to corrode after only a few years
The other problem is the regulator is hard to fit in the storage area underneath the stove. It has to be turned just right and really gets in the way of closing the lid. 
Also, it is hard to keep the stove running at lower temperatures and the markings on the knobs are kind of confusing.
I may try to get a Coleman regulator to work on it, but I can get a Coleman two burner for about $15 more than I bought this stove. I wish I had spent a few dollars more.
Source: bought it new
Price Paid: $35

Dangerous piece of garbage. Worked fine for a while and then while camping, while it was just sitting there, not being used, and had not been used in many hours, I heard a loud gushing noise. All of the gas was coming out of the end of the regulator on the other side of the propane tank.
Cons
Dangerous
Failed regulator
It froze the whole thing solid and I did not know what to do. I got an oven warmer and unscrewed the tank. If it had been at night close to a lantern or a candle we could have had an explosion on our hands.
Buy/use at your own risk. But I would not ever try to fix or use this again. After having read these other reviews it is clear this needs recalled. Someone one day will be killed or seriously injured.
If you are one of those giving theses 5 stars, thank the good Lord above you have made it this far and get rid of the thing before the regulator fails on you too.
Source: bought it new
Price Paid: $39

Tried the stove out when I first got it and it worked OK. Sat in storage for about a year and now the regulator will not pass gas—no pun intended! Where do I get parts?
Pros
Looks like a knock-off of a Coleman!
Cost less but they are not worth it!
Cons
The regulator quit cold. Almost no gas coming out— surely not enough to cook by! Bummer!
Makes for a cold meal in the outdoors. Two sticks, please.
Stick with a Coleman! Take it from this 82-year-young camper! Cost a little more, but when the chips are down, it will come through and you CAN get repairs and parts pronto!
Source: bought it new
Price Paid: $34

Step up and buy a more dependable unit.
Cons
If it doesn't you're screwed
Bought a stove and used it last summer 4 times. It worked like a champ. I stored it properly and babied it every time. Went out on our first camping trip this year and It wouldn't light!!
I swapped 4 different propane bottles to make sure that wasn't the issue. Then I figured it was the regulator so I went to Walmart, no spare parts imagine that, and just bought the cheaper version of mine for $24 to use that regulator. It wouldn't even work right out of the box. I tried both regulators on both stoves and 3 propane bottles on both stoves.
Going to return both and buy a Coleman. Ozark is a piece of crap.
Source: bought it new

There should be a recall. Safety first.
Cons
Will not light
Not worth the $
This camp stove (OZARK TRAIL)  should be recalled  and replaced or refunded. Accident waiting to happen.
Source: bought it new

Good stove but bad regulator.
Cons
Weak regulator that fails often (see the reviews)
Very hard to find a replacement regulator. Here is a website where you can order one:
Source: bought it new
Price Paid: $35

Crap!
Cons
troubleshoot via website-WTF?!
cheap POS
We forgot to pack our Coleman so to save a little $$ bought this. We got one use and then the regulator broke. What a waste.
Shame on Walmart for even carrying this product!
Source: bought it new
Price Paid: $35-40

Bouth this last summer used it one time and the regulator failed. The plastic knob was disintgrated from the propane leak. Been looking for replacement part. Appears not to be available.
Pros
For the one meal I fixed on it the temperature was easy to control
Cons
Can't find parts, reading reviews seems to be a consistant problem. Will go to Coleman this summer.
Easy to set up and store. Good enough performance in the wind. Boiled 8 quarts of water faster than I expected.
Source: bought it new
Price Paid: $35-$45

OT Tents, yes. OT Stoves, NO!!!
Like others have said this is a piece of junk. How in the freaking world can a regulator, much less one with such an elementary design (non adjustable), break? I have used OT tents and lamps without trouble but avoid these stoves. Ruined a meal and a trip. Will be returning to Wal-Mart.
Source: bought it new
Price Paid: $38

Junk, would never buy another, used once and the regulator broke.
Price Paid: $36

Version reviewed: Brinkmann
DO NOT BUY THIS PRODUCT ! I bought this dangerous piece of... "equipment" at Walmart in Lawton, OK. on Sheridan Rd. I paid $36 plus tax. I'm more than experienced in the outdoors.  I keep my equipment clean and in good working order.
Like in the other reviews I had regulator issues with the line splitting on my Ozark Trail / Brinkmann, 2 burner. The stove worked for a grand total of about 10 uses. It was not abused or dropped. The bottle was properly installed.
So I disassembled the stove to further inspect, where I discovered the lines are sub-quality and had split at the valve under the cover, so even if I could replace the regulator, it still could have exploded when I lit it next. Bad, Bad, Ju-ju!  I'm glad I checked out my gear.
The other line split was under the cover and out of view at the underside connecting valve. The line was nearly severed at the connector, and just snug enough to keep fuel flowing to the burner heads. It appeared glued instead of brazed into place and easily could have caused a catastrophic failure. Just imagine a 5' foot flame-thrower emitting at waist level. 
Like another reviewer, I will now get an older Coleman stove and convert it to propane. Spend the money. This thing is unsafe and junk.
Price Paid: $36

Had for a couple of years, no real heavy use. Regulator broke, haven't found one to replace it.
You would think Wal-Mart would carry replacement parts for the junk they sell. What can you expect from Wal-Mart? JUNK
Price Paid: $30

As with all others on this page. I was excited to find a nice camp stove for $30.
It worked great for one cylinder of gas then guess what?
The damned thing quite working and guess what it was?
The regulater which I have found out is virtually impossible to replace.
I bought this product because my tent and lantern are Ozark Trails made and had great performance from them. My tent is 20 years old and is still a good piece of equipment. The lantern is five and besides replacing the mantels occasionally it has never failed.
I SUGGEST DON'T WASTE YOUR MONEY ON THE CAMP STOVE. EITHER VERSION!!
Buy a Colman. It is more expensive about a $100 dollars but I have never seen a Colman stove fail. If they do the replacement parts are easily found and cheap to replace.
Again, don't waste your hard earned money on this product!!!
RSB
Price Paid: $30

Worked great for one season and took it out for the second session only to have one meal made due to the....drum roll and a guess, the regulator broken.
I am online to replace the part when I read the reviews. It seemed like a great price (WAL MART brand) but now I think I must have to throw this one out if I can not get the regulator replaced.
Like the first guy said, this could have been a real disaster if there was a gas leak and as a burn nurse, I don't think I want to take a chance on this piece of equipment again.
Owners beware...I have used my Ozark Trail 842-A100-W about 4 times. The last time I tried to use it I found the brass regulator tubing split. I connected the propane bottle and propane was leaking severely. This could have resulted in a catastrophic event if it had happened while I was cooking.
Junk Junk Junk!!! I am going to trash this product but wanted to share my experience with the rest of you as owners. Not worth the safety risks.
Price Paid: $26

If you need parts, which you will, don't plan on fixing it. We had problems with the regulator and have not found any source for parts.
I was fortunate enough to use this stove for almost an entire season before the regulator broke.
Price Paid: $30

Junk! I really liked the compact design of the stove, but it let my family down the first time we took it out. I fired it up for a few minutes to make sure it worked when I bought it. Satisfied with that, I put it away.
Fast forward two months: Day 2 of our family camping trip, this thing refuses to light. I tried two different brands of propane cannisters. Neither worked. We were reduced to eating cold leftovers for breakfast. I got a total of 1 hour of use out of this stove. Now I know why Walmart does not list this stove on its website, even though it has sold this model stove for over 2 years. They don't want all the bad reviews on their site.
I wish I would have read the reviews here before buying. I suspect the reviewers here questioning the ability of others to use or set up the stove "properly" are employees of the manufacturer. Do you guys really think you can screw in a propane bottle better than everybody else? Really?
Price Paid: $32.88

We bought the Ozark stove 2 years ago and within the first 3 months the regulator broke. Ozark warranteed it and sent another at no charge. Fourteen months after buying it the second regulator broke and Ozark would sell us another for 17.95. NO THANKS.
Our Ozark stove received light duty and was treated kindly so it must have defective regulators to have two break so easily. Am going back to Coleman. Also, our old Coleman we retired after many many years of faithful service would put out more heat than these Ozarks.
Picked up a stove for a new Boy Scout Troop. First campout, cooked hot dogs, made coffee and then the regulator broke. Try telling 13 HUNGRY Boy Scouts no sausage or pancakes. Another Troop loaned us a Coleman Stove and saved the day. Put your money into a better stove than Ozark. Stick with a trusted namebrand.
Price Paid: $32

Used it one time & the regulator broke. I can't find one anywhere.
Price Paid: $21.99

I like most that have this stove have had the regulator break. Just this year after 2 years of lite use. I still had the book and called brinkman and they got me a new regulator for it for 17.95 so for all that need parts call brinkman with the model # of your stove to get parts. mine is model 842-A100-W they have all the parts
Price Paid: $24

No stars from me. Don't buy it. I bought this stove so I can make my breakfast and coffee quik and easy, not. After 2 days camping I go to light this stove and the gas regulator broke. Now,I cant find this part anywhere.
Very inconvenient. Ozark Trail should at least have the courtesy to recall this defective part and replace it. Won't be gettin anything else from them. I feel I got robbed for my hard earned $24 bucks. Shame on them and WAL MART for selling JUNK LIKE THIS.
Price Paid: less than $25

I used this product for three different summers without a hitch. This past month took it to Yellowstone Park without trying it at home. Went to cook pancakes and it would not work.
Our whole vacation was altered since we could not cook out as planned. I took it apart to clean it but it did not work. No gas getting to the burners.
Will get a Coleman for next year.
I had bought one of these stove to go to a nascar event and the gas line was broke right out of the box. Never got to use it.
So Walmart gave me a second one and we want camping two months later and then that one broke after a day and a half of use. And yes it is the gas line once again. What a piece of work.
I called the company to complain and they told me that this is the first time they have heard of this but i see a lot of reviews on here with the same problem. When you are looking for a gas stove if this all they have don't walk run from it fast.....
Price Paid: $30

Both knobs broke during the first summer. No replacements available anywhere. Have to use a pair of pliers to turn the stove on and off. Real value of this piece of junk is 49 cents as scrap metal. DO NOT WASTE YOUR MONEY ON THIS PRODUCT.
Price Paid: TOO MUCH

Everything I cooked burned. Put in a second layer of grills, still burnt the bacon. Tried everything - it would not turn down enough to not burn. Junk. Back to Coleman.
Price Paid: gift

Used the product once and the regulator adjustment knob broke. Cannot find replacement parts. Another fine product made in China.
Price Paid: Cannot remember

I bought this piece of junk and did not even use it once before the knob popped off. junk junk junk
Price Paid: $25

Worked fine for one trip. Then the regulator knob broke. Yup, can't find the part. Why sell a product you can't purchase replace parts from? I don't know, ask Ozark Trail.
Price Paid: $35

This stove is only good for a couple of camping trips and then something on it breaks. Forget about finding replacement parts because you can't. I bought two at the same time. They each lasted about three trips and then the regulator arm broke on both.
Luckily, I have a stove in my 1986 VW Westfalia camping van, but I got the Ozark Trail stoves because I like to cook outdoors when camping. Ozark Trails should rename this product "The Disposable Stove". Next time I will go with a known name brand.
Price Paid: $24

This model 1075 worked the first three times I used it, then the knob broke. I contacted the 800 number in the manual, it was a flashlight factory. Finally got in touch with Brinkmann, the manufacturer. They told me the model number did not exist, and that I should try to Google Ozark Trail, which is a brand name of Walmart. Don't waste your time calling Walmart. They only have the phone number for Ozark Trail tent! Lesson learned. I should have stuck with Coleman.
Price Paid: $45 Canadian

I agree with most of the reviews...this unit is a piece!
Price Paid: $30

Bought the stove about six years ago. Have used it for camping in the summer; maybe 30 times? First knob broke, so we swapped the good one back and forth. Second knob is now kaput. In searching for replacement parts, looks as if it is non-existent. Sometimes you have to spend money to save money, ie, should have bought Coleman...

Price Paid: $30

I bought this product because of the price and cleaning ease. My gas range quit and I couldn't afford to buy a new one. It worked great until the regulator broke. Like others, I tried to find a replacement w/o success. I had a Coleman but lost the regulator. Found a regulator at Bass Pro for $20 that fit the Coleman. Tried it on the Ozark Trail. idn't fit. I'm now back to using the Coleman. I'll dismantle the other stove. Hopefully the burners, etc will be universal, then I'll have spare parts for the Coleman. DO NOT spend your hard earned $$$ on Ozark Trail stoves. I DO like their tents, tho.
My Ozark Trail stove has been reasonably dependable. However it has only been on one camping trip. I have used it it the backyard now that my regulator arm has broken because of a cheap plastic part and I read all of these reviews. I guess I won't waste anymore time on this dinky little piece of junk.
Price Paid: $29.95

This is the most useless piece of equipment that I have ever seen. If this is the type of eqipment Ozark Trail puts out they need to be out of business.
You can buy this product and use it for a while and then you'll need to buy another one because you cannot find replacement parts such as the regulator assy. The part is virtually impossible to find as a replacement item. If you like your money's worth the Ozark Trail 2 burner camp stove is not a worthwhile purchase!!!!!!
Price Paid: $29.87

Mine is poorly made. There were no instructions inside, and while it seems simple to connect and use, the arm that connects to the propane bottle was constructed so that the propane bottle will not stand on the same level as the stove. I had to elevate the stove to leave the propane bottle on the porch floor. And, after connecting it, it just did not work. Would not light and did not seem to have a supply of propane from the bottle.
Got this thing for emergencies. Glad I found out it didn't work before I had an emergency.
Price Paid: $19.95

I wouldn't recommend this product either. The regular connecter had broken and I can't find any parts to replace it online or a retail store near me. As the other person said Walmart carrys these "cheap" stoves, but to find any replacement parts is impossible. I guess I am outta luck and will have to find a Coleman instead. At least they supply the parts!!!
Price Paid: $29.95

I would not recommend others purchase this product. We purchased the stove at Wal-Mart. We used it once. Then on our second camping trip, one knob broke. The second knob cracked -- we were able to use one burner at a time. I contacted Wal-Mart trying to get a replacement or at least to buy extra knobs (after several unsuccessful trips to hardware stores). After 90 days, Wal-Mart sent me to the www.ozarktrail.com website. Try it -- haha. We had a Coleman stove for years -- worth the price. Wal-Mart markets shoddy products. I rarely shop there and am disappointed.
Price Paid: $29.99

I've not had any problems, maybe people should take the tube off when putting it up for a time, and when traveling with it.
This is the second one from Ozark Trail (Brinkman Corp) that I've owned in over 30 years. The 1st one ended up being used for nearly 20 years prior to my divorce, the ex wanted it. Why? I don't know, she didn't like using a camp stove.
This one is 7 years old, been using it every time I go camping, always lights, works just fine. I must be one of the lucky ones, as I've never had a problem with either one. Of course I prop the tank of propane on a table so that the weight of it alone isn't hangin down. Not to mention, I take the tube off when I'm putting it away after camping.
Source: bought it new
Price Paid: $36

I don't see what other people's problems are. This is a great stove made by the Brinkman Corporation and then sold to Wal-Mart. If you had to buy this stove directly from Brinkman, it costs $74.95. I bought mine on sale last spring for $15 at Wal-mart and used it over 100 times already. Second best product I ever purchased from Wal-mart.(#1 Buck 119 knife).
Price Paid: $15

We've had our stove for four years now. It gets lots of use in the summer as we camp quite a lot. It has always worked great, although in a strong wind we do have to have something set up to block the wind. I guess we just know how to set it up properly. And we do get quite a few meals out of a propane bottle.
Price Paid: Don't remember

I have read the bad reviews and I guess I am lucky or maybe I know how to use the stove properly. My stove works just fine. I cook two meals a day on it as I have an outside job that requires me to be long distances away from a burger joint.
I use it with a cast iron griddle and with a 4 quart cast iron dutch oven...I cook pork roasts...stews...eggs and bacon..anything I want. I gently turn the burner control knobs and I don't even touch the regulator knob as mine was preset when purchased and I simply screw in a bottle and use my burner controls to turn on the gas.
I really don't see any reason for anyone to mess with the regulator knob..it is preset. Turn your burner knobs on and off gently...it will last at least the three years mine has lasted.
Price Paid: 22 BUCKS

I bought my first stove about 5 years ago. I liked it so much I bought a second the following year. They are reliable, lightweight, and space friendly to pack. I get 2-3 more meals out of a propane bottle than my friends do with their Coleman.
My only problem is this summer I pulled them out, and one of the stoves has a broken regulator. So I need to see if I can buy a new one. Other than that, I feel I will have many more years of reliable service from both stoves.
Price Paid: $40

I don't know why there are so many bad reviews on this. I have had mine for about 4 years and have never had a problem. I cooked breakfast, lunch, and dinner for a family of five for over 2 months on it. The propane bottles last longer than the Coleman ones too.
Price Paid: 15-20$

I am not sure why ppl are complaining with Coleman products being twice the cost. I just paid to replace a regulator for a Coleman product 15 dollars...For 5 more I can get a new stove.
Price Paid: $6

I was quite shocked reading the other reviews about this stove! LOL I actually vowed to never buy anything made from Ozark Trail because it is pretty cheap stuff (I know from personal experience) but decided on this stove over other brands (even Coleman which was cheaper at $24.95) because of the size being able to hold larger pots/pans. I cook a lot and need big cookware! Quite frankly I love it! I have not had any problems with it at all. Even if you have a pot/pan that is "too big" you can undo the three side protectors for extra room! Seriously, one of my pots is a 5 gallon pressure cooker that I use to cook in and it fits just fine on this.
I'm a very blunt person and I tell it like it is...I do NOT like Ozark Trail equipment because it is so cheaply made, but this one in my opinion is a keeper. I guess I was just lucky enough to get the "one" good one made instead of getting the flawed merchandise usually produced by the company! LOL
Price Paid: $29.95

I read all of the other reviews and I was shocked to hear how poorly the reviews were. I purchased one during Hurricane Wilma from North Florida and took it to my relatives in South Florida. They were without power for over three weeks. We relied on this one stove for three meals a day and I stayed for over a week. It worked beautifully.
We cooked from eggs to fried chicken and fish. We made coffee. We made rice. We cooked for approximately 15 to 20 people each time. Once the stores were back opened we search an entire day for another one and bought another one at a camping store. My relatives used both stoves up until the power came back on and that was everyday (three times a day) for over three weeks straight. I have no complaints at all.
Adjusting the tempature was a breeze. The only thing we had to do was make sure it was against the wind so the flames wouldn't go out. To me that was very minor and for the price you couldn't beat it. I came back and bought one for my own home for the next time I'm without power. I'm sorry others had bad experiences but this was a lifesaver for my family in Ft. Lauderdale, FL.
Price Paid: $19.97

Your Review
You May Like
Specs
Price
MSRP: $24.97
Reviewers Paid: $6.00-$55.00

Recently on Trailspace